Rumble in the Rockies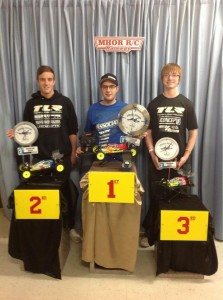 JConcepts sweeps the modified classes at the Rumble in the Rockies.
MHOR R/C Raceway located in Aurora Colorado was host to the 18th annual Rumble in the Rockies. The event took place January 8-10 and was attended by JConcepts Drivers Kody Numedahl, Dustin Evans, Adrian Redding and Taylor Larsen.
Qualifying
2wd Mod Buggy had Kody Numedahl TQ'ing round 2 and 3 and Dustin Evans TQ'd round 1 and 4. Kody was able to win the tiebreaker based on fastest combined runs. In 4wd Buggy, Kody dominated qualifying by TQ'ing all four rounds. Taylor Larson had rough luck in Mod Truck qualifying but still ended up 3rd on the grid for the mains. 4×4 Short Course was all Dustin Evans, Dustin was able to TQ all four rounds. Everyone was on gold compound Bar Codes throughout qualifying.

Mains
In 2wd Mod Buggy A1, Kody Numedahl lead until a small bobble let Dustin Evans jump over. Kody was able to regain the lead going through traffic and held on the rest of the race. In A2 Kody had a few wrecks and finished 2nd to Dustin Evans. For A3, Kody was able to lead wire to wire taking the overall victory. Dustin Evans finished second and Taylor Larson was third. 4wd Buggy A1 saw Kody Numedahl lead wire to wire with his JConcepts equipped B44.2. In A2, Kody swapped the lead a few times with TLR driver Justin Salerno but a final pass half way through the race allowed Kody to pull away and take the overall victory. Kody was on gold compound Bar Codes. Mod Truck A1, with Taylor Larsen sitting third on the grid, Taylor got to the front on the second lap and never looked back. For A2, The TQ, Clayton Easley (TLR) got a quick start but Taylor caught up with him with about two laps to go and made a good pass to hold on for the win taking the overall victory. 4×4 Short Course had Top Qualifier Dustin Evans lead wire to wire in A1. In A2, Dustin lost the lead for one corner but cut back inside to cruise to a victory.