Round 2 of the 2011 KBRL Electric Series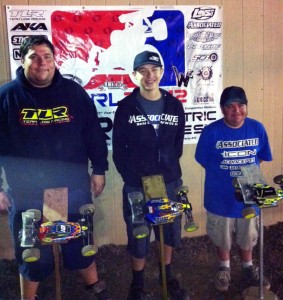 Billy Fischer takes TQ and Tanner Denney gets the win in 2wd modified at round 2 of the 2011 KBRL Electric Series with JConcepts.
Event: KBRL Electric Series – Round 2
Date: October 29, 2011
Location: Fear Farm R/C – Phoenix, AZ
Round 2 of the KBRL Series kicked off at the Fear Farm location in Phoenix, Arizona. A record 200 entries showed up to compete in the fast growing series. The traction level provided was extremely hooked up with a watered surface a relatively loose when it was dry. Tire choice as well as driver changes were necessary to compete all day long at the Fear Farm.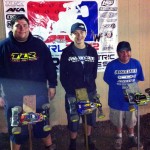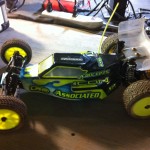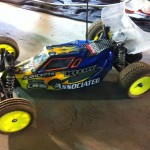 JConcepts / Durango driver Billy Fischer struck hard in the 2wd modified class by TQ'ing the competitive class ahead of teammate Brian Kinwald. During the opening moments of the main event, mistakes by the leaders sent guys in all directions. Tanner Denney emerged with the lead and stretched it with his JConcepts equipped B4.1 to a 10 second margin. Teammate Brian Kinwald remained in the 2nd position and looked to hunt down "the kid" Denney. During the closing laps Tanner got caught up in traffic allowing the margin between him and Kinwald to be cut in half. Tanner would not be denied and finished off the remaining laps in style cruising to a big victory on the popular series. Brian Kinwald finished 2nd and Chris Wheeler 3rd.
Tanner Denney, Brian Kinwald and Billy Fischer chose JConcepts all weekend long. The victorious setup on Tanner's Team Associated B4.1 buggy was the trusty Groovy front and Double Dees rear tire combination in green compound secured to the vehicle with 8/32" serrated wheel nuts. The ride was topped off with a Finnisher body and Hi-Clearance wing.
Congratulations to Kenny Brosh and Fear Farm on another successful event.
Products used –
0212 – Finnisher body
0122 – Hi-Clearance wing
3004 – Groovy green compound
3002 – Double Dees green compound
3206-1 – Profiled closed cell inserts
2075 – 8/32" serrated wheel nuts
3033-01 – Bar Codes in blue compound
3017-01 – Bar Codes in blue compound
2099 – 48p, 84t – Silent Speed Spur gear