Roar Region 8 Championships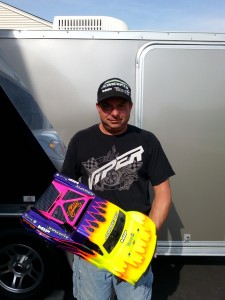 Neil Pestka TQ's and Wins 4×4 SCT at the Roar Region 8 Championships with JConcepts.
Race Report By: Neil Pestka
The Roar Region 8 Championships were held at Fastlane raceway in Blue Springs, Missouri. Setup would start Friday at 10 and track would open at 11 for practice and continue until 9pm at night. The track had a nice fast, fun and challenging layout for the weekend. Saturday would bring 4 rounds of qualifying and would use qualifying points. The track held up nicely all day for qualifying. Sunday morning started open practice then the mains to follow. By the time the A-mains got started the top layer of the track started to come apart in areas and making for a rough race surface. The whole weekend it was in the 90's with very high humidity. The Fastlane crew did a great job all weekend keeping the program moving.

First round of qualifying I would set the pace and set the starting TQ time. The second round didn't go as well as the first and there was a new qualifying time. Third round was by far my best round setting a TQ time 12 seconds faster than round 2's TQ time. 4th round I didn't beat my best qualifying but was the fastest for that round. I had secured the TQ spot. The main I would start on the pole position for the 8 minute race. The track surface was extremely rough making it difficult for all drivers. The first lap I caught a rut and rolled over letting the 2nd and 3rd qualifier get by. I got back under way and knew I had to keep it clean the rest of the race. I got by 2nd at the 3 minute mark and the first place truck had a good lead on the rest of the pack. As the race went on I could see I was closing the gap. The leader made a mistake and I was now all over his bumper with a minute to go. I had to keep the pressure on and hope for my window of opportunity for a pass. He went wide in the corner before the back straight and I took the inside line putting my truck in to the top spot and keeping it there for the win.
It was a fun weekend and look forward to this race again next year.