ROAR Region 5 Regionals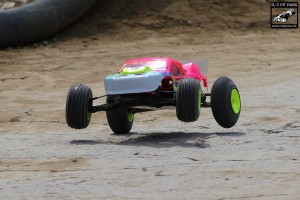 Event: ROAR Region 5 Regionals
Date: August 18, 2013
Track: Summit RC Raceway in Ft. Wayne, Indiana
Race Report By: Ben Ellis
With over 130 entries, racers from Wisconsin, Michigan, Illinois, Ohio, Indiana, and Missouri traveled to Summit RC Raceway in Ft. Wayne, Indiana for the 2013 ROAR Region 5 Championships.

Summit RC Raceway, now in year two of new ownership continues to become one of the best facilities in the US. Convenient location, air conditioned indoor pits, fully stocked hobby shop, a well ran program and flat screen TV's throughout the facility to keep you up to date on the race action are just some of the highlights of this continually improving facility. Plus a fresh layout from the man that's responsible for the layouts at this year's ROAR Nationals, and IFMAR World Championships in Chico, CA, Kevin Jelich.
The one day event used rocket round qualifying to seed the main events, which resulted in some very close racing all day long into the night. Although lit by temporary lighting, the large shadows and now vague depth perception added an additional level of difficulty to the main events.
PRO 2 SCT: Trading the TQ back and forth throughout the day, it was TLR's JP Richards that grabbed the TQ, and eventually the win from AE/JC driver Ben Ellis who finished in second.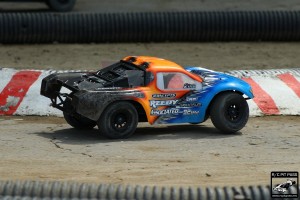 1. TQ- JP Richards
2. Ben Ellis ( AE/JC )
3. Shane Snyder
4. Mason Perillo
5. Michael Mesiter
6. Fred B
7. Rusty Whitaker
8. David Perez ( JC )
9. Tom Tanner
10. Mike Krisher
Mod Truck: With tight qualifying all day and 6 seconds separating the A-main field, several drivers felt poised to have a shot at the title. AE/JC driver's occupied the top 4 spots on the starting grid with Kai Goff on the TQ spot, Ben Ellis starting 2nd, Adam Rayls 3rd, and Cole Tollard 4th. The long shadows on the night track seemed most prevalent at the beginning of the main event as Kai, Ben, and Cole traded the lead back and forth. Once the drivers had adjusted to the night conditions, it was Cole Tollard in 1st, Kai Goff 2nd, and Ben Ellis 3rd.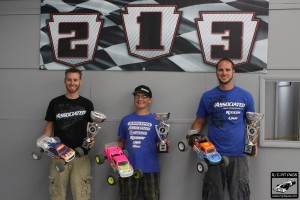 1. Cole Tollard ( AE/JC )
2. TQ- Kai Goff ( AE/JC )
3. Ben Ellis ( AE/JC )
4. Adam Rayls ( AE/JC )
5. Brian Mellow ( AE/JC )
6. Joel White
7. Ron Waugh
8. Eric Clark ( AE/JC )
9. Bryan Boucher
10. Brad Abtey
2wd Buggy: Thought 6 seconds seperating 1st-10th was close? How about 2.8 seconds separating top to bottom? That was the case in the 2wd Buggy class. 3 rounds of qualifying saw a new TQ each round. TLR's JP Richards in round 1, AE/JC's Cole Tollard in round 2, and JP Richards again in round 3 for the overall TQ. The night conditions once again played a big role as the order switched early on into the main event as drivers adjusted to the lighting. While everyone was adjusting though, JP Richards was able to run away with the win. AE/JC's Ben Ellis would end up 2nd, and AE/JC's Adam Rayls in 3rd.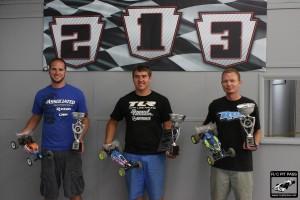 1. TQ- JP Richards
2. Ben Ellis ( AE/JC )
3. Adam Rayls ( AE/JC )
4. Luke Richards
5. Matt Gosch ( AE/JC )
6. Brad Abtey
7. Kai Goff ( AE/JC )
8. Cole Tollard ( AE/JC )
9. Colton Kruse ( AE/JC )
10. Dustin Richards ( JC )
4wd Buggy: The 4wd class started with, and ended with AE/JC's Matt Gosch dominating qualifying, and the main event for a clean sweep of the class. AE/JC's Cole Tollard would end up 2nd, and Dustin Richards 3rd.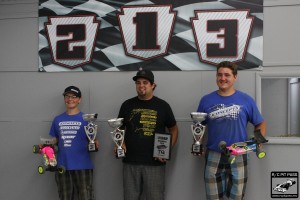 1. TQ- Matt Gosch ( AE/JC )
2. Cole Tollard ( AE/JC )
3. Dustin Richards (JC)
4. Adam Rayls ( AE/JC )
5. Kai Goff ( AE/JC )
6. Colton Kruse ( AE/JC )
7. Mark Lengerich
8. Wayne Snyder
9. Rusty Whitaker
The entire AE/JC team had great traction with our Green Bar Codes all day on the grooved conditions.
Big thanks to Jeremy Hardesty and the Summit crew for putting on a great event! Also special thanks to rcpitpass.net for the photos, and to my sponsors Team Associated, JConcepts, Spektrum, Reedy, LRP, 92Zero Designs for the continued support!