ROAR Region 5 Off Road Championships
This Past Weekend JConcepts Team Driver Ross Rhodes attended the ROAR Region 5 Off Road Championships.
Event: ROAR Region 5 Championships
Date: September 24, 2011
Track: Proving Grounds Raceway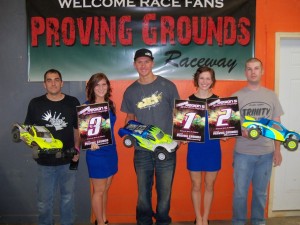 Ross TQ'd the first round of qualifying in stock short course with his Factory Team SC10 equipped with JConcepts Tires, Wheels, Body and Inserts… The Gold Bar Codes helped Ross and his SC10 hold TQ all through qualifying. Stock Buggy was more of a struggle, after two rounds of qualifying Ross was sitting fourth in the B main. Knowing he had one more round of qualifying (rocket round) Ross had to put a good run together. After the 3rd qualifier he was sitting fourth in the A main.

Short Course A-main
Ross got off to a pretty good start, however he would make a couple of bobbles and fell back to fourth. Midway through the 6 min Main Ross found himself in second behind the leader, they maintained the same pace and Ross never had a chance to pass. On the last lap after time expired, going into the back double double the first place driver got the second double a little bit wrong and Ross hit it right and was able to pass him in the last corner for the win.
Stock Buggy A-main
Ross started fourth on the grid, at the start there was a big pile up in the first corner, Ross managed to avoid all of that and found himself already in the second spot. Ross quickly caught up to the leader and passed him in the sweeper. Ross lead most of the main, however with one minute to go he got the back double double a little bit wrong and ended up on his lid and wasn't quite able to catch first and ended up second.
Ross was pleased with his results and had this to say "The JConcepts gear worked great as always and the new Hi-Flow short course body was awesome."
Equipment used
Bar Codes – Gold Compound (short course and buggy – front and rear)
Hi-Flow short course body
Finnisher b4.1 +8mm body
Medium profiled inserts
Profiled sc inserts
Rulux wheels (short course)