ROAR Region 4 Championship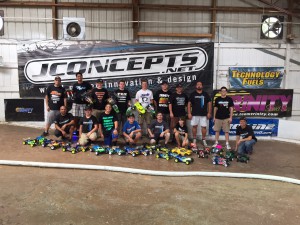 JConcepts Triples at ROAR Region 4 Championships
JConcepts made its way to Florida's longest running indoor facility NewRed Hobbies this weekend for this year's ROAR Region 4 Off-Road Championships. Newly appointed ROAR "off-road" region director Lance MacDonald teamed up with track owners Tom and Melanie Hitchcock to put on one of the best run ROAR events in recent history. NewRed Hobbies is famous for their unique racing surface and technical layouts, this year was no different as they gave the racers an amazing track to battle it out for the regional titles. The unique surface is perfect for slick tires and JConcepts Smoothies were on point all weekend.

JConcepts drivers had an amazing day of qualify as all 3 rounds were run on Saturday. Team driver Alan White got things rolling for the team as he would go out and TQ 2 of the 3 rounds of qualifying for the overall TQ in the resurging 2wd Stock Truck class. Alan equipped his AE T5M with JConcepts brand new gold Truck Smoothies front and rear to keep his truck on lock down. JConcepts very own Paul Wynn would follow his teammates lead by also taking 2 of the 3 rounds of qualifying for the overall TQ in the 2wd Truck Mod class over teammate Daimon Borkowicz. Both Paul and Daimon were running JConcepts new gold Smoothies and Dirt Tech inserts front and rear on their new AE T5M's. One of JConcepts youngest drivers Trey Roberts kept things going as he would go onto TQ 2 of the 3 rounds for the overall TQ in the 2wd Stock Short Course class. Trey equipped his TLR truck with JConcepts all new gold SCT Smoothies and Dirt Tech inserts. 14 year old Daimon Borkowicz would put together one of the most impressive and dominating qualifying performances in both the 2wd and 4wd modified classes! Daimon slammed the door shut on qualifying by TQ'ing every single round in both 2wd and 4wd classes with his JConcepts equipped Team Associated B5M and B44.3. Gold compound Smoothies with Dirt Tech inserts were the perfect choice for Daimon as he was the only driver in qualifying to go 22 laps in the 2wd mod class and 23 laps in the 4wd mod class.
Main day would see some great racing throughout with JConcepts winning 3 Regional titles. Alan White would go on to convert his TQ position into an overall win by winning the first 2 mains for the 2wd Stock Truck Region 4 Title. Daimon Borkowicz and teammate Paul Wynn would put on a show in the modified truck class as they battled bumper to bumper for the entire 6 minutes of the first 2 mains, but it was Daimon who came out on top for the overall win and his first Region 4 title of the weekend. Daimon kept things rolling in the 2wd modified class as he went on to convert his TQ position into the overall win and back-to-back 2wd modified regional titles!
Congratulations to all the winners and thank you to NewRed Hobbies and their staff for an amazing event. Special thank you to the man wearing many hats and giving the state of Florida some of the best racing events in the country, Lance MacDonald!