ROAR Off-road Regionals (Region 4)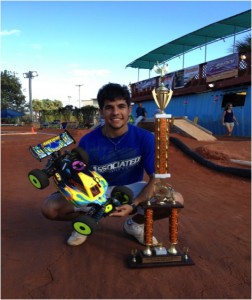 Renato Tradardi Jr. wins the 1:8 Pro Buggy ROAR Regionals with JConcepts.
After a rainy week leading up to the race, Renato Jr. was ready to take on Florida's best drivers at the ROAR Regional Finals hosted by Miami RC Raceway. The event was held October 25-28, but with the weather, the track didn't open for practice until Saturday morning.
After only a few minutes of practice, qualifying got underway. The sun was shining and the track began to dry out quickly. Round 1 was dominated by Billy Easton, Round 2 saw Renato Jr. and Billy Easton battling for the lead, Renato Jr. ended up with the win. Round 3 also had Renato Jr and Easton battling it out, this round went to Easton. Round 4 Renato Jr. had issues with his brakes and was forced out of the race, Renato Jr. ended up 2nd overall.

On Sunday, the sun was in and out but it stayed mostly cloudy. Tire choice was going to be critical. Renato Jr. chose JConcepts Stackers, Soft Blue Compound up front and Super Soft Green in the rear. For the Main, Billy Easton did not race, as the temps got hotter, Renato Jr. lead the A Main from start to finish, finishing 2 laps over the 2nd position of Danny Martinez.
Results:
1. Tradardi, Renato
2. Martinez, Danny
3. Arrieta, Alfredo
4. Jordao, Ricardo
5. Collins, Bart
6. Lopez, Jader
7. Kersten, Sean
8. Angelides, Nick
9. Easton, Billy (DNS)
10. False, Justin (DNS)