ROAR Nationals – Round 3 Qualifiers Complete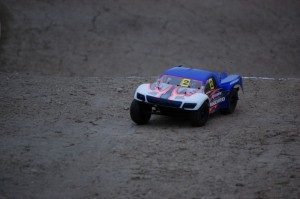 The 4th and final round of qualifying has begun at the 2011 ROAR Electric Off-Road National Championship. The track and weather have been perfect, great food with amazing service ;), here at Nor-Cal Hobbies in Union City, California.
For JConcepts, Ryan Maifield has TQ'd the first three rounds of Modified Short Course guaranteeing him an overall TQ for the class. Ryan has been running the new JConcepts Hazard Wheel, Bar Codes and a prototype Illuzion Hi-Flow body that looks amazing going around the track.
Ryan has one TQ in 4wd Buggy and is sitting 2nd and is currently sitting 4th in 2wd Mod Buggy.
Steven Hartson has had a few good runs and is sitting 5th in 4wd Buggy with Josh Numan sitting in the 8th spot. Kody Numendahl has been putting in some great runs in 4wd Short Course, he is sitting 3rd currently. Brian Kinwald is currently 6th overall in Mod Short Course but as I write this Kinwald TQ's the 4th round so that will bump him up!
More updates will be posted later tonight and as always live scoring and live HD video can be found over on LiveRC.com