Rivkin and BT Blazing Hot at JConcepts Summer INS9!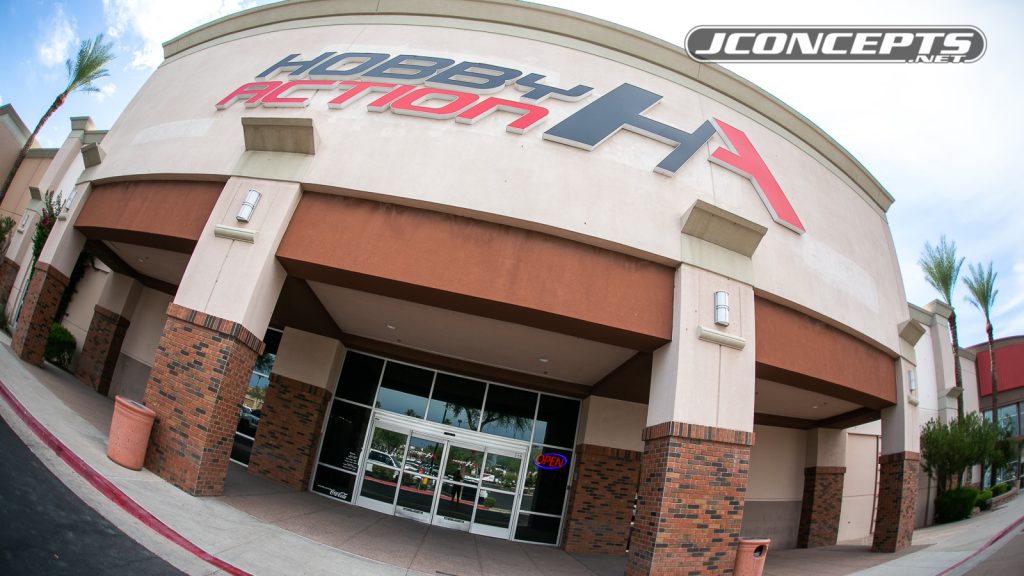 In the heat of summer, where else better to stay cool and have a blast? Racing RC cars at Hobby Action R/C Raceway of course! Include your buddies, mix in amazing competition, and you've got yourself the JConcepts Summer INS!!
Let's be real. This place is fantastic. There's no place like it. The hobby shop is amazing, the pits couldn't really get any better, and the vibe is always friendly and welcoming. It's just right.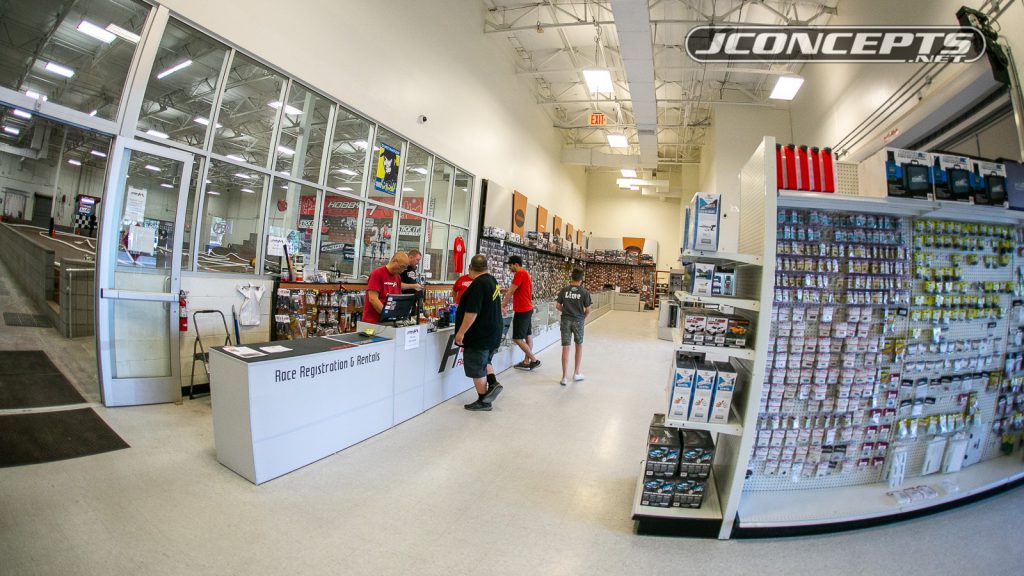 Track owner, Larry Tom, had a vision and through a long, enduring process has created one of the finest RC facilities in the US, if not the finest. It's always a pleasure to be at Hobby Action. There's a certain kind of appreciation and feeling you have when you're on that driver stand. It feels… special, unique, and authentic.
The pits at Hobby Action really fly under the radar. The layout and table setup is beautiful and spaciously open, making it feel very relaxing and enjoyable to be in the pits working on your car(s). The lanes are wide so you're not constantly getting bumped in the back or asked to move forward so people can get by. You just sit there. Working, enjoying, wrenching, chatting, etc. the whole time.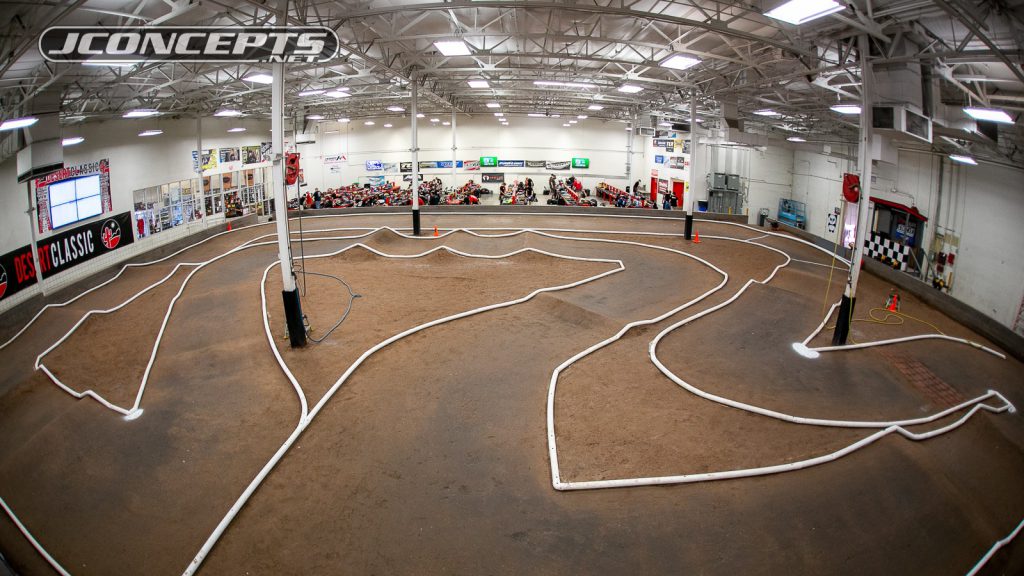 Yes, the dirt isn't perfect. But what it is is very, very challenging. Perhaps one of the most challenging surfaces to race on. But you know what? It really makes you dig deep. You have to be in touch with your car, your setup, your tires, and your ability to not meltdown after a mistake. What Hobby Action teaches you is composure, mental strength, line consistency, and speed. It's always fast here. This year's layout was pretty simple, but the jump placement was very tricky and created a lot of opportunities to move forward. Since the layout was simple, the racing was extremely close and everyone loves exciting, close racing.
It's never easy to host a big race as it takes a team effort. Thank you team Hobby Action and Larry Tom for the amazing hospitality and excellent facility to host the Summer INS. All of the hard work is very much appreciated!
21.5 Independent 2wd Stock Buggy
The 21.5 Independent 2wd Stock class is definitely growing in popularity. It was maxed out at 30 entries and highlighted drivers that have ZERO sponsorship. With Hobbywing's fixed timing motors, fixed gearing, reduced cost JConcepts spec tires, really allowed for an even playing field in terms of speed and power.
In the extended 12 minutes single A-Main, it was TQ Chris Lemaire posting a comeback run to recapture the lead after having lost it to TJ Bamsey for half the race. In the end, Chris came on strong delivering quick laps to end the weekend on top. TJ impressively jumped from 5th to contend for the lead and finished 2nd. Fighting hard throughout the entire 12 minutes, Lee Conley found himself in 3rd four times! After 12 minutes, Lee finished strong to take the last spot on the podium.
17.5 Expert 2wd Stock Buggy
It was AE's Ezra Keller making a statement early in qualifying by setting the overall TQ. During the 8 minute final, Keller momentarily lost the lead, but stayed calmed and didn't panic after an early attack from Gonzales and a late charge by Williby. Keller crossed the line in 1st by just 1.13 seconds over Williby and coming home with 3rd place and making huge gains after only a short time in RC, was AE/JConcepts' Doug Lariviere.
13.5 Stadium Truck
It was a tall order to stop TLR's Matthew Williby in the 13.5 Stadium Truck class. Williby set the TQ and took a sweet win from tone to tone proving to be unstoppable. AE/JConcepts' Doug Lariviere had an impressive weekend also placing well in stadium truck and finished 2nd overall with speed and sharp driving. TLR's Ryan Kaller finished 3rd on the podium to complete a very fast top 3.
13.5 Short Course
Harnessing the power of BK during the 13.5 SCT class, AE's Kyle Davis held on to the lead and took the win over a hard-charging Caden Lindsell. Lindsell finished only 1.65 seconds back and taking the final podium spot was AE/JConcepts' Adam Rayls.
13.5 4wd
AE's Ezra Keller and TLR's Matthew Williby put on another great show, but this time in the 13.5 4wd class as both looked very quick all weekend. During the 8 minute main, Williby never gave up and chased Keller to within 1.5 seconds coming all the way from 5th on the grid. However, Keller never skipped a beat and took the win with Williby 2nd and Yokomo's Nolan Whitley finished where he qualified in 3rd.
4wd Modified Truggy
Congrats to Xray's Kyle Schmer on his great run in the 4wd Modified Truggy class taking a fantastic win after momentarily losing the lead and slipping back to 3rd. With plenty of time on the clock, Kyle worked his way back to the front and won with a comfortable margin. Matt Russell had impressive speed and closed out the day in 2nd with HB's Tony Talyor taking the last spot on the podium.
40+ 2wd Modified
It's a tall order to take down the 40+ 2wd King, but it's also no easy feat for the AE team manager as he's under a lot of pressure to uphold that title. With Scott Spears and Richard Lake racing, it was any man's game. Despite their efforts, BT remained rock-solid and drove with silky smooth speed and consistency and took the win in the 8-minute final. AE teammates Scott Spear and Richard Lake followed closely behind in 2nd and 3rd.
2wd Modified
The battle was on in the highly contested 2wd Modified class as AE/JConcepts Spencer Rivkin was hungry to defend his home turf and his 2wd National title here at the Summer INS. But a great qualifying effort by Xray's Ty Tessmann saw the Canadian on top for the triple mains. Despite starting 2nd, Spencer was on the attack from the very start of A1, but unfortunately for Ty, he didn't get more than a lap as he DNF'd from a rear-wheel nut. After Spencer won A1, the pressure was on everyone to stop him from winning A2. Despite the efforts by all, Rivkin was unstoppable on this day as he capitalized on a rare Ty mistake late in A2 and held on for the win taking A2 and with it, the overall. A3 went to Ty Tessmann, which secured him 2nd and impressing many over the weekend in 2wd was AE's Ron Devoll, who finished 3rd in A1 and 2nd in A3 and take home 3rd.
4wd Modified
It seemed that the spread was more even in the 4wd Modified class as there were 3 different winners. A1 went to AE/JConcepts' Spencer Rivkin by just .4 seconds over Xray's Ty Tessmann. A2 went to AE/JConcepts' Broc Champlin and A3 saw Yokomo/JConcepts' Ryan Maifield on top. By lowest score, Spencer Rivkin emerged victorious with a total of 3 points. After taking the best 2 of 3 mains, there was a 4-way tie for 4 drivers having 5 points. By tie-breaker, Ryan Maifield took home 2nd and Ty Tessmann was awarded 3rd overall.
++ Winning Product Used by Spencer Rivkin ++
Body – At the Summer INS, Spencer ran both the F2 bodies on his 2wd and on his new B74, but in lightweight. The F2 for the B74 is brand new and has already found success taking its first major win.
Wings – The Aero lower front wing has won so many racers for Spencer, it's pretty much standard issue by now. The rear wing was the Aero S-Type on 2wd and the High Clearance wing on 4wd.
Tires – Most of the team preferred ground down slicks. They felt that it was easier to drive and more comfortable to drive at Hobby Action.
Wheels – White wheels for Spencer of course and the Mono is the way to go!
Foams – Many of the team drivers prefer harder foams when driving on high grip and the Dirt Tech foams were perfect for the slick tires.
Accessories – By looking at Spencer's car, you can realize which accessories are his favorites and here is the list of JConcepts quality upgrades he had on his 2wd. Also, the new line of RM2 grease has been a hit with the team drivers and are now found in the pits of many pro drivers, including Spencer's.
Videos from the weekend –
Catch up with Ron Schuur from Hobbywing and Schuurspeed
Always a great time catching up with Ron Schuur of Hobbywing North America / SchuurSpeed, who talks about the new Hobbywing XR10 PRO G2 ESC and the hottest news in stock racing, 21.5 Spec class, and more! #gojconcepts

Posted by JConcepts Inc on Saturday, July 13, 2019
Muchmore Tire Warmers Video
JConcepts Summer INS9 Video on Muchmore Tire Warmers

One of the devices that's been appearing in the pits and a huge topic at the track has been the Muchmore Racing tire warmers. Check out the video as Jason discusses this nifty device seen here at the Summer INS9 at Hobby Action RC Raceway! #gojconcepts Muchmore Racing USA Joe Pillars

Posted by JConcepts Inc on Sunday, July 14, 2019
4wd Modified A1!!!
4wd Modified A1!!!

Posted by JConcepts Inc on Sunday, July 14, 2019
2wd Modified A1!!
2wd Modified A1!!

Posted by JConcepts Inc on Sunday, July 14, 2019
4wd Modified A2!!
4wd Modified A2!!

Posted by JConcepts Inc on Sunday, July 14, 2019
A2 of 2wd Modified!
A2 of 2wd Modified! Who's got this??

Posted by JConcepts Inc on Sunday, July 14, 2019
13.5 4wd A-Main and A3 of 4wd
13.5 4wd A Main and A3 of 4wd coming up!

Posted by JConcepts Inc on Sunday, July 14, 2019
A main of 17.5 Expert 2wd and A3 of 2wd Mod!
A main of 17.5 Expert 2wd and A3 of 2wd Mod!

Posted by JConcepts Inc on Sunday, July 14, 2019