RC Pro Series Round 2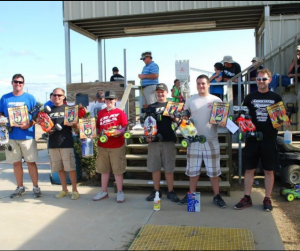 Denver Houghton Wins Pro Buggy at the RC Pro Series Race with JConcepts.
Series: National Series
Event: South Division Round 2
Date: Fri, Apr 27 to Sun, Apr 29, 2012
Location: Finishline RC Raceway, Scott, Louisiana
The second round of the RC pro international series was held in Scott, Louisiana. JConcepts Team Driver Denver Houghton raced in the Pro Buggy and Truggy class. During practice on Friday, the conditions were extremely dusty. There wasn't one car out there that did throw a rooster tail as it went through a corner. Despite the track being dusty, Denver's JConcepts equipped Losi vehicles had a lot of traction. Denver knew that if they felt this well now, they will feel absolutely dialed come time for qualifying.

When qualifying finally rolled around, the track finally started to groove up and the dust had settled. In qualifying Denver ended up making at least one mistake in each of his qualifiers, even though his cars were set up perfectly. At the end of the day, Denver qualified 3rd overall for the truggy A-Main and fifth overall for the buggy A-Main.
Denver Chose to run blue compound Hybrids in the mains on both his buggy and truggy. In the truggy main, Denver had a good start but suffered a flame out on the first lap while in the third position. This put him down to the 7th place position and almost a lap down to the first, second and third place cars. Denver worked his way back up to 5th place and then flamed out again. After a quick Glow Plug change by his Dad, that fixed his flame out issue and Denver ended up taking third.
In the buggy main, Denver didn't have a good start. He started out fifth and in the second turn was punted and put him back to the 9th place position. Denver knew he needed to keep his composure to get back into the pack and that is just what he did. After two fuel stops, he had worked his way into the second position and found himself in a battle with Jake Dellinger. This battle went on till about the 30 minute mark and Jake made a couple of mistakes and Denver took the lead with about a 6 second cushion. Denver stayed consistent which kept Jake from catching him again. Denver crossed this finish line with his first RC Pro series win in the pro class.