RC Pro Series North Division – Round 1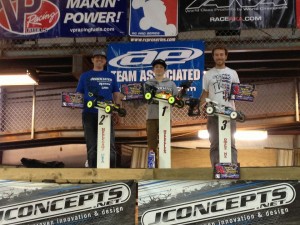 Nick Gibson takes the win at round 1 of the RC Pro Series with JConcepts.
Race Reporter: Jeramy Riggs
This past weekend, HobbyTown USA Hobbyplex in Omaha, NE hosted the first round of the RC Pro Series North Division. With a good number of entries to start the series, JConcepts/Team Associated driver Nick Gibson qualified his Team Associated RC8.2 equipped with JConcepts Hybrids, Silencer body and Finnisher wing in the number 2 spot behind Jared Tebo.

Running most of the main in second place and overcoming adversity with a bent servo horn. Nick was able to stretch out his gap over third place Associated teammate Chad Parks. At the 33 minute mark leader Tebo flamed out. Nick capitalized on Tebo's misfortune taking the lead and holding off a late race charge by Parks and Tebo taking the win with a 5 second margin!