Race Team Update – Winning Wednesday, October Week 1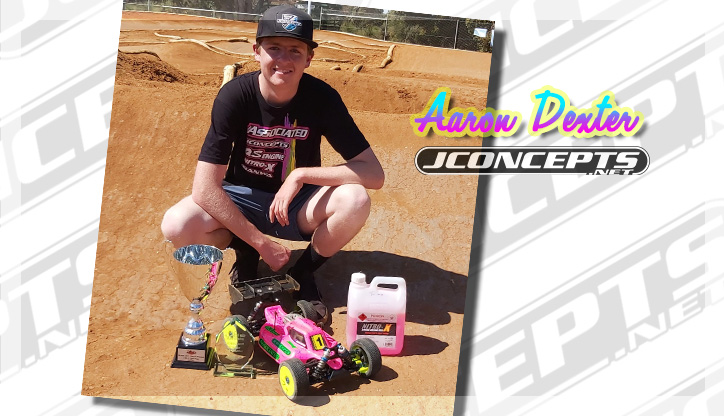 It's a true delight to have Aaron Dexter on the JConcepts race team. Dedicated and working hard on and off the track, this talented Australian driver stands out with his speed but also takes pride in sharing with us his racing adventures. In this week's update, Aaron says, "This past weekend, my family and I traveled to MORBC for the 2019 King of Whiteman race. My car was super-fast, smooth, and easy to drive with the help of JConcepts green and blue compound Reflex and Stalkers I used in qualifying and helped me take all 5 rounds along with the overall TQ/pole position for Sunday's A-Main. For the final, I decided Stalker in R2 would be the ticket. After a few laps, I settled into a comfortable rhythm and took off from the field winning the main event. Thank you to JConcepts for providing and supporting me with amazing treads and compounds to help me get the best result possible! My car was also equipped with the JConcepts S15 body

". Excellent job and thanks so much for sharing with us your results Aaron!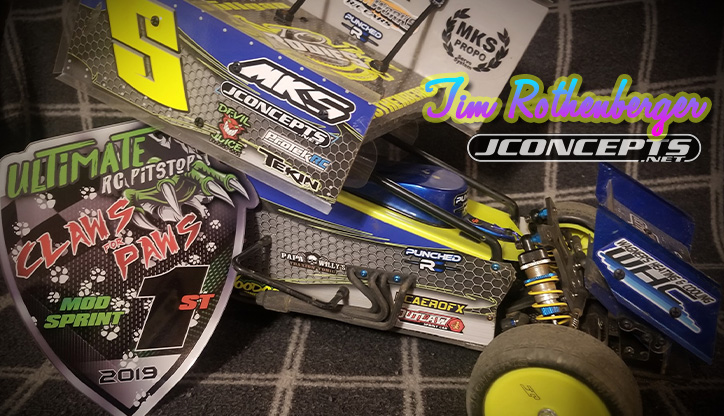 When you come home with a plaque that says, "1st Place", it can only put a huge smile on your face. Grinning from ear to ear, Tim Rothenberger attended the URCP Claws for Paws Race and finished off the night with the W in Modified Sprint Car. Dirt Webs for the win!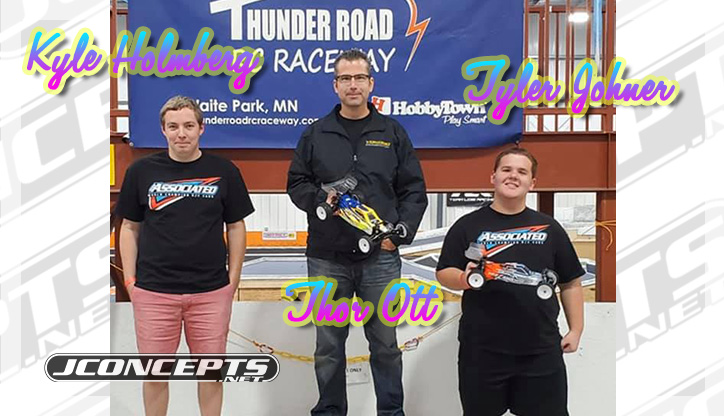 The magic trio of Thor Ott, Kyle Holmberg, and Tyler Johner are stepping up their game as the JConcepts NCTS approaches Thunder Road Raceway in St. Cloud, MN. It was a close race in the super-competitive 17.5 2wd class and in the end, Thor got the win with Kyle 2nd and Tyler 3rd. We're excited to see these 3 race as we're going to be treated to a killer show in the weeks to come!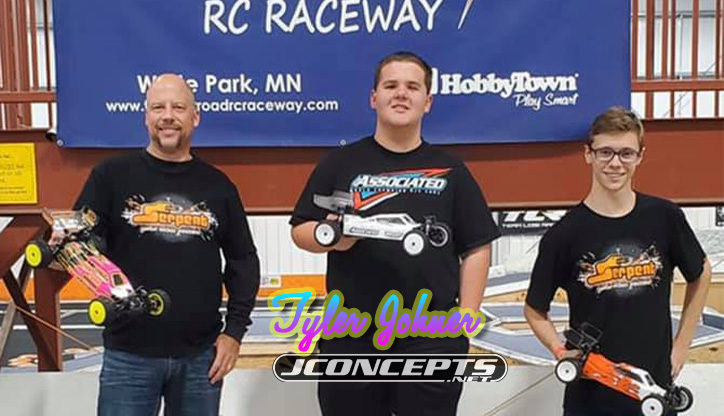 Also running the 13.5 4wd class last week at Thunder Road R/C Raceway, Tyler Johner finished the weekend off with a 1st place finish in the 13.5 4wd class using Swagger fronts and Twin Pin rear tires. For body styling, Tyler ran the F2 body matched with the High Clearance wing on both his 2wd and 4wd.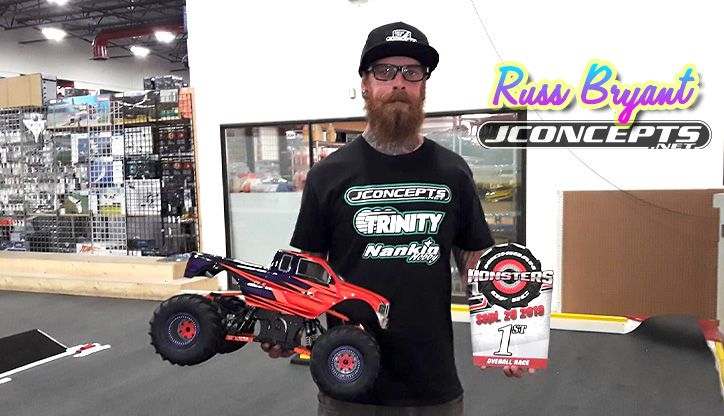 Doing what he does, one of the best in the Midwest takes home 1st place in ProMod at the Michigan Monsters of RC race #1. Congrats to Russ Bryant on his fabulous race win!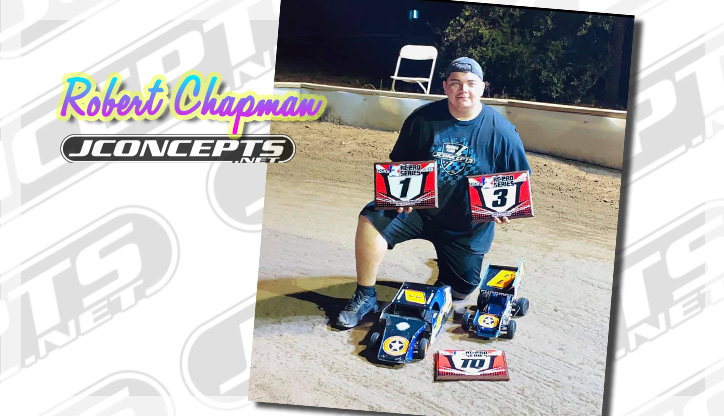 How do you get faster? You practice and you keep learning. Thanks to Robert Chapman for sending in his race reports and keeping us updated with what's going on in his world of racing. Taking it to the competition at round 2 of the Pro Dirt Oval Series, Robert placed 3rd in Outlaw Sprint moving up 4 positions from where he qualified. However, in the Midwest class, Robert found a killer groove and excelled to finish 1st overall. Robert's tire of choice was the green compound Dirt Web fronts and Ellipse rear tires. This guy is going ludicrous speed!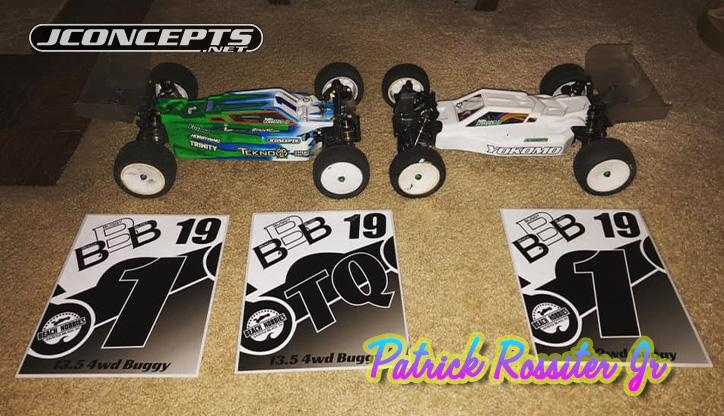 What an awesome job by Patrick Rossiter Jr. last weekend at the Beach Buggy Blast hosted by Beach RC and Hobbies. With a combination of gold compound Octagons and Dirt Webs, Patrick took the win in 13.5 4wd and 17.5 2wd! Keepin' him styled nicely was the F2 body for both his Tekno 4wd and his Yokomo 2wd. Amazingly good stuff right there!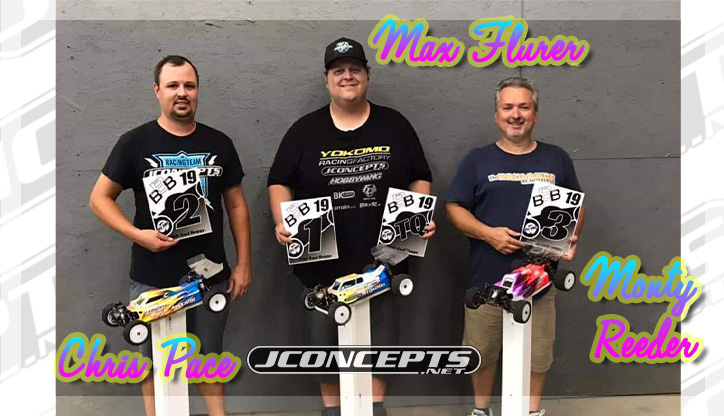 Also hitting up the 2019 Beach Buggy Blast was a handful of JConcepts' greats including Max Flurer, Chris Pace, and Monty Reeder. The three went on to fill out the top 3 spots in this very order. Congrats on the crew for holding it down in the ultra-fast class, 4wd modified! Aqua Ellipse looked like they were money!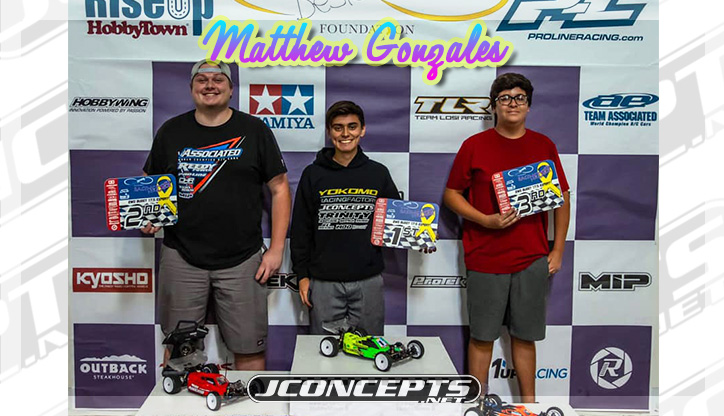 Taking a big win at the Desi Strong Benefit Race was our very own, Matthew Gonzales. MattyG has found a nice groove with his racing and the hard work he's put in is getting him some well-deserved wins! Pin Downs and Swaggers kept his car glued to the track and F2 lightweight body gave him the winning edge. Winner Winner, nice job MattyG!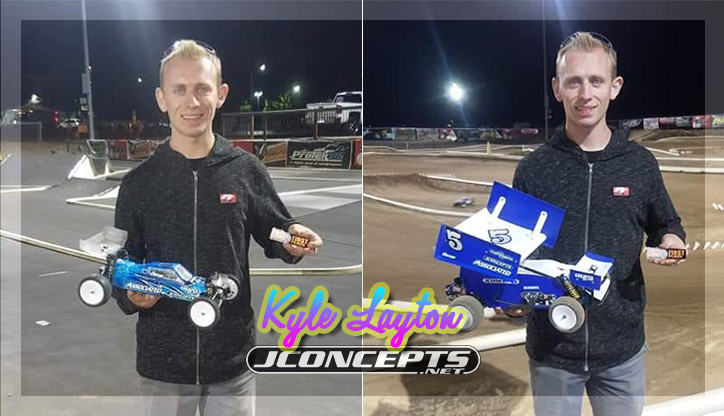 Last weekend was a true test of Kyle's versatility as a driver as he raced both dirt oval and carpet off-road. With the two styles being so different, the end result was the same as Kyle took the win on carpet AND in dirt oval sprint car! Kyle noted that the Swagger fronts and Nessi rear were his go-to tires and Hybrid and Sprinter fronts got the job done on the sprint car.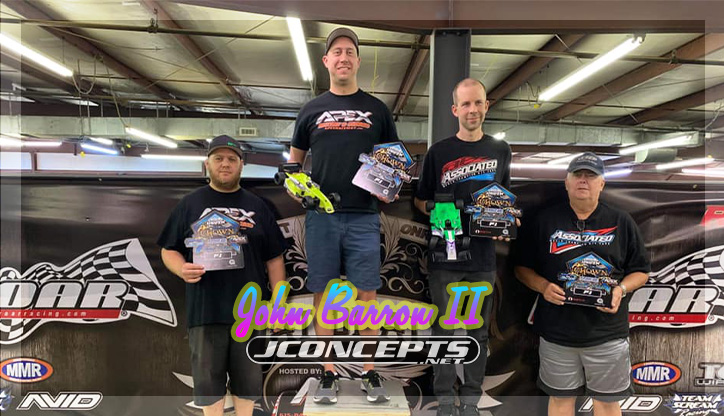 After many rounds completed and a lot of time and effort devoted, Jonh Barron II is your Triple Crown Overall Series points winner in the F1 class. Congrats John on a title well deserved.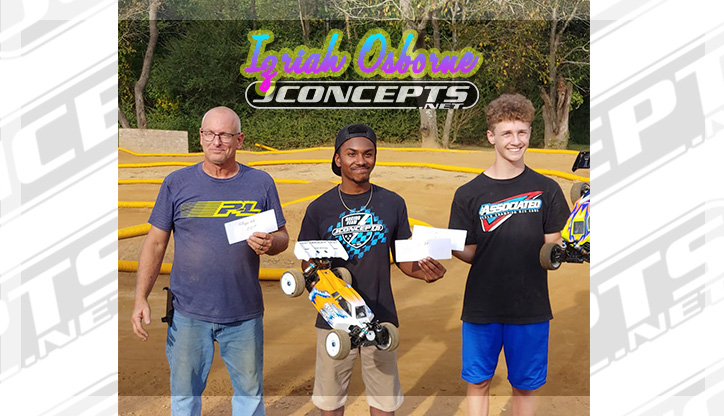 It's always good news hearing from Izriah Osborne and last week, he participated in Radioactive Raceway's Money Race located in Mayfield, Kentucky. Placing himself 2nd overall in qualifying, Izriah put the puzzle together in the A-Main and drove himself to the top step in Ebuggy. That smile though $$!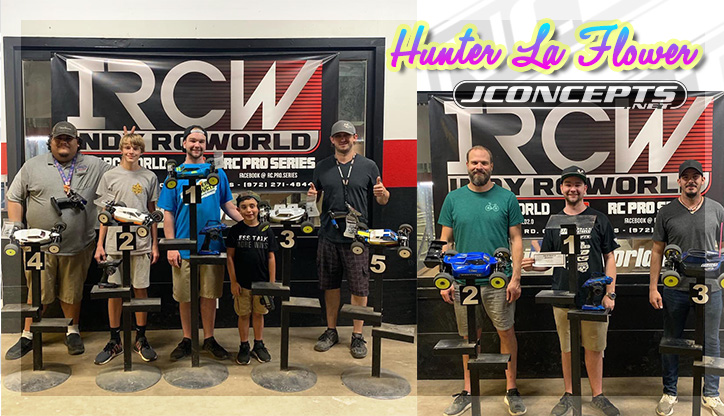 It's no surprise that Hunter La Flower can get wins, but grabbing 2 wins last weekend… that's just plain awesome! On Tuesday, Hunter raced his 2wd and got the TQ and win using Aqua Ellipse tires. Next, on Saturday, Hunter ran Pro Ebuggy and got the W on R2 Detox tires. Ladies and gentlemen that's what we call….. getting it done!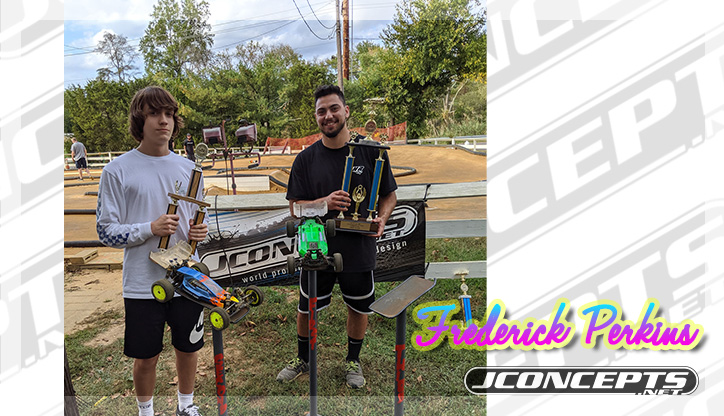 Giving back and helping others is a great way to build the RC community and honestly, it's something we need more of. Last weekend, Frederick Perkins took it easy as the turn out was pretty light at Family Hobbies Raceway. Instead of turning around and going home, Frederick helped out 2 sportsman racers with driving tips and setup help. In the end, not only did Frederick win the day, so did the other two guys he helped b/c we're sure they had a blast!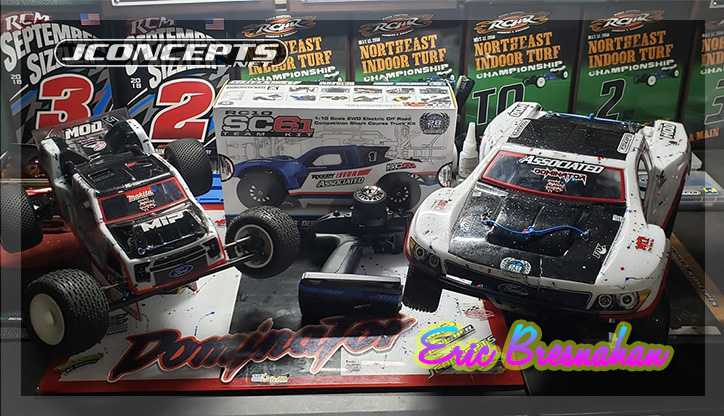 Locking down the weekend at RC Madness was Eric Bresnahan as he finished out the point series…. an 11 round point series! Taking the overall title and dominating the class, Eric earned 1st place in Stadium Truck! That dedication is hard to match and congrats to Eric on a job well done!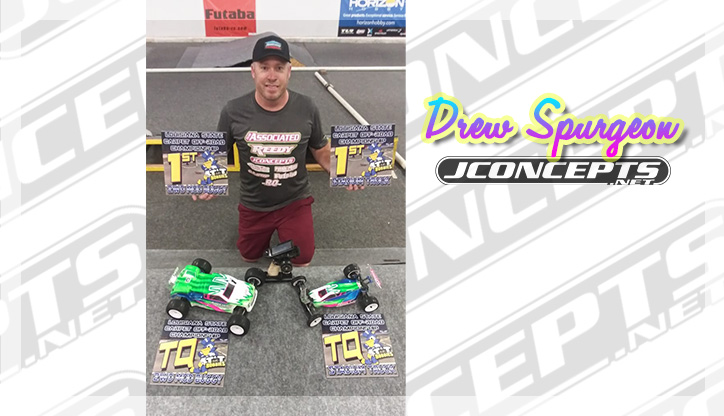 New to carpet off-road, Drew Spurgeon was just looking to have a good time, you know… have fun out there. However, once a competitor, always a competitor. As things got serious, Drew stepped up his game and came home with the TQ and win in both the Stadium Truck and 2wd Modified classes! Good drivers can drive anything as Drew demonstrated while using Swagger fronts and Nessi rear tires to help secure the awesome victories.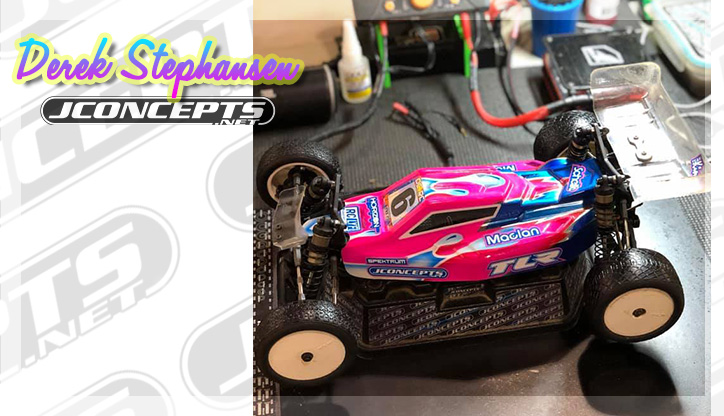 Getting on the right tire program is a key to racing success as Derek Stephansen perfectly demonstrated last weekend at LSR's Friday night club race. With Dirt Web fronts and Ellipse rears well broken in, Derek slashed up the competition in 17.5 Expert 2wd finishing in 1st place. Terrific job and loving that paint on the F2 TLR body!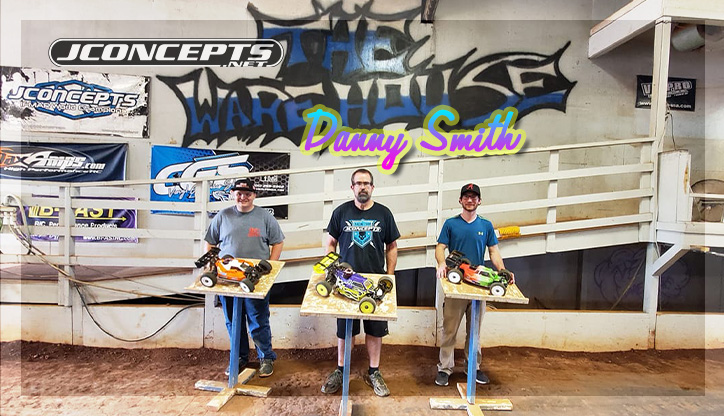 Club racing is the core of RC racing. Keeping on a good practice and race schedule can help see your progression quickly rise and perhaps one day, rise to the top step. Taking the Nitro Buggy win at Hobby Raceway's club race was Danny Smith as Danny is one who knows the journey to the winner's circle………isn't easy.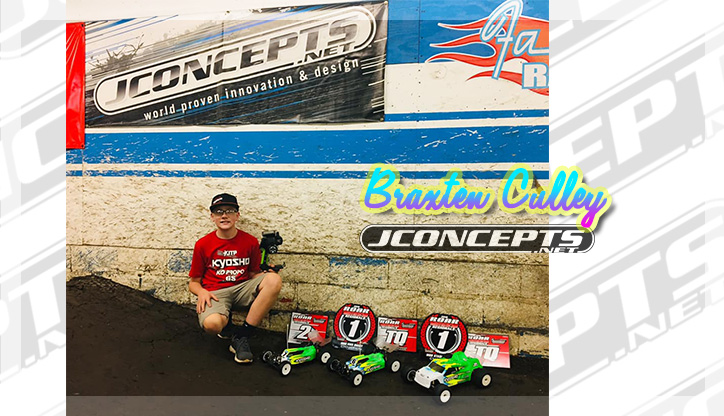 It was a fantastic weekend for young Braxten Culley as he attended the ROAR Region 8 Regional Championships at Fastlane Raceway in Blue Springs, MO. With the rain affecting the racing outdoors, the race was moved indoors where Braxten adapted quickly and took remarkable wins in the 4wd Modified and Mod Truck! Also, Braxten finished impressively well in 2wd Modified with a 2nd place finish overall! Congratulations Double Regional Champ!!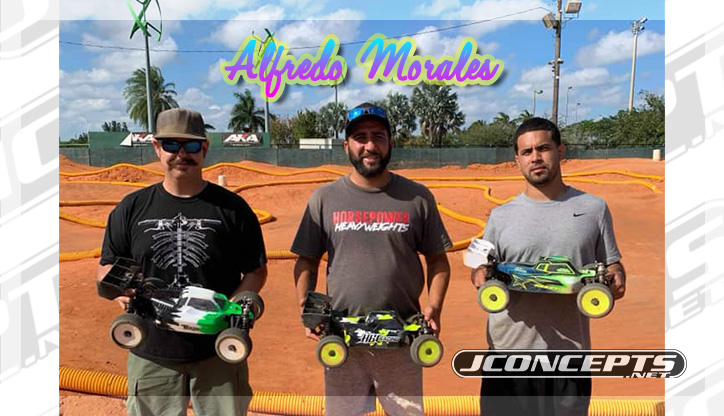 Perhaps the hardest working racer in RC, Alfredo Morales dedicates a lot of time taking care of Mills Pond RC Speedway. The track is always in great shape making sure the racing experience is fun and memorable. Yet, somehow he can still manage to win the Force Series warm-up race in Ebuggy and finish 2nd in Nitro Buggy. How?! Hats off to you Alfredo!