Race Team Update – Sept. Wk 4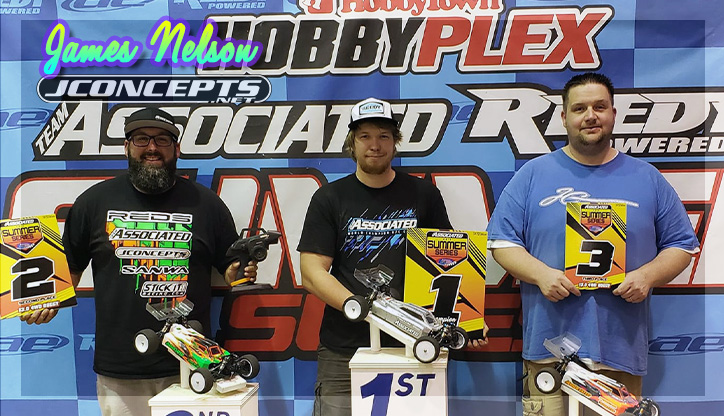 After completing a successful race series at Hobbyplex, congrats to James Nelson on taking home 2nd place overall in the 13.5 4wd class at the Team Associated/Reedy Summer Series. Fantastic job by James and his tire of choice for the series is the gold compound Ellipse in the rear and Dirt Web fronts for front end grip. Nice job!!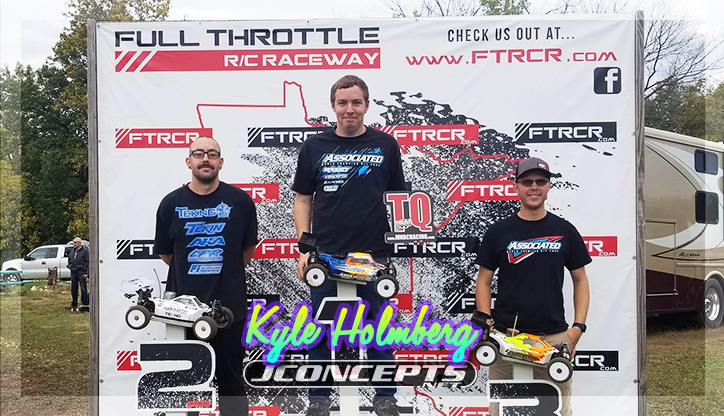 It was a TQ and win kind of weekend for the super speedy, Kyle Holmberg. Kyle attended round 5 of the MNRC at FTR Raceway in Foley, MN. Rockin' green Reflex tires and Silencer body on both cars, Kyle got the job done in stellar fashion. Nice job Kyle, keep it up!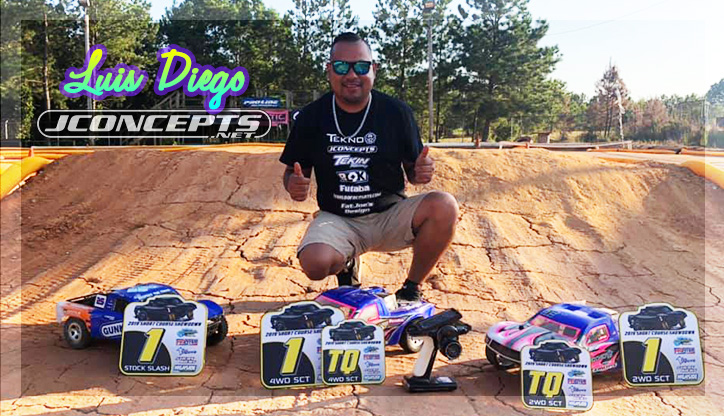 What a photo! At the Short Course Showdown, Luis dug deep and found success at Thunder Alley in Wilson, NC. Placing 1st in 4wd SCT and 1st in 2wd SCT, Luis fully took advantage of the blue compound Double Dee tires on his SCT's that helped propel him to his flawless weekend!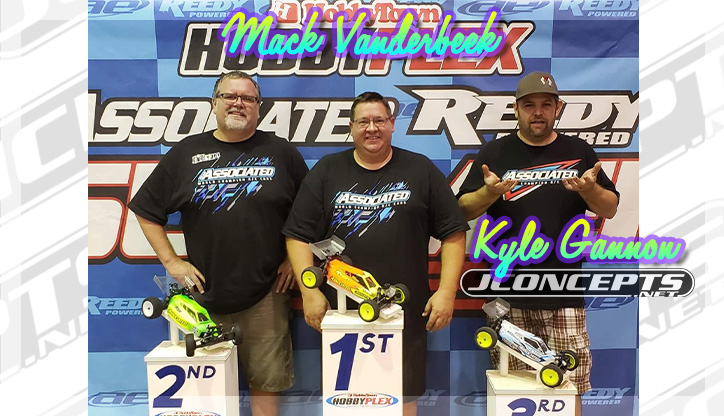 Nice job to our excellent 40+ 2wd Mod drivers, Mack Vanderbeek and Kyle Gannon, who was able to finish 1st and 3rd at the Team Associated Summer Series hosted by the world-famous Hobbyplex! For Mack, it must be a blast to race with his 2 sons, Alex and Owen Vanderbeek, who are super fast in their own right. Fastest family racing together? Maybe so?!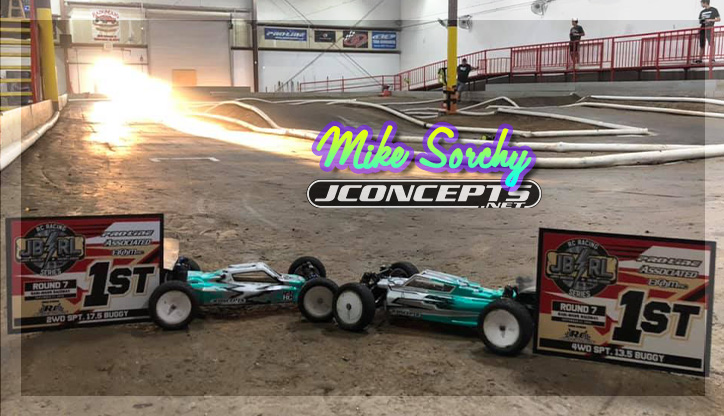 Attending round 7 of the JBRL hosted by Rainman Raceway, Mike Sorchy struck gold as he capped off the awesome weekend with two 1st place finishes in 17.5 2wd and 13.5 4wd. Nice work Mike and glad you liked the gold Dirt Web fronts and Ellipse rear combo!
It couldn't have gone better for JConcepts' driver, Monty Reeder last weekend at the Georgia State Championships as Monty took home the pro nitro buggy win! One of Monty's speed secret came from the super trick, Detox tires! Congrats on the win Monty!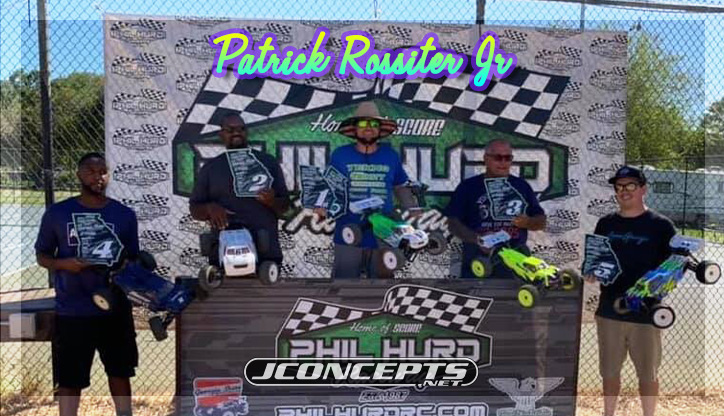 Another JConcepts team driver that found success at the Georgia State Championships was our very own Patrick Rossiter Jr. Despite having RD duties, PRJ found the time to lock down the Etruggy win with a TQ and win effort on blue compound Reflex truggy tires.
It's always nice to race for a good cause, especially one like cancer. Last weekend, Paul Ciccarello took part in LCRC's Race Against Cancer charity race where he competed in the 40+ Nitro Buggy, Pro Ebuggy, Pro Nitro Buggy, and Nitro Truggy classes and came home with some terrific results! 1st in 40+ Nitro Buggy, 3rd in Ebuggy, 3rd in Nitro Truggy, and 7th in Pro Nitro Buggy! Paul's tire of choice was the blue compound Detox tires on WHITE WHEELS (normally yellow). What a great cause!!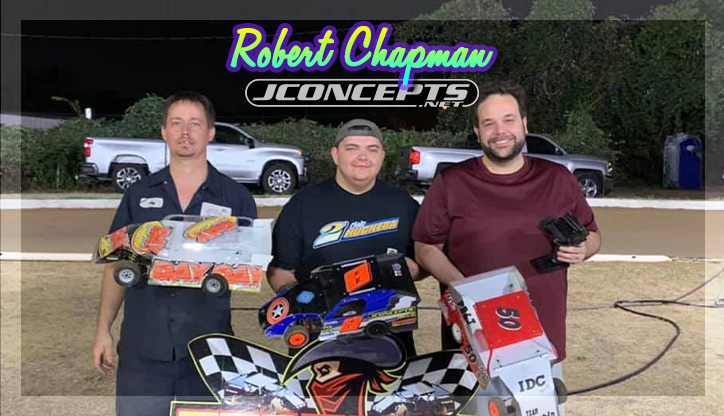 The man of the hour last week was Midwest Mod oval specialist, Robert Chapman. Putting together a killer A-Main performance against some heavy hitters, Robert Chapman took 1st at Friday Night's Wild Bill club race on green Ellipse rears and Dirt Web fronts! Robert said, "Thanks to JConcepts for producing the best rubber on the market," but for us….. thanks for being an awesome team driver and representative.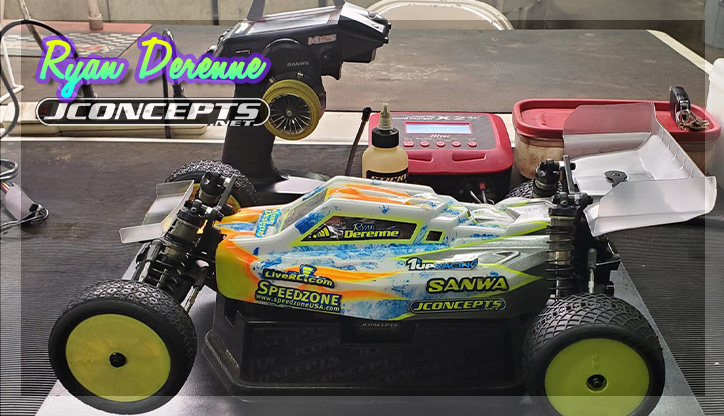 Thanks to our team driver, Ryan Derenne, for sending us his report, "At Dirt Heaven Hobby and Raceway for a summer series race I ran my TLR 22 5.0 DC Elite in the 40+ super stock class. The new car was dialed on gold Ellipse rears and Dirt Web fronts with the F2 body and Aero wing package. I would TQ, but in the Amain I didn't have a clean run and finished 2nd. Overall a very fun night of tight and close racing."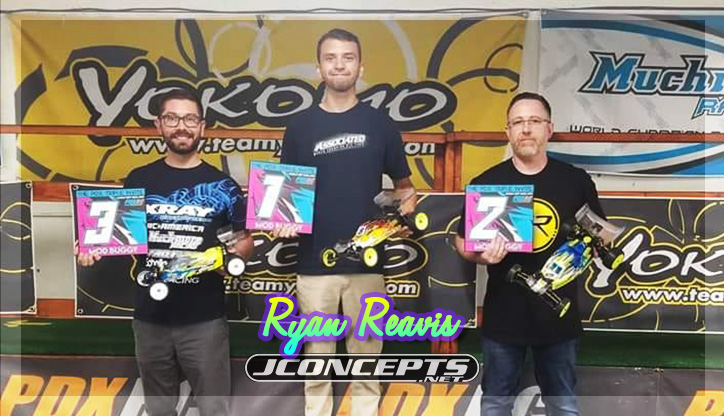 It was a big win for Ryan Reavis during the PDX Underground Triple Invite race as the young Washington native rocked the competition using the JConcepts Nessi paired with Swagger fronts! Ryan has been developing his skills nicely and has come a long way over the years to become one of the NW's front runners.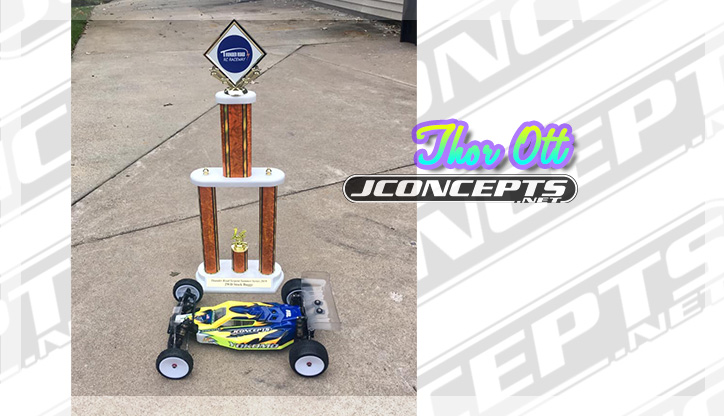 Check out that huge trophy that Thor received for winning the overall 17.5 2wd class during the 5 race series brought to you by Serpent and Thunder Road Raceway in St. Cloud Minnesota. What an accomplishment and what a result. Thanks, Thor for all of the dedication and hard work! The JConcepts Twin Pins, Swagger fronts, High Clearance Wing and F2 body all made a difference!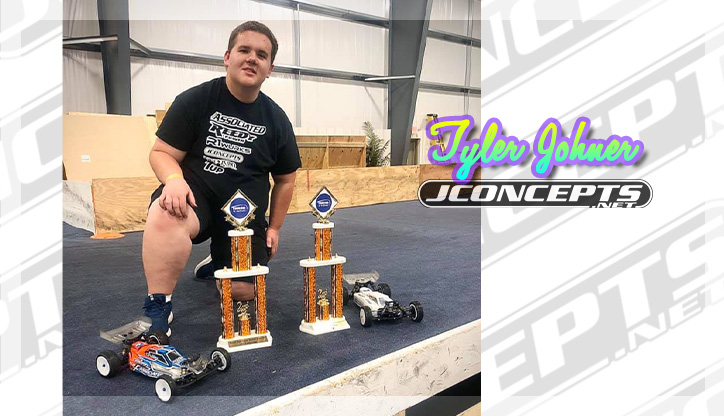 Another star from the Serpent Summer Series hosted by Thunder Road was Tyler Johner. Johner also brought the hammer finishing 2nd overall in both the 17.5 2wd buggy and the 13.5 4wd class. Tyler's winning package consisted of Swagger fronts, Twin Pin rears, F2 body, and High Clearance wing. Nice job Tyler and congrats!
It was a mega weekend for Tyler Keel, who took 1st place in the Open Sprint class during the 2019 North/South Shootout hosted by Battleground Speedway in Muskogee, OK. When you can wheel, you can wheel and Tyler got the win using blue Ellipse rears and Dirt Web fronts. This guy is on fire!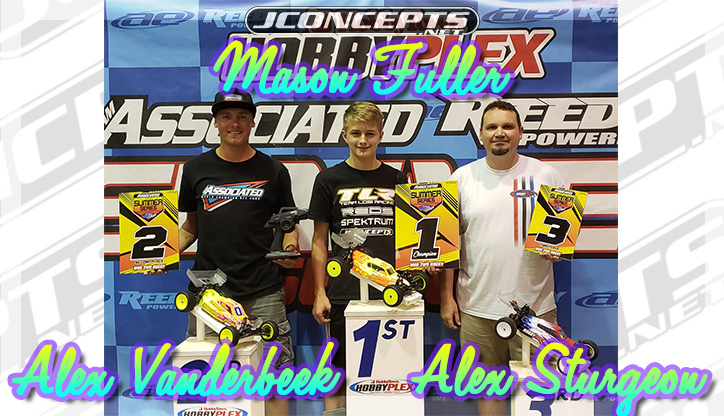 This is a podium photo that we couldn't be more proud of. Thanks to Mason Fuller, Alex Vanderbeek, and Alex Sturgeon for completing the 1-2-3 clean sweep in 2wd modified. Mason was able to take the win, just barely edging out the always fast Alex Vanderbeek. Alex Sturgeon finished ahead of his buddy Will Brinton, evening out the grudge match to 2 – 2!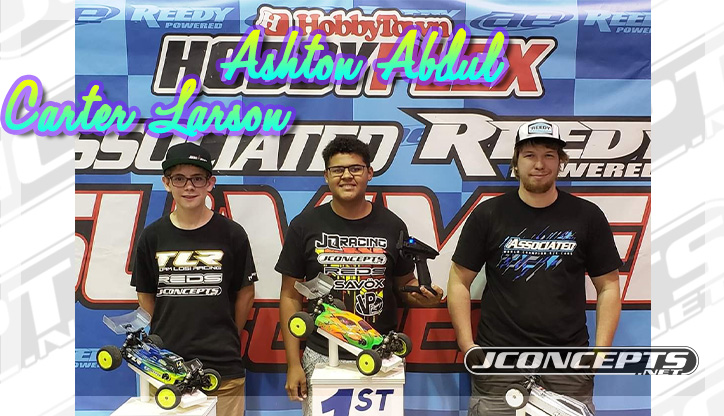 A couple of young drivers that shows great enthusiasm and speed potential is Ashton Abdul and Carter Larson. Both have been driving well and it showed last weekend at the Hobbyplex AE/Reedy Summer series where the two young talents finished 1st and 2nd in 13.5 4wd. Once again, the gold compound Ellipse rears and Dirt Webs fronts did the job and as both drivers drove remarkably well to finish 1-2 last week!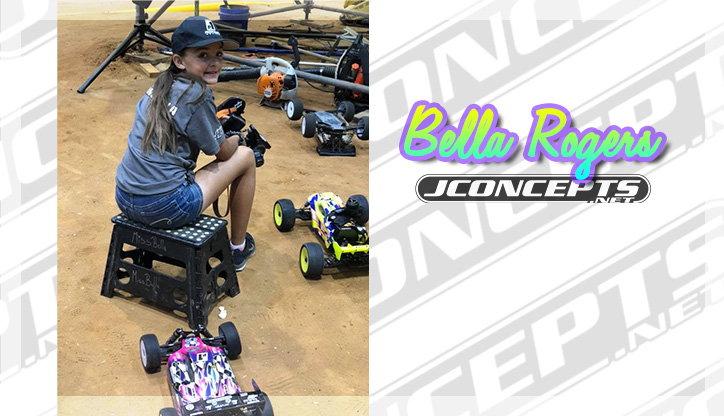 Always a standout star, Miss Bella is starting to really make a name for herself in the RC racing scene. Bella has recently moved up from Sportsman to the Open class and we're stoked. It's not an easy transition and being quite new to RC, she's making a charge and ready to rock and roll! She's got our support, go Bella!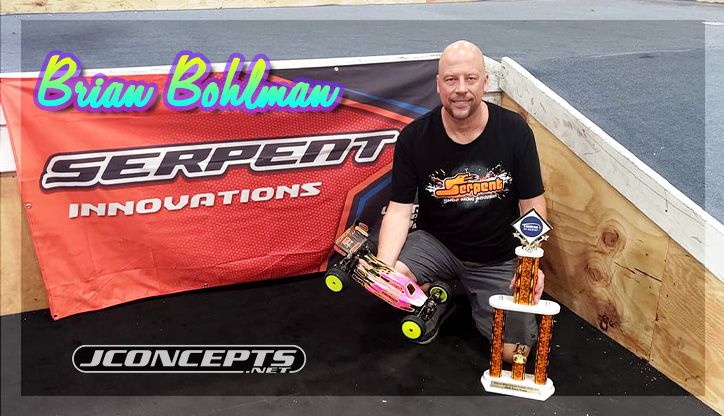 Holding it down and wrapping up the 13.5 4wd overall championships at the Serpent Summer Series hosted by Thunder Road Raceway, Brian Bohlman finishes on top! Congrats to Serpent's Midwest Team Manager on his awesome accomplishment utilizing Swaggers and Twin Pins to help get him the overall win. In just a few weeks, we'll be heading to Waite Park, MN for the Midwest Carpet Nationals, the final round of the 2019 NCTS!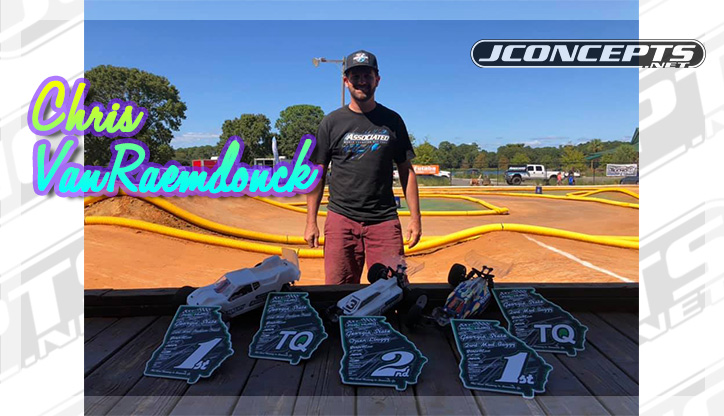 Thanks to our team driver, Chris VanRaemdonck for sending in his detailed report covering his racing adventures last week. Chris had this to say, "Wow what a weekend! Just finished up the 2019 Georgia State Off-road Championship at Phil Hurd Raceway. I was able to TQ and win 2wd mod buggy and mod truck! In 4wd buggy, I started 3rd and after some early mistakes, I was able to battle back for a 2nd place finish. This was my first time at Phil Hurd and let me tell you the facility is amazing. Patrick Rossiter Jr. and the crew really put in a big effort and it really shows. I'm mean you can see a lake from the drivers stand! How awesome is that! My Team Associated B6.1, T6.1, and B74 where right at home on this large blue groove track. The layout was so awesome with a couple of huge triples! My JConcepts tires had me glued to the track all weekend. I ended up running blue compound Ellipse on truck, Ellipse rears in 2wd and 4wd buggies, paired with Dirt Webs fronts." That's one happy racer right there, congrats Chris!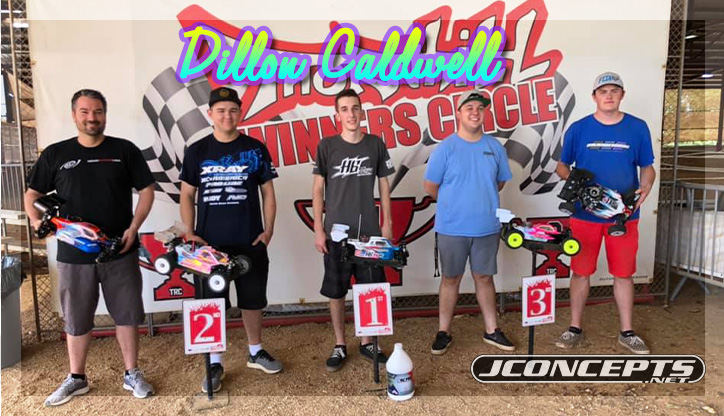 It's always hard to win at Thornhill as the competition is super high, but Dillon Caldwell got the "W" at the Daniel Grobe benefit race against a pretty deep field of drivers. Congrats Dillon, keep up the hard work!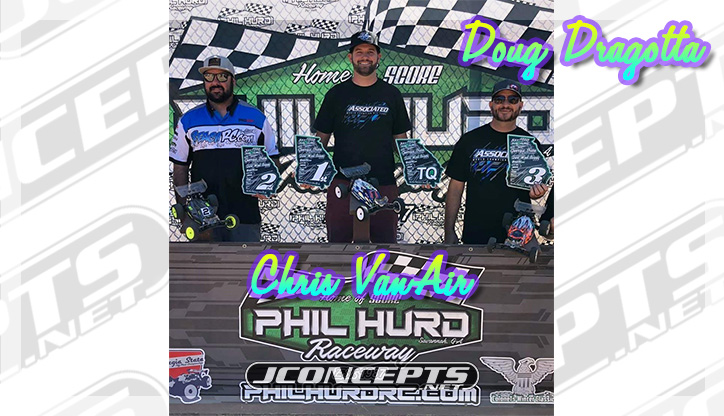 Another awesome race for Doug Dragotta and Chris VanAirs as both of them finished on the podium in 2wd Modified at the Georgia State Race hosted by Phil Hurd Raceway. Chris took the win with Doug finishing in 3rd. It's always a blast to hang out with good buddies racing RC cars as Doug put it, "In Pro Nitro, my race ended early with mechanical issues. Overall, it was a great weekend with RC friends and a lot of laughs were had in the pits.

My tire choice ranged from green, blue and R2, in Sprinters, Dirt Webs, Detox, and Lil Chasers."
Practice makes perfect, well you get the point. In preparation for the IOCC happening in a few weeks, Doug got some valuable track time running on black carpet at Silver Dollar Raceway's club race and guess what… he got the TQ and win in 17.5 2wd! Not a bad start for Doug as he's going to have some really stiff competition at the IOCC! Good luck Doug!!