Race Team Update – October Wk 2
It's always a pleasure to report our team results and this Winning Wednesday goes out to them for all the hard work and dedication. With a diverse group of guys running 1/8th scale, 1/10th, 1/5th covering all the classes from nitro, electric, mod and stock classes, we're proud to say we've got the best team in the RC industry.
Reaching the top step of the podium is never easy. Everything has to go your way and you have to deliver a great performance under pressure. When you do win, it's a great feeling. Cherish those moments, work hard to reach your goals, and remember to congratulate others when they do win and recognize the wonderful accomplishment. Congratulations team!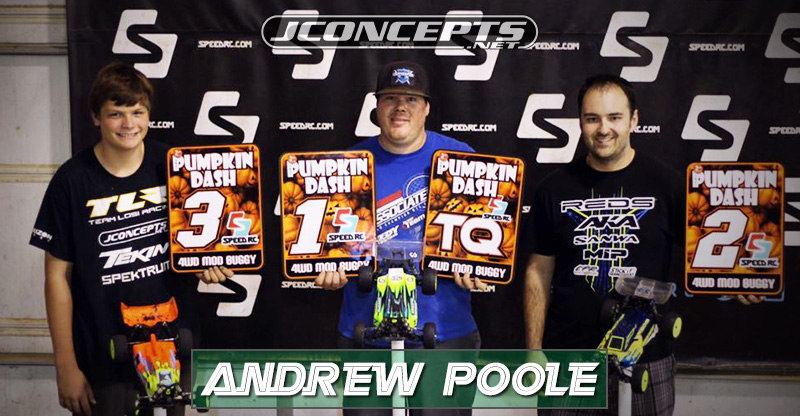 When you attend a race and it's called the Pumpkin Dash, you know you're rocking full swing into the fall season! Andrew Poole was able to TQ and take the win in 4wd Modified at Speed RC's Pumpkin Dash. Speed RC will be hosting the JConcepts Indoor Nationals Finale so be sure to look for Andrew to make a name for himself there!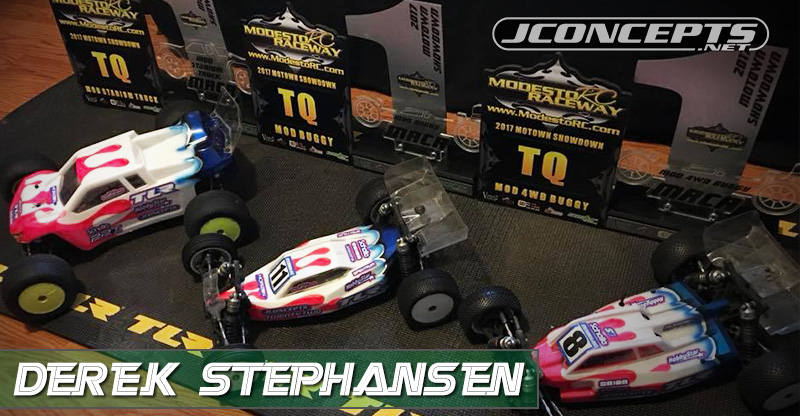 Derek had a great showing at the 6th Annual Motown Showdown in Modesto, California, where he ran 3 modified classes and was able to take the TQ and win in all three! A truly amazing feat to be able to manage 3 cars at one race, but to take home some wins on top of that is icing on the cake. Great job by Derek for the perfect weekend.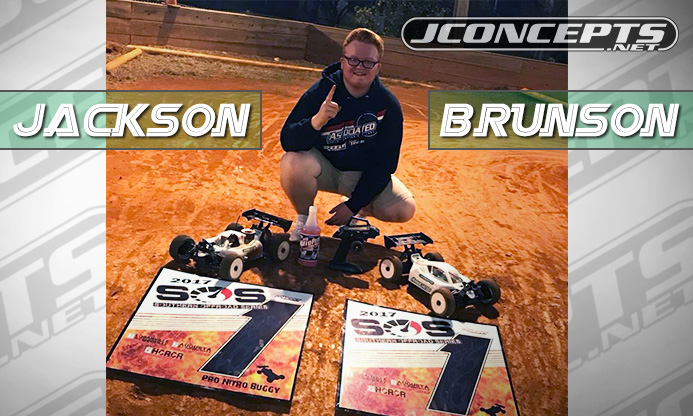 Recently announced that he has officially joined the AE team, JConcepts' Jackson Brunson has been putting in a lot of work with the new cars. Taking the overall win in the Pro Nitro Buggy and Pro Ebuggy classes at the Southern Offroad Series, or SOS, Jackson is quickly making a name for himself on the East Coast! Using JConcepts blue Detox on Ebuggy and Green Reflex on Nitro Buggy, Jackson took home some pretty killer hardware.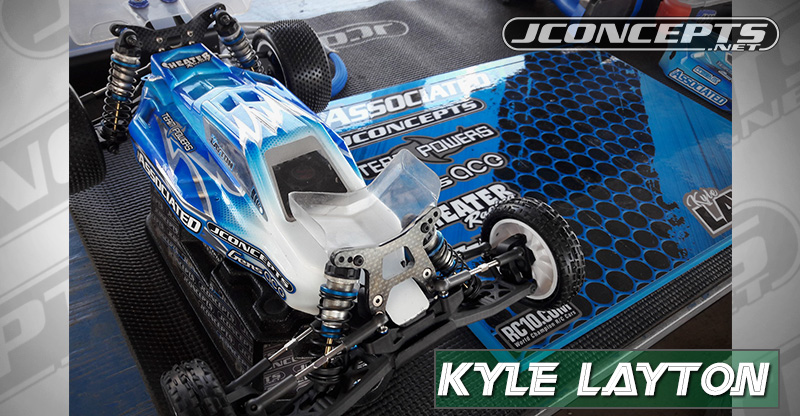 Always good to see Kyle Layton on the track and going fast. With the Fall Brawl happening this weekend, Kyle was able to spend some time at AMain's new turf track using Pin Downs and Swagger front tires for a rippin' good time. Since it's release, Kyle has been using the JConcepts F2 body for the B6 giving him the style and performance he likes.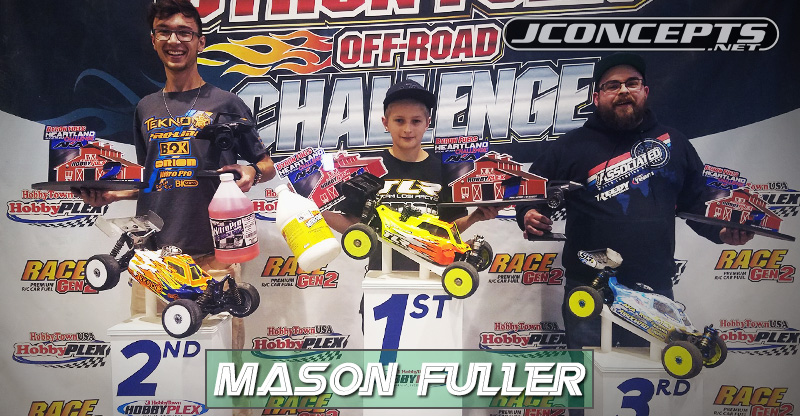 Attending the Bryon's Heartland Challenge, the gifted Mason Fuller was able to get himself on the top step of the podium. Showcasing his blazing speed, Mason chose to run gold Barcodes in the 45-minute final and it was a perfect choice! Despite his young age, Mason drives with the maturity of a seasoned pro and definitely one to look out for in the future! Great job Mason!!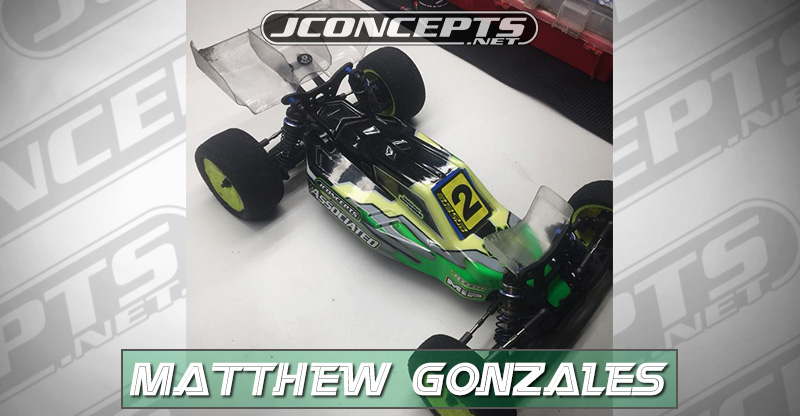 When's there no Mod class, run stock! That is what Matthew Gonzales did last week at SDRC when he showed up for club racing and there weren't enough modified guys to make a class. Dropping in a stock motor, Matthew blazed the field taking 1st for the day. Hey, track time is track time!

Monster Trucks are quickly becoming the next "big thing" and Michael Arndt along with JConcepts is leading that charge. Michael was able to attend the Trigger King Series in St. Louis and won both Mod brackets to take the overall. To top off a great weekend, Michael was the winner of the Retro class as well after a 4 truck race off! Way. To. Go!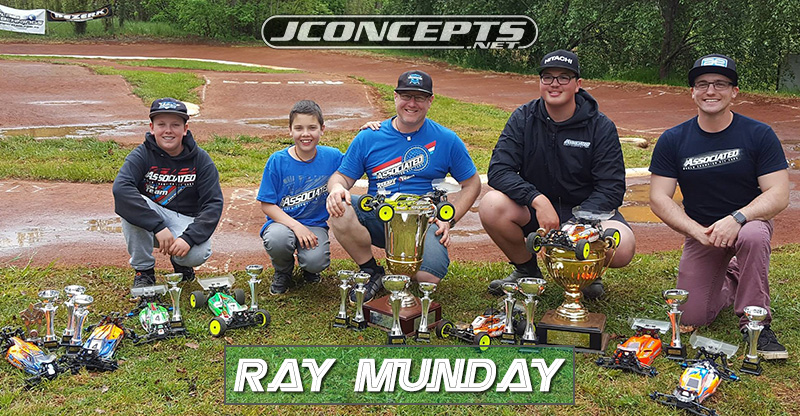 Our Australian superstar, Ray Munday, had a great weekend of racing last week at the 2017 Victorian Titles in Wodonga, Australia where Ray was able to set TQ in both 2wd and 4wd modified and come home with the 2wd title. Ray also mentioned that the Juniors Jordan Isergin and Lachlan Munday were both just off the podium themselves and Andrew Selvaggi was able to finish 2nd in 4wd. Great job by the Australian JConcepts crew!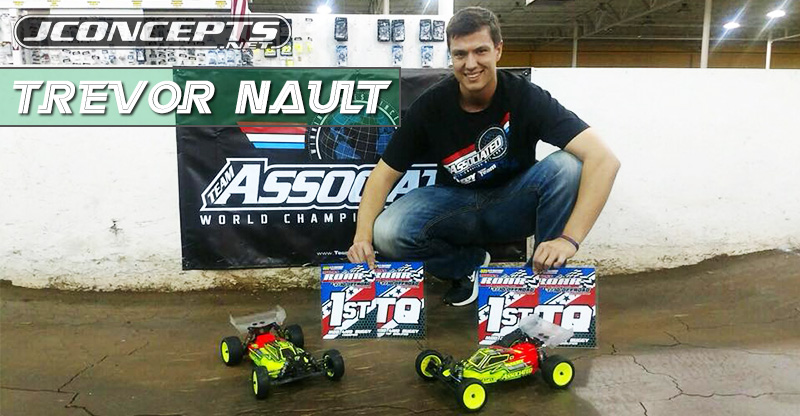 It's not every day you get to get to win a couple of regional titles and last week, Trevor Nault did just that. It was a double TQ and double win kind of weekend for Trevor at the Region 9 ROAR Regionals at 405 RC Raceway in Oklahoma City. You can casually refer to Trevor as the Regional Champ!