Race Team Update – October Week 2, 2019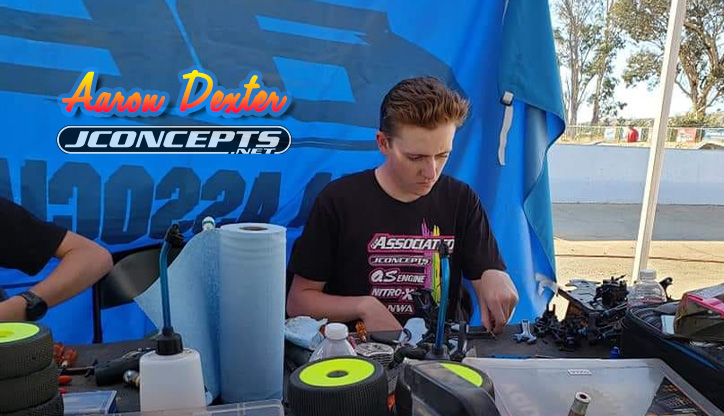 Creating small goals can help you achieve your bigger dreams Dedicated and hard-working, Aaron Dexter has traveled from Australia to participate in this weekend's RCGP event, but first, Aaron got a warm-up race in at round 7 of the JBRL at PL Raceway. New to the track, Aaron decided on blue Triple Dees and was able to place himself 4th overall in the Expert Nitro Buggy class, behind Maifield, Drake, and Anthony Westergaard. Not a bad start to his international campaign! Next stop, RCGP!! Good Luck Aaron and have fun!
Rain or shine, he's on the line! Alex Mac took an impressive win last weekend as the track turned from blue grooved and high grip to wet and wild as the afternoon thunderstorms came rolling in. Making the tire switch from a hard to soft compound, Alex took the Stalkers to the very top! Alex also managed to crush it in the SCT class with another TQ and win effort. Amazingly, the amount of versatility it takes to be able to pull off a win in these conditions (and the number of hours it's going to take to clean them!), is totally impressive!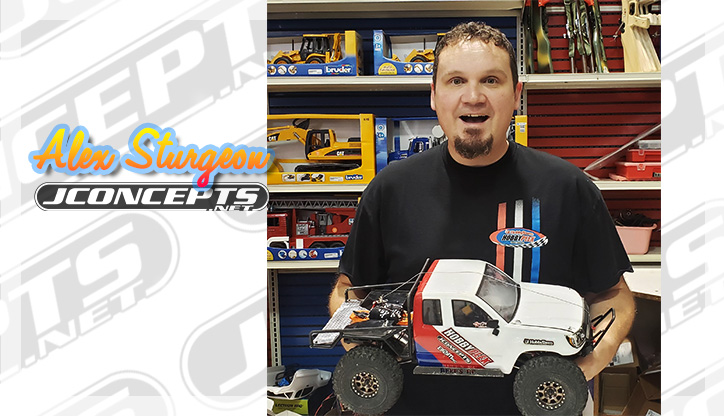 Now that Team Associated launched their Element Enduro truck, Alex Sturgeon may have found his new calling in life. Reppin JConcepts at the Carter Lake Crawlers "Fall Brawl" hosted by HobbyPlex, Alex competed against 25 trucks in the highly competitive Class 2 Enduro category and won!! Using the JConcepts 1.9″ blue compound Ruptures, Alex got the win! Let's Scale!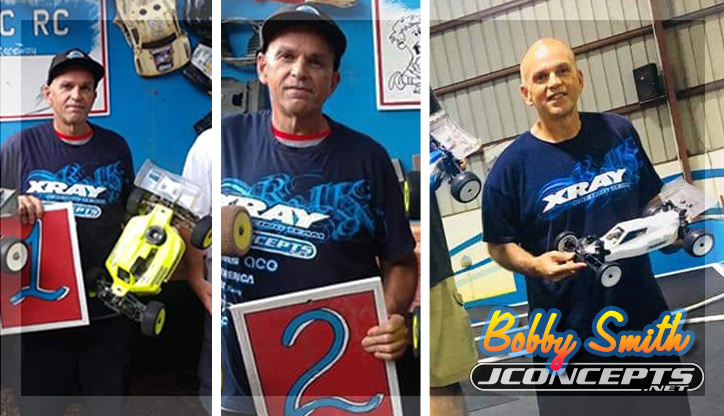 Not many can pull it off, not many at all. It was a terrific RC weekend for Bobby Smith as he found himself on 3 podiums and we couldn't be more stoked! In his 1st attempt at running his 2wd on carpet, Bobby got the job done with a solid 3rd place finish. 1/8th scale? No problem. At EOCRC's club race, Bobby took the win in the nitro buggy class and finished 2nd in Ebuggy. That's a rockin' good weekend!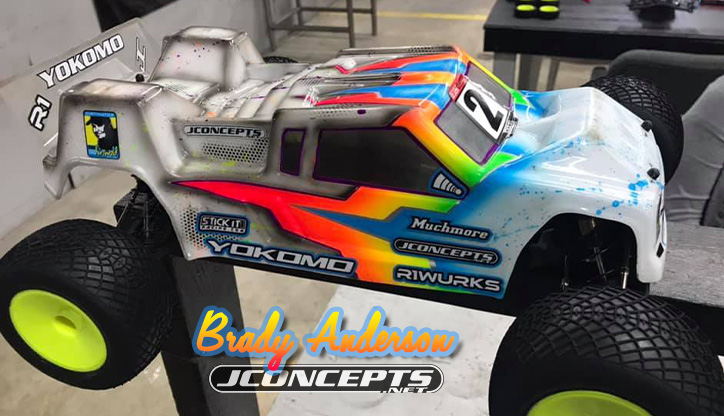 Have to say, the paint on Brady Anderson's F2 truck body is looking awesome! Now that racers are gearing up for the indoor season, it's time to break out the Ellipse tires! It was the first time Brady ran the new Ellipse truck tires and the performance even shocked Brady. 1st time out, TQ and win with the YZ2T stadium truck and his reaction was, "Wow, they are good!"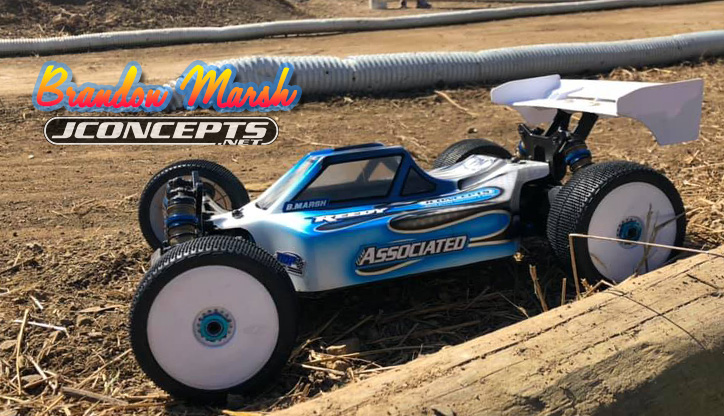 It was a rad weekend for team driver, Brandon Marsh, as he competed in the final round of the OEOSS point series hosted by the Ohio RC Factory and put on a show. Placing himself in contention for the win, Brandon qualified 2nd and won both double mains to take the overall! Nice job slaying it Brandon!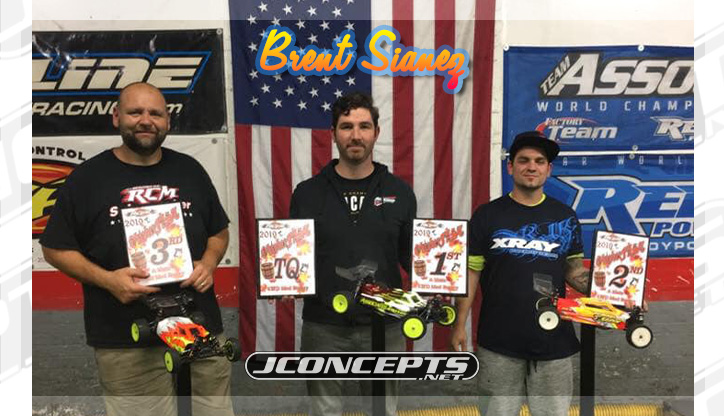 So fast on carpet, team driver Brent Sianez attended the indoor season's opening trophy race at RCHR in Connecticut. Since the area has a lot of carpet and turf tracks, the locals are amazingly fast. Still getting it done in 4wd Modified, Brent set the TQ and went on to win the A-Main. In 2wd Modified, Brent finished on the podium in 3rd place! Nice job stealthy!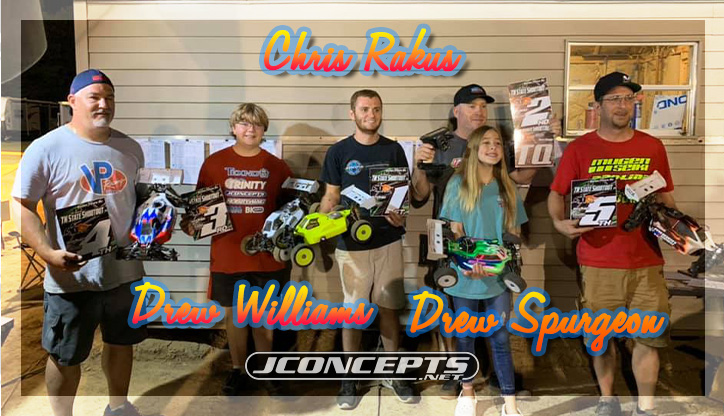 What a weekend for the JConcepts crew at Tennessee's Bullet Town State Shootout! In the Pro Nitro class, it came down to the last corner between JConcepts' Chris Rakus and Drew Spurgeon. As both cars tumbled across the finish line, Chris took the win with Drew finishing 2nd. Completing the clean podium sweep was Drew Williams finishing in 3rd! Capping off a great weekend for Drew Spurgeon, was a terrific win in Ebuggy using blue compound Teazers!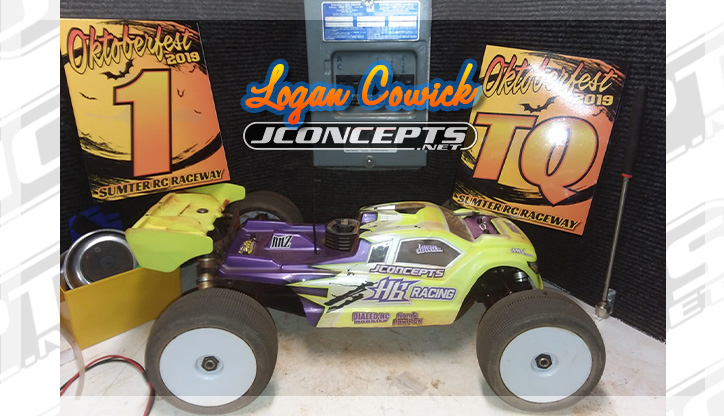 Setting the fastest time in qualifying, Logan Cowick completed the perfect weekend in the nitro truggy class and came home with the win at Sumter RC's Oktoberfest event. Logan is really starting to make some progress with his driving and the results are definitely showing!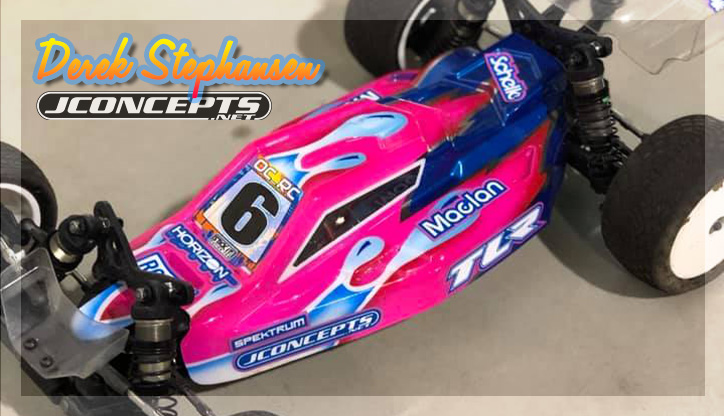 There's always a way to shave more time off the clock and the best way is to be on top of the tire prep game and knowing how to change with the track. Getting it right last weekend at LSR's club race, Derek Stephansen setup another TQ and win kind of weekend as he is turning this tire prep thing into a "dark art". Way to go!
It's been a huge year for JConcepts' Dillon Caldwell as he's stepped up his game in a massive way. Nearly taking the win at the Pro-Line Shootout hosted by Thornhill Raceway, Dillon got the TQ over some of the industry's big names and fought valiantly for 2nd place in Pro Nitro Buggy main! Adding to the awesomeness, Dillon also managed to finish 2nd in Pro Ebuggy. Check out those rides. Don't they look fresh?! Nice job Dillon.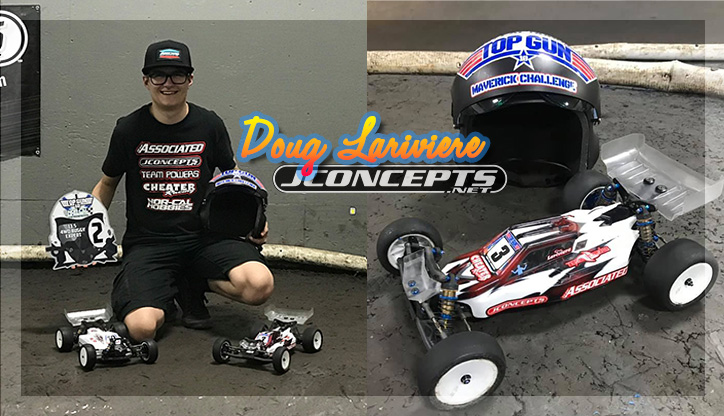 There's a lot to be proud of in this picture and we're stoked! Attending the TopGun Race hosted by NorCal Hobbies, Doug Lariviere took home an impressive win in the 17.5 2wd Mavericks class! For those who don't know, the Maverick class uses the Reedy style format where Doug won every single round! Not to leave empty-handed in 4wd, Doug placed 2nd on the podium to cap off an amazing weekend of racing. Ellipse rears and Dirt Web fronts in gold compound velcro'd Doug's ride to the track while the F2 body and Aero/High Clearance wing package aided in even more performance.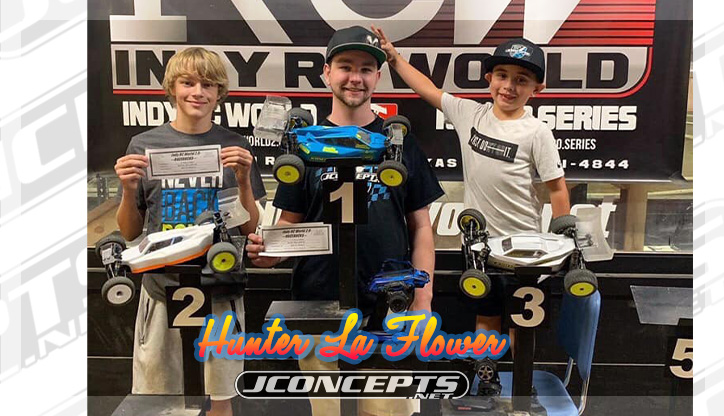 Back to back weekends making the winner's circle is impressive! What a run it has been for Hunter La Flower as he took the TQ and win at Indy RC World's club race running 2wd! There's not much that Hunter can't do.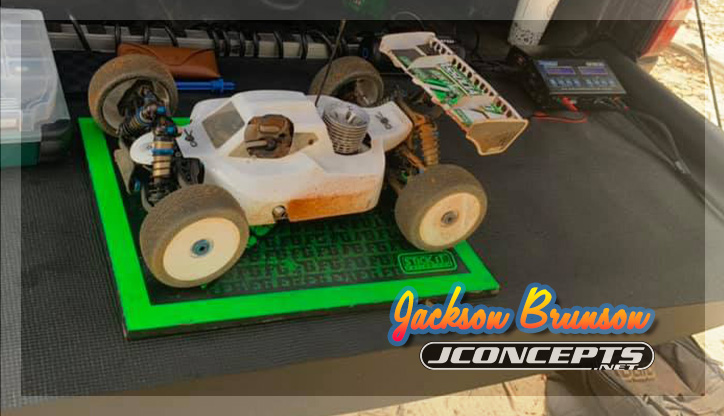 Spending time improving your craft is the only way to get better. No one knows this better than Jackson Brunson, who's put in a lot of time over the last few weeks running his RC8B3.1. Racing at his local track, Jackson took the TQ and win in the pro buggy class to sum his awesome race weekend. His tire of choice was the blue compound Reflex tires, that provided killer traction to get the job done.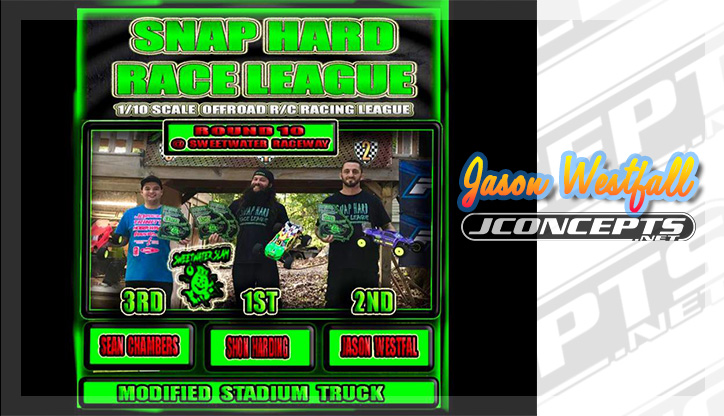 Making the podium is always a great goal to have when racing. Landing himself 2nd in Mod Truck, Jason Westfall put his exclamation on Sweatwater's Slam race at Sweatwater Raceway. This was also round 10 of the Snap Hard racing series so great job to Jason for his wonderful finish!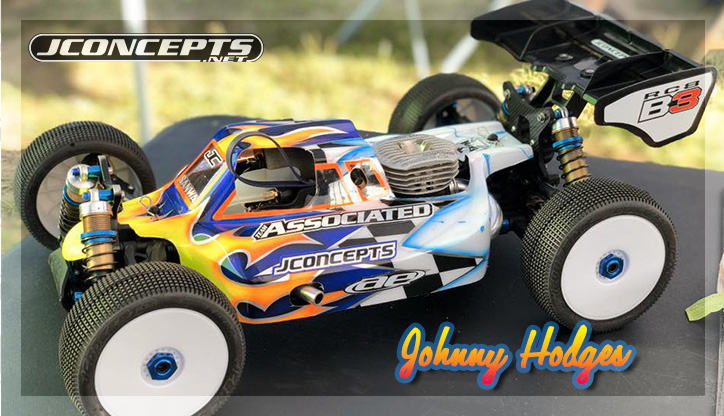 Unfortunately, when you race outdoors, you're just along for the ride when it comes to mother nature. While racing at round 4 of Phil Hurd's point series, Johnny Hodges had things on lockdown before the rain fell. Using blue Stalkers and the deadly Silencer body, Johnny set the TQ and eventual race winner. Congrats Johnny and awesome paint on the buggy!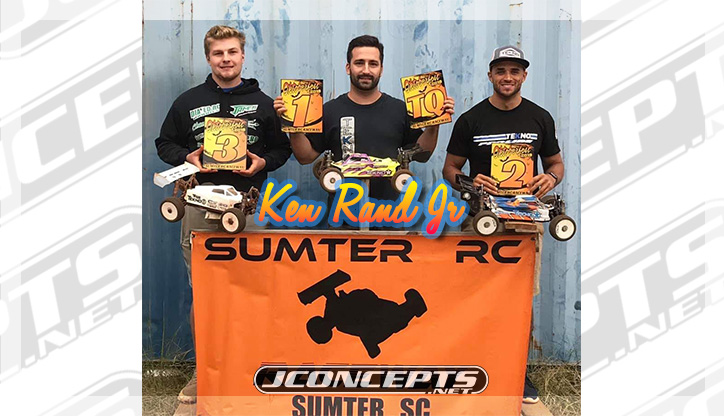 You never can control the weather so it's best to be prepared! Last week, Ken Rand Jr. got the job done at Sumter RC's Oktoberfest, where he TQ and won the pro Ebuggy class. Despite the temperatures dropping by 30 degrees by main time, Ken used the versatile Detox tires for the win!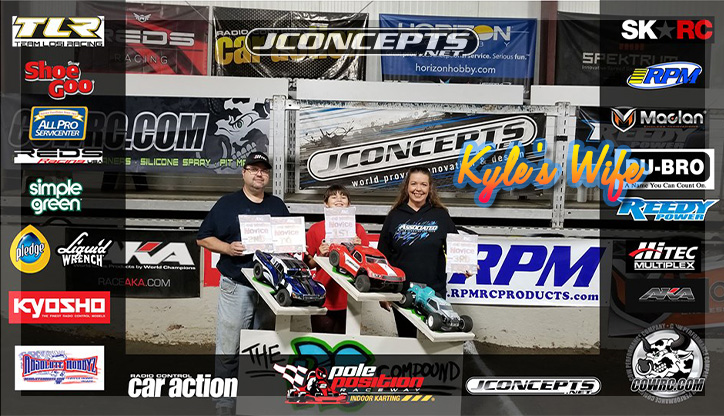 It's always nice to race with family. You get their support, but you also get to cheer them on. Last week, Kyle Gannon raced the RC Compound's Throw Down race and took home the TQ and win in 13.5 4wd class and 2nd in 17.5 2wd. But best part of the weekend came from his wife finishing 3rd in Novice! Now that's what we call a racing family! Awesome job team Gannon!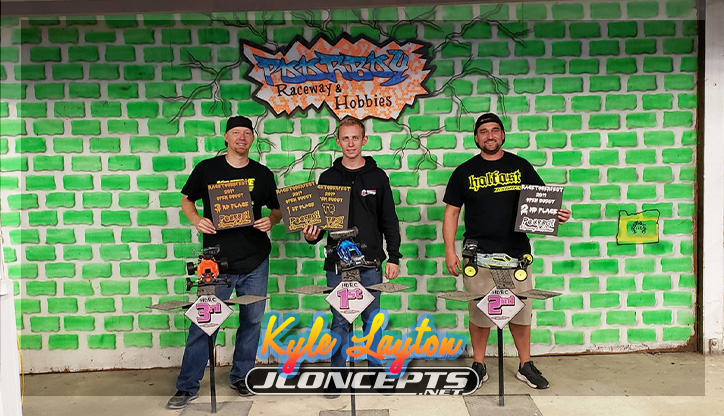 Always nice get reports from our dedicated team driver, Kyle Layton. Kyle loves the hobby and loves racing as much as we love having him on the team. This is what he had to say about his killer weekend, "Ran the Annual Racetoberfest race at Poor Boy Hobbies in Grants Pass, OR. I was able to TQ and win 2wd mod with my B6.1 on JConcepts Swaggers and Nessi tires, Mono wheels, P2 body, High Clearance wing, and aero front wing completed the package." If you want a race-winning package, check out Kyle's setup!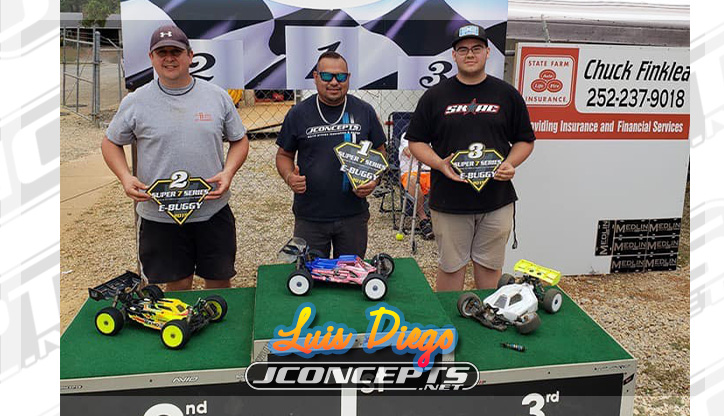 Yet, another magnificent weekend for Luis Diego as he attended the Final Super 7 Series Race at Thunder Alley in Wilson, NC. Not only was Luis able to get the W in Ebuggy, he also took home 1st place in 4wd SCT! Congrats to Luis on an amazing job well done and Luis' tires of choice were the blue compound Reflex in 1/8th and blue 3Ds on his SCT.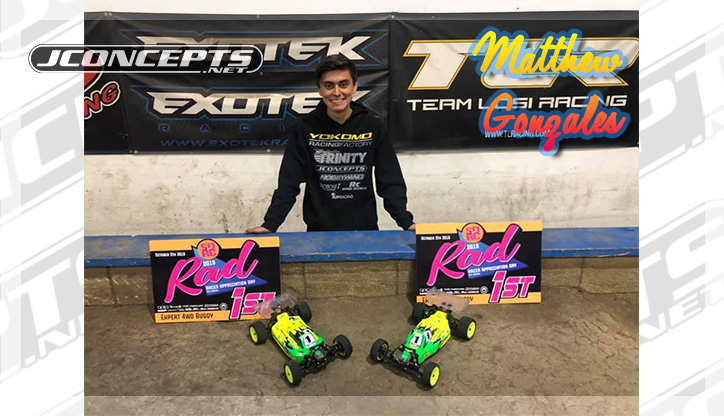 The wins keep coming for Matthew Gonzales as he took home 2 more 1st place finishes, but this time at the RAD race hosted by SDRC Raceway in San Diego, CA. Now using the aqua compound Ellipse rears and Dirt Web fronts on his 2wd modified buggy, MattyG stole the show. Droppin' some hot laps with the aqua Octagons, MattyG was dialed in 4wd Modified as well. Nice job on the 2wd/4wd Modified sweep my man!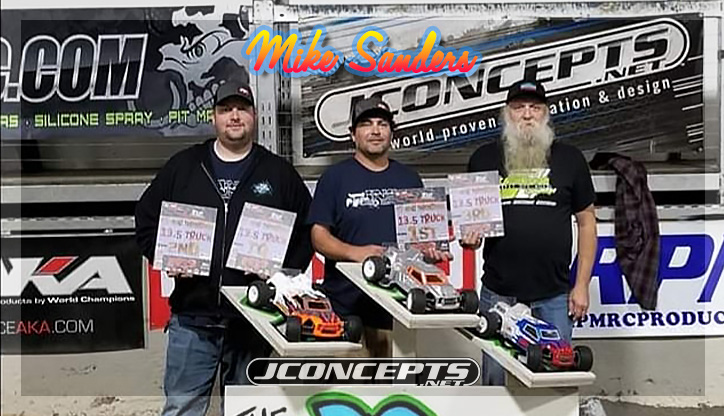 Once again, Mike Sanders is holding it down on the RC track. Also competing in the RC Compound Throw Down, Mike got the win in 13.5 Stadium Truck on the new Ellipse Stadium Truck tire! Guess what, it only took one set to do it. Nice job!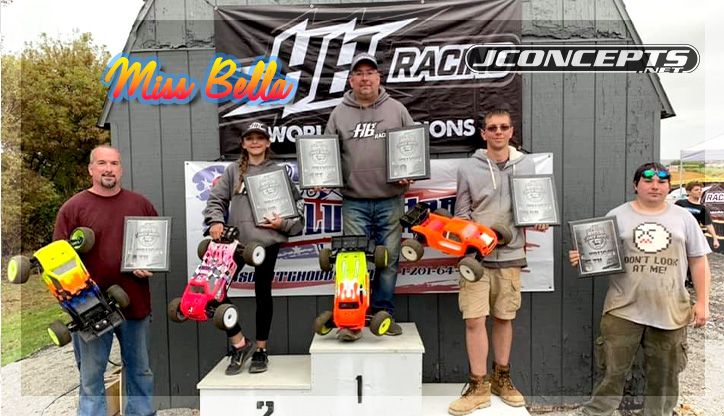 Miss Bella had a wicked time at HB Racing's USA Race Days where she got the pleasure to meet HB legend, Adrien Bertin and David Ronnefalk…. or maybe we should say they had the pleasure of meeting her! This is how she finished 2nd in Etruggy, "My etruggy A Main was a blast. Me and Sean Okeefe battled it out this entire race. We were back and forth in 1st and 2nd the whole time. I qualified 2nd and finished 2nd, barely. I almost had him. 
 Check our that finishing time. 

" We're glad you had so much fun battling it out on the track! That's what it's about and keep working hard Miss Bella!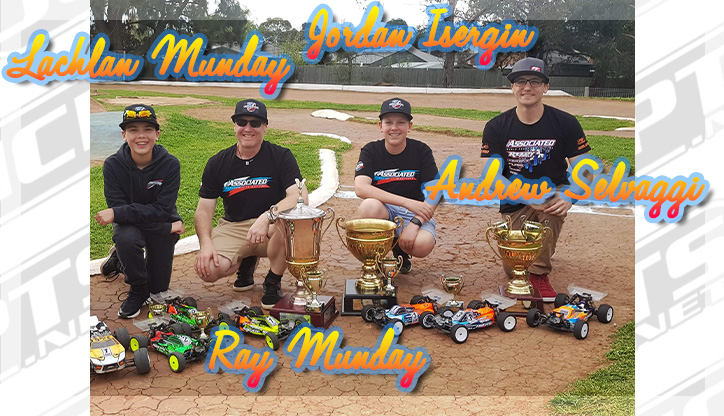 It was a strong showing for the JConcepts crew at the Victorian Driver's Final round at Knox Track in Melbourne, Australia. There were so many great results, just check out this awesome photo! Congrats to Ray Munday on doing what he does best, being a great ambassador and racer for our hobby. With some crafty driving, Ray set the TQ and took 1st in 2wd Modified while Jordan Isergin blitzed the field to win 4wd Modified. Andrew Selvaggi and Ben Howard held down the stock classes with Andrew winning 13.5 4wd and Ben 17.5 2wd. The crew uses a combination of green and blue Dirt Web fronts and Ellipse rears along with the F2 and P2 bodies FTW! Oustanding job team!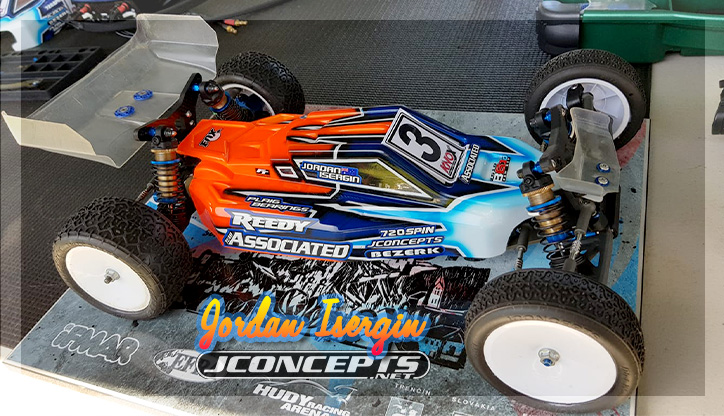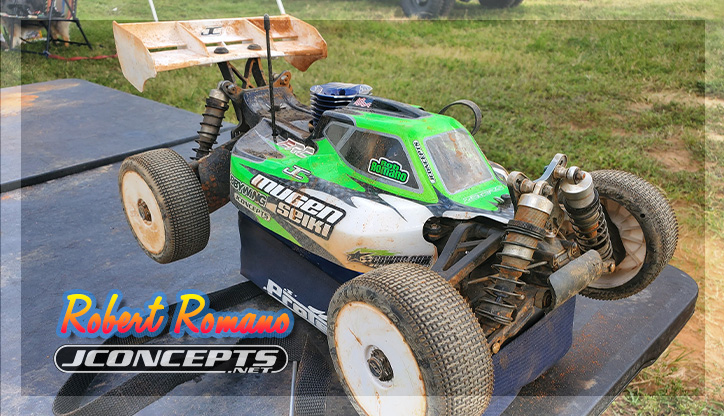 The JConcepts Blockers are starting to make their way to racing circuits all around the world and the results are in! A smashing TQ and win for Robert Romano, as he used Aqua compound Blockers to set the TQ and grab the win at SFORCS IV's Race #3!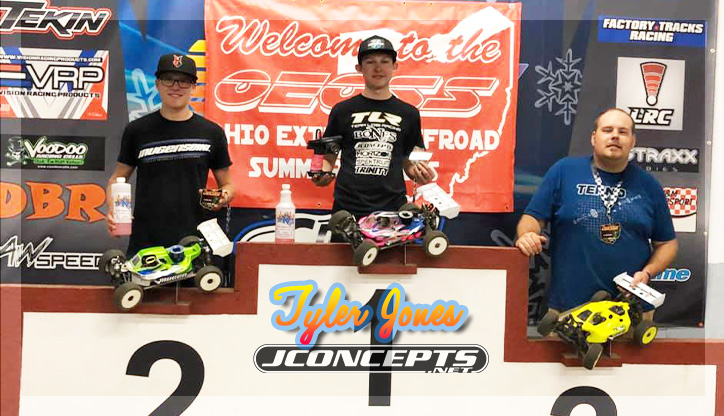 Another OEOSS Finals participant, the speedy Tyler Jones was victorious last weekend in Pro Nitro Buggy. Our question is, where does he find the time? College and racing isn't an easy schedule to keep up with, but no problems here for Tyler and the JConcepts green Reflex tires!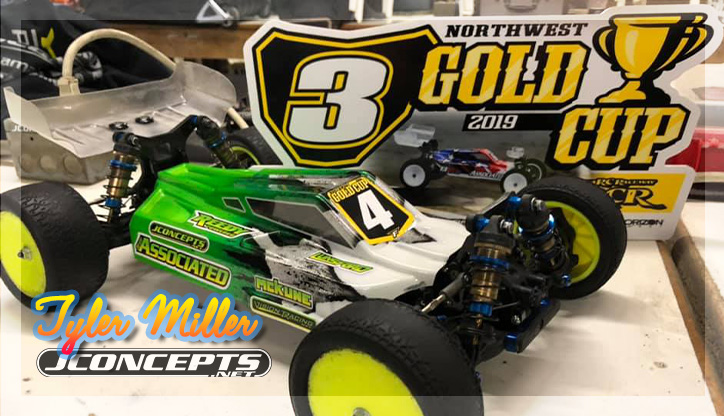 Getting some results last weekend was Tyler Miller, as he raced the Northwest Gold Cup hosted by Tacoma RC Raceway. Proving that the Dirt Webs are still a fast and capable, team driver Tyler Miller finished 3rd in 4wd Modified. Nice job by T.Mills on reaching that podium against a very fast crowd of NW locals!