Race Team Update – November Wk 4
Here's the lastest team update as we roll full speed into December and ready to close out another great year. It's been a journey in 2018 and with less than a month plus holidays, things will move quickly. Thanks to the team for all the effort, sportsmanship, and representation. This #TeamThursday post goes out to you!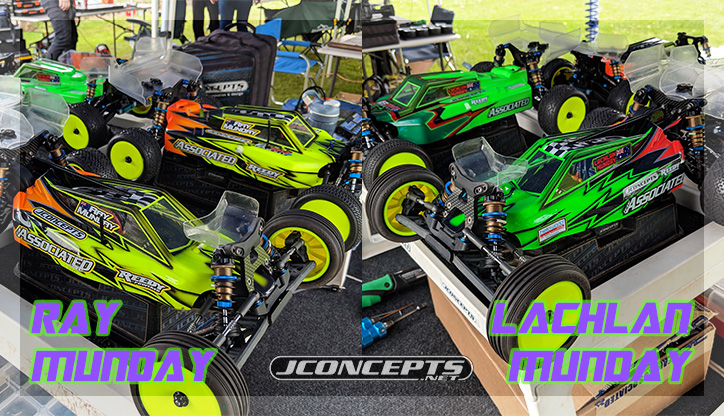 Australian father and son power team, Ray and Lachlan Munday, attended the 2018 Victorian State title race in Melbourne, Australia where Ray TQ'd and won the 4wd Modified class followed by his son, Lachlan Munday in 2nd. Also tied for 3rd was JConcepts racer, Andrew Selvaggi who found the speed to land on the podium. Ray also raced in 2wd Modified where he was able to lock down 2nd place using the P2 body while using the F2 body in 4wd. Great to see the P2 bodies gaining popularity around the world and great results for the JConcepts Aussie crew!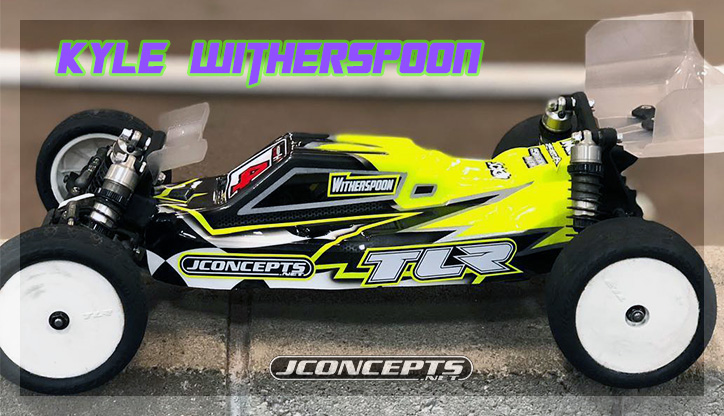 Living in Arizona and racing at Hobby Action, TLR/JConcepts team driver Kyle Witherspoon races against some ultra high-level competition and won in 2wd Modified class at last weekend's club race. For icing on the cake, Kyle also set the TQ to complete a flawless effort. Great job and keep it up Kyle!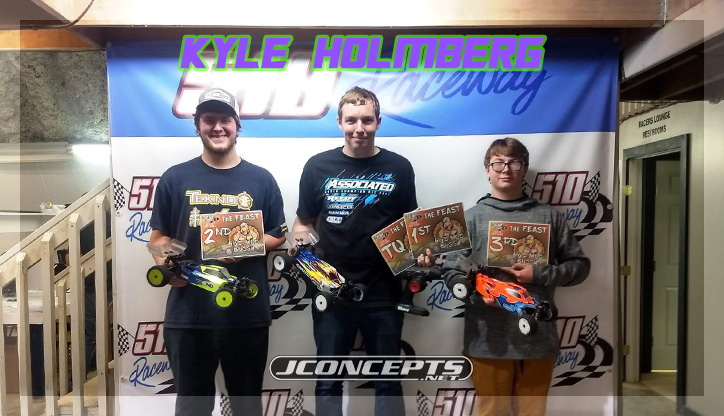 Kyle Holmberg scored big at the 2nd round of the FEAST Winter point series at 510 Raceway located in Foley, Minnesota where the super fast Holmberg grabbed 2 wins over the weekend. It was a TQ and win effort in 4wd Mod and the overall win in 2wd Modified while rocking the new JConcepts hotness combo…. the Ellipse rear tires and Dirt Web fronts!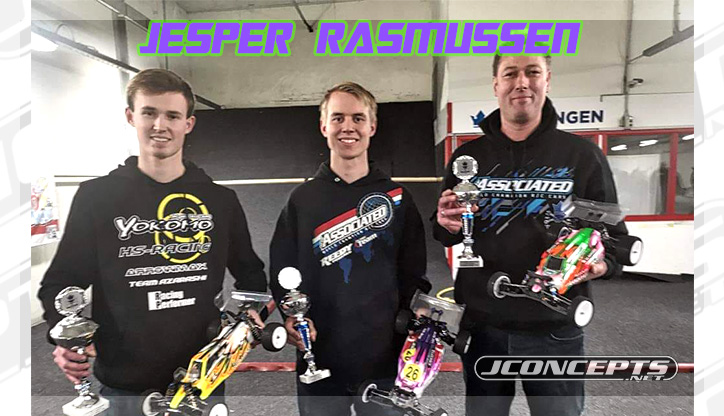 Back to his old self, Jesper Rasmussen sets the pace at round 3 of the Kongen Winter Series in Denmark. Jesper took his Reedy-powered B6.1 equipped with JConcepts goodies like the Aero Wing front and rear wing package along with the S2 body for stylish looks and performance. Look for Jesper to have a breakout season in 2019.
The JConcepts oval team was out in full force led by Hunter La Flower and Robert Chapman. These two fast and furious drivers went 1-2 at last Friday's Wild Bill's Raceway using Dirt Webs up front and blue compound Ellipse tires on the rear and had the Outlaw Sprint class on lockdown. Way to go crew!
This is what our full-time college student, a part-time intern, and part-time racer, Evan Cole had to say about his weekend at the "Thanksgiving Trophy Race at Ed's RC in Parkersburg WV, qualified and finished 2nd. Black Octagons -slicks- were rocking on the red clay. As always my F2 body and Aero wings were giving me confidence on the bumpy, high grip surface. Feels good to race on dirt again!" Good to have you back on dirt Evan!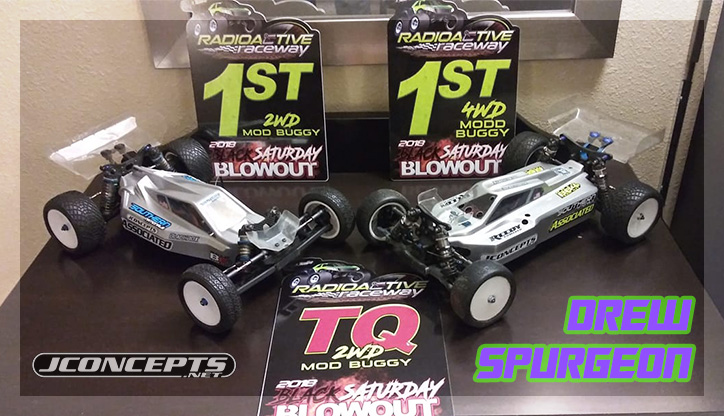 Hailing from Arkansas, Drew Spurgeon made the trip over to Kentucky for some 1/10th dirt action at Radioactive Raceway and it was the first time Drew was able to put some laps on the new tire, the JConcepts Ellipse. How did it all go? One TQ and double wins in 2wd and 4wd Modified buggy! Sounds like Drew took a liking to the new hotness.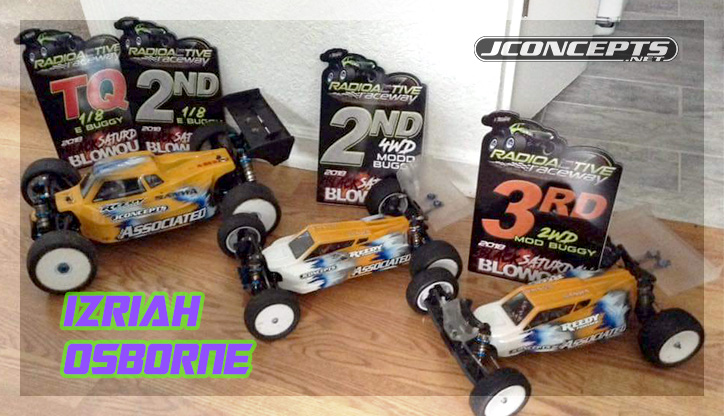 Also attending Radioactive Raceway's Saturday Blowout race in Kentucky, new JConcepts team driver Izriah Osborne, is eager to showcase his speed and since joining the JConcepts team, has been doing so very convincingly. With a 2nd in Ebuggy, 2nd in 4wd Mod buggy, and 3rd in 2wd Modified, Izriah went 3 for 3 on podiums. Of course, it would be great to win, but consistently landing on the podium is often overlooked and such a positive thing in the long run!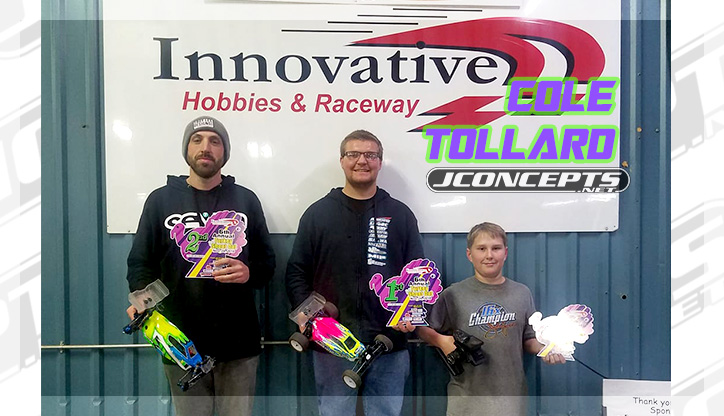 Coming off an amazing trip from Worlds in Perth, Australia, Cole Tollard and his father Jim Tollard was able to get back into the 1/10th scale groove as the father and son team attended the 6th Annual Turkey Shootout at Innovative Hobbies. Cole got the job done 3 premier classes with a TQ and win in Mod Truck, Mod 2wd, and Mod 4wd! Jim finished with great results with a 2nd in 17.5 2wd buggy and 6th in Mod buggy! Great job team Tollard!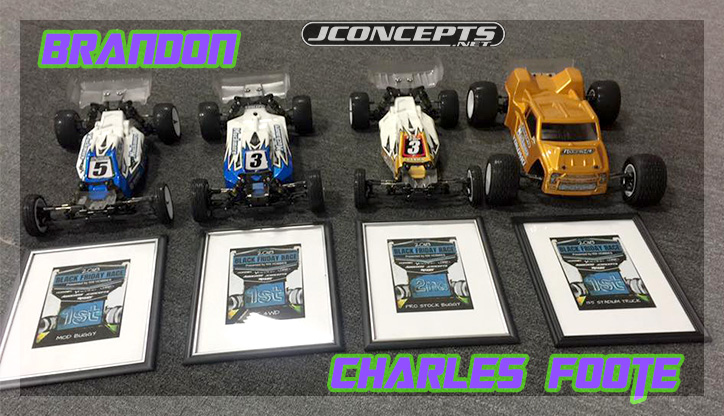 Charles and Brandon Foote definitely love to race and when they do, they usually bring home some serious hardware. Last weekend, Brandon Foote got the TQ and won 2wd Modified and 13.5 4wd buggy at Northwest Hobbies, home of the JConcepts Carpet Nationals. Not to be outdone by his son, Chuck gave it his all and found himself a class winner in 13.5 Stadium Truck and 2nd in Pro Stock buggy using the all-new Nessi tires on back and Swaggers fronts.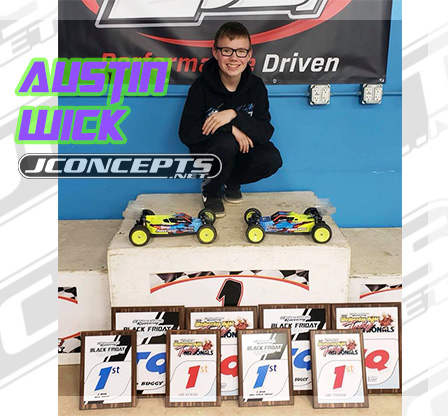 It's great to see Austin Wick hitting the track because you know the end results will be good. Learning at every race, Austin attended the Leisure Hours' Black Friday AND the Thanksgiving Nationals race where the young speed demon took down the TQ and won both the 17.5 2wd stock buggy and 2wd modified buggy at BOTH events! That's one incredible weekend of racing Austin!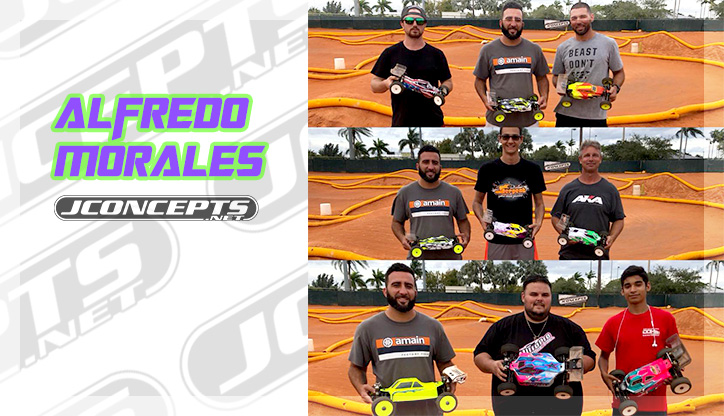 It was a 3 class racing weekend for Mills Pond allstar, Alfredo Morales, as he gave it is all at the Mills Pond Thanksgiving race held last weekend. Busy with track prep, Alfredo still found time to finish out the weekend on top in the 2wd buggy class with a TQ and win effort. Amazing as that sounds, Alfredo also finished 2nd in 4wd buggy and 2nd in Ebuggy to complete a great weekend of racing. Tires of choice were green compound Dirt Webs in 2wd, Dirt Webs and Ellipse in 4wd, and blue compound Rehabs in Ebuggy.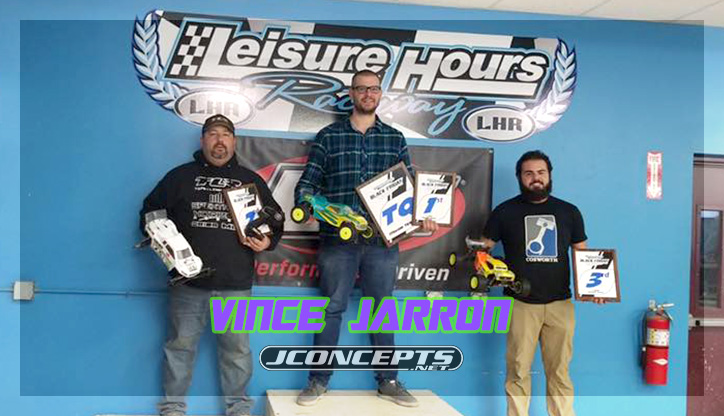 Thanks to our team driver, Vince Jarron for sending in his racing updates. Vince had a terrific weekend of racing his stadium truck at Leisure Hour's Black Friday race where he got the TQ and finish it off with a terrific win. Completing his arsenal, Vince used gold compound Dirt Webs along with the TLR 22T 4.0 Finnisher body to cap off an amazing package.