Race Team Update – November Week 1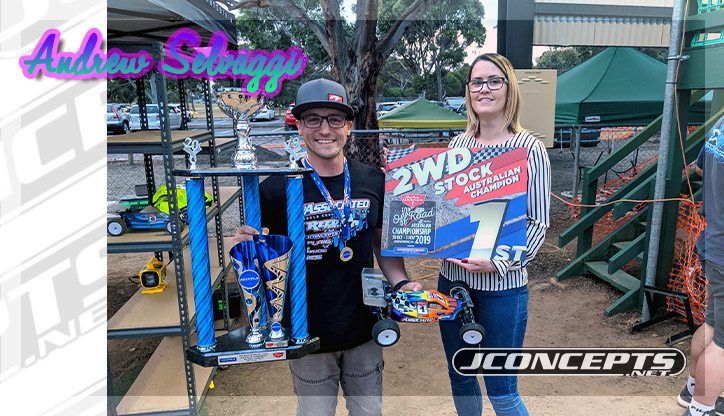 It's amazing what a restart and refresh can do for you, especially when you're all in like Andrew Selvaggi. At the 2019 Australian Off-Road Nationals, Andrew scored a huge win in the 17.5 2wd stock class re-igniting the competitive fire within. Utilizing the JConcepts P2 body, Aero wing, Mono wheels, B6 Servo bracket, and wing buttons, Andrew's race package was performing at the highest level allowing him to secure the national title. Congrats on your amazing win, Andrew!!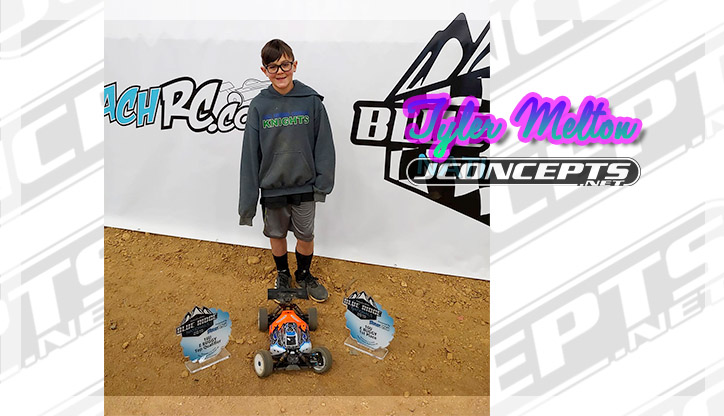 Smashing it out of the park last weekend, Tyler Melton grabbed the TQ and won at the 1st Annual Blue Ridge Nationals in Wytheville, VA. Tyler used black compound Teazers in the 16U Ebuggy class and got the job done! Great win Tyler, keep it up.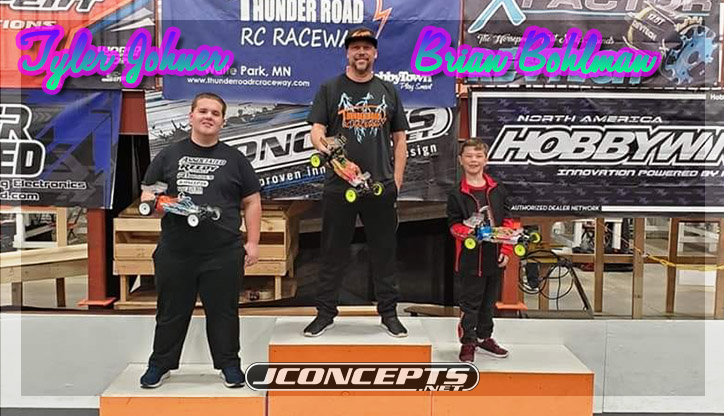 Even after the Midwest Carpet Nationals, Brian Bohlman is still hard at work to improve his new Serpent's 2wd setup and the results are awesome! At Thunder Road Raceway's round 1 of their winter point series, Brian took the TQ and won both the 17.5 2wd and 13.5 4wd classes on Swagger fronts and Twin Pin rear carpet tires. Tyler Johner joined Brian on the podium as he too raced both classes finishing 3rd in 17.5 2wd and 2nd in 13.5 4wd. It's going to be a great battle between these two along with the 2nd place 2wd finisher, Thor Ott. Who's going to come out on top? We'll have to wait and see.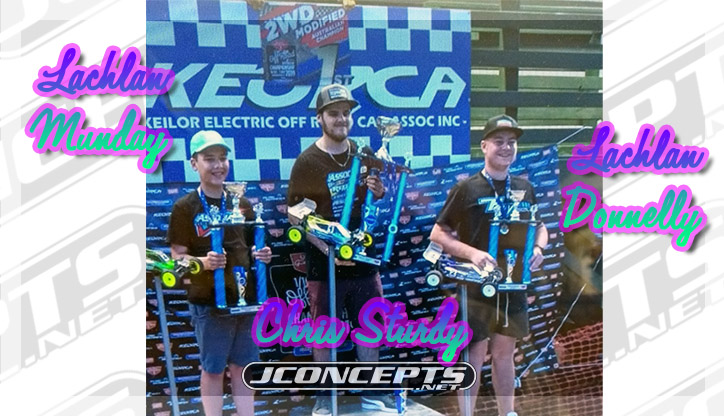 Congrats to our Australian JConcepts team drivers as they completed a very difficult task… a clean podium sweep in the 2wd Modified class. Led by the 2019 Reedy Invitational driver, Chris Sturdy, gathered momentum throughout the race and was able to finish 1st against a very young and talented field of drivers. Swooping up 2nd and 3rd place, rising stars Lachlan Munday and Lachlan Donnelly followed close behind and finished strong to make it a JConcepts driver's sweep! Congratulations on a job well done!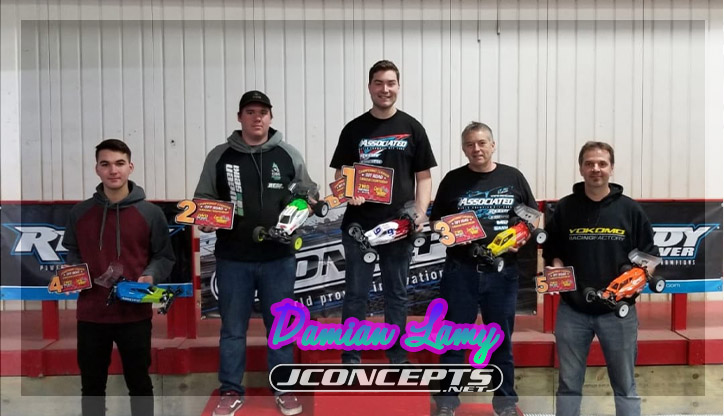 During the Canadian Championships in Trois-Rivieres, Quebec Canada, Damian Lamy performed double duties as he helped organize the race and participated as a racer as well. Despite having so much on his plate, Damian has proven he's one of Canada's fastest 1/10th off-road racers around. With a TQ and win in both the premier 2wd and 4wd classes, only goes to prove he's clearly a favorite. Using the Dirt Web fronts and Ellipse in gold compound, congrats to Damian on a job well done!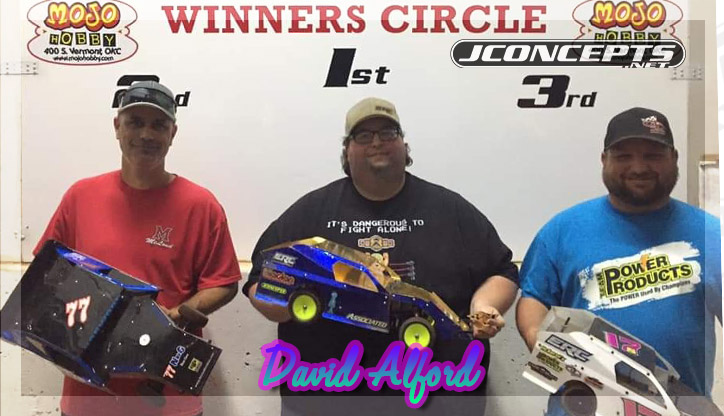 It's always a good idea to stay ahead of the competition and one of the easiest ways to do this is to find some setup tricks that make a difference on the track and that's what David did. David set the TQ and won his main by 2 laps at Mojo Hobby's club race located in Oklahoma City using aqua compound Ellipse and Dirt Web fronts!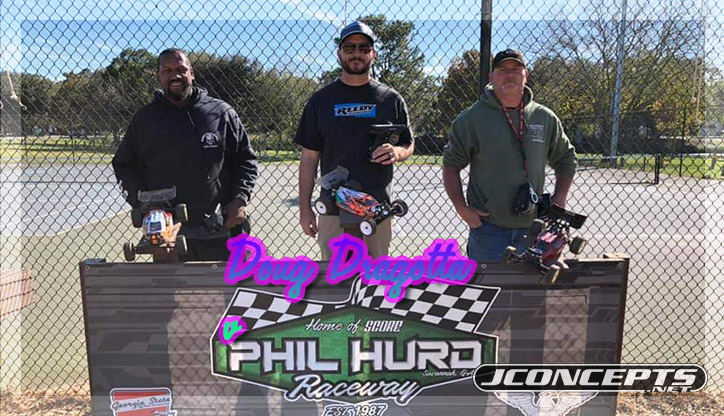 Thanks to Doug Dragotta for sending in his update and keeping us posted on his racing adventures. Doug qualified 2nd in 2wd Modified and was able to pull out the big W in the main at Phil Hurd's Fall Point Series #4. Doug's winning tire of choice was the green compound Hybrids and blue compound Rips up front.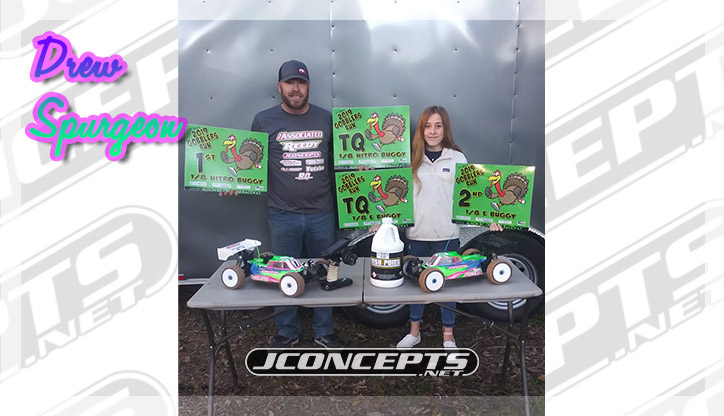 It's always great to hear from Drew Spurgeon about his racing his experience as this is what he had to say about his race weekend last weekend, "I attended the last local outdoor race of the year called the Gobblers Run. Had a great day on green and blue Reflex and Triple Dee tires along with several other beautiful JConcepts accessories. Had a good lead in Ebuggy for 5 min until lapped traffic went haywire. It happens but I'm glad my AE/JConepts teammate, William Ables, took the win with me only 2 seconds back. Next up, on to ROAR regionals this weekend.



" Good luck at the Regionals Drew and bring home a regional title!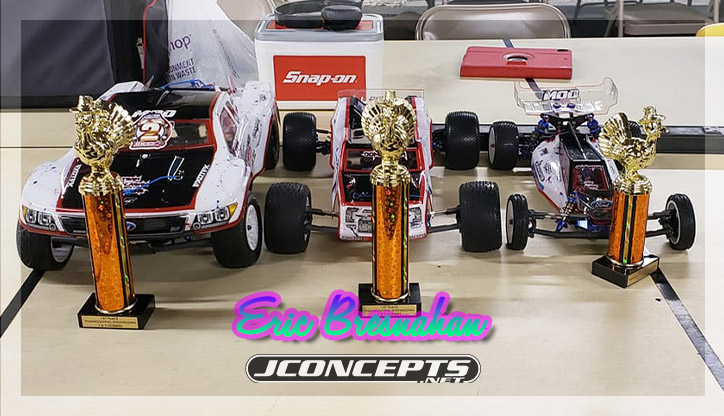 T&T Hobbies last week saw the speed of JConcepts' team driver, Eric Bresnahan, as he took 2 wins and finished 3rd on the podium running 3 classes. Going all out in the Trophy Race, Eric came home with some serious hardware! Win in Modified SCT, win in Stadium Truck, and 3rd in 17.5 2wd!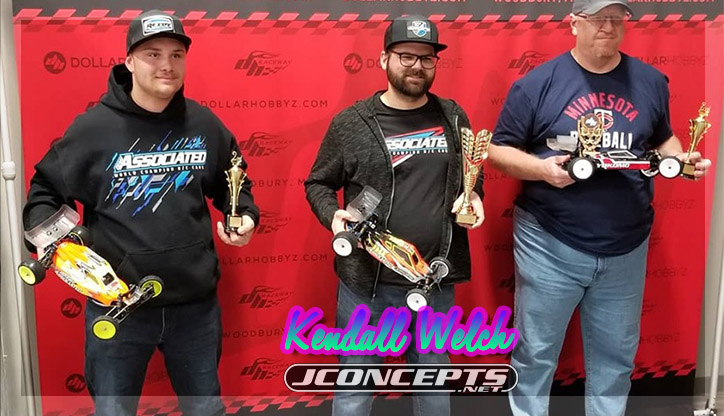 Attending the Dollar Hobbyz's 1st Off-Road Trophy Race last weekend, Kendall Welch made some winning moves in the 17.5 2wd buggy class running the popular Swaggers and Nessi tire combo and got the win. Kendall uses the JConcepts P2K body in the lightweight variation along with the High Clearance Wing as a part of his winning package.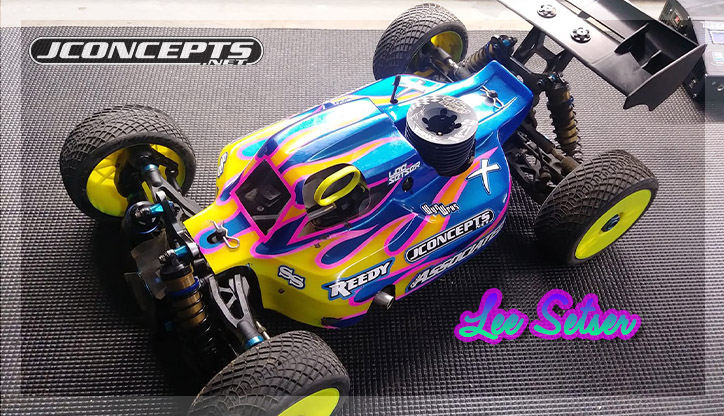 Holding it down in Florida at The FORCE race hosted by South Side Raceway in Lake City, Florida, Lee Sester put in a great performance and got the win using gold compound Ellipse tires all the way around. The FORCE race has been a great series for Lee as he battles the best in Florida and has come out on top as the overall series winner! Nice job Lee and congrats.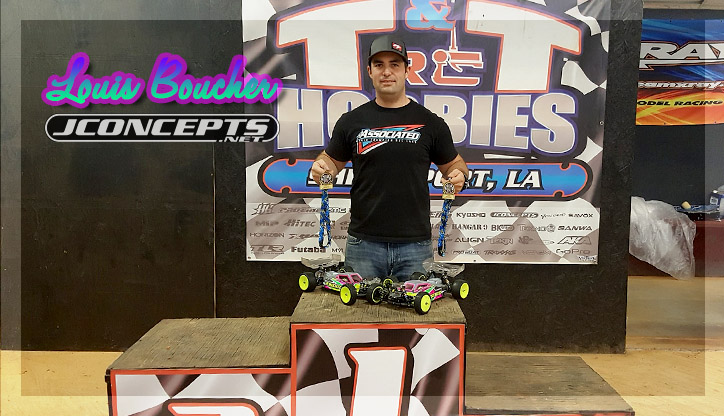 It's a sad day when a race track closes down, but one way to make it rememberable is to win the final race. Louis Boucher attended TNT R/C Hobbies' final race located in Shreveport, LA, and won the 17.5 2wd and 13.5 4wd classes on Swaggers and Nessi rear tires. Hopefully, Louis will get another local track open up soon.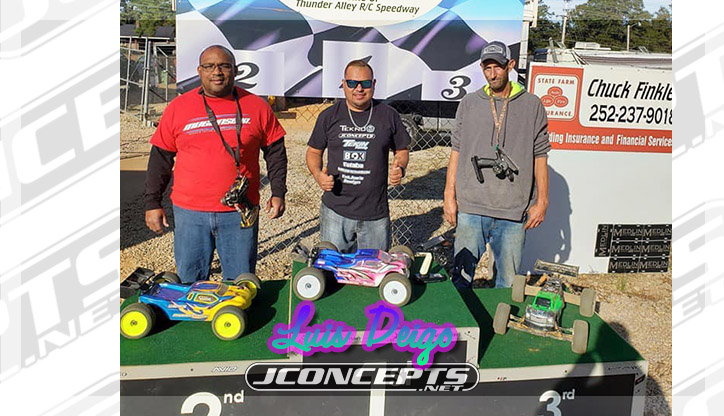 Another successful weekend for Luis Diego as he pucked up 2 more TQ's and race weekend wins last week at Thunder Alley's Halloween Bash for Ca$h. Collecting some prize money in the Ebuggy and Etruggy class, Luis has been on top in his local scene for a while now and collecting a lot of wins in 2019. Green compound Reflex tires got the job done on both of Luis' dialed rides.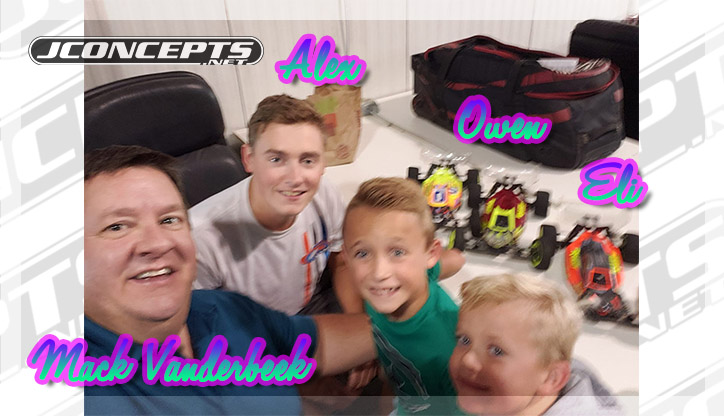 It was a fun time with the family as Mack Vanderbeek and his 3 boys as they spent the weekend racing at RC Compound's Friday night club race. We all know how fast Alex is, next up is 9-year-old Owen and then 6-year-old Eli! This is a true racing family and we love seeing them at the track!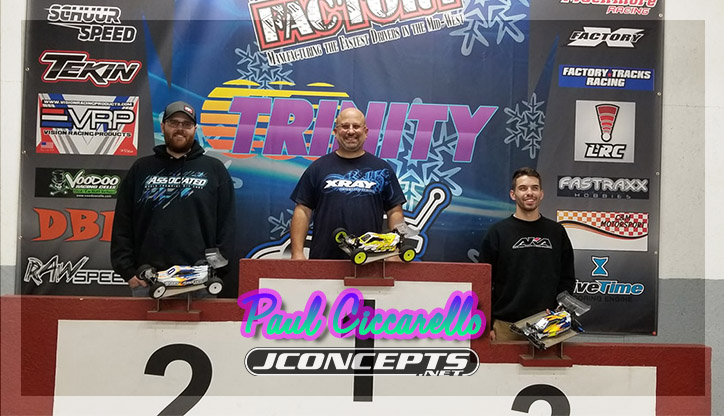 A contender for the king of 40+ is Paul Ciccarello. Dedicated and devoted, Paul is a racer at heart and loves racing. While participating at Factory Track's winter series round 1, Paul set the TQ and won the 2wd modified class and finished 1st in the 17.5 2wd stock class wrapping up an amazing double win weekend.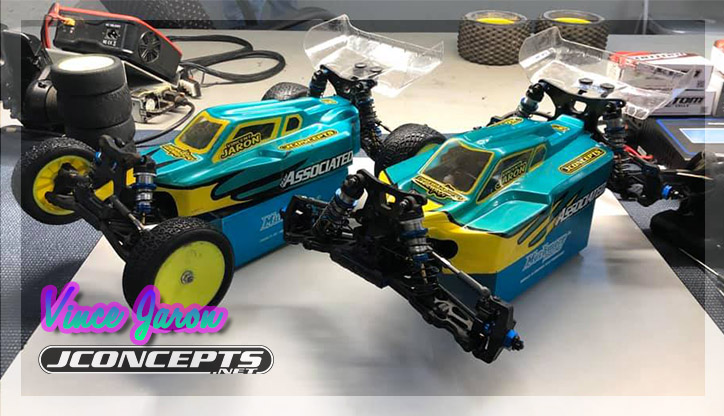 Sending some time learning your equipment can help you get faster. Even if it means to slow things down a bit. Although finishing 3rd in 4wd and 4th in 2wd isn't the most spectacular results, but having tried a few radios and ESC settings, Vince learned a few things that he's going to apply in from this point on. 1.) Less ESC punch can help increase traction and grip. 2.) A negative expo can benefit you if it fits your driving style. Keep on learning Vince, always learn.