Race Team Update – May Wk 2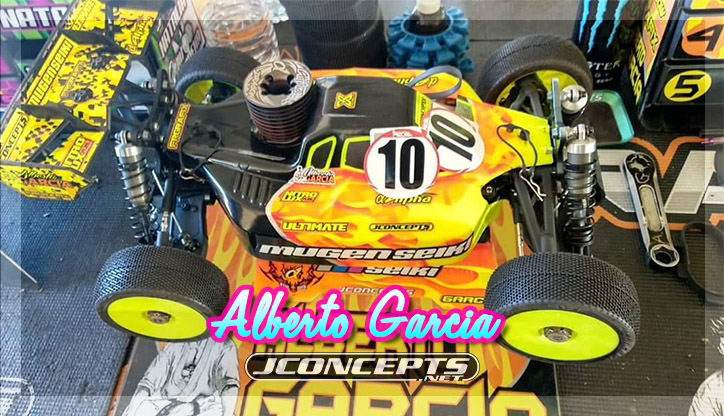 It's a true pleasure to have Alberto Garcia on the team. His passion for racing and positive spirit speaks volumes as an individual and racer. Last week, it was a good showing for Alberto at the Spanish Nationals where he was only 15 seconds back from landing himself on the podium. Ending the weekend in 6th, Alberto was happy with his tire choice of blue Teazers for the shorter qualifying rounds and blue Stalkers for the longer mains.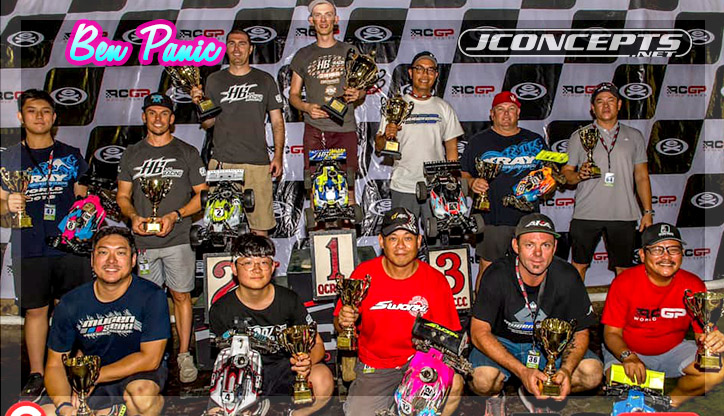 It's always great to be a part of something big and to be there when it takes off from ground zero. It was a special weekend for Ben Panic, as he raced the 1st ever RCGP race in the Philippines and finished in 4th place overall in the RC2 class. The experience was terrific and Ben is definitely lucky to race on such an awesome track!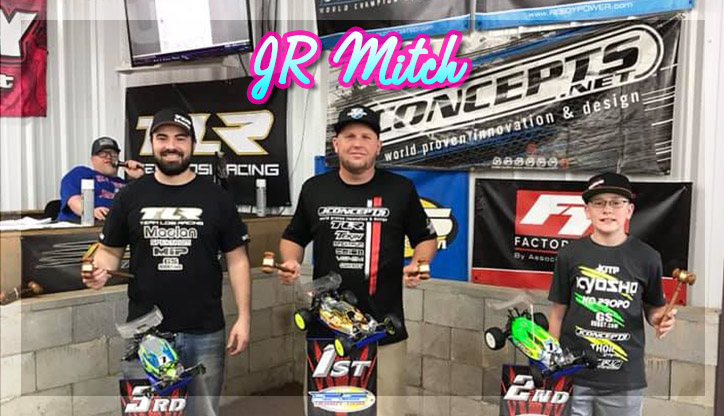 Ace veteran team driver, JR Mitch had a remarkable time at GS Hobby's Hanging Judge race where he TQ'd and won both the 2wd and 4wd Modified classes. The racing was great, but helping others is a big part of what JR does as he was able to help out other TLR teammates/customers as well as all JConcepts teammates/customers while at the race given them a boost in confidence and performance.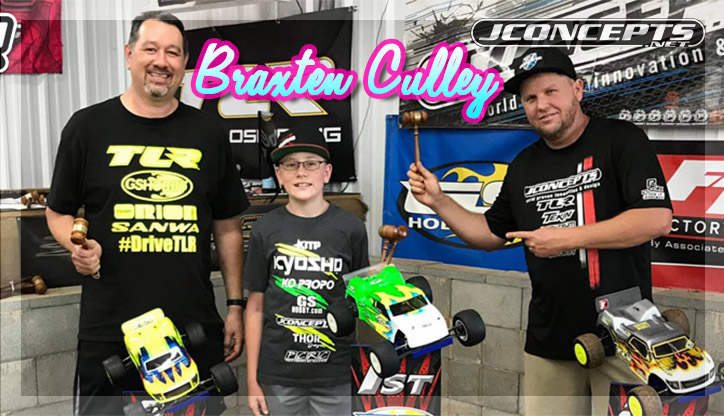 Braxten Culley is one talented racer. From the early years till now, there's always a constant level of improvement with Braxten and the more races he competes in, the quicker he becomes. It was a tall order to dethrone JR Mitch, but Braxten was able to do it in Modified Stadium Truck taking home the win with JR finishing in 2nd. Braxten also finished the weekend runner up to JR in 2wd and 4wd Modified showcasing his competitive speed and spirit.
Flawless weekend for JConcepts' NorCal hero, Brian Strange, as he took the TQ and won the 2wd Modified class at the California Turf Cup hosted by AMain's Silver Dollar Raceway in Chico, CA. With the vibes feeling good, Brian really felt his car was on point and that his race package was top shelf. Brian ran the F2 body, Swagger fronts, Lockness rears, Aero rear wing and lower front to complete the A level accessories.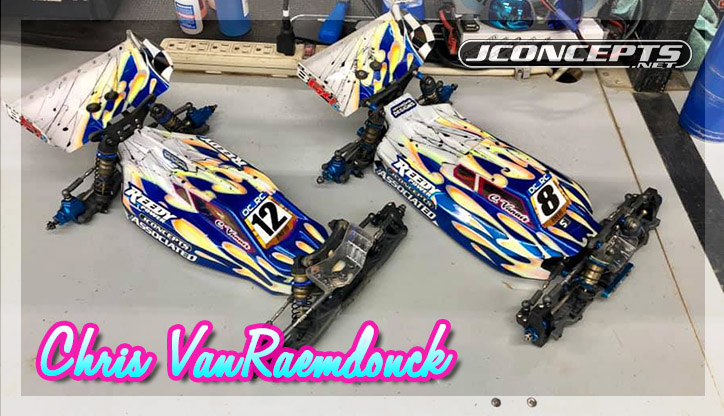 Making a big switch to move out East, Chris raced his last, big California race to say farewell for a while to his local race scene. The good news is that he'll be back for more and perhaps open a new chapter of racing for him during his stay back East! Good luck with the move Chris!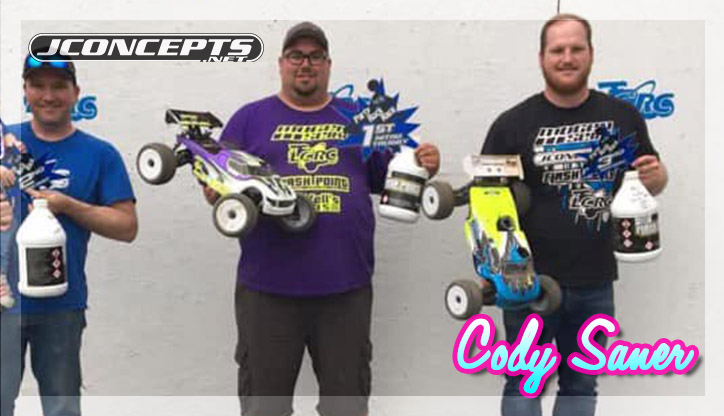 Sometimes racing gets too serious and we have to remind ourselves to just have fun and have a good time. Getting in some track time last week, Cody put in a great round of qualifying to earn the TQ and during the difficult mains, finished out in 3rd in Nitro Truggy at LCRC. In Nitro buggy, Cody closed out the weekend taking home 5th place for a solid weekend at the track.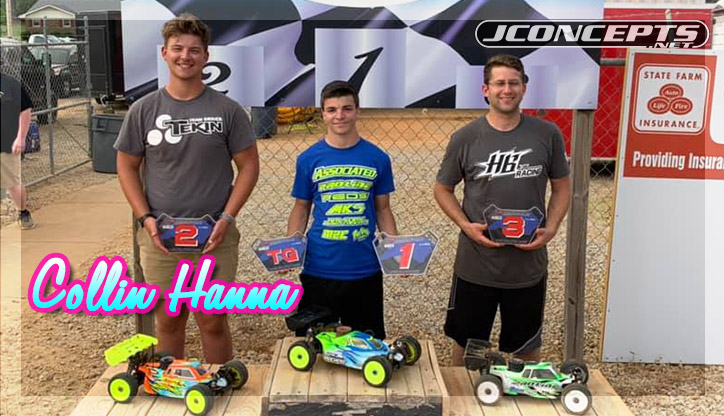 The Hanna family is no stranger to speed as both Collin and younger brother, Griffin Hanna, have excellence built into their genes. They thrive and excel at everything! Collin had a great time in Wilson, NC for the TSOC as he finished in 2nd in both the nitro and Ebuggy classes completing a wonderful weekend of racing.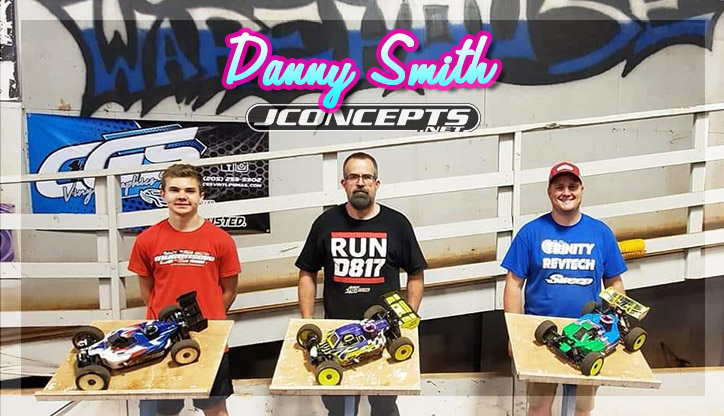 Like a rocket ship, Danny Smith charged his way to the front of the pack at the North Vs South race at the Warehouse Hobby and Raceway race that took place last weekend. Danny won the nitro buggy class by utilizing his TQ effort in qualifying. Unfortunately, the speed was looking good in Ebuggy, but an unfortunate mishap caused Danny to DNF. Tire of choice for Danny was the green compound Rehab tires!
It seems like oval is starting to pick up across the country as many of our team drivers have dabbled in the world of oval at some point. Last week, it was David Alberico's turn as he raced his sprint car on Double Dees and Bar Code tires to slip and rip around the track. David finished 2nd overall and looked to be a fun weekend at the track!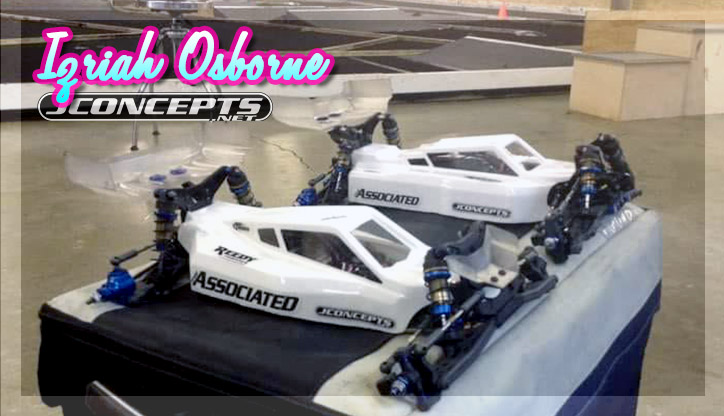 The goal is to get yourself to the highest level you possibly can and to get there, you have to start racing modified at some point. Last week at Apex's First Friday race, Izriah ran 2wd and 4wd Modified for the first time this year and guess what…. He took home the overall wins in both cars! Way to go Izriah!
It seems like for some, the older and wise you get, the faster you get too. This seems to hold true for Jason Schreffler as he seems to age like fine wine. Here's what Jason had to say about his wonderful weekend of racing, "Attended LCRC Raceway's Party Rock Race. Had an awesome weekend. TQ and Win for both Expert Ebuggy and Expert Nitro Buggy. Green Reflexes of choice. We dodged a huge rainstorm right when racing completed! Can only add 1 photo so posted nitro buggy!" Smoking fast!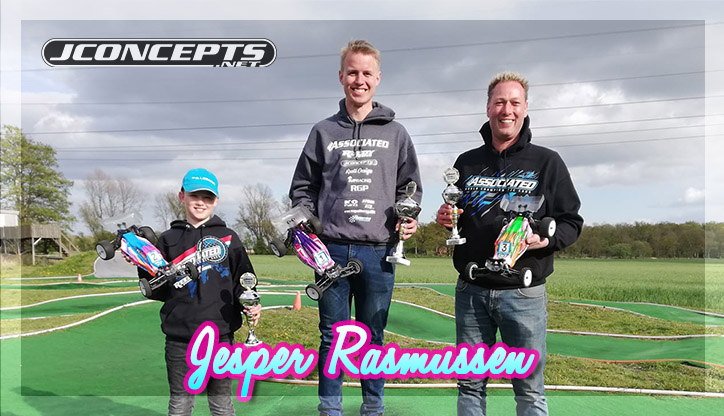 Another fantastic TQ and win for the Danish JConcepts star, Jesper Rasmussen, as he attended round 1 of the Danish Championships located in Odense RC Minirace. Despite having a small roll over in A2, Jesper thrived under pressure and took the win in A3 to lock up the overall. Jesper really likes the S2 body on his B6.1 ride along with Fin titanium turnbuckles and Aero wings to complete his turf slaying kit!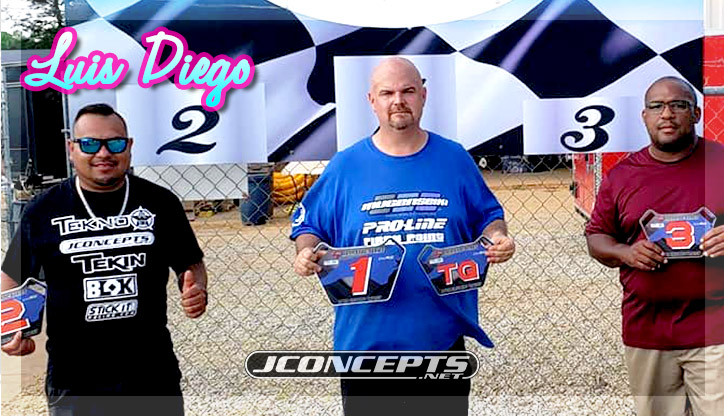 The only way to get faster is to go race. Some people like to just practice, but club racing or just racing, in general, sharpens your skills much faster and hitting it hard since the start of 2019 is Luis Deigo. Rockin' the R2 Reflex tires, Luis placed himself 2nd in Etruggy at the TSOC Race hosted by Thunder Alley in Wilson, NC. Nice job Luis!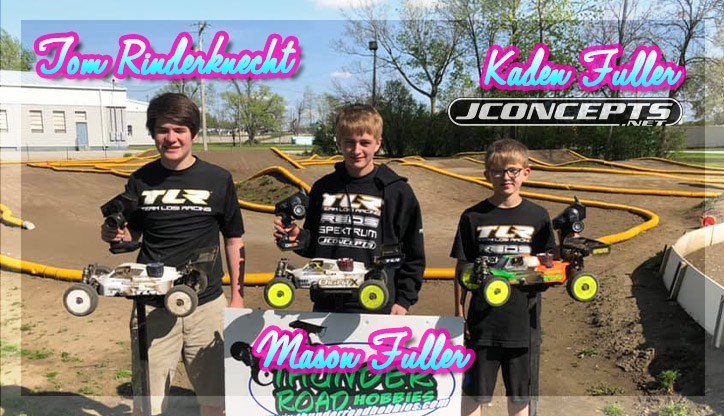 We're telling you now, remember these 3 names as you'll be seeing them in the future. This elite 3 are young, hungry, and have something to prove and last week, they proved exactly what we're talking about. Taking 1st at the Thunder Road Hobbies race, Mighty Mason Full was on point in nitro buggy with Tom Rinderknecht finishing 2nd, and young super champ Kaden Fuller, taking 3rd.  Tire of choice was the R2 Reflex providing them with the grip to sweep the podium.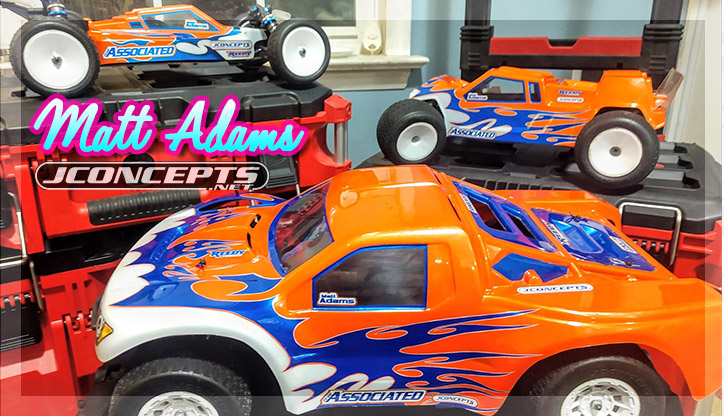 In this hobby, it's great to see the successful father and son race teams out there and last weekend, Matt Adams enjoyed a great day of racing with his son. This is what he had to say about his racing adventures, "Saturday my son and I made the trip to WOCRC in New Florence, PA for the Roar Region 2 1/10th series race. I ran Mod Buggy, Mod SCT and Mod Stadium Truck, and Jr. ran the Young Guns class.
I qualified 2nd in Mod Buggy and finished 2nd in the A-Main. In Mod Stadium Truck I qualified 2nd and finished 3rd in the A-Main. In Mod SCT, I qualified 2nd and managed to pull off a win. I ran JConcepts green Dirt Webs on all three cars and was hooked up all day.
My son Tq'd and won the young guns class. He keeps getting better each time we go out and Saturday was definitely the best I've seen him drive." It must be an amazing feeling as a father to watch your son improve every step of the way. Enjoy it Matt and thanks for sharing!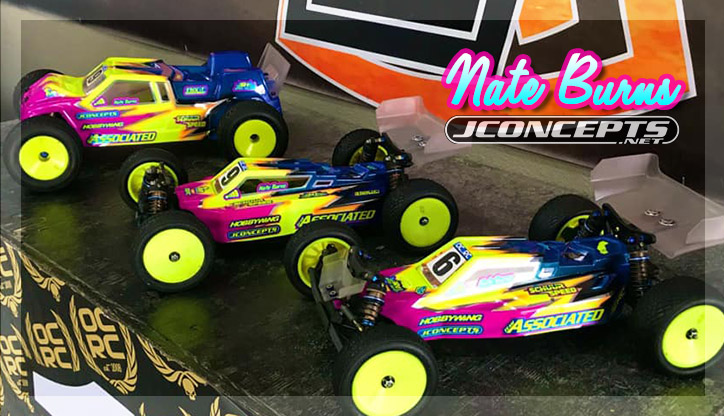 We can't stress enough that having fun with RC's is just as important as winning. We all can't win all the time, but we sure can have fun every time we hit the track. Keeping it fun and enjoying his time with his best friends at the JConcepts Stock Nationals, Nate Burns had a perfect weekend as he finished in the top 10 in stock stadium truck and top 20 in 2wd as the JConcepts Stock Nationals. Great times on and off the track indeed!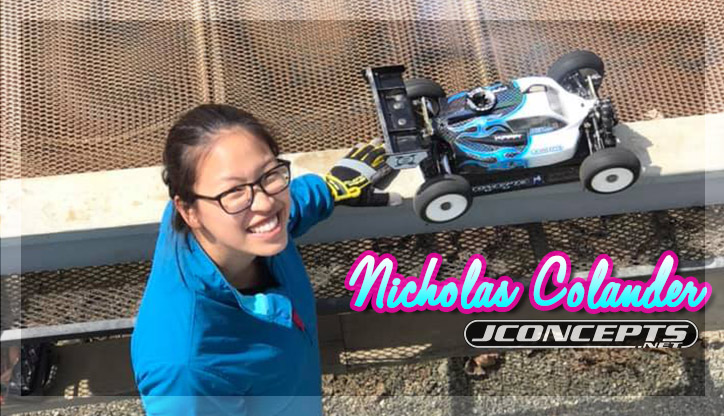 Team driver Nicholas Colander had one interesting experience as he raced 1/8th nitro buggy for the first time in 2 years. As he stated, "Anywho, I ended up in the C main… had a great battle with my new buddy Bigeracing
Bumping both TLR cars to the B Main.
In the B, it all started coming back to me….my JConcepts Stalkers were doing work and everything was working well. My confidence was flowing and I started to really push the car. I was leading at some points of the race, hell all 3 of us were… epic battles! But some late bobbles did me in and I took 3rd missing out on a bump to the A." It's all about the effort and the enjoyment of driving your car to your own personal limits and it looks like Nick had a great time. Best part was, his fiancé was his pit queen. Too cool….
Thor Ott took a trip over to Thunder Road R/C, which is the new home of round 4 of the JConcepts NCTS. Not used to the size of the huge track, it took a little bit of time to get used to, but in the end, Thor used the JConcepts Twin Pins, Swagger fronts, and F2 body to do work taking the TQ and win in 2wd buggy. Now that's flying!!