Race Team Update – May 2020 Week #4
In this week's Race Team Update the team keeps the May momentum flowing with more wins and top 10 finishes all over the country in various segments of RC, plus constantly preparing for the next battle on the track which you can read about below in this weeks report!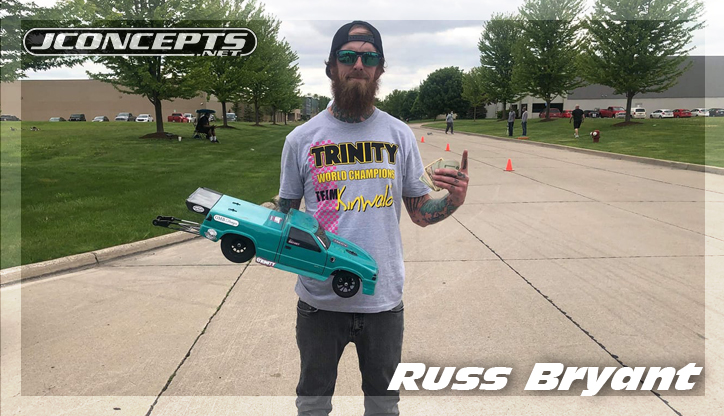 Starting off this week's report is probably the fastest and shortest form of RC racing. Driver Russ Bryant picked up another win in the local drag racing scene in Michigan at a cash days event. He said that he once again used the winning combination of the JConcepts 2002 Chevy S-10 Drag Truck clear body with Gold compound Hotties tires.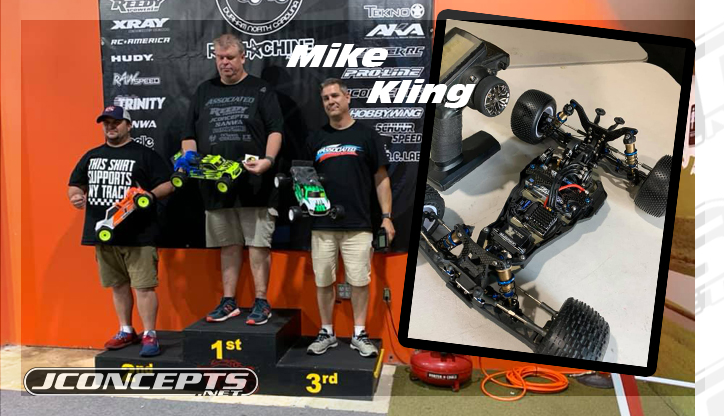 Mike Kling reports that had fun running his Team Associated T6.1 at the carpet track at Bull City Raceway in Durham, NC. His kids had fun too and his T6.1 is decked out with JConcepts goodies like Carbon Fiber Steering Arms, Front Camber Link Mount Bulkhead, Servo Mount Bracket, 3-Gear Laydown | Layback Transmission Motor Plate, Carbon Fiber Battery Brace and the Aluminum C and D blocks. Lots of bling Kling!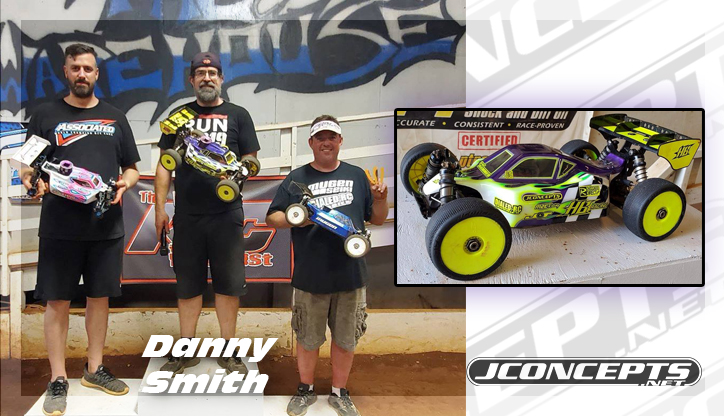 Team driver Danny Smith said he attended the Covid 19 Relief Race at The Warehouse Hobby Raceway in Helena, AL on Saturday. He competed in both the 1/8 Electric and Nitro Buggy classes and qualified in 2nd and finished in 3rd in the electric class using the JConcepts Teazers in the Green compound. And for his nitro ride he set the TQ and led the A Main from start to finish on Green compound Rehabs. Nice job Danny!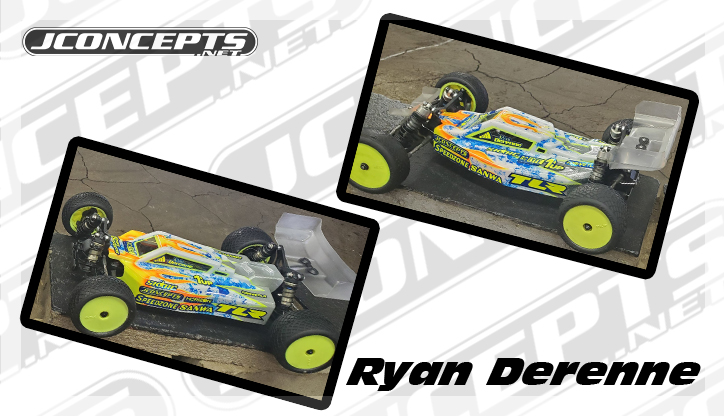 JC driver Ryan Derenne checks in to report that he got to race once again on his home track, Dirt Heaven Hobby & Raceway in New Franken, WI for their 1st Summer Series race. He competed on their indoor track with his TLR 22 5.0 D.C ELITE topped off with a JConcepts F2 body running on Silver compound Ellipses. He qualified 2nd overall and would finish there after a long battle in the main event. In the 4wd class he would take his TLR 22X-4 to qualify 3rd overall in the A Main. He led for part of the main before an electrical issue dropped him down to 5th place. His wheeler was also using a JConcepts F2 body and Silver compound Ellipses and he also mentioned it was awesome to race again and see his friends. No matter what the results are that sounds like a win in my book Ryan!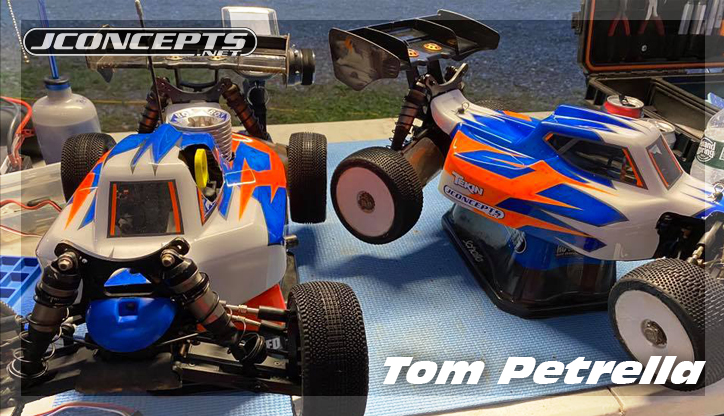 Teammate Tom Petrella also went racing for the first time this season at Region 2 HQ Raceway in Shippensburg, PA. He said it was a long three hour journey to the track but was well worth it for his first ever nitro buggy race! He mentioned after resisting nitro racing for a long time he is now into it and managed to make the A Mains in both the 1/8 Electric and Nitro Buggy classes. He finished in the top 5 in both classes and used a mix of JConcepts Green compound Detoxes and Triple Dees for both vehicles.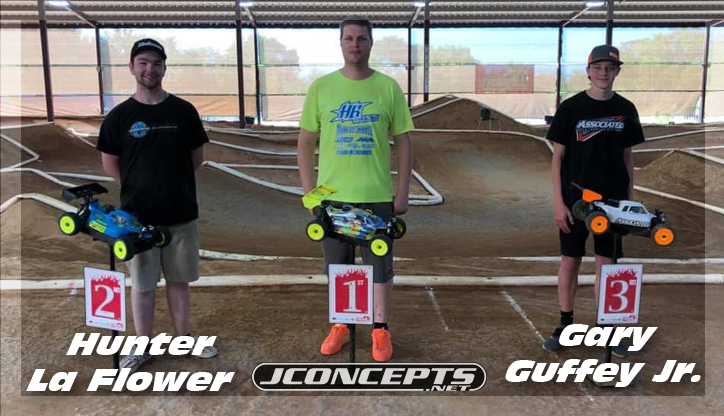 Down at Thornhill in Hutto, TX the JConcepts team was well represented again over the weekend for club racing in the 1/8 Nitro Buggy class. JC drivers Hunter La Flower and Gary Guffey Jr. finished 2nd and 3rd on the podium for the race! Hunter said he used Aqua compound Detox tires while Gary reported that he used Blocker in the Green compound. Gary also competed in the 1/8 Electric Buggy class and finished in 4th too. Great job team!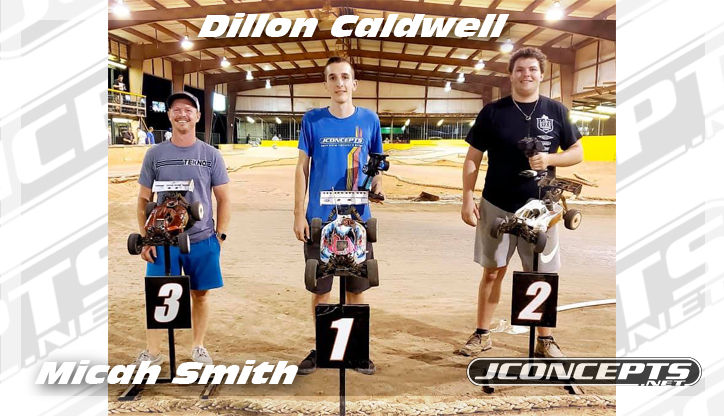 Over in Porter, TX at Mike's Hobby Shop, JC driver Dillon Caldwell competed in the 1/8 Nitro Buggy class and was able to take the TQ and win! He said he used the JConcepts Detox tires in the Blue compound. Joining him on the podium in 3rd place was teammate Micah Smith! Micah said he ran the JConcepts Detox in the Blue compound. Great driving team!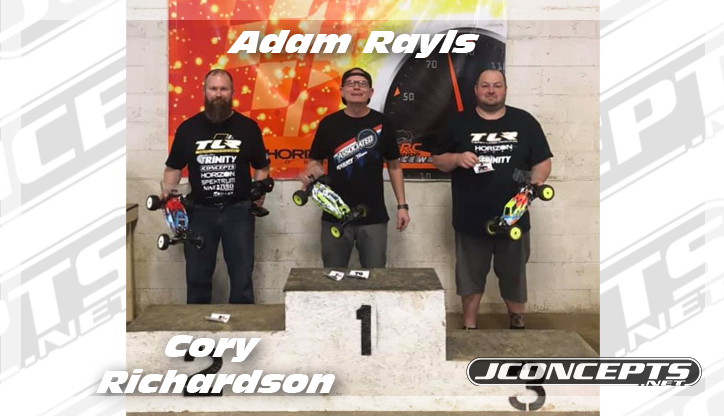 Back at Bill's RC Hobby Shop in Marion, IN the JConcepts crew was competing on Saturday at a club event. Team driver Cory Richardson reports he finished 2nd overall in 17.5 2wd Buggy running a JConcepts F2 body on his TLR ride. His tire of choice was the JConcepts Ellipse tires on all four corners in the Silver compound which were sanded down to slicks. Joining him on the podium in first place was teammate Adam Rayls. Nice driving guys!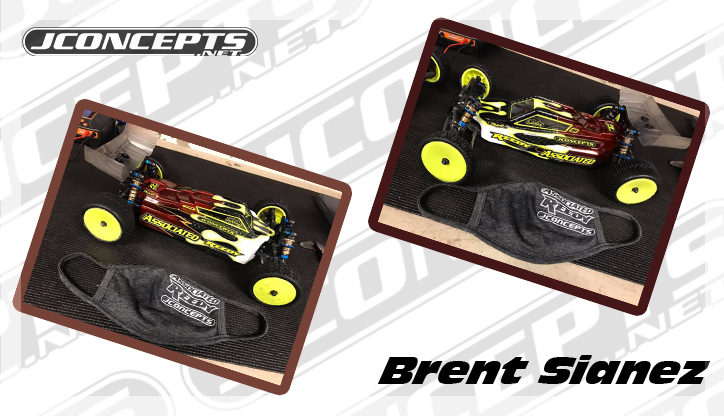 JConcepts driver Brent Sianez reported that he took a trip out of state for a club race in New Jersey. He said all though it was a little strange to compete at an event with new restrictions he was still able to TQ and win in both the Mod 2wd and 4wd classes with his Team Associated buggies! The hot ticket out on the carpet track was the JConcepts Nessi and Swagger tires.
Back west at Fort Dodge, IA team driver Brandon Kearney competed at Iowa Outlaw RC for the first round of their Summer Series. He competed in both the 360 Sprint and Late Model classes and would finish 2nd in both. He said both of his vehicles were equipped with JConcepts 9 Shot wheels, Swaggers and Twin Pins tires, and a L8D Decked Late Model body for his Late Model car.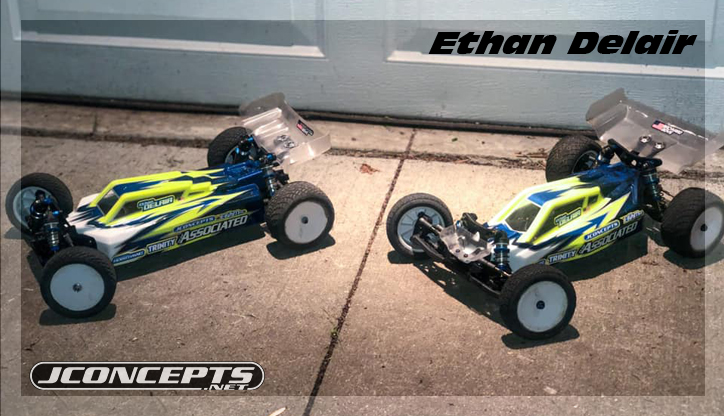 Further to the West at the HobbyTown HobbyPlex in Omaha, NE the JConcepts team was out in full force again for their 2nd "Covid Club Race". JC driver Ethan Delair competed in the Mod 2wd and 4wd classes again and qualified 4th in Mod 2wd and finished 3rd overall. And in the Mod 4wd class he qualified and finished in 3rd place too. Joining him on the podium for both classes was fellow JC drivers Alex Vandebeek in 2nd and Tom Rindernecht in 1st to compete the team podium sweep in both classes! Ethan reports that he used a JConcepts P2K body with Gold compound Dirt Webs in the front and Ellipses in the rear for his 2wd ride and for his wheeler he used a F2 body with Ellipses on all four corners.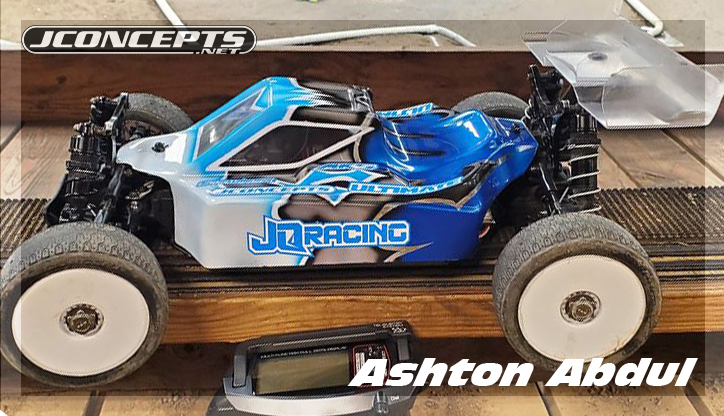 Also competing at the Plex was team mate Ashton Abdul in the 1/8 Electric Buggy class. He said it was his first race in over 2 months but he was still able to take the win! The tire of choice for his JQ rig was JConcepts Dirt Webs in the Gold compound. Awesome driving guys!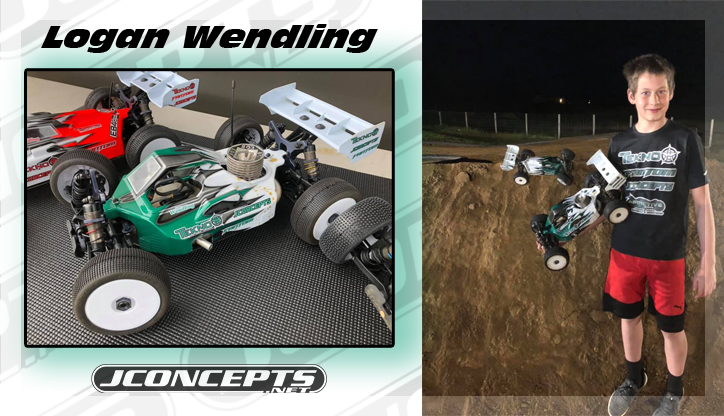 JConcepts driver Logan Wendling headed out to Sandpit RC in Jonesville, MI for a double header over the weekend. On Saturday there were 122 entries and he was able to TQ both the 1/8 Electric and Nitro Buggy classes! In the main events he would finish in 2nd place in Electric Buggy and took the win in the 20 minute nitro main! On Sunday the turnout was smaller with 35 entries and he once again competed in 1/8 Electric Buggy along with 1/10 4wd Buggy. He would go on to TQ and win in both buggy classes that day! He said that he ran Green compound Kosmos and Reflex tires on Bullet wheels on his 1/8 rides. And on his Tekno EB410 wheeler he used the winning combination of JConcepts Sprinters in the Green compound on Mono wheels. Awesome driving Logan!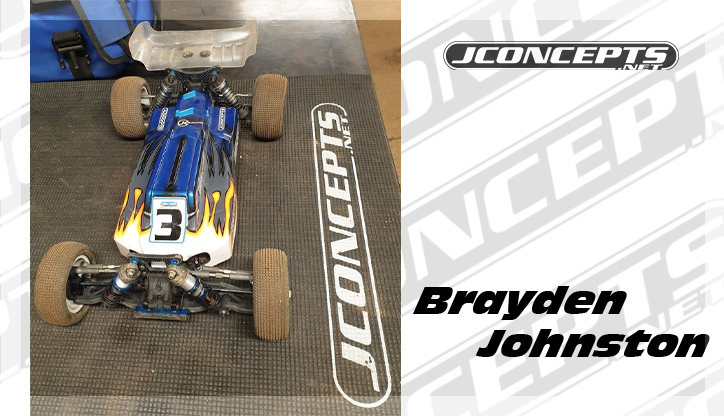 Down in Australia, team driver Brayden Johnston reports that he competed at his first club race in three months due to Covid restrictions. The outdoor 1/10 club race was limited to 20 people but he said he still had a good time getting back into the groove of things. He ran the JConcepts Sprinters in the Green compound and said they were hooked up.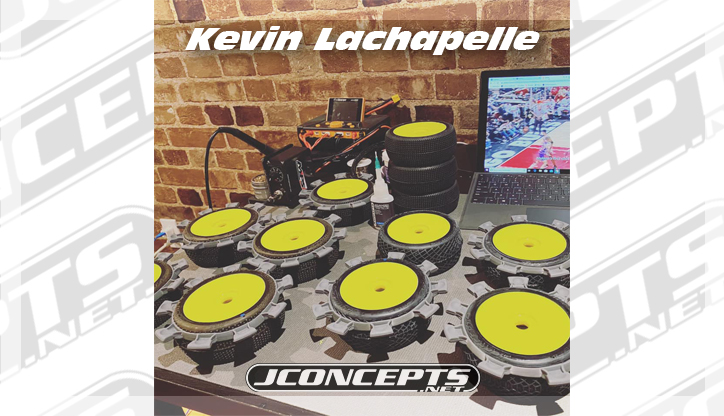 In Canada, team driver Kevin Lachapelle didn't get any racing in but has been staying busy prepping some fresh JConcepts rubber for when racing resumes at Bego Racing RC Raceway in Napierville, Quebec. He said he is preparing some JConcepts Ellipses in the Aqua compound along with Blue compound Triple Dees and R2 compound Reflexes. Aiding him in this process are the JConcepts Advanced Formulated Medium Tire Glue, RM2 Medium Bore Glue Tip Needle and Satellite Tire Rubber Bands.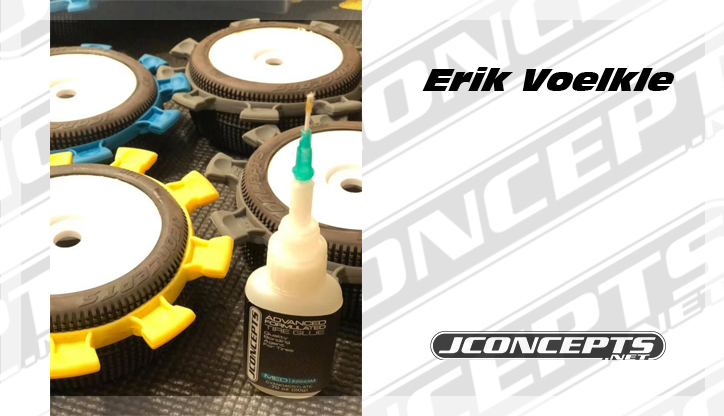 Speaking of glue, fellow JC teammate Erik Voelkle is also prepping some new JConcepts tires too for a friend who is building a new kit. He recently glued up some Green and Blue compound Reflexes along with some Blue Compound Detox tires. He also mentioned that the the JConcepts Advanced Formulated Medium Tire Glue, RM2 Medium Bore Glue Tip Needle and Satellite Tire Rubber Bands also makes this process easy!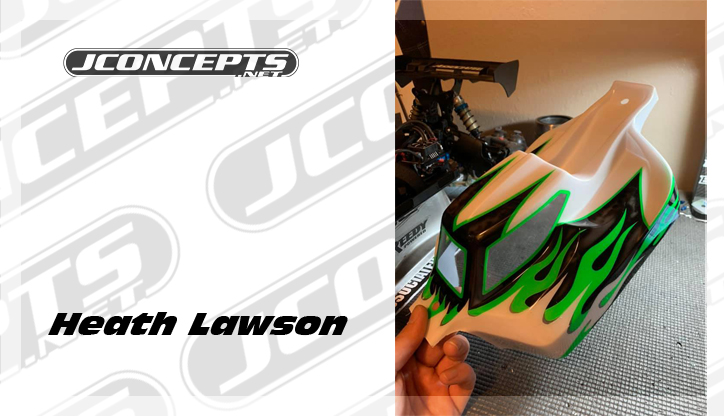 Finally, team driver Heath Lawson said he is keeping busy prepping his 1/8 ride with a new JConcepts S15 body. He said that this week he hopes to compete at 405 RC Raceway & Hobbies in Oklahoma City, OK too.