Race Team Update – May 2020 Week #3
The JConcepts race team is gaining momentum as more and more tracks resume racing now. From off-road, to dirt oval, to monster trucks and more the team keep putting in great results which you can read all about in this week's Race Team Update!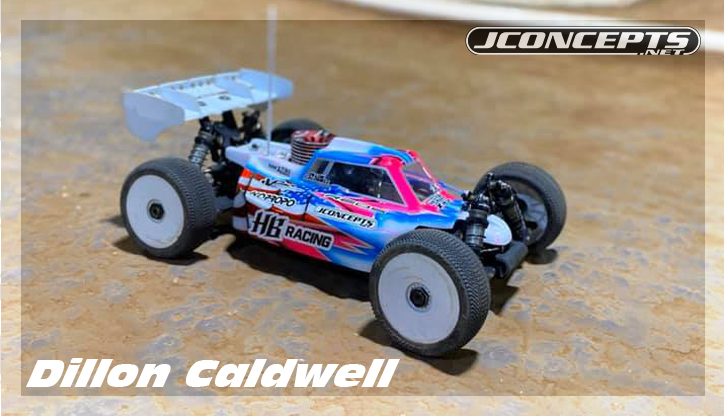 Let's start with a recent club race down at the Thornhill Racing Circuit in Hutto, TX. JConcepts driver Dillon Caldwell competed in the 1/8 Nitro Buggy class and finished 2nd on the podium in a stacked A main field. He reported that he used the JConcepts Detox tires in the Blue compound along with a JConcpets Silencer body on his HB Racing ride.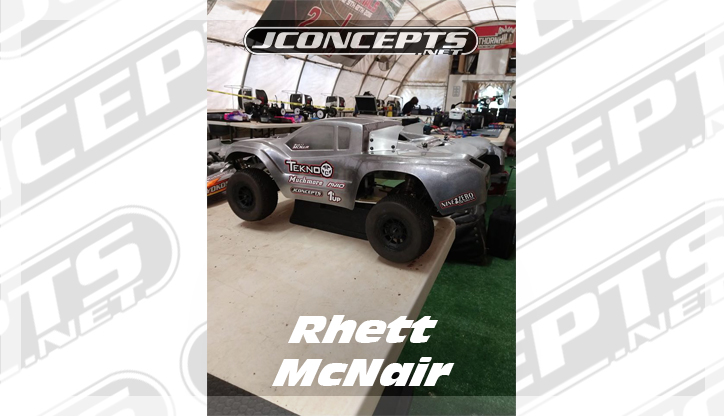 Teammate Rhett McNair also competed at this event over to the weekend too. He reported that he competed in both the 4wd Short Course Truck and 1/8 Electric Buggy classes. He was able to put in the win in the 4wd Short Course Truck class using JConcepts 3Ds in the Green compound and a HF2 (Hi-Flow 2) body.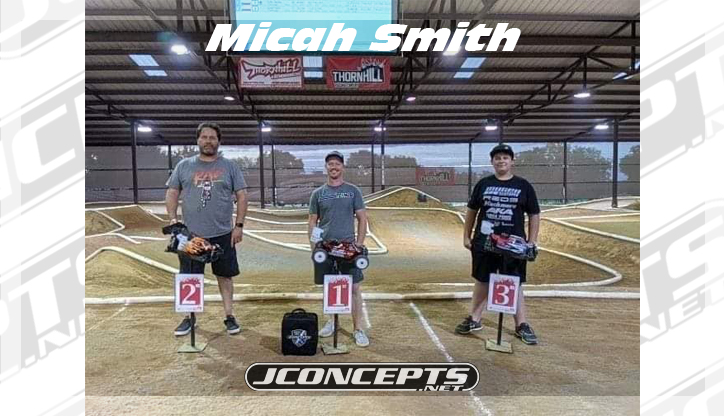 And Micah Smith reports that he took 1st place in the B Main in 1/8 Nitro Buggy. His Tekno ride was equipped with Blue compound Detox tires. Nice job guys!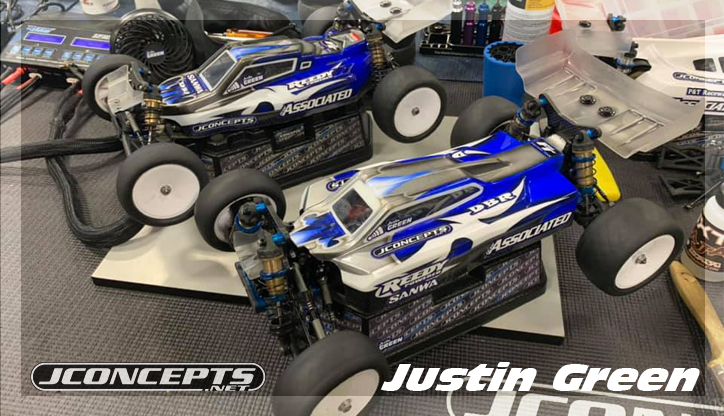 Up in Marion, IN the JConcepts race team was well represented at Bill's RC for a club race last weekend with 49 entries. Team drivers Justin Green and Adam Rayls both competed in multiple classes and came away with great results. Justin said that he ran his new Team Associated B6.2D and B74 vehicles that day. He was able to take the win in the 13.5 4wd Buggy class using Silver compound Ellipses that were sanded down to slicks as well as a Carpet | Astro High-Clearance Rear Wing.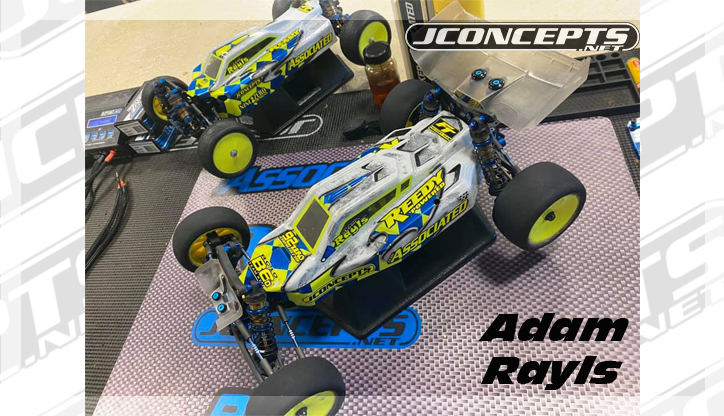 Adam competed in two classes as well and used the same tire setup as Justin. Adam was able to TQ and win in 17.5 2wd Buggy and finish 2nd overall in 13.5 4wd Buggy. Nice racing guys!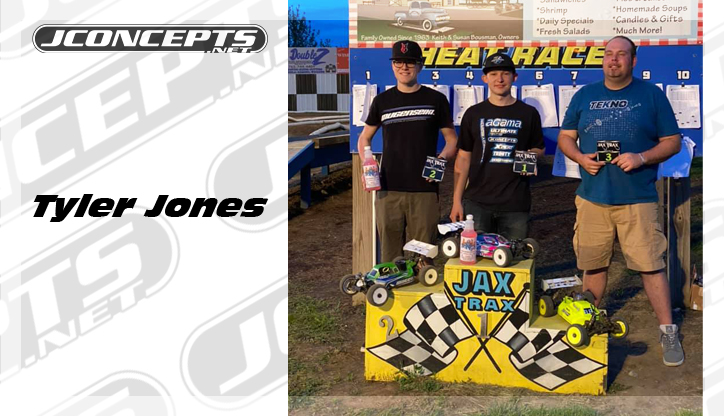 Down in Union City, IN team driver Tyler Jones was racing at Jax Trax for Round 1 of the Series Race. Tyler was able to TQ the 1/8 Nitro Buggy class running Green compound Teazers in qualifying. And he then took the win in the main after switching over to Green Compound Reflex tires!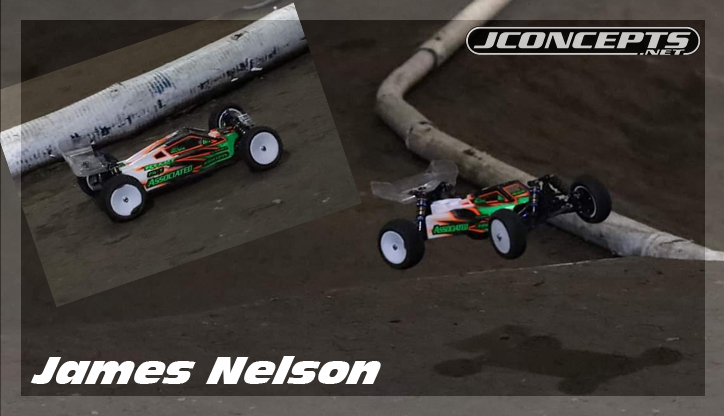 Back in Omaha, NE at the Hobbytown HobbyPlex, the JConcepts race team was in full force at the 1st club race of the Spring. Team driver James Nelson reported that he took the double win in both the Expert 17.5 2wd and 13.5 4wd Buggy classes! His winning tires of choice were JConcepts Gold compound Ellipses in the rear and Dirt Webs in the front for his 2wd car and on his wheeler he used Silver compound Ellipses all the way around. Nice job James!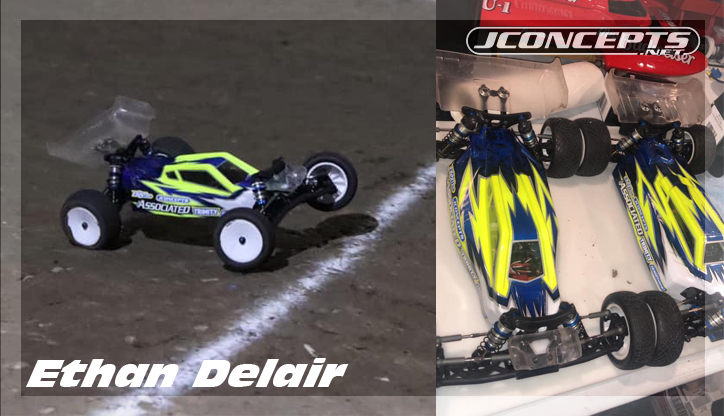 Teammate Ethan Delair also raced at this event which he said was his first time competing on a dirt surface. Normally he runs on carpet, and he decided to double down on this new challenge by also competing in the Modified classes too! After the 6 minutes were complete he would finish in 4th in Mod 4wd Buggy and 5th place in Mod 2wd buggy. On his Mod 2wd car he used a P2K body with Gold Compound Ellipses in the rear and Dirt Webs in the front. And on his wheeler he used a F2 body with Gold Compound Ellipses on all four corners. Those are great results running modified on dirt for the 1st time so keep it up Ethan!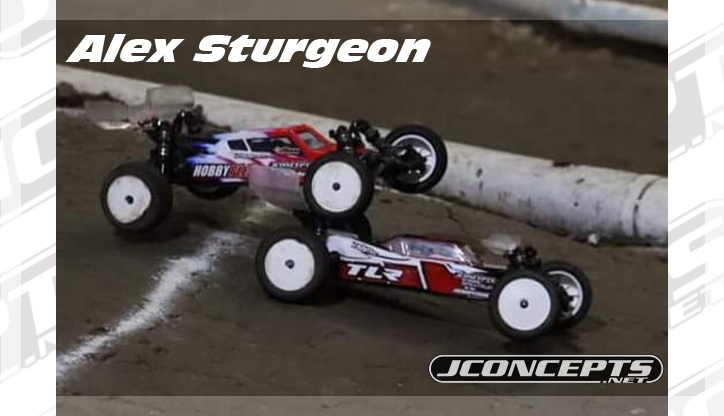 Track Director and JConcepts driver Alex Sturgeon also got some laps in at this race when he wasn't tied up running the race program. He reported that he and his son Emerson both bumped up from the B Main into the A, and Alex was able to finish 3rd in Mod 2wd Buggy behind JConcepts teammates Tom Rinderknecht and Alex Vanderbeek to complete the JC podium sweep!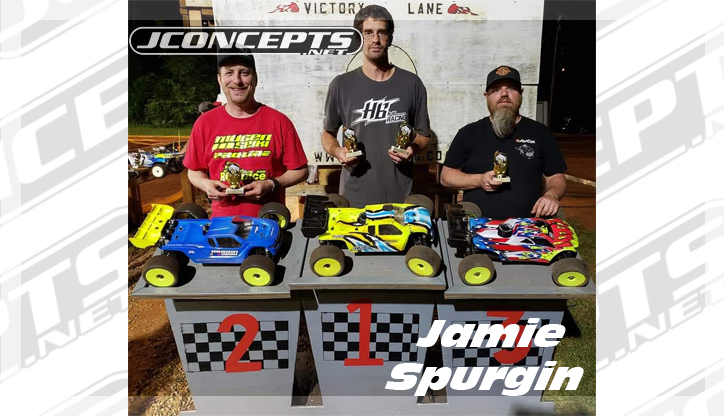 Down at Huntsville, AL, the JConcepts race team had great results racing at RC3 which saw over 170 entries. Team driver Jamie Spurgin competed in Pro 1/8 Nitro Truggy and missed TQ by half a second. After battling it out in the A he would settle for 3rd place on the podium.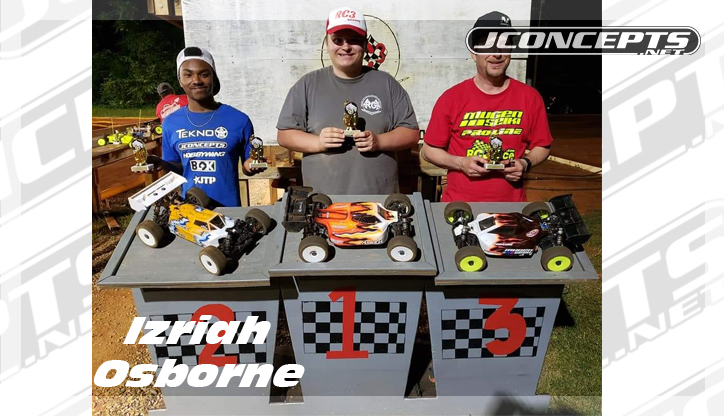 Fellow JC driver Izriah Osborne also competed at this event with his new Tekno rides. He competed in 2 classes and finished 4th overall in 1/8 Nitro Buggy just missing out on podium immortality. In the 1/8 Electric Buggy class he set the TQ but an unfortunate mistake late in the race would drop him down to a 2nd place finish. Izriah said that he used the JConcepts Blue compound Triple Dees during the day and at night he switched over to Green Compound Detox tires. Way to go team!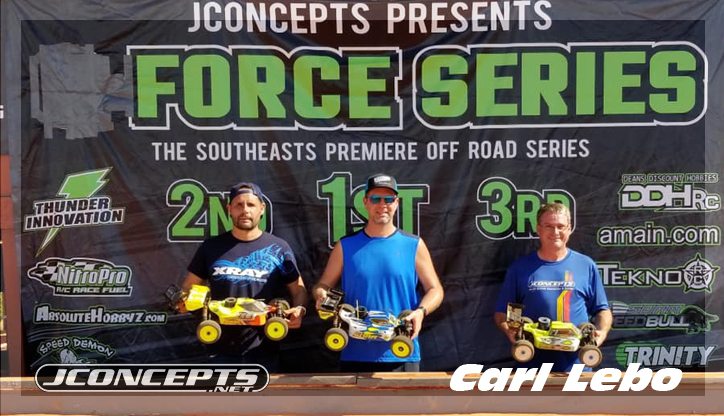 Over in Florida, JC driver Carl Lebo ran some 1/8 Nitro Buggy at the Florida Force Series. After qualifying in 9th to start the main he would put in some fast laps to finish 3rd overall in the 40+ class! Carl said he used the JConcepts Teazers in the Blue compound along with a Silencer body.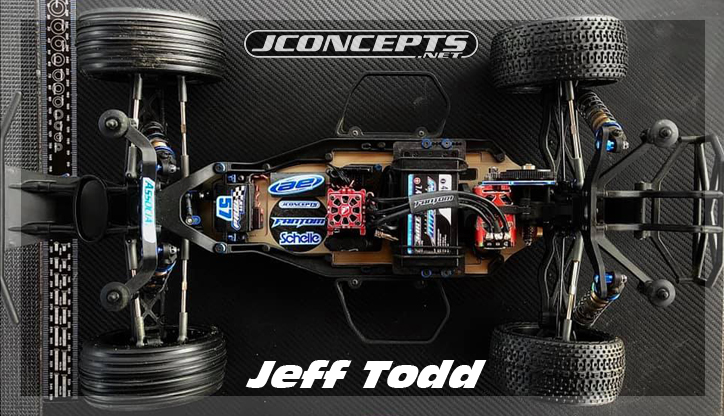 Up in Jonesville, MI team driver Jeff Todd club raced at Sandpit RC. He competed in the 2wd Short Course Truck class and was able to take the TQ and win! He ran JConcepts Green compound Carvrs in the front with Goose Bumps in the rear. Those were mounted to Hazard wheels and he also used a Hi-Flow SCT body.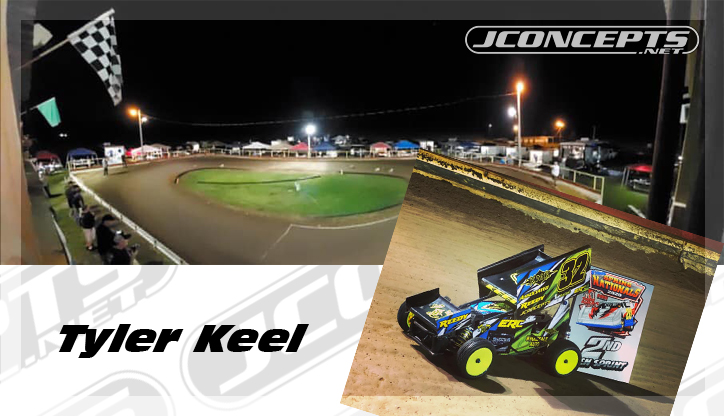 The JConcepts team was putting in good results in the dirt oval racing scene too! Team driver Tyler Keel attended the 5th Annual Spring Nationals at Taylor Park RC Raceway in Yukon, OK. He was able to TQ Open Sprint and finished 2nd overall! His tire of choice was the JConcepts Sprinter tires in the Blue compound with Dirt Tech inserts all the way around.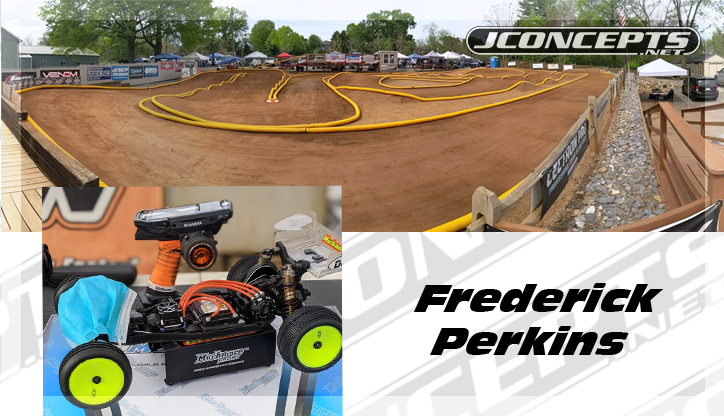 To the East, JC driver Frederick Perkins traveled to Pit Stop Hobbies in Mount Joy, PA for their season opener race. He competed in the 17.5 2wd Buggy class and was able to set the TQ. In the main a small mistake would bumped him down to 4th were he finished after the main had finished. His top qualifying tire combination was Green compound Groovy tries in the front with Sprinters in the rear.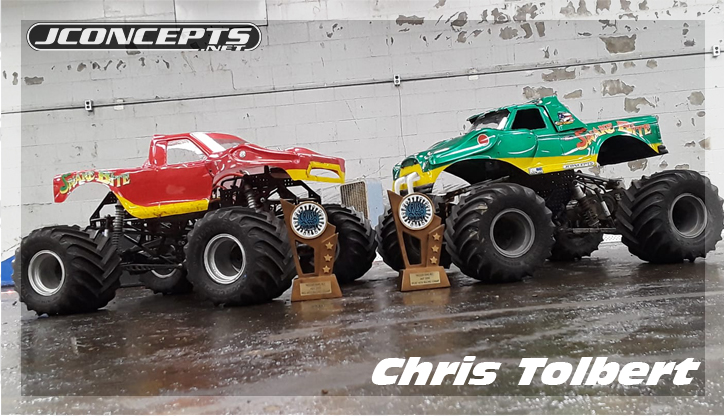 Finally, at SmacTrac in St. Charles, MO several JC drivers competed at the season opener for Trigger King R/C Monster Truck Series. Driver Chris Tolbert took home some hardware in both the Sport and Pro Modified classes.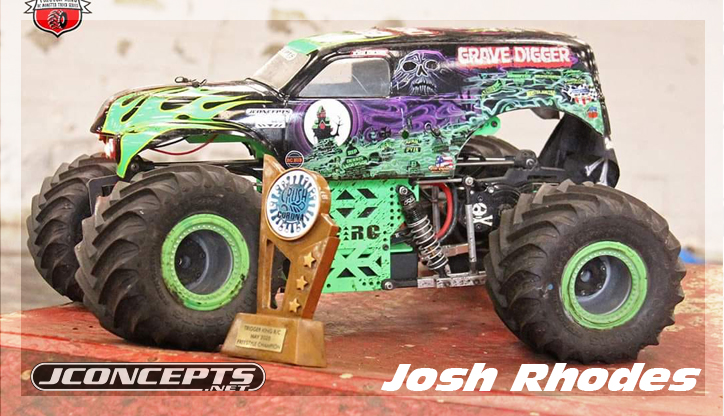 Fellow JC driver Josh Rhodes captured the Freestyle title on Sunday with his Grave Digger replica.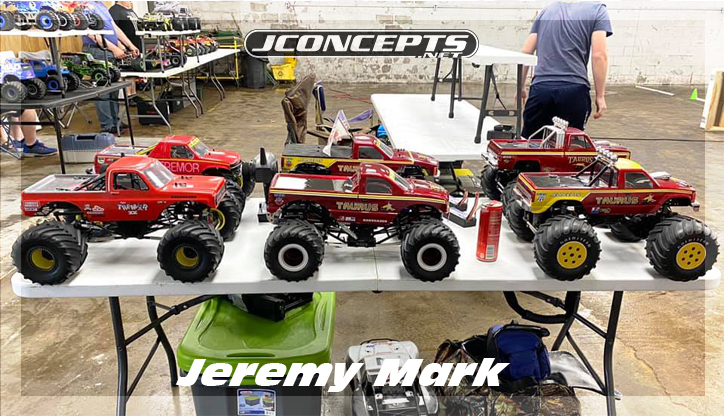 And finally, JConcepts driver Jeremy Mark reports that all though he didn't win in any of the classes he competed in, he did make the semis in the Pro Modified class and Elite 8 in 3 other classes! He said that Blue compound Renegades were the hot ticket on the slippery concrete surface that day and judging by his fleet of trucks it looks like he had fun regardless of how he did in competition!