Race Team Update – March Week 4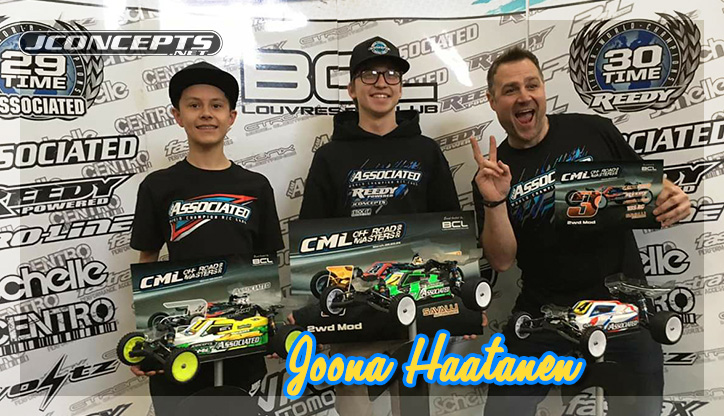 News travels fast in this day and age and that's a great thing! Before, we'd have to wait months or weeks to hear about race results, but not we can get it almost instantaneously and from anywhere in the world. Last week, two of our young international team drivers attended the 2019 CML Masters and dominated the race. AE/JConcepts' Joona Haatanen had a standout race winning both the 2wd and 4wd Modified classes with his JConcepts equipped B6.1 and prototype B74 vehicles.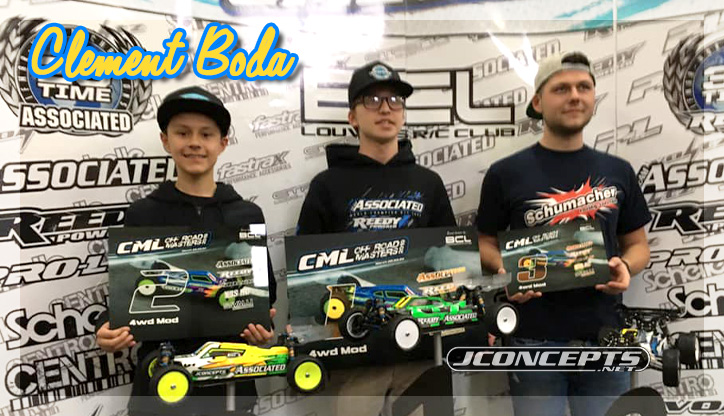 Also, attending on behalf of AE/JConcepts was our French rising star, Clement Boda. With more top-level race experiences combined with amazing talent, Clement is starting to make a name for himself and is bound to have a break-out year in 2019. At the CML Masters, Clement finished 2nd in 2wd Modified, 2nd in 4wd Modified, and 2nd in Modified Stadium Truck completing an awesome triple podium weekend! Careful world, Clement is coming!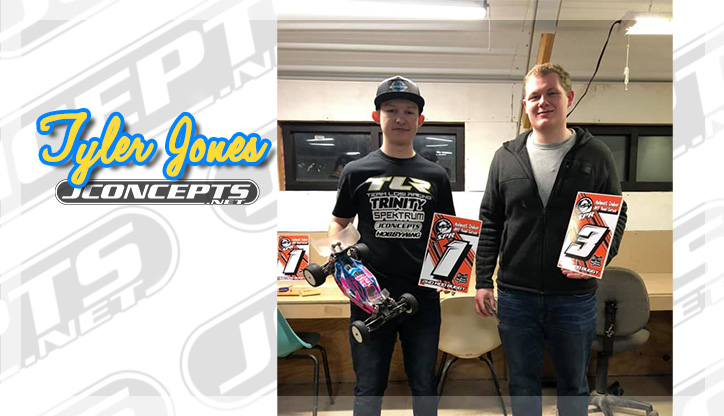 Always fast and always dangerous where ever he goes, Tyler Jones is the real deal and one of the most talented racers out there. Last week Tyler found some time in his busy schedule and attended the Snake Pit Racing Series hosted by the RC Fun Park where he TQ'd and won the 2wd Modified class using gold Octagons and F2 body for his TLR 22 5.0. Boom!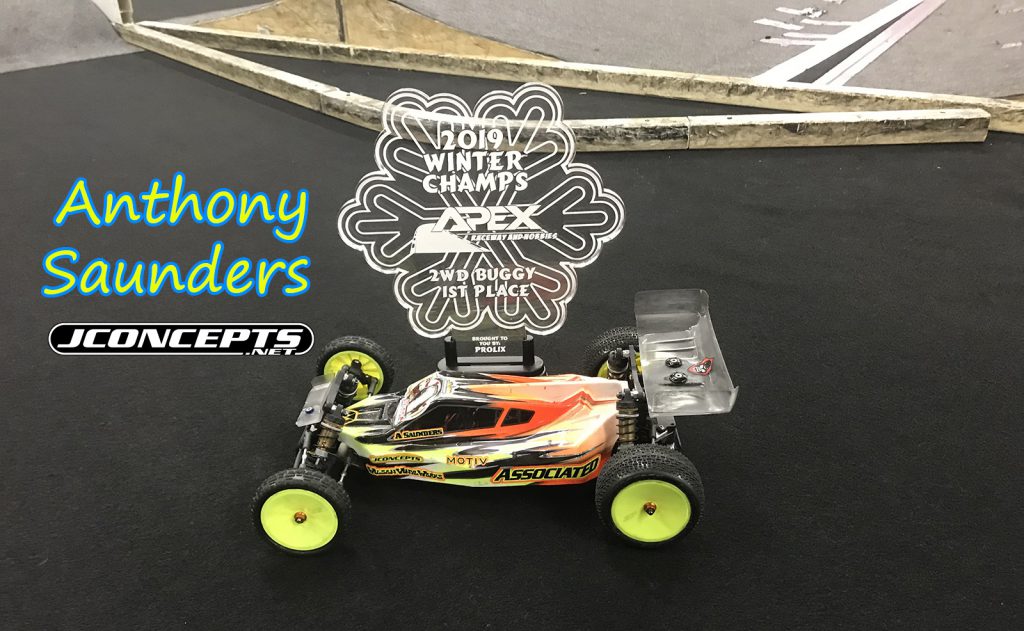 It was a wonderful weekend for JConcepts team driver, Anthony Saunders, as he claimed 1st place in the highly competitive 17.5 2wd Stock class at the 2019 Winter Champs hosted by Apex Raceway. Using Swaggers up front and Twin Pin rears, Anthony won 4 out of his 5 heads up mains to capture the overall. Check out that paint on the P2 body! Topping off Anthony's winning kit is the High Clearance wing and lower front Aero wing to complete his winning package. Awesome job Anthony and keep up the hard work!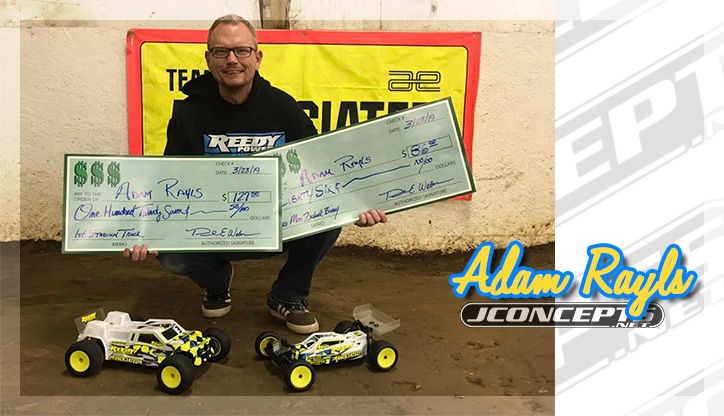 Closing out the final round of the Winter Series at P&T Hobbies on a high note, team driver Adam Rayls was able to deliver some clean runs and took wins in both 2wd Mod buggy and Modified Stadium truck classes. With these results, this gave Adam the overall point series title in Modified Truck and 3rd overall in 2wd Modified Buggy. Once again, the new hot combo of Ellipse rears and Dirt Web fronts doing work for Adam at P&T Hobbies.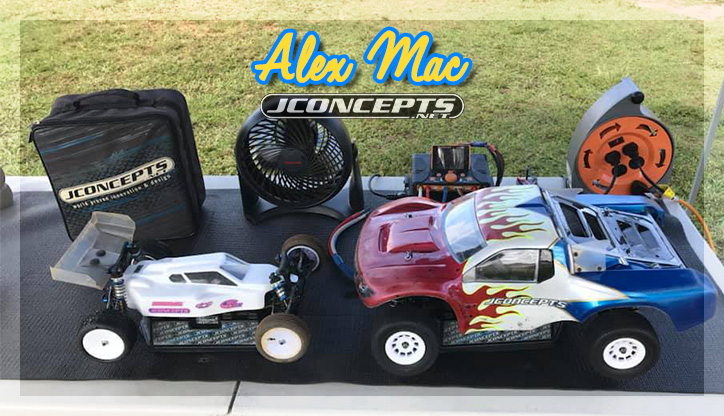 You can't expect to get better unless you put in the time and effort and South Florida's Alex Mac is definitely putting in the time. Unfortunately, results take some time to show, but winning races is a great way to show that' things are going in the right direction. Scoring the TQ and winning in the 17.5 2wd Buggy class and a 3rd place finish in Ebuggy while using a 4×4 SCT…. is definitely some good proof that Alex is definitely getting faster.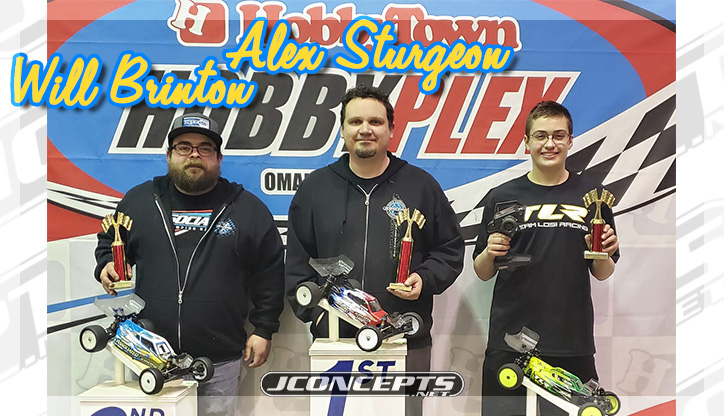 It all came down to the final race to decide who was the Winter points series' 2wd Champion and the King of Hobbyplex and wow…. what a race between JConcepts' own Alex Sturgeon and Will Brinton for the overall series title. Nose to tail for almost the entire race, Alex finished on top with Will finishing 2nd making it a beautiful JConcepts 1-2 finish! Great job guys!
It was a great weekend of racing for JConcepts' Bobby Smith as he club raced at his local track, Strickland RC Raceway in Holly Hill, Florida. Bobby ran a combination of Detox and Rehabs and finished 2nd in Ebuggy and had a great time racing with his friends and supporting his local track. Thanks for the update, Bobby!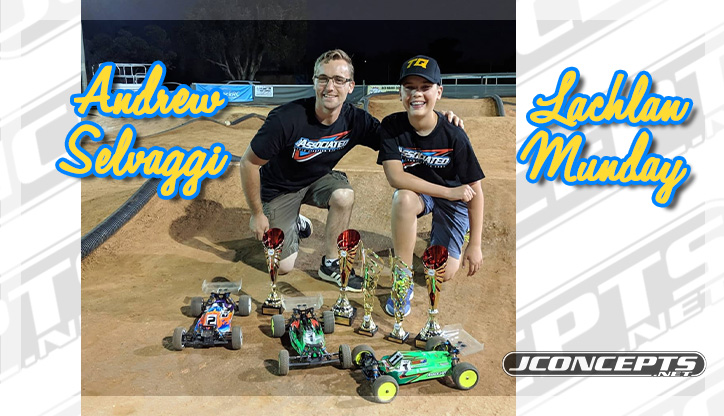 It was a huge race weekend in Western Australia as most of the countries' top offroad drivers attended the West Australia's State Title race located in Perth, Australia. Breaking records as the youngest driver ever to win a Modified State Title, 13-year-old Lachlan Munday scores big winning both the 2wd and 4wd Modified State titles! Congrats to Lachlan and his family for all of their hard work and on their awesome clean sweep and congrats champ!
Joining Lachlan on the 4wd Modified podium was Aussie Build/JConcepts' own, Andrew Selvaggi, who finished 2nd with his JConcepts equipped B64. Lachlan and Andrew both ran F2 bodies on their 4wd and P2 bodies on their 2wd's while rockin' the Aero wings to provide the downforce and performance to win.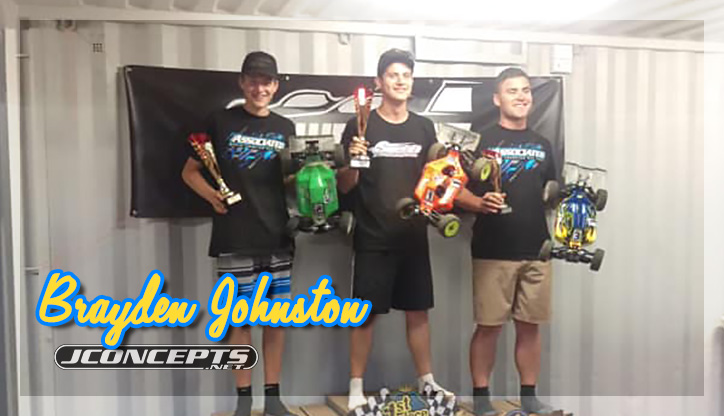 Brayden Johnston also attended the WA State Titles race in Perth, Australia, and had some great results racing 3 classes. Brayden finished 7th in 4wd, 9th in 2wd, and a highlight finishing 2nd place in Ebuggy. Great job to score a well-deserved podium finish Brayden! Keep it up!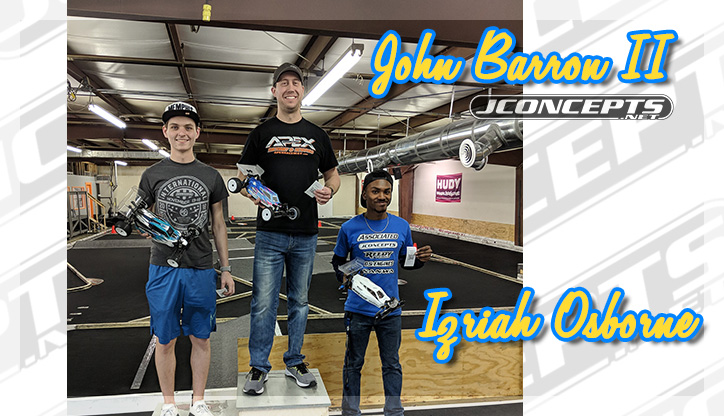 From F1 National Champion to Apex Raceway's Winter Champs, John Barron II can find ways to win. Here's how his weekend went last week, "I won the 2wd pro hand out motor class at Winter Champs at Apex Raceway and Hobbies. We had an EOS layout and ran a Reedy style race format and Swaggers and Nessi was the winning combo! I won two rounds, Kemp Anderson won 2, and Izriah Osborne won 1 round. So it came down to the tiebreaker and luckily I got an extra lap on my last run to take the overall win. It would end up being the only 22 lap run for 2wd buggy the entire weekend!" Amazing job John!
Also competing at the Winter Champs Series, superfast Izriah Osborne, also had a great weekend finishing 2nd overall in 13.5 4wd, 3rd in 2wd, and 2nd in Can-Am making it 3 for 3 on podium finishes. One thing that Izriah tried last weekend for the 1st time was the JConcepts P2 body and commented on how well it handled and that it's now his "go to" body for carpet and turf.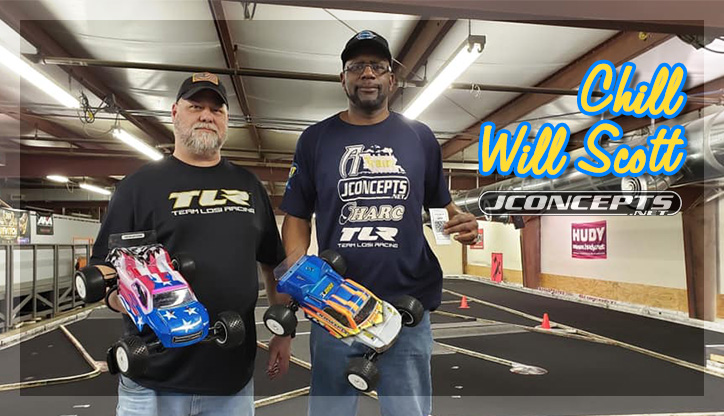 Another JConcepts team driver that found success at the Winter Champs Race Series hosted by Apex Raceway was our very own Chill Will Scott! Jammin' in the Stadium Truck class, Will ran the Swaggers and Pin Downs and took the W in convincing fashion.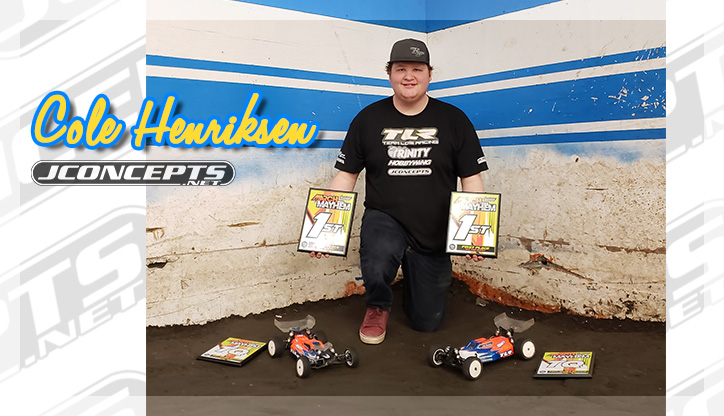 Cole Henriksen has some serious speed and just about every time he's racing at the track he's finishing on the podium. Last weekend was no different as Cole also raced at the FastLane March Mayhem where Cole TQ'd and won the 17.5 2wd and 13.5 4wd classes putting an exclamation on his performance. What a guy!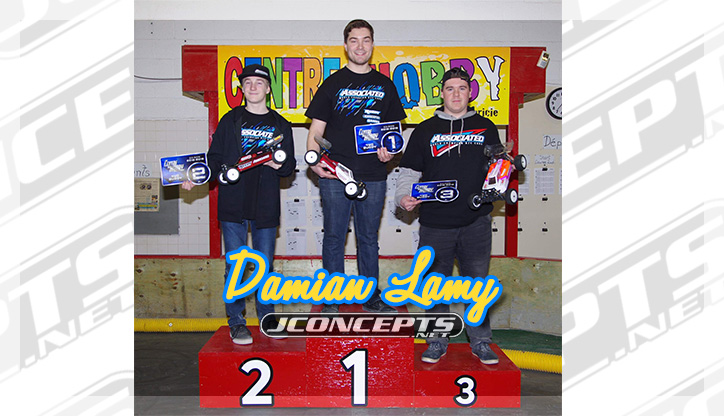 Damian Lamy has been on some kind of hot streak these last couple of weeks and on the final race of his track's point series race at Centre Du Hobby, Damian repeated the awesome success he's been having with another TQ and win in both the 2wd and 4wd Modified classes. It's been awesome to witness Damian's progress over the winter where he has recorded a lot of wins in both classes and looking stronger than ever. Nice job Damian!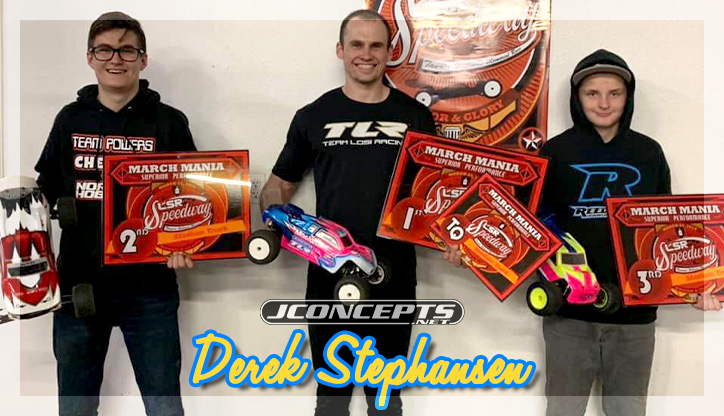 It's always great to hear some news from Derek Stephansen, as he raced the LSR Speedway's annual March Mania race and found some wonderful success over the weekend. Derek finished on the top step in the Open Truck class and finished 2nd behind JConcepts teammate, Kyle Layton in the 2wd Modified class. If you ever need any help or racing advice, Derek is a great guy to ask!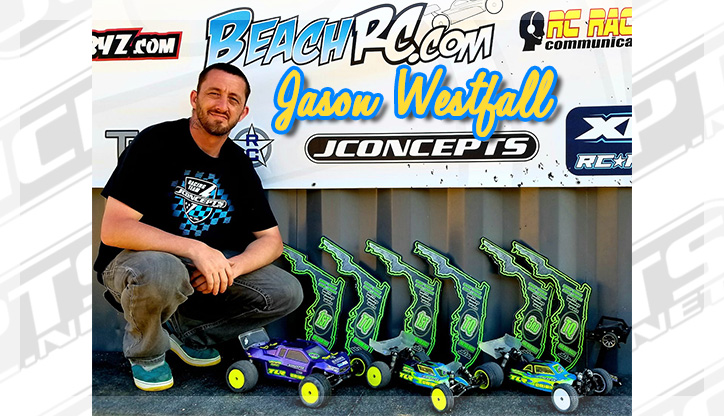 What a weekend for Jason Westfall as he attended the Snap Hard racing league's round 3 race at Southside Raceway in Lake City, FL. Here's what Jason had to say about his glorious weekend, "I attended rd3 of the Snap Hard racing league held at Southside Raceway in Florida. Over the weekend, I took TQ in mod 2wd, mod 4wd and Mod ST and took the win in 2 out of 3 with a 3rd place finish in 4wd after some car problems but just glad I finished. I ran rips and double d's and my TLR rides were awesome 
" Can't beat that photo!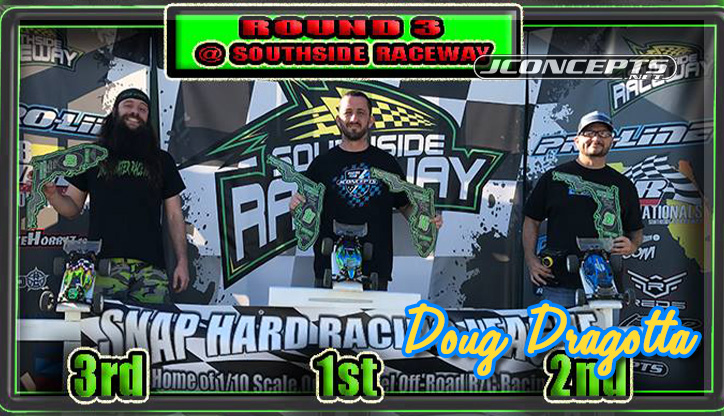 Also, congrats to Doug Dragotta, as he finished 2nd in 2wd Modified just behind Jason Westfall making it a killer JConcepts 1-2 finish! Doug chose a combo of Hybrids and Rips to get the job done at Lake City.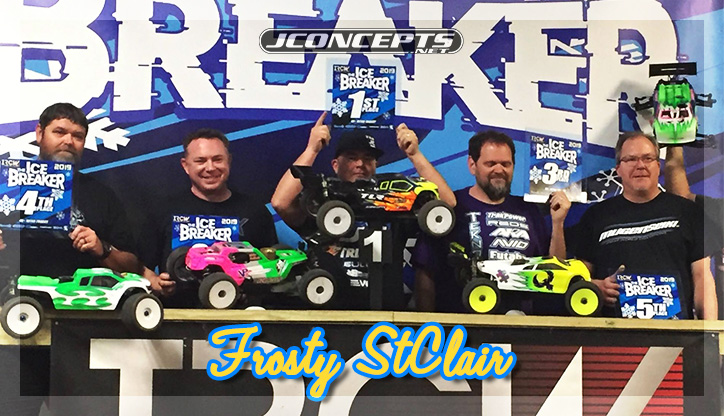 It was a big weekend for JConcepts at the Ice Breaker hosted by Indy RC World in Texas. Congrats to Frosty StClair on his 40+ Nitro Truggy win and his 2nd place in 40+ Nitro Buggy! That's a solid, fun weekend for sure.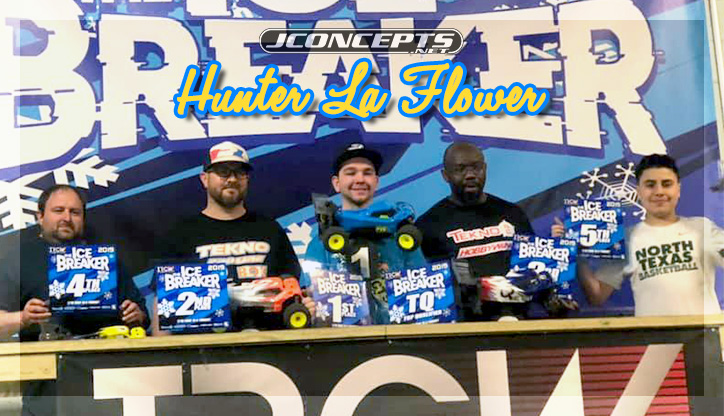 Hunter La Flower seems to drive it all. The multi-talented RC pilot found success in the hot, new class 4×4 Mini Truggy taking home the TQ and win in style. Hunter also made the A-Main and finished 9th in the Pro Nitro Buggy class. What else can Hunter win?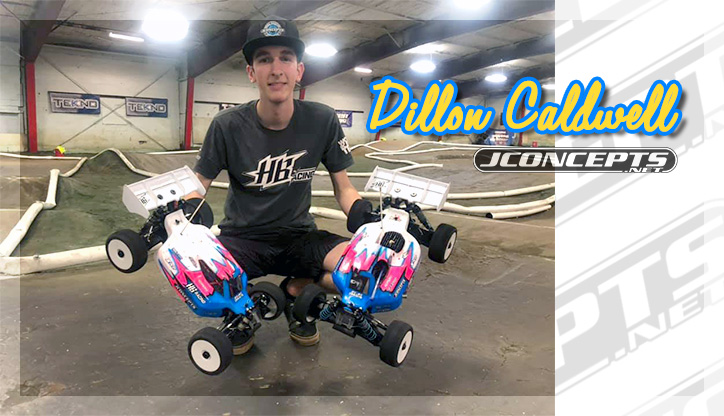 Since re-joining the JConcepts team for 2019, Dillon Caldwell has been on fire and putting in his best performance yet. In a stacked field of talent, Dillon finished 4th in both Pro Ebuggy and Pro Nitro Buggy while dicing it out with the likes of Jared Tebo, Joe Bornhorst, and Adam Drake! Mega congrats Dillon!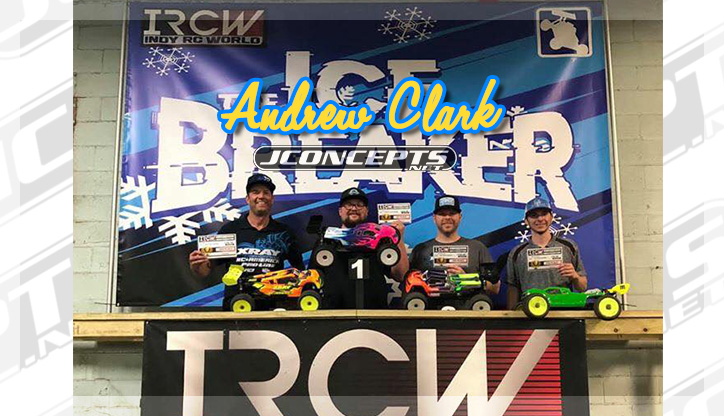 Also finding huge success at the 2019 Icebreaker was our very own Andrew Clark. Andrew used blue compound Hybrids on Bullet Wheels and the legendary Finnisher truggy body to win A1 and A2 and lock up the overall in Etruggy. Nothing beats a podium photo with you on top!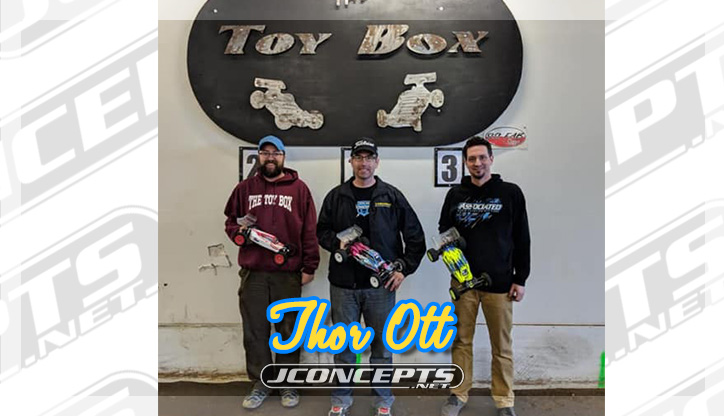 Attending the Saturday Points race at The Toy Box, Thor Ott took home another TQ and win in the 17.5 2wd Buggy class. Thor used gold Dirt Webs and Ellipse rears to help power him to victory. Since the start of 2019, Thor has been on fire!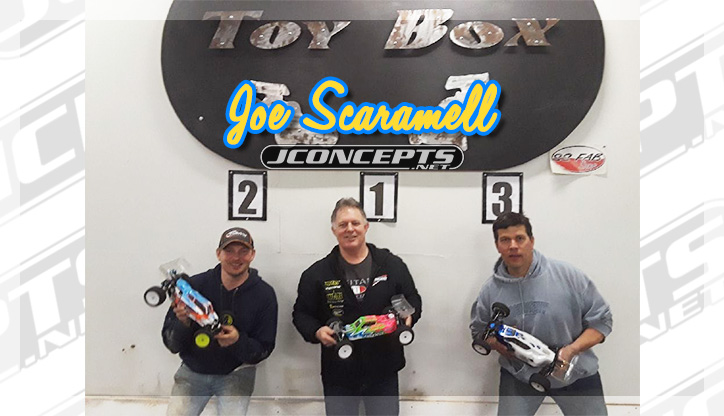 Hitting up the Wednesday Night Worlds last week, team driver Joe Scaramell had a flawless night. Having qualified 1st in 17.5 2wd and 2nd in 13.5 4wd, Joe lit it up in the main taking home both victories. It always feels good to get a couple of "W's".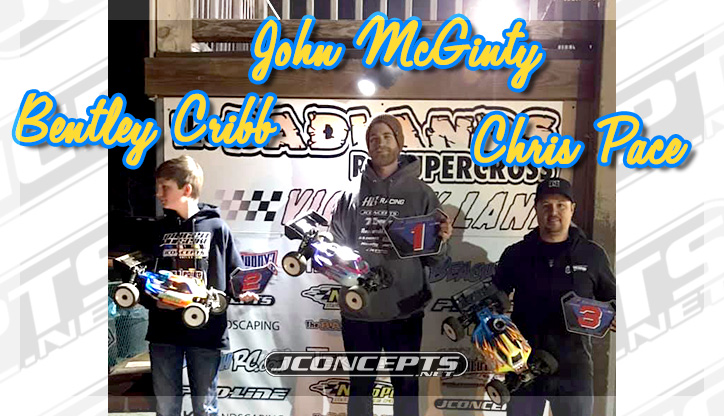 What an awesome weekend for the JConcepts team at TSOC Series hosted by the Badlands Supercross RC Track. Making his return to the winner's circle last weekend was John McGinty, who won the Pro Nitro Buggy class and finished 2nd in Pro Ebuggy. Also making the Pro Nitro podium in 2nd was JConcepts' Bentley Cribb and Chris Pace rounded out the top 3. #cleansweep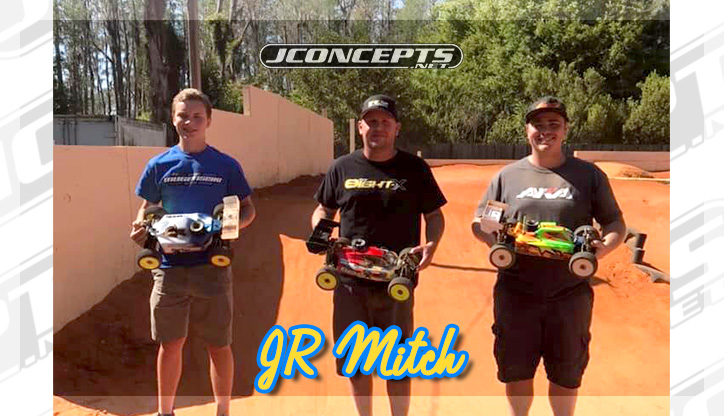 Holding it down at historic Lake Park, JR Mitch takes his TLR 8ightX around on green Kosmos and took a win on that classic Florida red clay. If you've never been to Lake Park, it's held some of the biggest races in the past and famous for the Florida Winter Champs back in the day.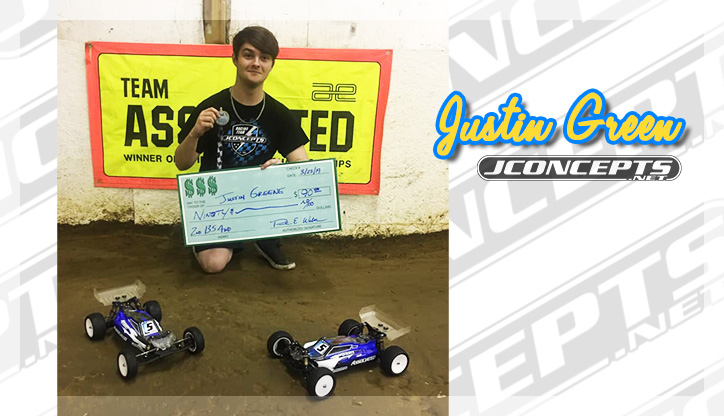 Thanks to Justin Green for sending in his race report from the Series Finale at P&T Hobby and Raceway where Justin took 2nd in 13.5 4wd and finished 8th in Mod 2wd. Justin sported the F2 bodies on both his 2wd and 4wd along with gold Dirt Webs and Ellipse tires! Nice job Justin.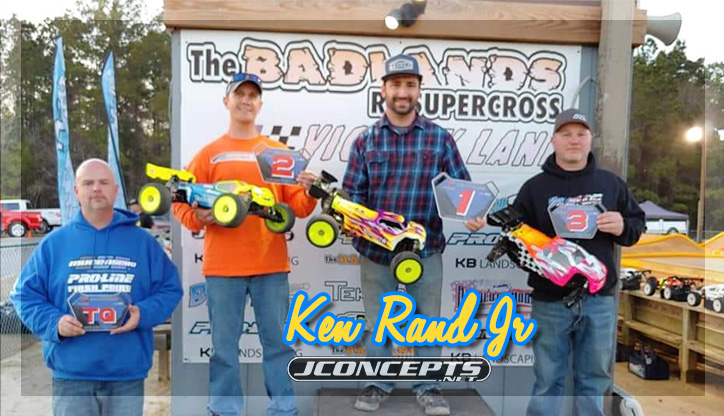 Taking blue Reflex tires to the top of the podium in Etruggy, Ken Rand Jr. sends it at the 1st round of the TSOC Series hosted by Badlands Supercross RC. Now that's what we're talking about!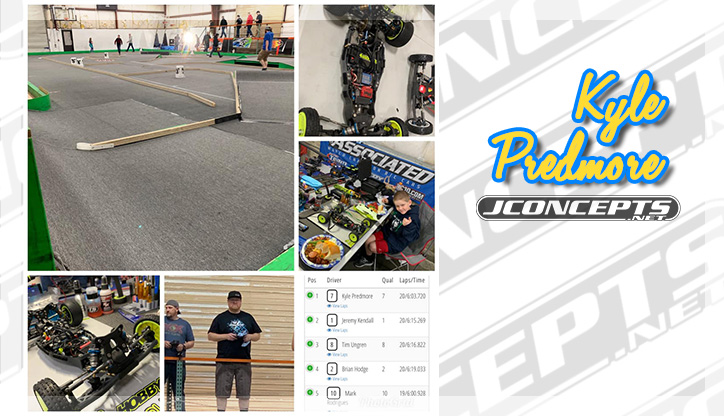 You don't always have to be the fastest to enjoy the hobby or to be sponsored. Sometimes being a positive person that brings the fun, willing to help anyone, and enjoys the hobby can do more for your team atmosphere than racers who can podium. But, if you can get a guy that can do both, win and be a positive ambassador, then double win for sure! Last week, Kyle Predmore had this to say about his awesome weekend of racing, "I actually made it out to race this weekend and no surprise… it was AWESOME! Final indoor race at DieHard RC. Ran 2wd 17.5 and also 40+ 2wd which is open. Had wrenching mishaps so never really sent it in Qs.. my Stock class was a filler LOL. Q'd 7 in the B of 40+ and got in a great run and actually WON!!! My son Qd 14 out of 45 novice drivers.. Such a great day! Converting back to dirt for INS from switching over to turf….."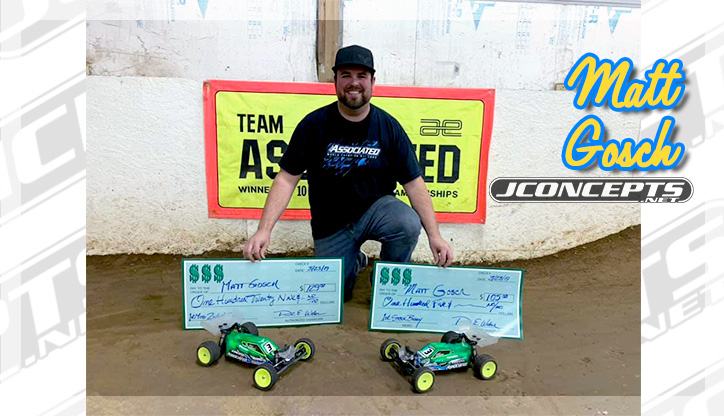 Always nice to get a race photo of you holding some big checks! Last week, Matt Gosch wrapped up the Championship in 2wd Modified and 17.5 Stock Buggy for the Winter Point Series at P&T Hobbies and Raceway. In each round, Matt used the gold Dirt Webs and Ellipse tires to take care of business and that he did. Nice work Matt and congrats on the awesome results!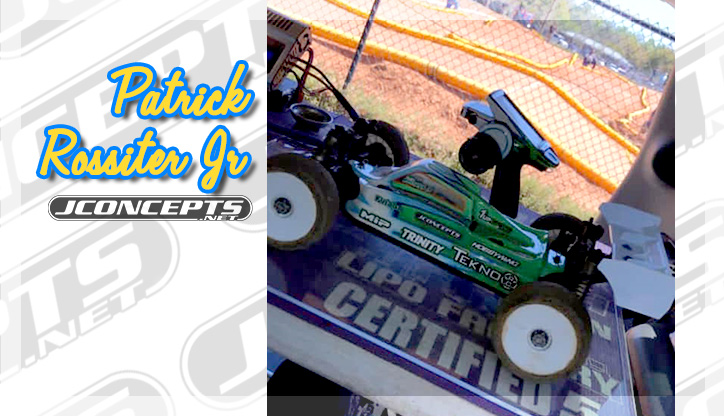 From RD'ing to racing, Patrick Rossiter Jr. does just about everything RC related and always finds ways to give back to the hobby he loves. However, last weekend was a race weekend for Patrick as he TQ'd on blue Teazers and won the main on Lil' Chasers. More importantly, all of the race proceeds went to Jenni's Treats on the Street Ice Cream services because she lost her van from a fire. Great job Patrick!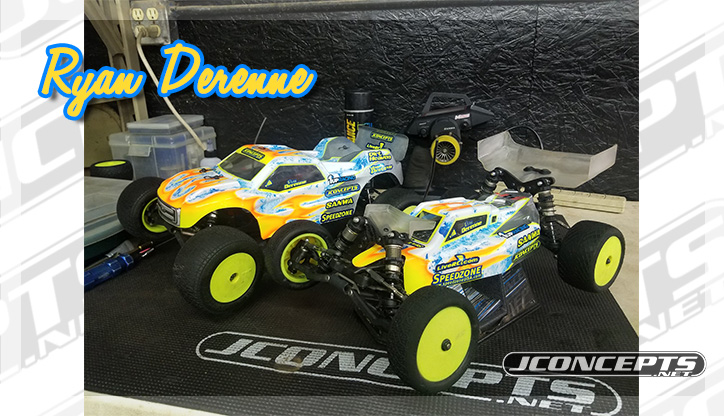 We can always trust team driver, Ryan Derenne, for sending in a good race report filled with good info and highlights. Here's what he said about his race at Dirt Heaven Hobby and Raceway last weekend, "At my home track Dirt Heaven Hobby and Raceway, I attended the 2nd annual Smack Talk Showdown Race, a benefit race for our friend Jason P. that lost his battle with cancer last year. We had 108 entries raising $1100 for the Make A Wish Foundation in Wisconsin. The track was perfect, the racing was fast, and tight. In Mod Stadium truck, I ran on gold Dirt Webs and my TLR 22T 4.0 would qualify 5th in the Amain and finished 5th. In the 40+ 13.5 super stock class, I ran my TLR 22 5.0 on gold Dirt Webs and Ellipses and qualified 3rd in the B main. The car was dialed but the driver could have a clean run. In the race of the night, I finished a close 3rd as the top 3 swapped the lead the whole race. Overall a very good race and a lot of fun and even better cause." Thanks for being on the team….. top notch!