Race Team Update – March Week 1
Blazing the trail into March, we honor our drivers that were able to get some race wins on this #WinningWednesday. Sometimes you don't have to finish in 1st to have a winning moment and even though it wasn't the big "W", it's all about taking the right steps and going into the right direction!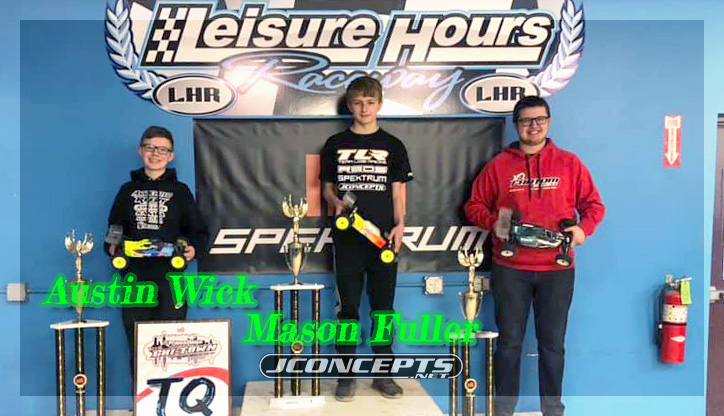 Some of the fastest guys in stock battled it out in the 17.5 2wd Stock buggy class last weekend at the final big race ever to be held at Leisure Hours Raceway. The Chitown Shootout brought out some of the best drivers from the Midwest including legends like TLR/JConcepts Mason Fuller and AE/JConcepts' Austin Wick. In qualifying, Austin was able to set the TQ with Mason starting 2nd in the triple A's. This set up a killer battle between two very young and talented hopefuls with Mason just edging out Austin as the two aces finishing 1st and 2nd on the podium. Great job and definitely a great time racing your best friends and leaving everything on the track.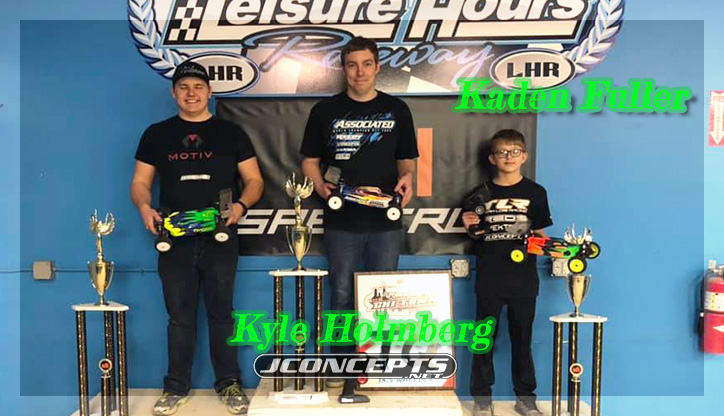 Minnesota native, AE/JConcetsp' Kyle Holmberg put the smack down in the 13.5 4wd class at the Chitown Shootout last weekend where Kyle finished 1st in A1 and A2 to lock up the overall. Kaden Fuller was in the hunt and finished 3rd on the podium after a 3-way tie on points for the last step. With a clutch 2nd place finish in A3, Kaden put himself in the mix landing himself 3rd overall.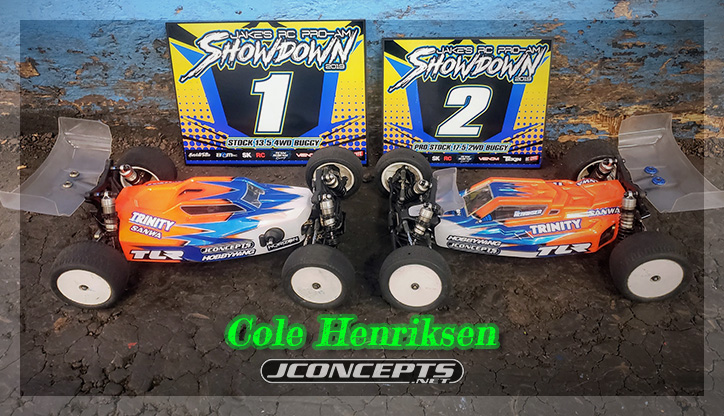 Fluffy, Cole Henriksen had a great weekend of racing at the RC Pro-Am Showdown, located in Topeka, Kansas with a 1st place finish in 13.5 4wd Buggy and a 2nd place outing in 17.5 2wd Stock. If there's a will there's a way and Cole usually gets it done on gold Dirt Webs!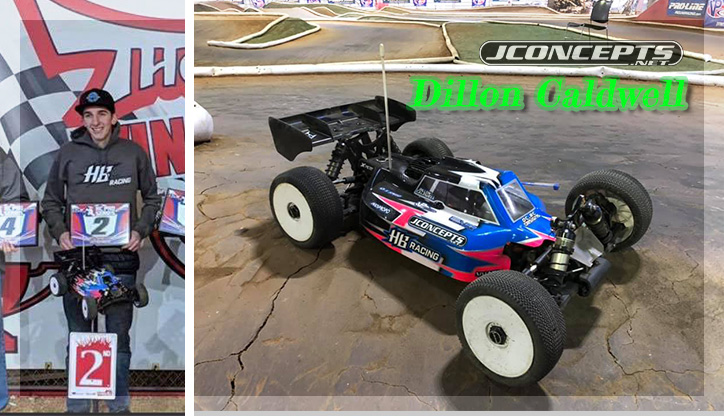 Last weekend, Dillon Caldwell finished 2nd in Pro Nitro Buggy and 3rd in the Nitro Truggy classes at round 1 of the RC Pro Series. Although it wasn't a win, finishing 2nd to a pro driver is much like winning the race and great step in your racing career. Lutz took the race win, the Dillon won the day, great job!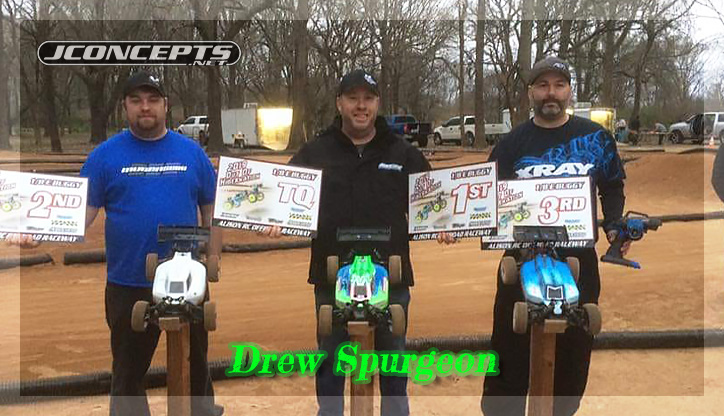 Getting more track time is essential to improving your results. Rockin' green Triple Dees and Teazers, Drew got the win at the Out of Hibernation Race at Allison's RC Raceway over the weekend in Ebuggy. The prior weekend was winning in 1/10th, now this weekend is 1/8th!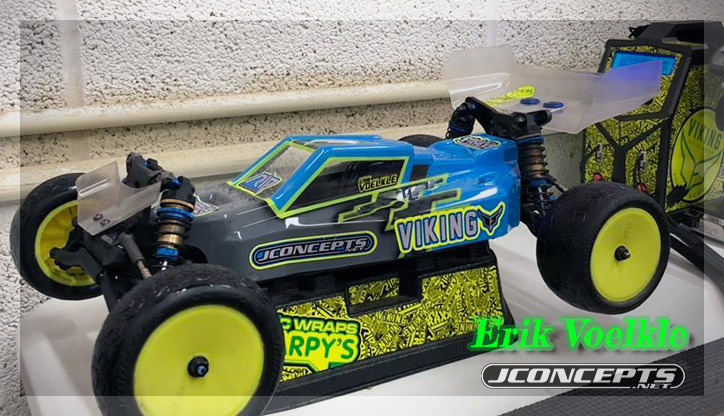 It was a busy weekend for JConcepts' Erik Voelkle, as the Viking hit up 2 races on Saturday and Sunday. This is what he had to say about his fabulous time at the track, "Doubleheader weekend! Friday and Saturday I participated in the Spirit RC Great Lakes regional challenge near Erie, PA, which was a Reedy style format. I was able to tie for third place but lost the tiebreaker for fourth in Pro Mod 2WD buggy, and 6th in Pro 4WD buggy. Sunday I club raced at my home track, MakinTraxx RC near Rochester, NY. I was able to TQ and finish 1st in 2WD Mod Buggy, and second in 4WD MoBuggygy. I'm really loving how my cars are driving on black Octagons! I used them at both tracks this weekend." Nice job Erik and keep rockin' the Octagons!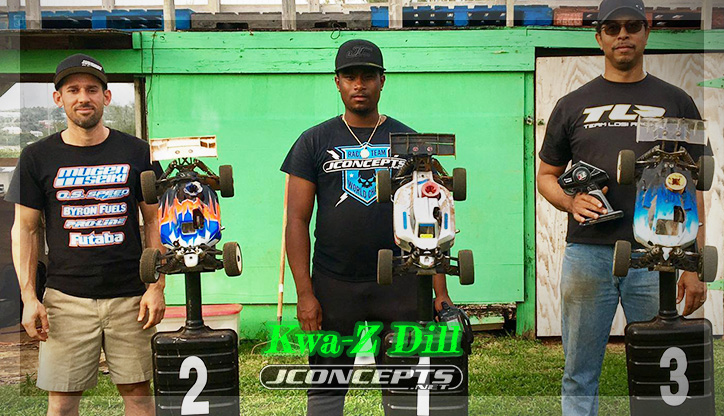 With a bit of a small hiatus, JConcepts' Kwa-z Dill was back at it in Bermuda. Taking the big win at the BNRA, Kwa-z laid it down using blue Reflex tires to put the competition 2 laps down. Every few times a year, Kwa-z travels abroad to do some nitro racing and we can't wait to see how he does on his next adventure.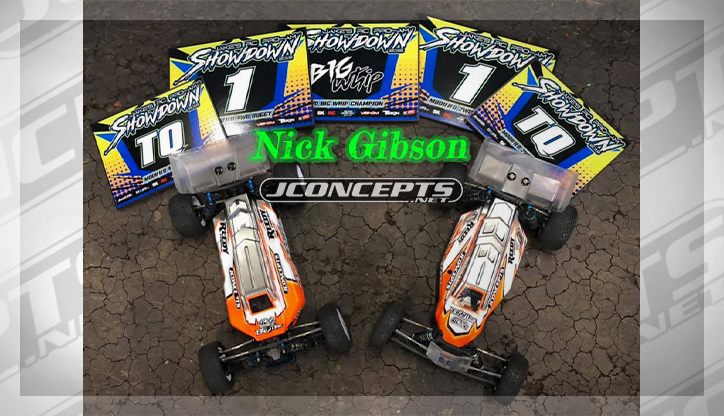 After moving out to Arizona for some school, Nick Gibson is back and he's going back to his fast ways. The photo says it all. TQ and win in both 2wd and 4wd Modified at the 2019 Showdown hosted by Jake's RC Pro Am. Nick's winning accessories includes Dirt Web fronts, Ellipse rears, F2 bodies, and Aero Wing package!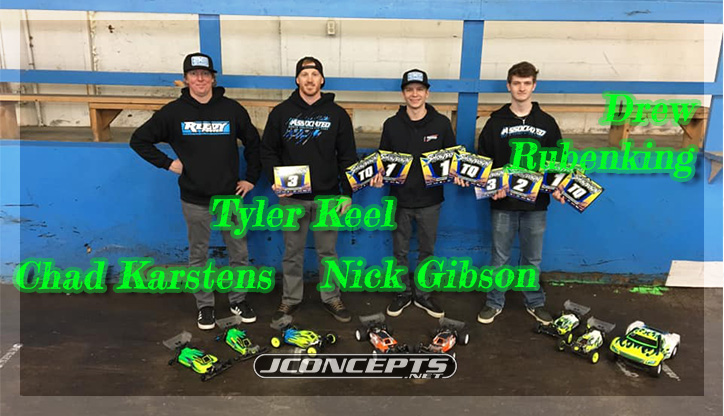 In fact, here's the JConcepts Podium picture with our guys taking home some hardware. We have Drew Rubenking on the right with a 1st in SCT, 2nd and a 3rd in 2wd and 4wd. Nick Gibson with the double TQ and wins in 2wd and 4wd, Tyler Keep slotting himself in 3rd in 4wd, and Rico Karstens making some A mains! Now that's a crew!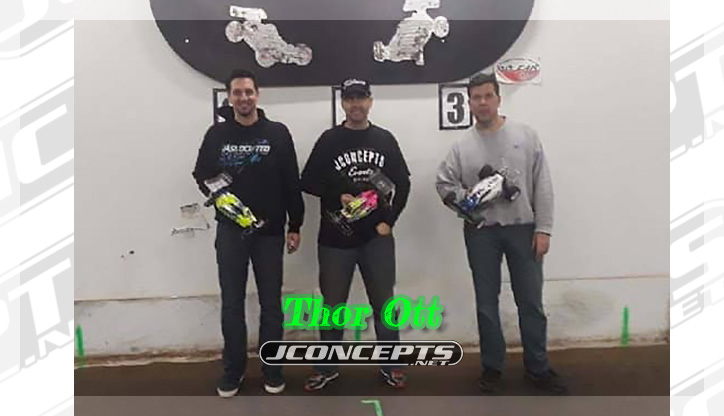 Dropping the proverbial gauntlet, Thor Ott adds another win to an already hot start in 2019. With gold compound Dirt Web fronts and Ellipse rears, Thor got the win in 2wd at his local track! Keep that blade sharp Thor!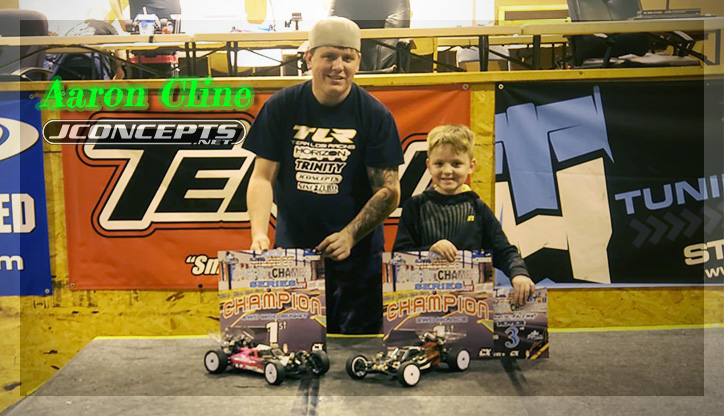 Aaron Cline sent us his race report telling us that he attended the 2019 Midwest Carpet Champs Series race where his son Carson took 3rd in Novice at the event and Aaron pulled 7th in the A. However, after tallying up the points, Aaron took home the overall in series win in 4wd Modified and Carson took home the overall win in Novice! "Just having fun," was Aaron's remark. Keep having fun bud.