Race Team Update – June Week 1
Coming in hot and heavy in the month of June, the JConcepts race team is totally committed. It's full-blown nitro season and with Fuel Nationals just under a week away, many of our team drivers have been hitting the nitro scene pretty hard to peak at the right time. However, our 1/10th scale division is always working hard and constantly busy racing all year long and getting results no matter when or where. Thanks to these guys for sending in reports, being involved and loving what you do.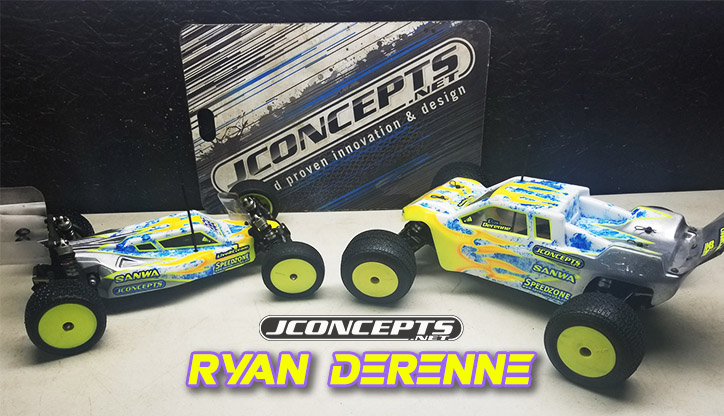 We'd like to thank Ryan Derenne for the awesome reports he sent in. We really don't have to touch this as it's full of great comments and info. Here's what the Wisconsinite had to say about his racing adventures last week.
"I raced at my home track, Dirt Heaven Hobby and Raceway, for the first summer series race, although the outdoor wasn't ready due to equipment issues, I was able to run both cars on the indoor track. The track was perfect. There was a lot of tight, fun racing. In 40+ 13.5 mod buggy, I would take TQ and in the A-main I would run away with the race and take the win with my TLR 22 4.0, using the S2 body, Aero Wing package and gold Dirt Webs gave me all the traction I needed. In Mod truck, I would qualify 2nd in the A-main with my TLR 22T 4.0. I didn't have a clean run but finished 2nd. Gold Dirt Webs were also awesome. DH crew did a great job and the summer series should be a lot of fun." – Ryan Derenne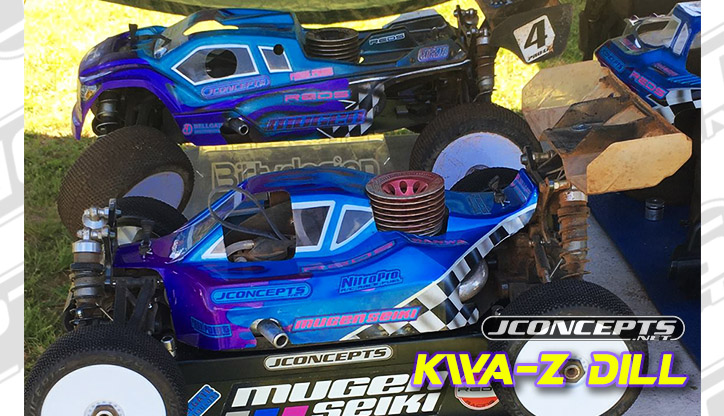 It's always great to see the very fast and talented Kwa-Z Dill on the track because we know he can get it done. Last Sunday, Kwa-Z took the TQ and won BNRA's club race using green compound Teazers in 2 of 3 qualifiers and made the timely move to green Detox for the final round and for the A-main to get the win. Terrific job by the Bermudian allstar.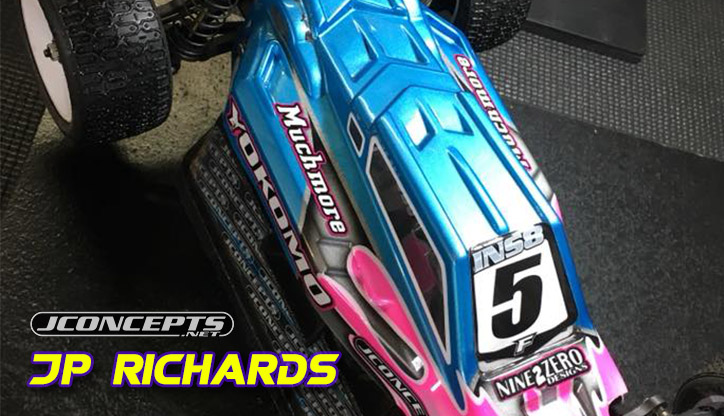 Stock racing doesn't scare JP Richards and he's not above it. The talented Yokomo // JConcepts drivers can wheel just about anything and take it to the winner's circle. Competing in round 3 of The Ohio RC Factory Summer Stock Series and testing some of Muchmore's stock power, JP crushed it setting TQ and took home the win in Pro stock 2wd buggy! Of course, he did.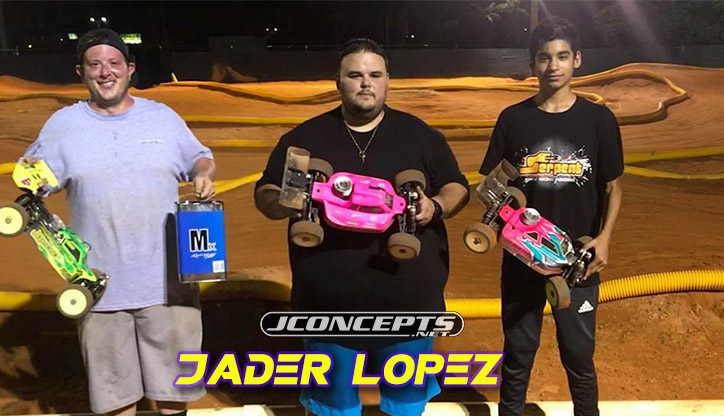 Hailing from South Florida, Jader Lopez knows how to get around the track and fast. Hitting back to back races, Jader took the TQ and win in the Pro Nitro Buggy class at Battle at the Pond in Mills Pond, FL on Saturday. Jader picked green Reflex tires to finish off the 30 minute A-Main and took the win. On Sunday, Jader once again found himself in front, but this time at Coral Springs, where he used green Chasers to claim another TQ and win effort! What a weekend for Jader!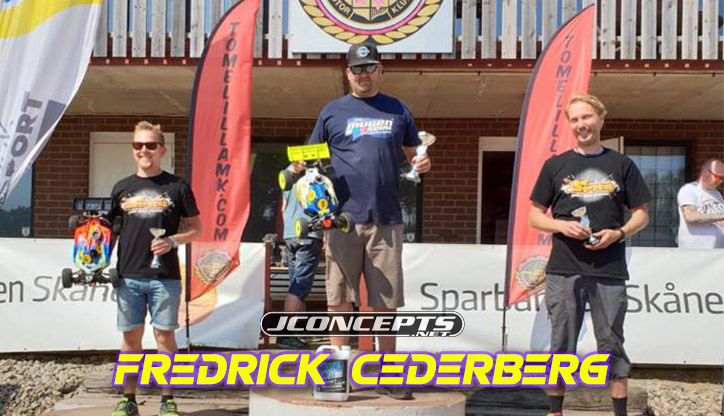 Sweden's Fredrick Cederberg had a fantastic weekend at round 1 of the Swedish Nationals where he took home the win in the 35+ Nitro class. For the main event, Fredrick used blue compound Chasers and the World Championship winning Finnisher body to cap off his dialed package. Nice job Fredrick!
Team driver, Chris Wolfson, did a little club racing at The Raceway in Beaver, better known as "The Beav". Chris left it on the line where he took 1st in SCT and finished 2nd in 2wd buggy. Chris rocked the Swaggers and Pin Down tires on his TLR rides to get the win and nabbed 2nd.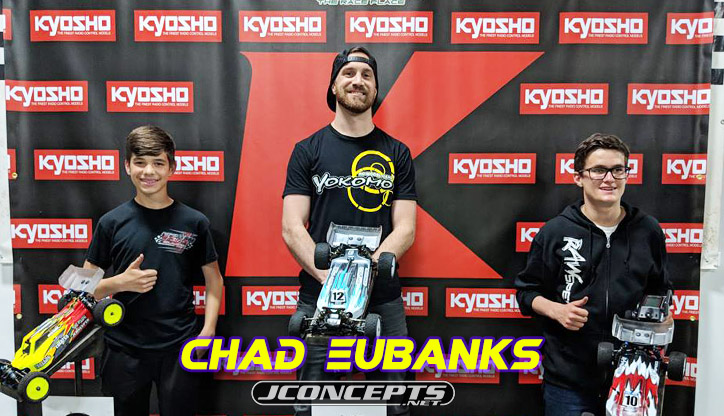 Club racing is important. If you can't win a club race, how can you expect to win a big race? Making gains in the 13.5 4wd class, Chad Eubanks ended a great nice of racing finishing 1st overall. Chad rocked the gold compound Space Bars all the way around and found them to give him the grip and corner speed he needed to get the job done. NOooice!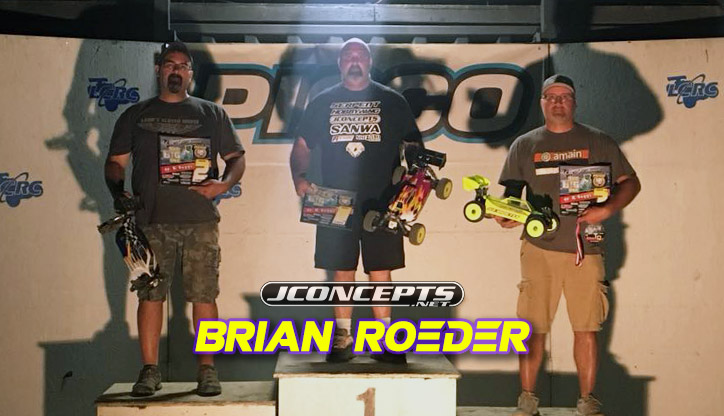 There's been a growing trend of 1/8th drivers getting wins on JConcepts Teazers and Brian Roeder adds his name to the list. At LCRC Raceway last week, Brian attended The Big One presented by Picco where he finished 1st in the 40+ Ebuggy class and 4th in Expert Ebuggy rockin'… of course green and blue compound Teazers. Teazers FTW!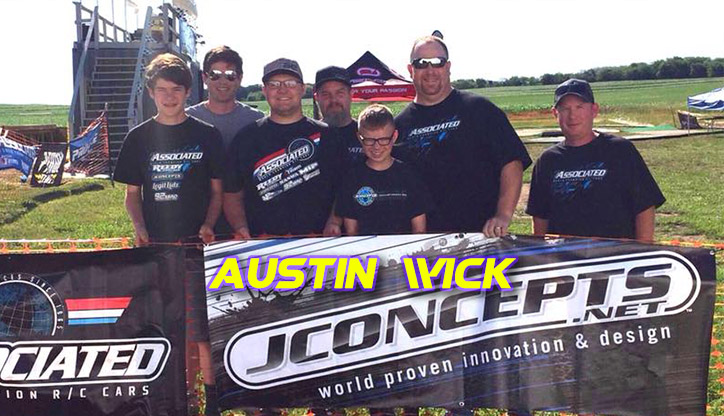 Austin Wick posted up a picture of his AE/JConcepts crew at the Horizon Fest in Monticello, Illinois and had a blast. It's moments like these where you look back and remember the crew you raced with, made memories with, and shared moments you will have forever. Thanks for the picture Austin and remember to always have fun!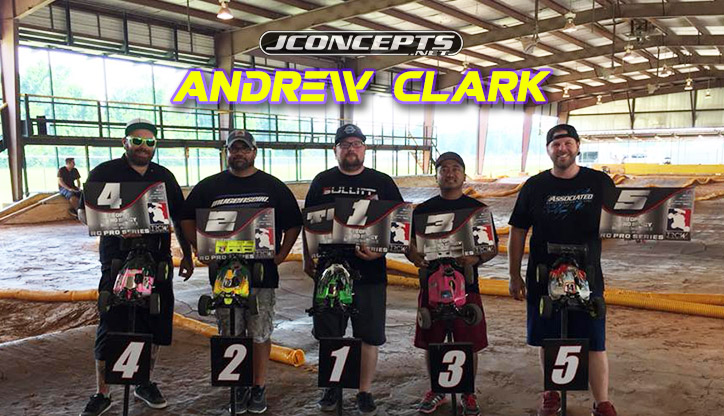 Andrew Clark was on fire at round 2 of the RC Pro Series race at Mike's Hobby Shop in Porter, Texas. Andrew's fabulous weekend included TQ and wins in both the Open Nitro Buggy class AND Open Ebuggy class! Keeping his car glued to the track, Andrew started on blue Hybrids and Stalkers then moved to R2 Detox and Stalkers for the main and got it done. Congrats Andrew!
Alfredo Morales is enjoying a very successful year so far and the hard work on and off the track is paying dividends….. just check the results! Last week, Alfredo locked down the 17.5 2wd and 13.5 4wd classes with double TQ's and wins. Not only that, Alfredo took home a 2nd place in 4wd Modified adding to the already awesome results. With these finishes, Alfredo finished 1st overall in both 2wd and 4wd Modified for The Battle at the Pond race series. Alfredo's speed secrets? Green Reflex tires and lightweight versions of the F2 and S1 bodies for his Yokomo rides of course.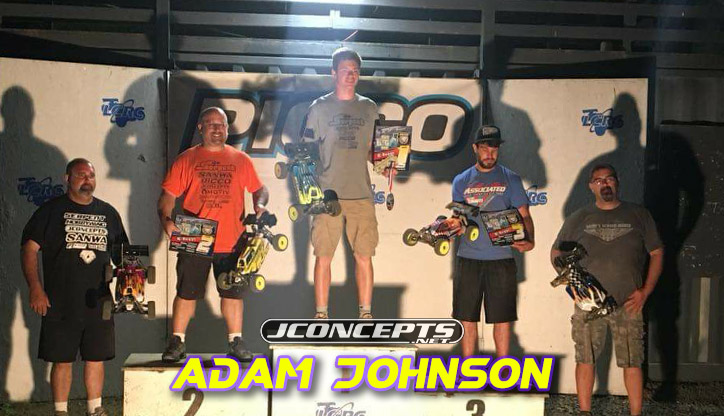 Ohio's Adam Johnson is one fast dude and last weekend at The Big One presented by Picco and hosted by LCRC, Adam got the TQ in both Ebuggy and Nitro Buggy and came home with the 1st place in Ebuggy and 3rd place in nitro. Keep at it Adam and thanks for sending in the report!