Race Team Update – June 2020 Week #4
The final weekend of June was another successful one for the JC racing team! We took several wins and stacked the podium this past weekend which you can read all about in this week's Race Team Update!
Let's start this week's report in Huntington Beach, CA at the world famous OC R/C Raceway. Round #4 of the 2020 JBRL Electric Off-Road Series was held this past Saturday and we had several drivers in attendance so let's check to see how the team performed.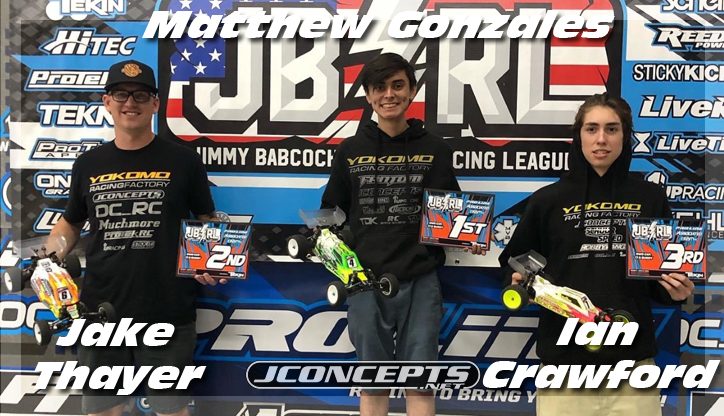 In the ultra competitive 17.5 Expert 2wd Buggy class it was a podium sweep for the JConcepts team! Team drivers Matthew Gonzales (1st), Jake Thayer (2nd) and Ian Crawford (3rd) led the charge in this class. Matt said he ran a F2 lightweight body, Mono wheels, Silver compound Ellipses for front and rear and an Aero S Type Wing. Ian also said he was running Silver compound Ellipses in this class too.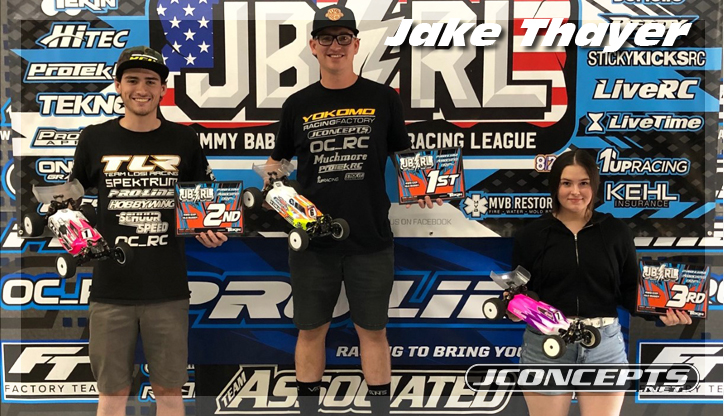 In the 13.5 Expert 4wd Buggy class Jake would take the win using Silver compound Ellipses on Mono wheels along with a S1 lightweight body and a Carpet | Astro High-Clearance Rear Wing!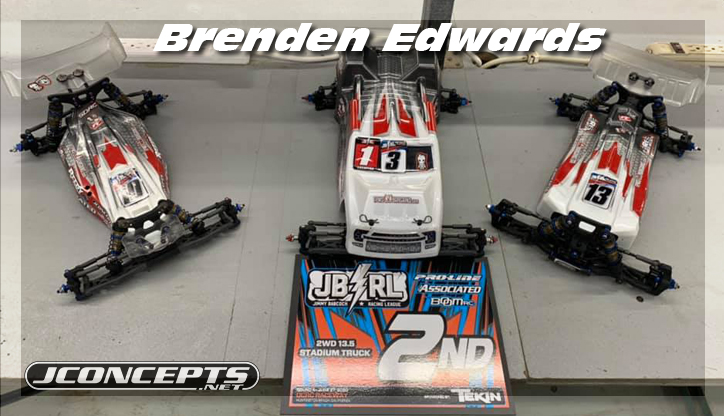 In the 13.5 Stadium Truck class team driver Brenden Edwards took 2nd place! He was also happy to report he made the A Main in the 17.5 Expert 2wd Buggy class and finished 5th overall in the 13.5 Expert 4wd Buggy class. He said all three cars were hooked on JConcepts Silver compound Ellipses.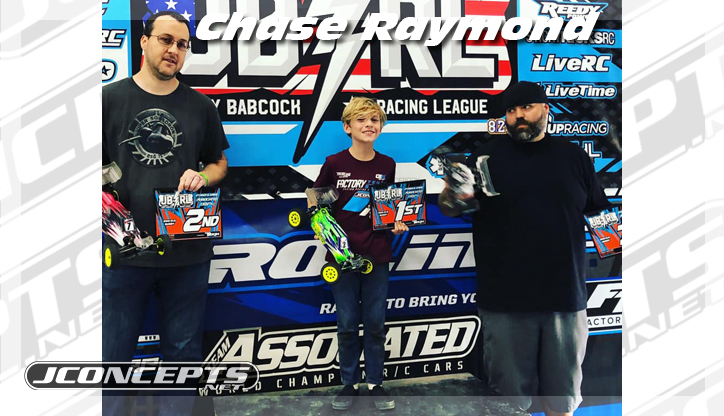 JC driver Chase Raymond took the win in the 21.5 2wd Buggy class! He said he also ran Silver compound Ellipses along with a F2 body and a Carpet | Astro High-Clearance Rear Wing.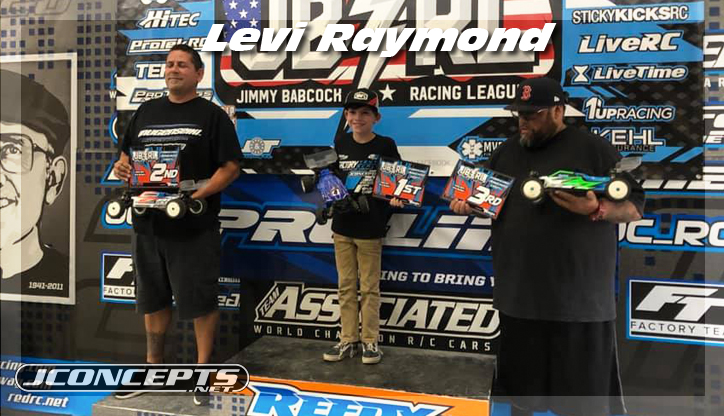 Finally, JConcepts driver Levi Raymond took home 1st place in the 13.5 Sportsman 4wd Buggy class running a similar setup of Silver compound Ellipses, a F2 body and a Aero S-Type 7″ Rear Wing. Awesome results team!
Next let's head up the West coast to Sacramento to see how the team performed at LSR Speedway for their rescheduled 2020 March Mania race.
In the Mod 2wd Buggy class team driver Kyle Layton took the win and was joined on the podium by team mate Ryan Brignani! Kyle said he equipped his Team Associated B6.2 with a F2 body, Aero S-Type 7″ Rear Wing, and Ellipse front and rear tires in the Silver compound. Kyle also finished 2nd on the podium in the Mod 4wd Buggy class too!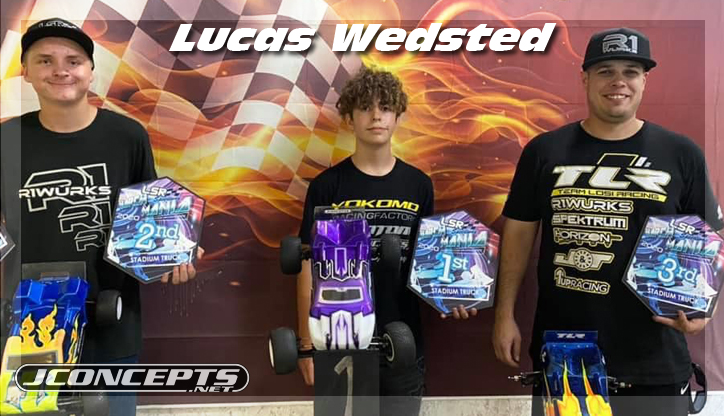 Also racing at this event was JC driver Lucas Wedsted. He took the W in the Stadium Truck class using Gold compound Ellipses, and placed 2nd in the Expert Stock Buggy class running on Silver compound Ellipses!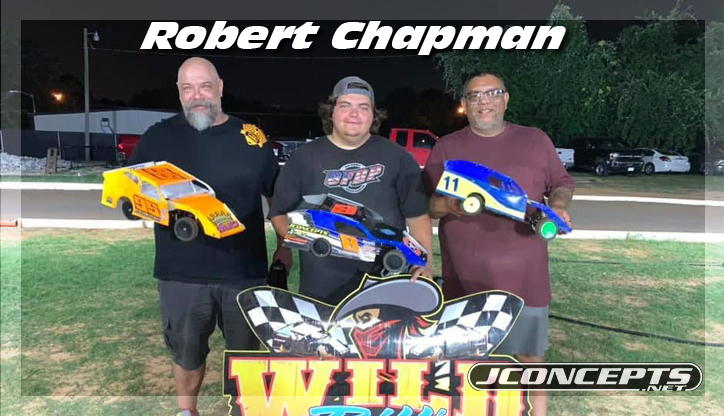 Now let's shoot over to Texas to check out the racing at Wild Bill's Raceway in Irving. Team driver Robert Chapman hit a club race last Friday and took the win in the Modified class! He said he put 5 laps on the field thanks to Green compound Dirt Webs up front and Ellipses in the rear.
Now let's jump up to Oklahoma to check out all the racing that happened last weekend. Starting in Yukon, the racing was intense at Taylor Park RC Raceway for the Sprint Car Shootout and we had several drivers in attendance.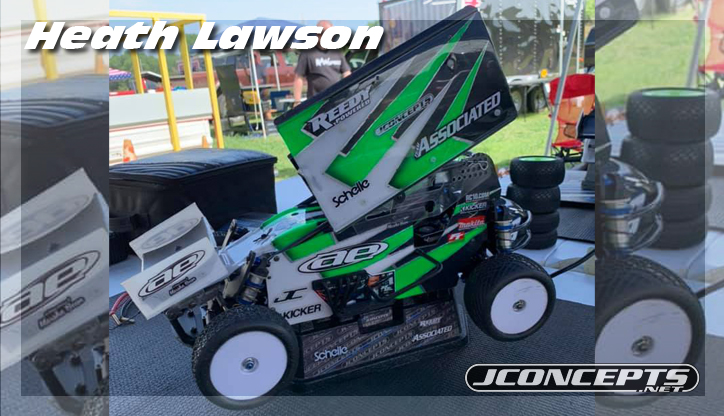 Driver Heath Lawson reported that he qualified 2nd in the B and was able to bump into the A and finish 4th overall! He ran Blue compound Ellipses on the back and Dirt Webs up front.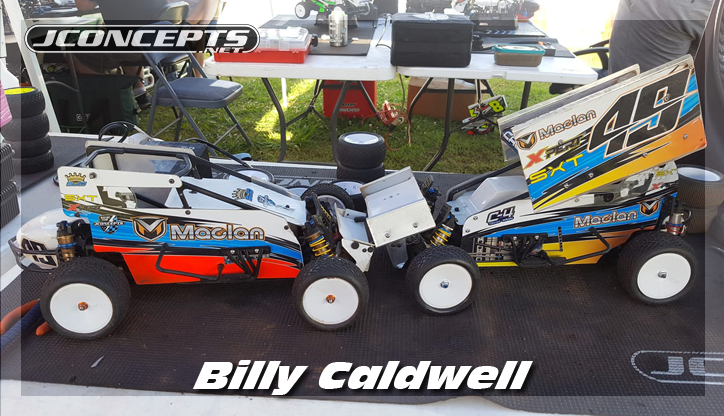 Driver Billy Caldwell competed in the Wingless and Outlaw Sprint classes. He qualified 2nd and finished 5th in Wingless Sprint and in the Outlaw class he transferred out of the B Main and finished 7th in the A Main! He said both cars ran on Blue Compound Ellipses with Mono wheels.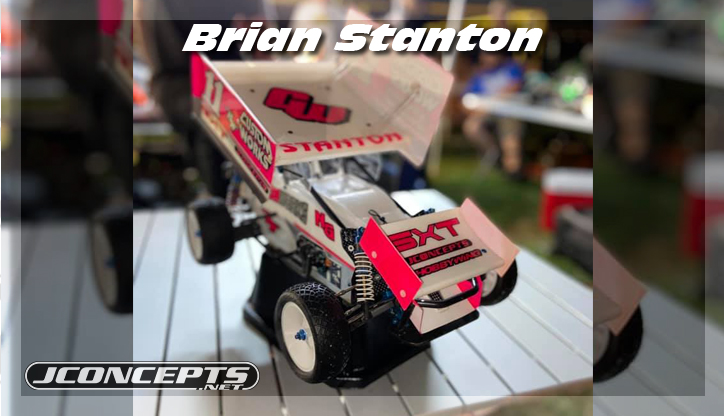 Team driver Brian Stanton also ran Outlaw Sprint and finished 3rd on the podium! He said for his tire selection he ran the JConcepts Ellipse tires in the Aqua compound when the track was packed in and then after the sun went down he switched over to the Green compound. All tires were mounted to Mono wheels.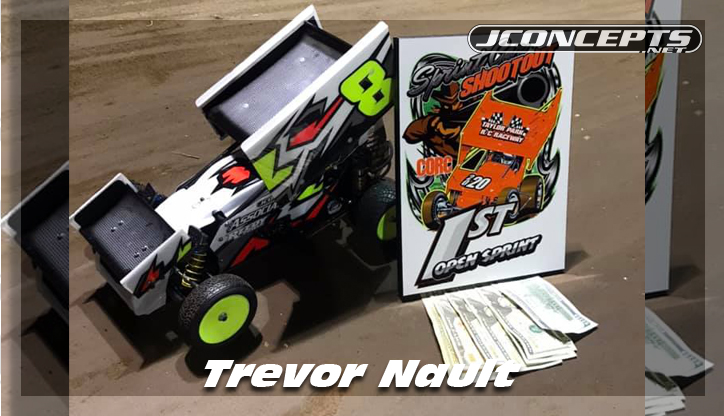 And rounding out the team's results is Trevor Nault who took 1st overall in the Outlaw class! He said during practice Blue compound Sprinters were the ticket but once qualifying began he switched over to Dirt Webs and Ellipses. He used the same tire selection in the A Main, but during the day he used the Blue compound and at night he ran the super soft Green compound. Way to go team!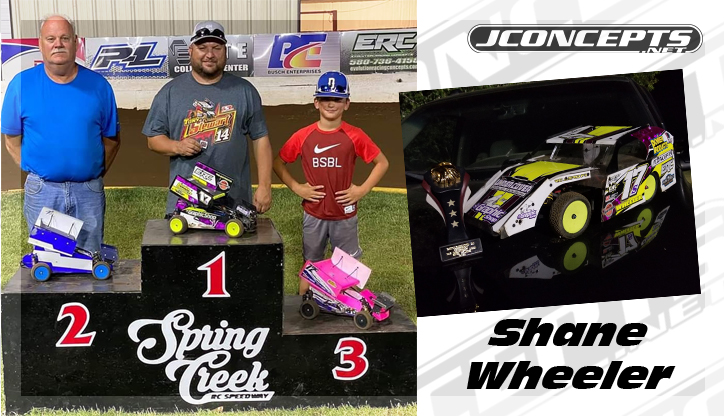 Now let's travel about 70 miles north to check out the raceing action at Enid. JConcepts driver Shane Wheeler attended a club race Friday night at Spring Creek R/C Speedway where he TQed and won in the Sprint class! The next day he traveled to Battleground RC Raceway in Muskogee and competed in the Open Sprint and Midwest Mod classes. In the A Main for the Sprint class he would end up in 5th and in Midwest Mod Mod class he ran a special 100 lap race where he ended up in 2nd while still on the lead lap. He said that JConcepts Blue compound Sprinters were the trick at Muskogee while Ellipses were on point at Enid.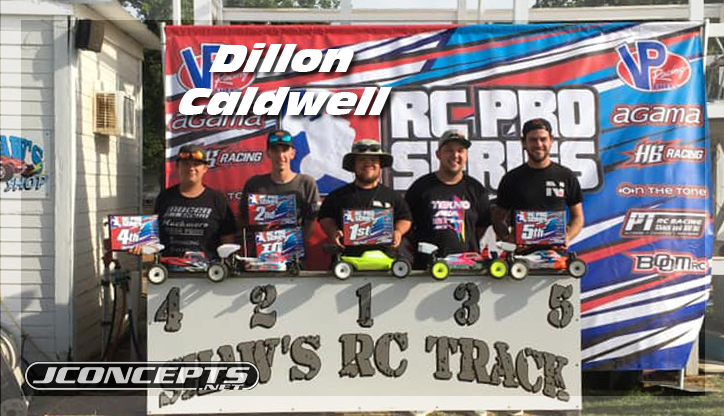 Now let's travel back down south about 3 hours to check out the results of the 2nd round of the 2020 North 1/8 RC Pro Series hosted by Shaw's RC Track in Ardmore. Team driver Dillon Caldwell reported that he TQed and took 2nd place in Pro 1/8 Electric Buggy while in the Pro 1/8 Nitro Buggy class he qualified 2nd and settled for 4th that day. He used Blue compound Blockers on both rides but opted for a JConcepts S15 lid on his electric buggy while his nitro car featured a Silencer shell!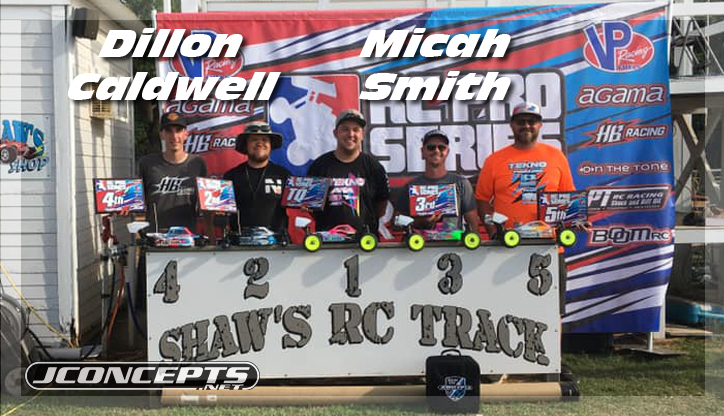 Joining him on the podium in the Pro 1/8 Nitro Buggy class was team mate Micah Smith. Micah took home 3rd place using a S15 body and Blue compound Kosmos tires!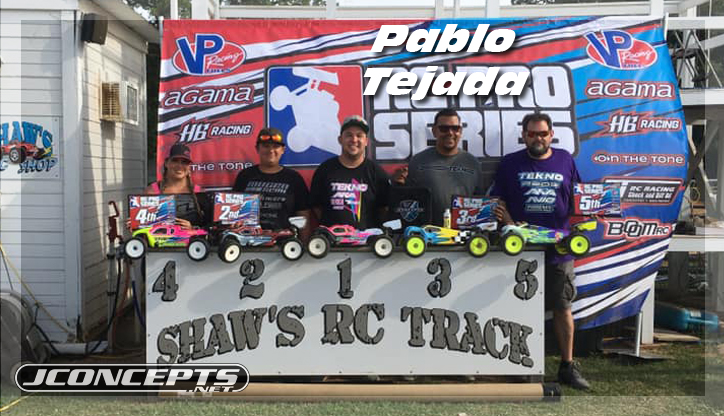 In the Expert 1/8 Nitro Truggy class team driver Pablo Tejada captured 3rd place too! He said he used Blue compound Reflexes and he also took home 6th place in the Pro 1/8 Nitro Buggy class while running on Blue compound Blockers! Nice job everybody!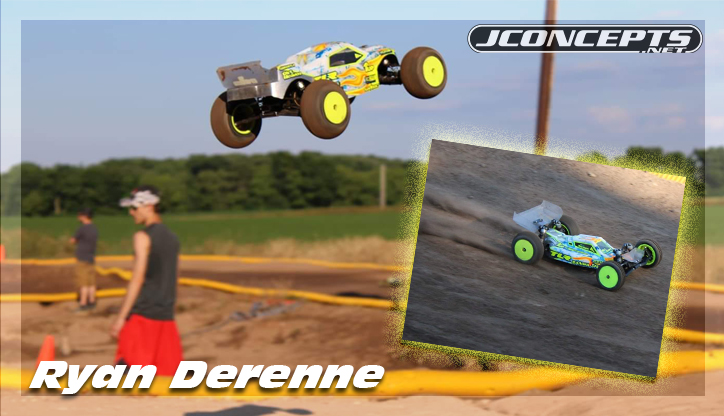 Now let's fly up north to Check out the racing action in Wisconsin. Starting at New Franken, team driver Ryan Derenne checks in from Dirt Heaven Hobby & Raceway for their 4th Summer Series race. He competed in two classes on the outdoor track surface and took 2nd place in the Mod Stadium Truck class and a TQ and 4th place in Mod 2wd Buggy! His TLR 22T 4.0 used Green compound Double Dees topped off with a Finnisher body and for his TLR 22 5.0 D.C Elite he opted for Green compound Hybrids, a F2 body and a Aero S-Type 7″ Rear Wing and TLR 22 Aero Front Wing.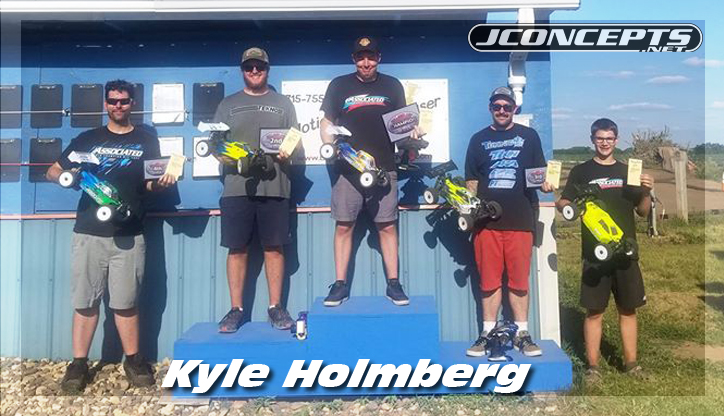 Now let's head four hours east to check in on driver Kyle Holmberg who attended "The Buggy Battle" at Rick's Hobby Farm in New Richmond. They ran an interesting race format which consisted of one round of qualifying then an A Main event. After that they setup a tournament style double elimination bracket that only featured a one lap battle for a $120 purse. Kyle was able to win the single A Main and the special tournament race! For the A Main he used Aqua compound Blockers, and for the tournament race he switched to Blue compound Reflexes since they had just finished watering the track.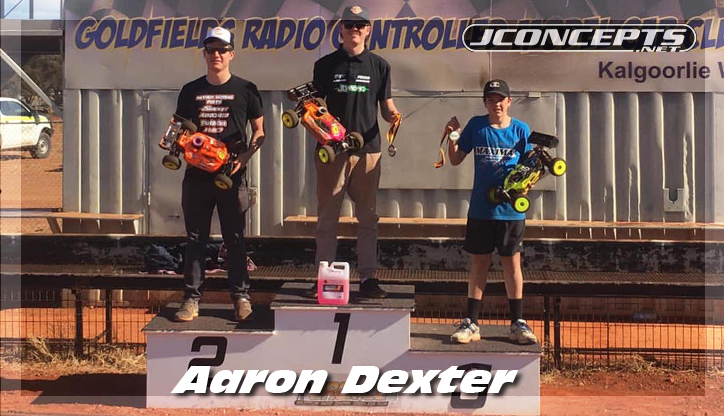 Finally, the COVID-19 Breakout Race was hosted by the Goldfields Radio Controlled Model Car Club down in Kalgoorlie, Australia. Team driver Aaron Dexter reported that he took the TQ and win in the 1/8 Nitro Buggy class! He said he switched between Blue and Green compound Triple Dees up front and Reflexes in the rear and they were hooked up all weekend long.