Race Team Update – June 2020 Week #3
We are three weekends into June and the JC race team keeps stacking up the wins and podium finishes! Read this week's Race Team Update to see where our drivers put in top finishes last weekend!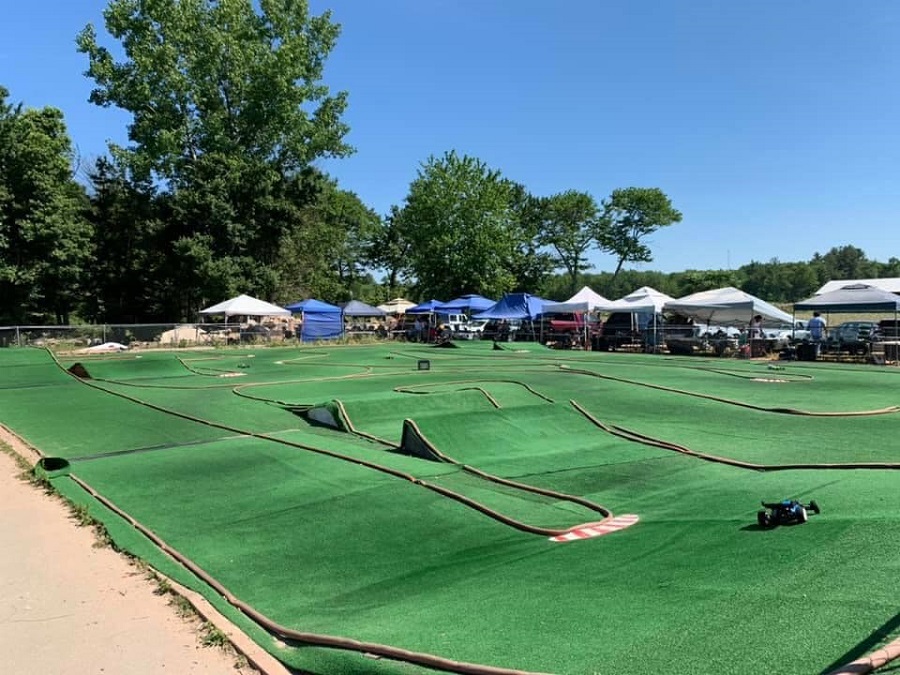 Let's start this week's report by heading out east to Enfield, CT to see how the team finished at the Turf Wars at RC Madness. Despite it being Father's day weekend, there was still a great turnout of over 100 entries!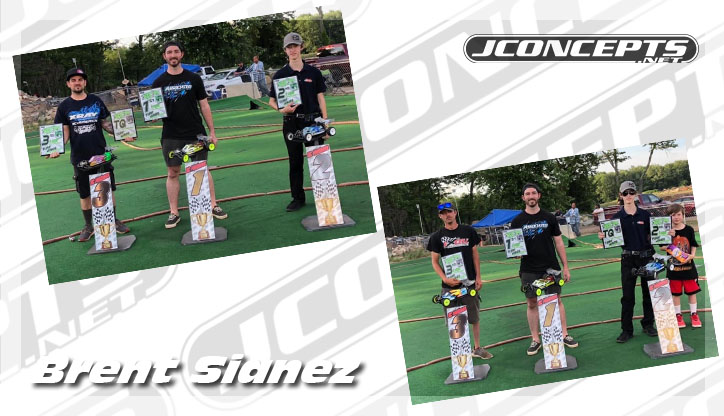 Team driver Brent Sianez competed in two classes for this event and we are happy to report that he came away with two wins too! His Team Associated rides were dialed in all weekend and he doubled down in both the Mod 2wd and 4wd Buggy classes! Rear Nessi tires and front Swaggers on Mono wheels were the hot setup!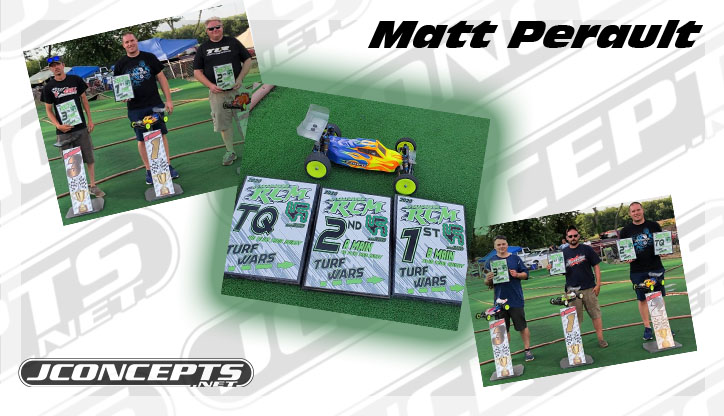 Also competing at this event was fellow JC mate Matt Perault. He also competed in Mod 2wd Buggy as well as 40+ Mod 2wd Buggy. He was able to bump from the B Main to make the big show in Mod 2wd and finish all the way up in 7th place! In 40+ Mod 2wd Buggy he would set the TQ and lead for most of the A Main before a late mistake dropped him to second overall. He said his Team Associated B6.2 was running great equipped with JConcepts rear Nessi tires and front Swaggers on Mono wheels along with a F2 body, Aero Lower Front Wing and a Aero S-Type 7″ Rear Wing.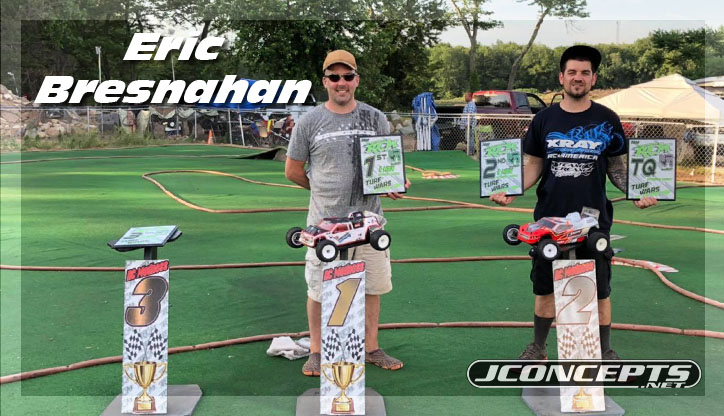 JConcepts driver Eric Bresnahan was also racing in two classes at this event. In the 17.5 2wd Buggy class he qualified in 4th for the A Main and after some close battles he would end up in 5th. He also competed in the Mod Stadium truck class and was sitting in 2nd place for the main event. After the final tone had sounded Eric was able to take home the win!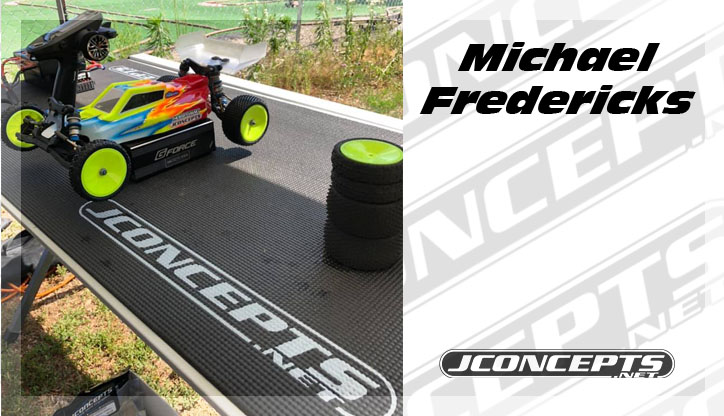 Fellow team driver Michael Fredericks made a three hour drive to race at this track too. He reported that this was the first time he has competed on turf so he decided to only compete in the Mod 2wd Buggy class. He said that even though he finished 6th in the B Main he was able to come away with more knowledge on how to compete on this surface and his car felt hooked using JConcepts rear Nessi tires and front Swaggers, a F2 body, and Aero wings too. Nice way to start your turf career Michael and congrats to the entire JC crew for their awesome performance at this race!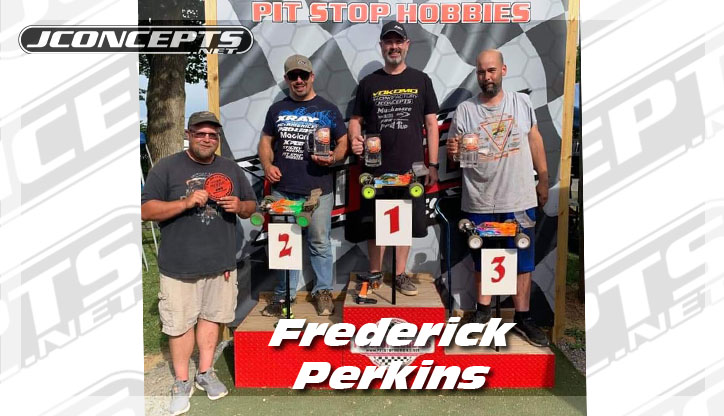 Let's hop two states over to the east and check out the race action at Pit Stop Hobbies in Mount Joy, PA for their 6th Annual BBQ Shootout & Novice Nats. JC driver Frederick Perkins competed in the 17.5 2wd Buggy class and qualified 2nd for the main event. After a close duel with several drivers he was able to put down the most laps with his Yokomo YZ2-DTM3! He said his car was running JConcepts Ellipse tires in Aqua compound due to the dry and dusty conditions.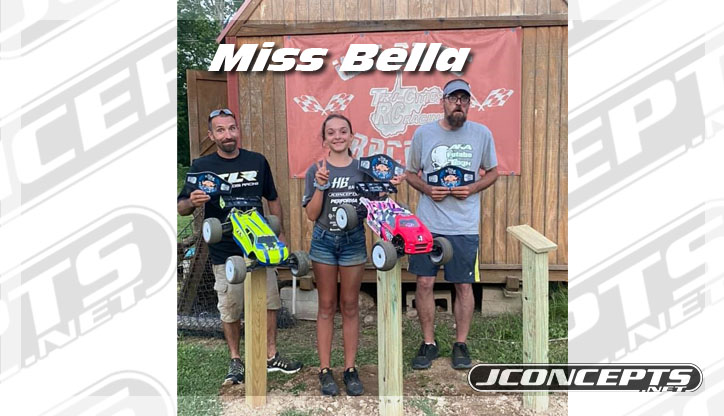 Now let's head south to stop in at Tri-Cities RC Racing in Lavalette, WV for their annual Brawl For It All trophy race. Our own Miss Bella competed at this event in two classes and would finish would finish 6th overall in 1/8 Electric Buggy and finish in first place in 1/8 Electric Truggy! She said that she ran Green compound Triple Dees on her winning truggy and Green compound Teazers on her buggy ride.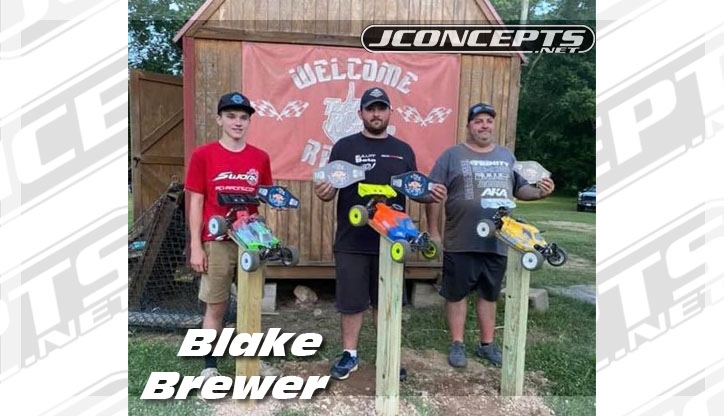 Also running at this event was team mate Blake Brewer. He competed in the 1/8 Electric Buggy class and finished 3rd on the podium that day! He said his car was running good on Green compound Teazers. Awesome job drivers!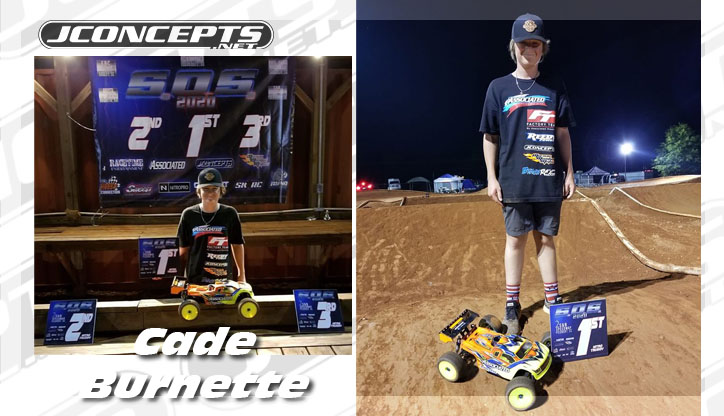 Continuing down the East Coast let's get an update from team driver Cade Burnette. He and his dad traveled to Piedmont, SC to compete in Round 2 of the SOS Series hosted by S & B RC Speedway. There was a whopping 293 entries which made for 18+ hour days and tons of great racing! Cade competed in three classes and was able to qualify direclty into the A Mains for all of them! In the Pro 1/8 Electric Buggy class, he was able to pace his Team Associated RC8B3.1E to a 4th place finish. He said he used JConcepts Blue compound Detox tires for round 1 of qualifying, then switched to the Aqua compound for round 2 before settling on Gold compound Ellipses. In the 1/8 Nitro Truggy class, his Team Associated RC8T3.1 started in 2nd place overall for the main and after the dust had settled he secured the win for the day! His tire of choice was the Reflex in the R2 (Red2) compound. Finally, in the 1/8 Nitro Bruggy class he qualified 5th overall with his Team Associated RC8B3.2. After running as high as 3rd place a miscalculation with a fuel stop dropped him back to 7th place for the main while running Gold compound Ellipses. Sounds like a lot fun and racing Cade!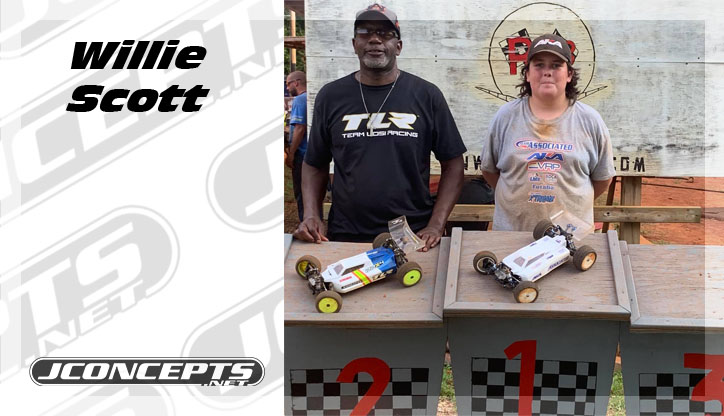 Heading further southwest let's check in on our drivers competing at Rocket City Radio Controlled Race Club (RC3) in Huntsville, AL. JCon driver Willie Scott was competing at RC3 last Saturday and said he raced in both the Mod 2wd and 4wd Buggy classes. He qualified in 6th place for the 2wd A Main and would move to 4th overall that day. He said his TLR 22 4.0 was equipped with JConcepts Rips on the front and 3Ds in the rear. And in the 4wd Buggy class, he started in 2nd place for the A Main and would finish there too with his TLR 22X-4. He said his wheeler was using JConcepts Sprinters on all four corners.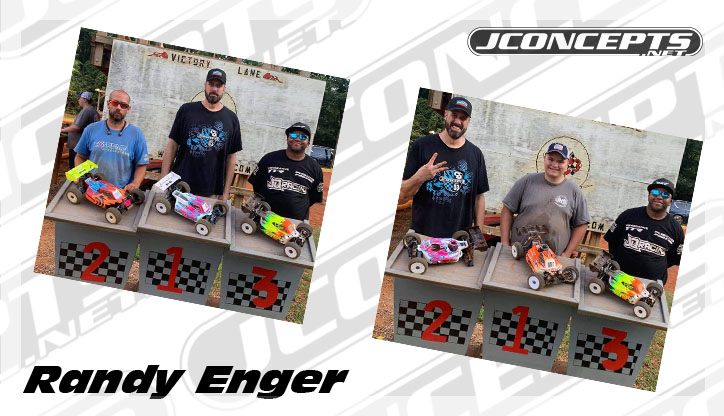 Also competing at this race was fellow JConcepts driver Randy Enger. He competed in two classes too but in 1/8 Electric and Nitro Buggy. In the E class he set the TQ and took the win for the day! In the nitro main he had an issue with his driver side rear wheel but he was still able to hold onto to second place! He reports that he used a JConcepts S15 body, F2I rear wing, and Green compound Blockers. Nice job team!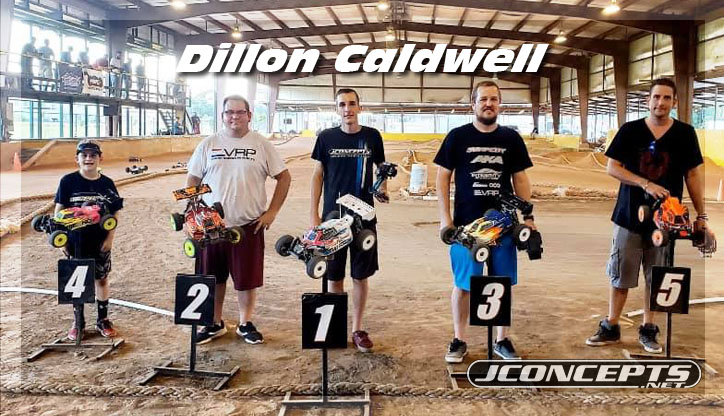 Now let's shoot over to Texas to check in on Round 7 of the Houston Area RC Series (HARC). Our driver Dillon Caldwell was in top form this past weekend as he took and the TQ and win in the 1/8 Electric Buggy class! He said he used the JConcepts Detox tires in the Blue compound along with a S15 body on his HB Racing E817 V2 vehicle.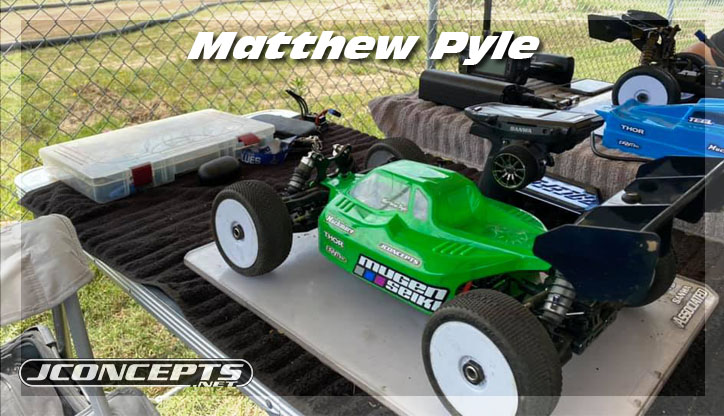 Now let's run across the border to check out the racing action in Oklahoma. Starting in Tulsa at 918 RC Raceway, our team driver Matthew Pyle reported that he attended Round 1 of the "In The Dirt" series. After some bad luck in qualifying he would start 3rd in the B Main for 1/8 Electric Buggy. He would bump into the A in 12th place but fought his way through the pack to finish in 4th place narrowly missing the podium! He said he ran Blue compound Reflexes which guided through the chaos and crashes in the main.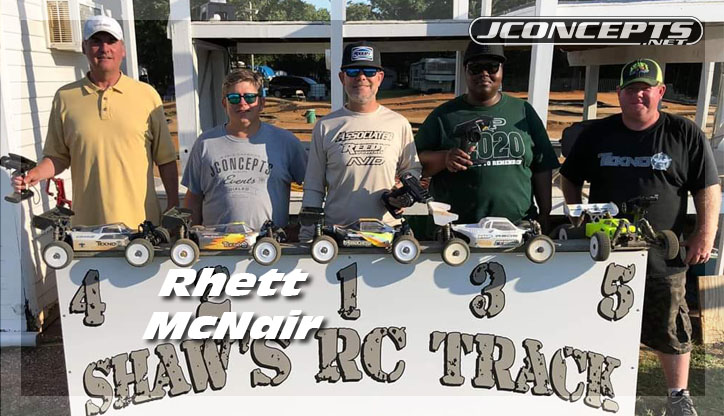 Moving over to Ardmore let's see the results of team driver Rhett McNair who competed at Shaw's RC Track. He duked it out in the 1/8 Electric Buggy class and came in 2nd place after getting beat by seven tenths of a second! He said his Tekno car was running Blue compound Blockers with a F2I rear wing.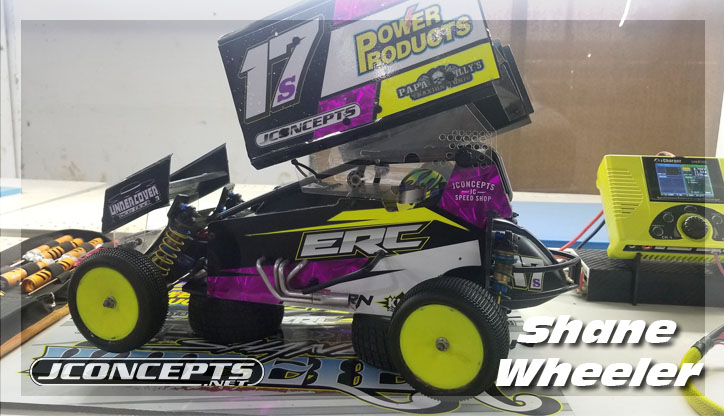 Over in Oklahoma City at MOJO Hobby, JC driver Shane Wheeler was turning some left turn laps at a club race. He said he TQed the Open Sprint class, but a unfortunate wreck with another car while leading in the final race gave him a DNF for the day. He said he car was running strong up to that point on Blue compound Sprinters.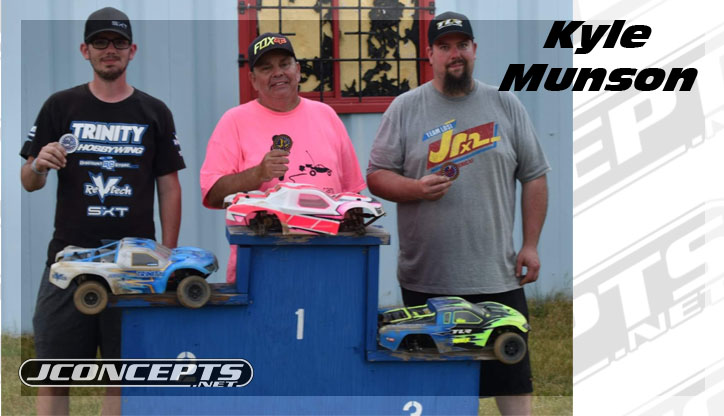 Finally, in this week's report we check in team driver Kyle Munson who was back to racing after a three month layoff. He attended the first points race of the season at M-40 Raceway in Gobles, MI and competed in the 2wd Short Course Truck class. He said the race atmosphere was very laid back and family oriented. The track is challenging too since it is an retro style track with a mix of loamy sand and top soil! So retro that he was sporting a nice retro Losi JRX2 t-shirt! After the racing was over he would finish 3rd on the podium and his TLR 22 SCT was equipped with JConcepts Carvers up front, Choppers in the rear, and a HF2 (Hi-Flow 2) body on top.