Race Team Update – July Wk 3
As we approach the 3rd week in July, the JConcepts race team reached a high point with racing results and feedback. #TeamThursday is meant for these guys and gals who update us on their racing results and showing us the progress over time. It's been a special privilege to watch the team grow and gain confidence, but most importantly see them truly love racing RC cars.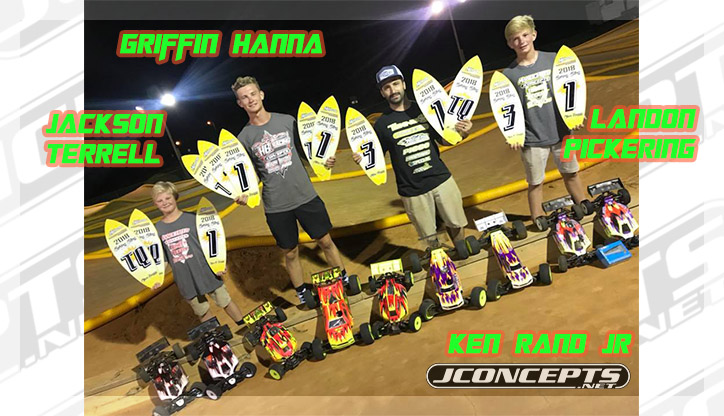 Last week, Badlands R/C Supercross track hosted the annual 2018 Spring Sting and the JConcepts team represented in full force bringing home a lot of hardware and terrific results. Taking the win in Etruggy was team driver, Ken Rand Jr. The young and up and coming speedster, Jackson Terrell took the win in Open Ebuggy and Landon Pickering finished 1st in Open Nitro Buggy showing that the South Carolina youngsters are fast! Having an absolutely smashing weekend was Griffin Hanna, who won the Pro Ebuggy, Pro Nitro Buggy, and Pro Truggy classes completing the devastating clean sweep! Awesome job crew!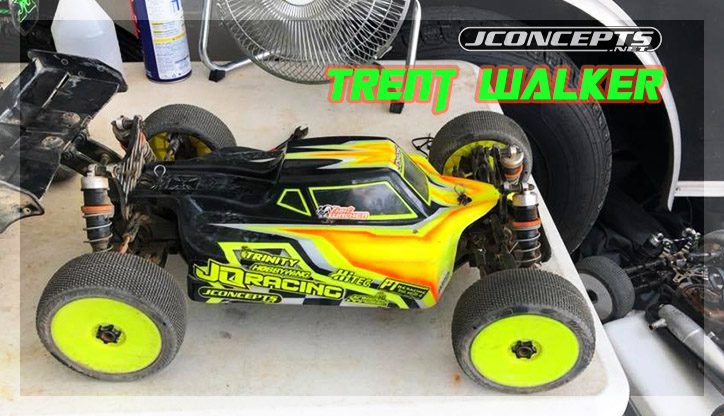 It's always great to see new tracks open, even if it's a re-opening. Trent Walker attended the grand re-opening of Strickland R/C Raceway and pumped to race, but mother nature had other ideas as Trent was only able to get 1 qualifier in before the rain. On the bright side, Trent set the TQ using green compound Teazers!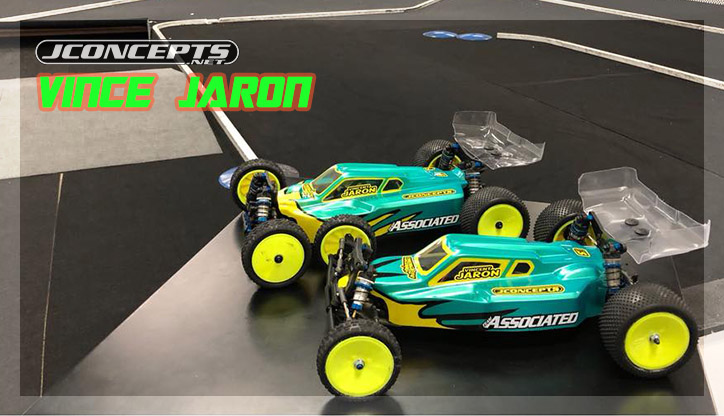 Switching car manufacturers can be daunting at times, but Vince Jaron had zero issues getting accustomed to the new rides. Last Friday, Jaron raced at Windy City R/C in Arlington Heights, IL and took the win with his new B6.1 and B64 rides using Swaggers and Pin Downs on CRC black carpet. That's a dialed combo!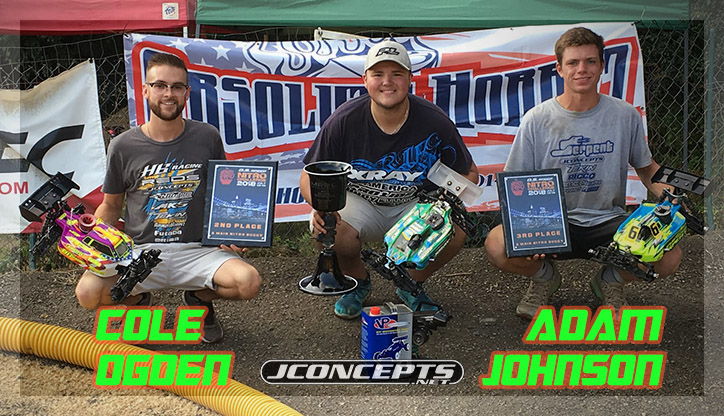 Last weekend, Barnstormers hosted their annual Big Apple O.S. Nitro Challenge in Chester, NY, where things ended prematurely after 3 rounds of qualifying. With the rain-affected race, the finishing order was decided by qualifying position which meant Cole Ogden finished 2nd and Adam Johnson 3rd in Pro Nitro Buggy. Since Cole TQ'd Ebuggy, he would go home with the win cementing a solid weekend.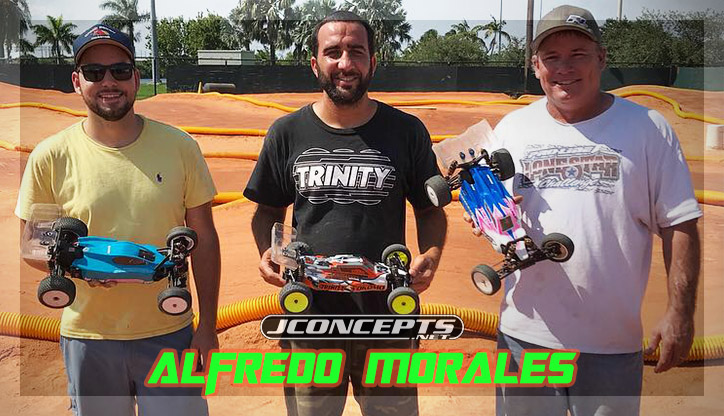 It was a magical series for Alfredo Morales at Mills Pond Raceway where he finished out a perfect season in 17.5 2wd, 13.5 4wd, and 4wd Modified taking home 1st place in all three classes. Sure, it's great to win, but what matters most is the progression over the course of time and it has definitely showed. Awesome job Alfredo… awesome job!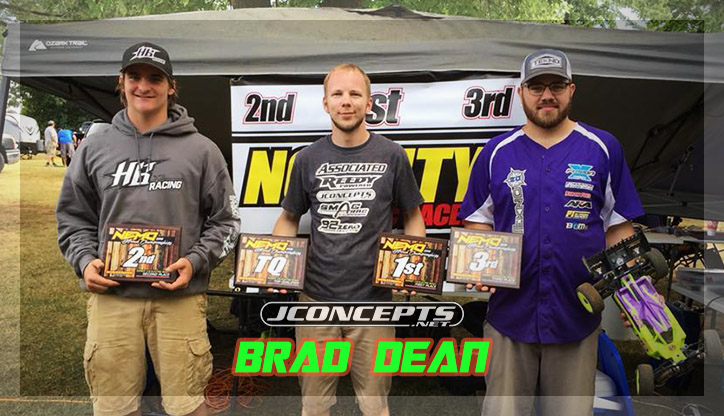 Great to see Brad Dean out racing 1/8th scale and enjoying the outdoors. This is what Brad had to say about his weekend, "Ran the Nemo Race at Novelty Raceway over the weekend. We ended up getting rained out before the A-mains so they scored off the heats and I took the TQ and win in Pro Ebuggy and had just bumped to the pro nitro amain before the rain came! R2 stalkers were glued to the track!! My S1 and S3 bodies were handling great!! Thank you for all the great products!!" You're welcome Brad and rockin' job.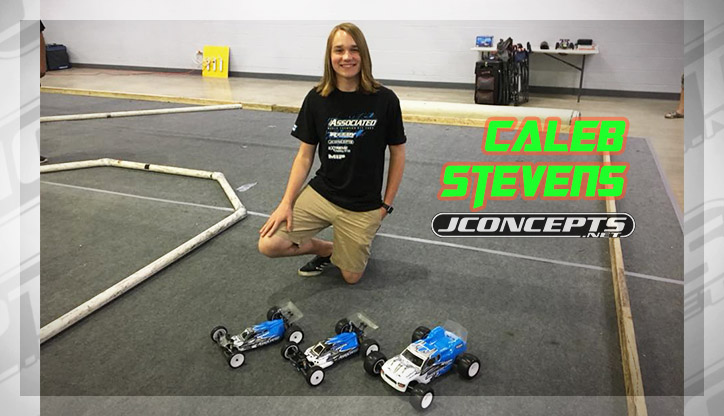 Another race, another TQ and win for the ever improving, Caleb Stevens. Caleb raced the 5th round of the point series and had a flawless weekend taking all 3 modified wins on Swaggers and Pin Downs tires. Caleb also used the Fin Titanium Turnbuckles and Aero wing package. It was a perfect package for the perfect, slayer kind of weekend.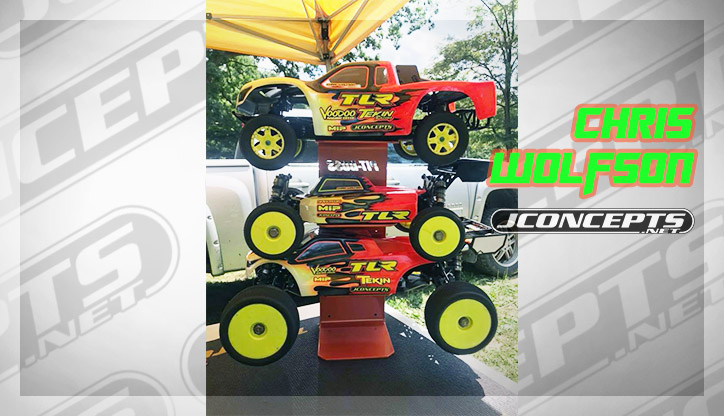 Isn't Chris Wolfson's stack of cars just awesome to look at? Chris sent in his race report and this is what he had to say, "[I] attended the VooDoo High Voltage Shootout at WOCRC in New Florence, PA. Electric Truggy was solid running in third for 6 minutes of the race until the battery connector separated on a big jump. 4wd SCT was a good race finishing a solid 2nd position. The Ebuggy was the most exciting race of the weekend, running as high as second – ultimately finishing 4th. A big thank you to all of my sponsors – TLR, Horizon Hobby, Spektrum, Tekin, VooDoo, JConcepts, MIP, and FDJ Motorsports."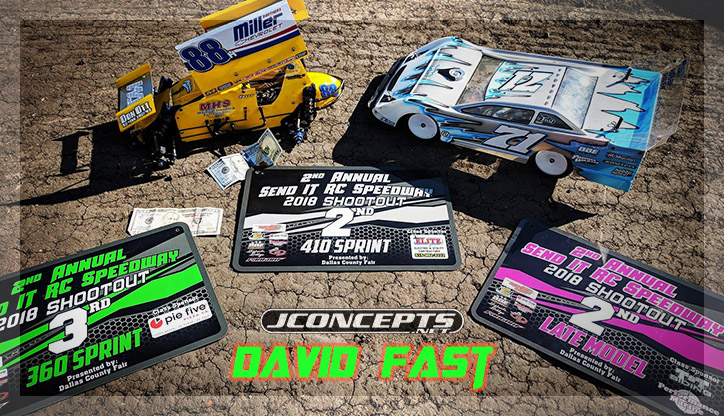 It's great to see our drivers mix things up and no matter what they do, they still get the job done and find a way to get on the podium. David Fast raced last weekend at Send It RC's 2018 Cash Shootout and brought home 3rd in 360 Sprint, 2nd in 410 Spring and Open Late Model. Cash money!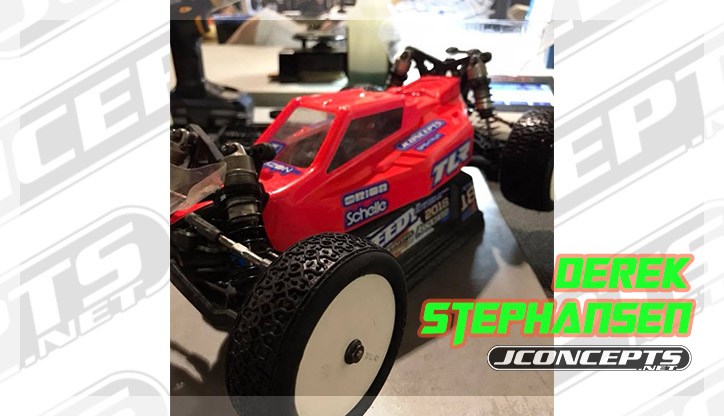 Derek Stephansen was able to get some racing in from his busy schedule to club race at Modesto RC Raceway and guess what? He got the TQ and win in 2wd Modified Buggy. Derek is sporting the new F2 body for his TLR 22 4.0, lower front Aero wing, and green Dirt Webs to get the job done.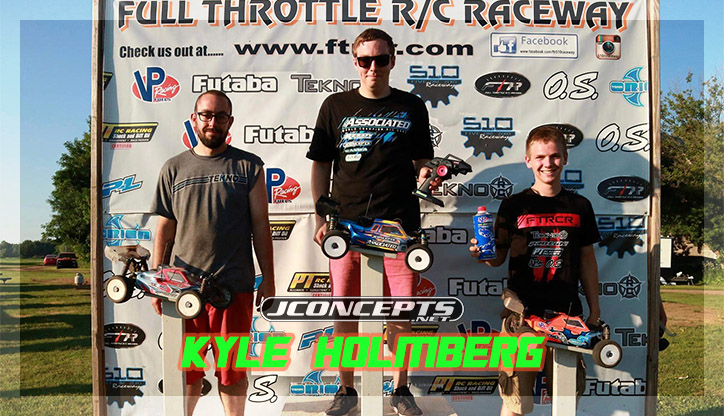 Super Speedy team driver, Kyle Holmberg, was at it again racing at Full Throttle Raceway for round 3 of the Summer Series, better known as the Firecracker. Kyle took home the TQ and win in both Nitro Buggy and Ebuggy classes rocking R2 Rehabs for excellent wear characteristics and speed. Kyle also used the JConcepts Serrated Wheel Nuts, Fin Turn Buckles, and Silencer bodies on both cars to complete the winning package.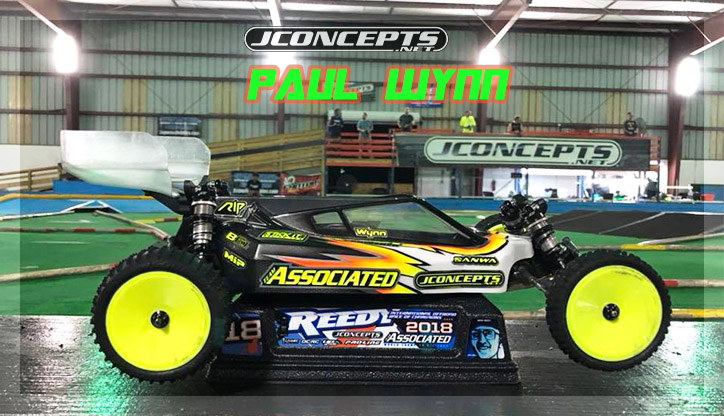 Thanks to Paul for sending in the race report from his adventure at Beachline R/C. This is how his race went, "Had a great time clubbin' at Beachline R/C Raceway on Saturday. Ran 2wd mod on their new layout and TQ'd and won with the trusty Lockness rears and Swagger fronts." Check out that P2 body though!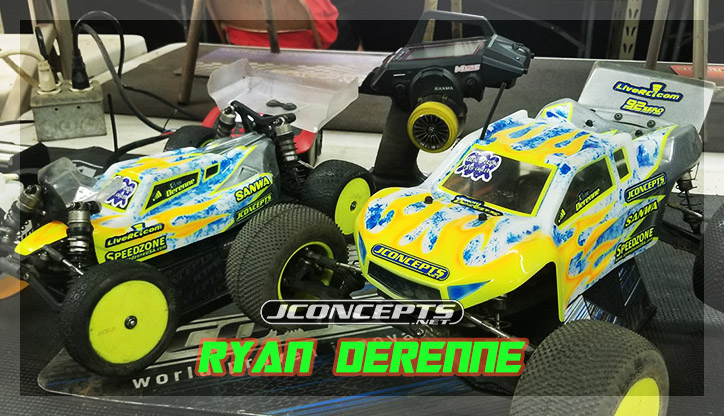 Ryan Derenne sent in an awesome race report and a pleasure to read. Here's how Ryan's weekend went, "I raced at Dirt Heaven Hobby and Raceway for the 3rd summer series race. Racing my TLR 22T 4.0 Mod stadium truck on the outside track, I would have issues in the [qualifying] heats but managed to fight my way up to 2nd place in the Amain with green Flipouts and Double Dee's. The indoor track had a fresh build so it was pretty slick all day. I ran my TLR 22 4.0 in the 13.5 40 plus class, I would take TQ and find the traction I needed in the Amain to win by over 2 laps. I was running the S2 body, Aero wing package, and gold Dirt Webs. The racing was fast, fun, and exciting all day on both tracks. Thanks, DH crew for the awesome day of racing. Can't wait for the next race. Thanks again for the continued support."