Race Team Update – July Wk 1
We've just hit the halfway mark in 2018 and the JConcepts team is still going strong. It's terrific to see the enthusiasm and dedication unmatched by any other team in the industry and we're proud to showcase the team's results on this #teamthursday. Thanks to each and every one of you guys and gals for sending in the reports and keeping us updated with your weekly racing results!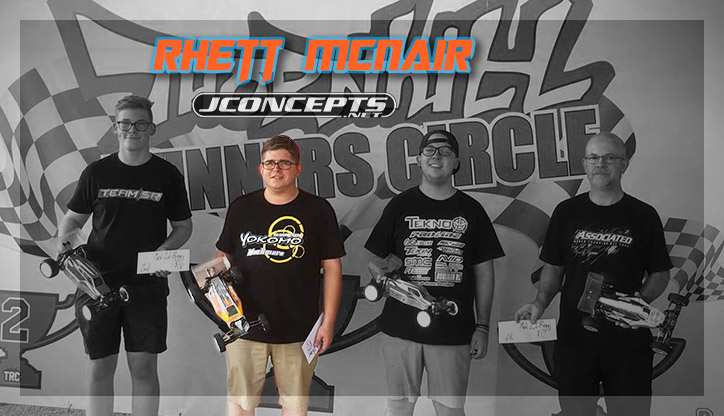 New car, same Rhett! On his first weekend out with his new Yokomo rides, Rhett was able to take the win at round 2 of the Southern Summer Payout Series with his YZ-2 using JConcepts Swaggers and Lockness tires to provide him with the winning grip over a fast field of drivers. Of course, the World Championship winning F2 body and Aero wing package gave Rhett awesome styling and downforce to get the job done.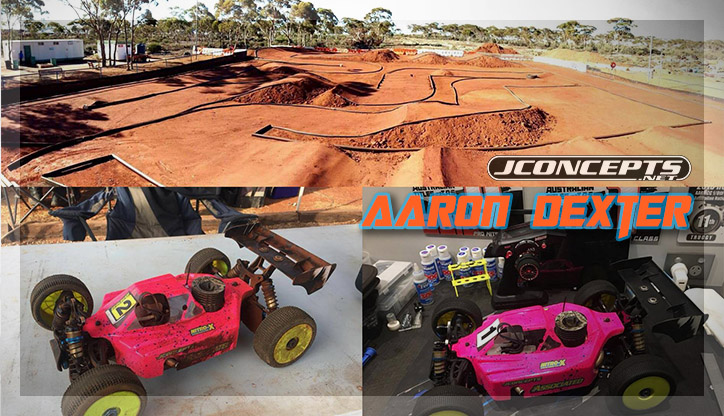 Racing takes a lot of dedication, heart, and usually filled with ups and downs. Last week, Aaron Dexter traveled 1500km round trip (932 mi) to attend round 2 of the West Australian Challenge Cup in Kalgoorlie, Australia. Aaron was able to set 3 TQ's out of 5 rounds and finished 2nd in the Semi to start 2nd overall in the 40 minute main, but unfortunately broke a rear D block when he landed on a pipe. Not giving up, Aaron's pit crew got him fixed and back on the track to finish out the race. Got to love the never give up attitude!!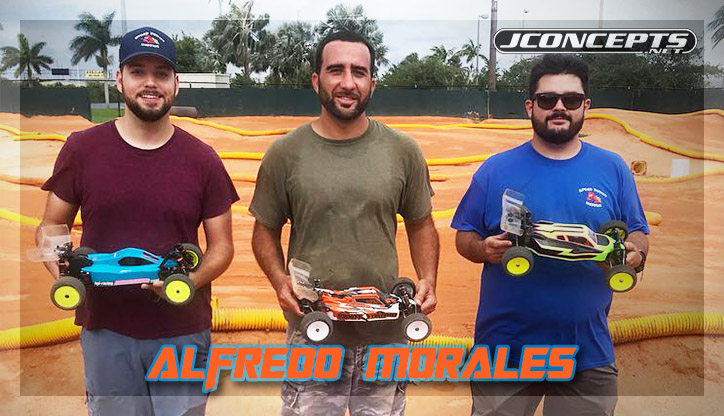 Keeping his skillset sharp, Alfredo Morales is definitely putting in the time. He even took part in the July 4th bash at Mills Pond RC. If you haven't checked out Mills Pond RC track, it's become a wicked track thanks to Alfredo and his dedicated crew. Rockin' the Double Dees in the morning then switching it up to blue Reflex fronts and green Reflex rears, Alfredo took the win in 13.5 4wd and 17.5 2wd stock buggy last weekend. Outstanding.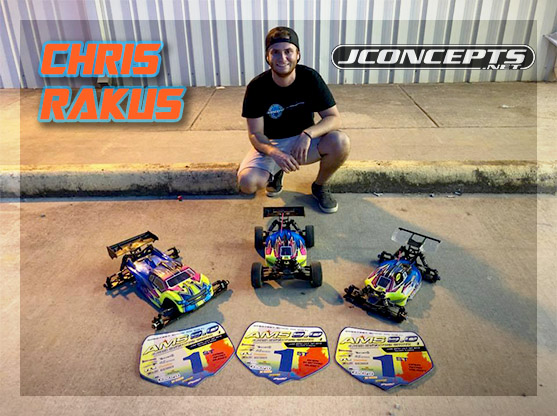 Chris Rakus had a phenomenal race last weekend at the AMS 9.0 where he not only got on the podium in his 3 open classes, he took the win in all 3. In Open Nitro Truggy, Open Nitro Buggy and Open Ebuggy, Chris found the speed running R2 Reflex tires on both buggies and blue Reflex truggy tires to take the win and making it a perfect weekend for Chris. Awesome job!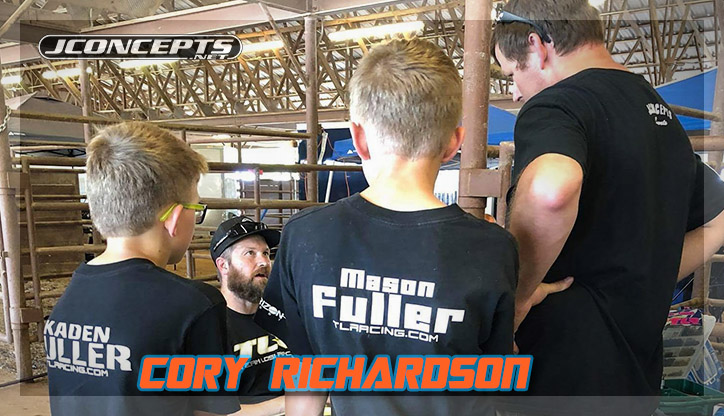 Sometimes giving advice and helping with support is often overlooked. It really does mean a lot to those who you help and it also feels good seeing them succeed because you feel as if you're a part of it. JConcepts' Cory Richardson was on hand at AMS 9.0 helping his TLR crew of Tyler Jones, Mason Fuller and Kaden Fuller. Luckily for us, these guys run for JConcepts! Thanks Cory.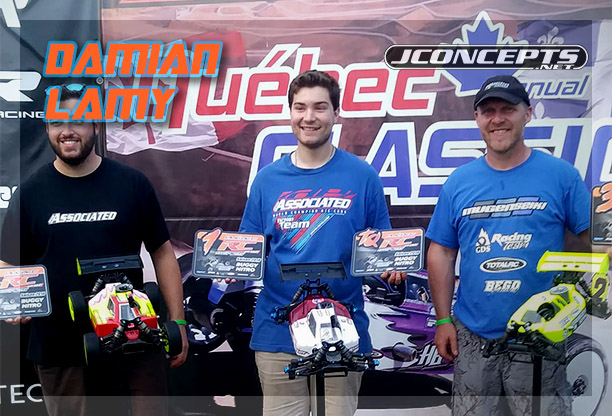 It's great getting news from Damian Lamy from up north in Canada. Damian raced at Bego R/C Raceway in Quebec where he was able to take TQ's and double wins in 1/8th Ebuggy and nitro buggy cementing a killer weekend of racing. Damian's choice of tire …. blue Reflex!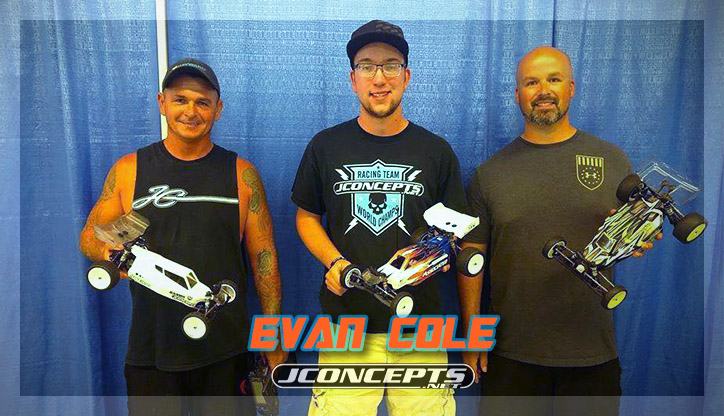 It's always a pleasure getting race reports from Evan Cole as he's very descriptive and open about his racing. Here's what he had to say for about his weekend straight from the man himself. "A busy weekend for me where I first, traveled south to Pikeville, KY for 23RC's Collins Classic Carpet Race. I worked all day on settling in with my new B6.1. I managed to qualify and finish 2nd on one of the most technical tracks I've raced on!
Sunday I made my first trip out to the Pen Raceway for their July 1st Cash Race. After a few small setup changes, my B6.1 was on rails on the high-speed layout. Rocking the JConcepts Pindowns and Swaggers, I was able to take TQ and the win!" Win a race, pocket some cash.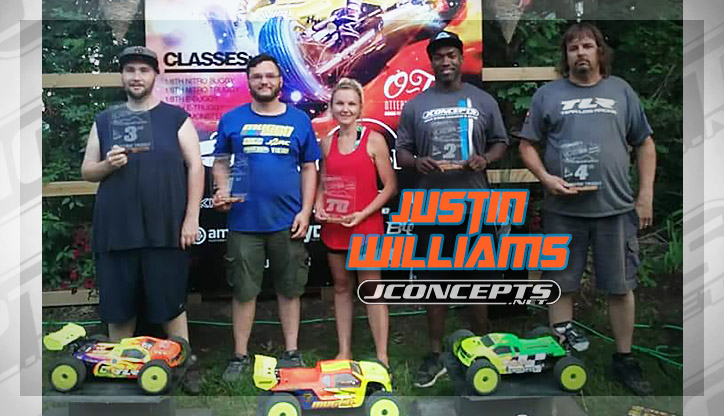 With our 2nd race report coming in from Canada this week, team driver Justin Williams attended the Otterville Nitro Blast where Justin was able to bump into the A in Ebuggy and finish 2nd in Etruggy to cap off a nice weekend of racing. Justin felt locked in on blue Reflex tires on Ebuggy and blue Triple Dees in Etruggy.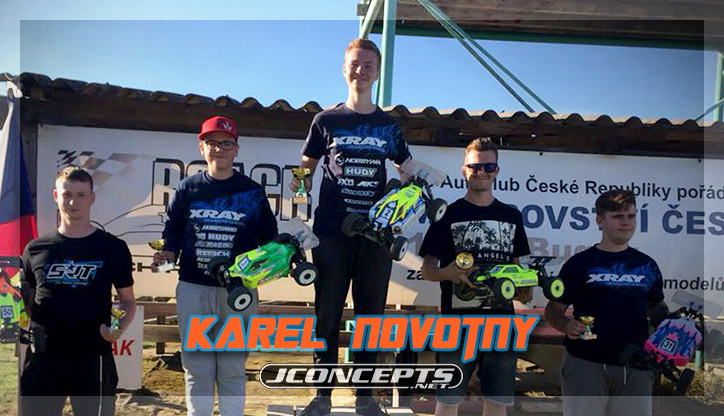 Kaja Novotny is no stranger to speed. He's fast and only getting faster as time goes by. He's impressive to watch and definitely a part of the new generation of racers emerging from Europe that's starting to make a name for themselves on the international race scene. With a TQ and win in Ebuggy and a 2nd place in IC buggy at the Czech Nationals round 3 race, Kaja is the real deal. Tire of choice for Kaja was the green compound Detox tires!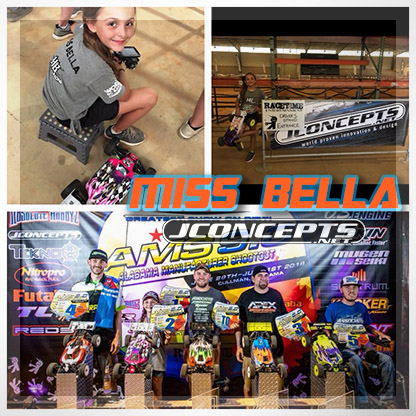 Perhaps the most impressive driver of the weekend at AMS 9.0 was young Miss Bella. From Chesapeake, Ohio, the young HB Racing/JConcepts driver is only 10 years old and has shown skills beyond her age as she courageously took 2nd place in the Sportsman Ebuggy class on one of the most difficult track layouts seen in a long time. Killer crossover to Quadnasaty??? No problem! Terrific job Miss Bella and can't wait to see you race at another event!