Race Team Update – Jan Wk 5
Can't believe it, but we're already a month into 2019 and it seems like only yesterday we were just saying goodbye to 2018. For many of the JConcepts race team, the new year brings new goals, challenges, and aspirations as we start the year with a ton of motivation and why? Because we just love this plain and simple! Racing is in our blood and it doesn't matter if it's at the track running in the front or playing around in our backyard having a blast! On this #teamthursday, we celebrate the JConcepts race team!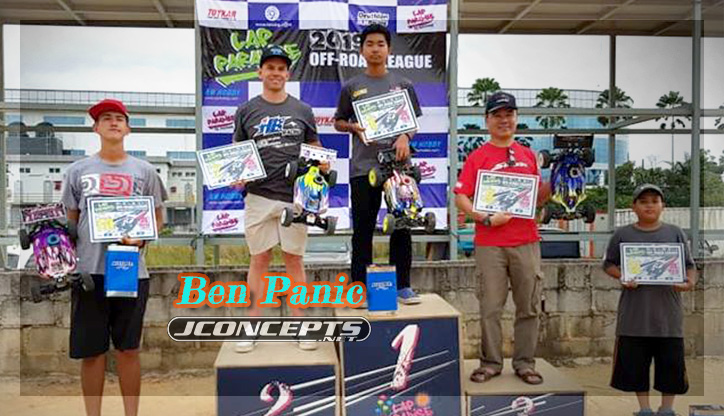 Our Australian born racer, now living abroad in Singapore, made the trip over to Malaysia for a 1/8th Nitro race! Phew! Ben Panic attended the 1st round of the Lap Paradise Off-Road League running R2 Kosmos tires. Unfortunately, Ben ran into some bad luck as he was pipped by a corner marshal and had to play a bit of recovery, but finished in P2 after the 1-hour race. You know what they say, that's racing! You'll get them next time Ben!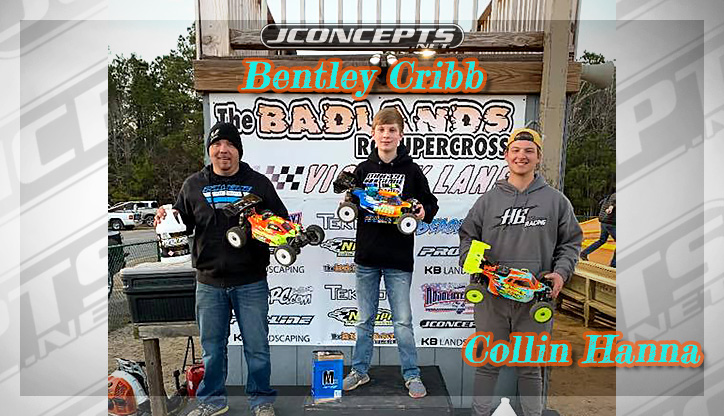 JConcepts' own Bentley Cribb and Collin Hanna both competed last week at Badlands Supercross Track in South Carolina where both drivers finished on the podium using Detox tires for the main event. Bentley went with green compound Detox tires and Collin chose blue Detox tires and both having great success as Bentley took the win and Collin finished 3rd. Completing their package is the super popular Silencer body for performance and stylish looks.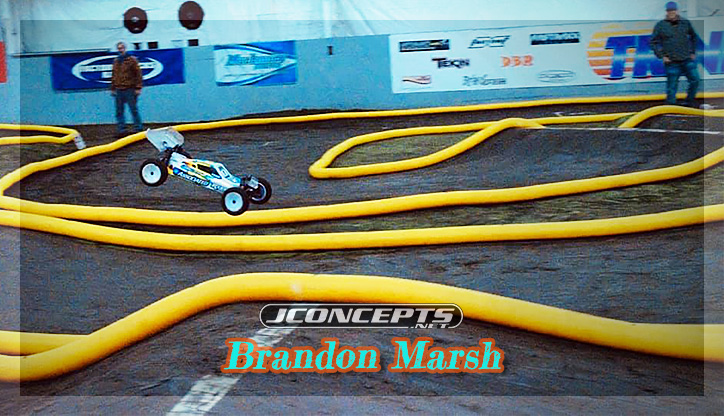 The CRCRC Midwest Championship is now over, but taking advantage of the awesome layout and facility at The Ohio Factory last week was Brandon Marsh. Brandon took it down in both Modified and Stock 2wd classes using the F2 body and Aero wing package providing downforce and feel to grab him the double wins!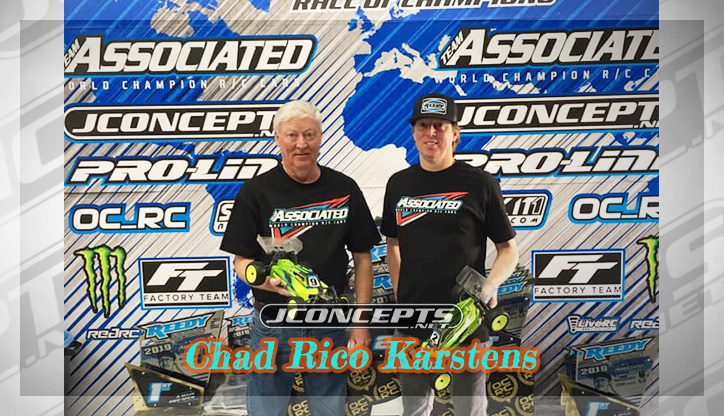 We all want to win, but we can't win every race. What is more important is the moments, the memories you make along the way. Last week, Chad Karstens and his father made the trip to the 2019 Reedy Race of Champions where Chad felt he didn't perform at his best, but had a great time and was glad to share those moments with his father. Thanks, Chad and keep doing what you're doing!
Thanks to Chad Wessinger for sending us his racing updates as he decided to try something new last week as he ran oval in the Busch class at Soda City R/C. Guess what? Chad took the TQ and won. Hey, it's not often you try something new and walk away with a win!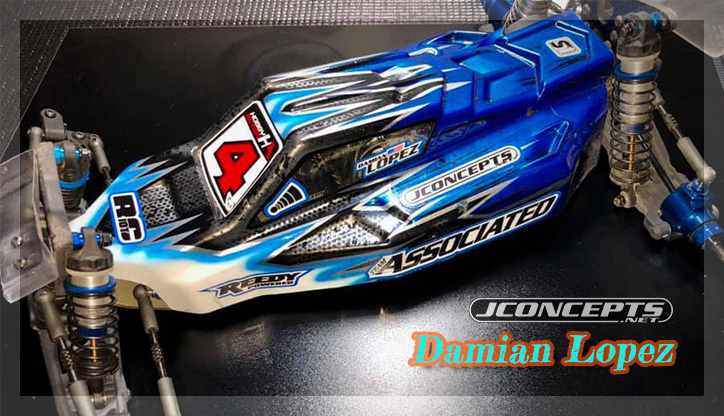 Super fast Damian Lopez ends the month of January on a good note as he took the double win in both 17.5 2wd and 13.5 4wd over the weekend at Riot RC. Damian's cars are all decked out with the JConcepts Aero package, F2 body, Fin Titanium turnbuckles, and tires. Thanks for the report Damian and great job!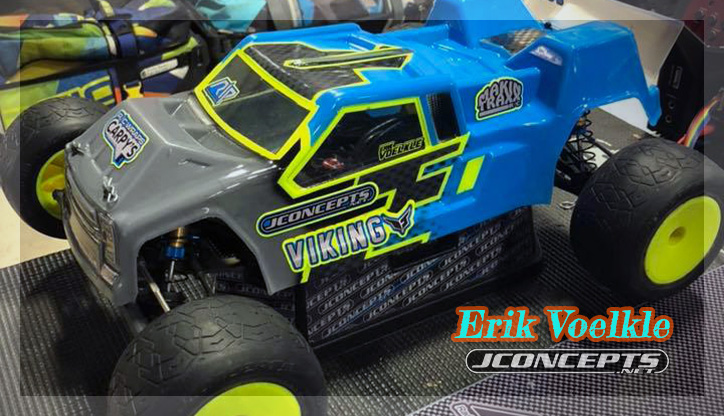 The Viking, Erik Voelkle, loves racing and when he does it's always a minimum of 3 classes or more! Here's what Erik had to say about his last week's adventure, "I attended and helped with the 1st Annual Race for Ron charity race at MakinTraxx RC in Rush NY. The event was a huge success with 331 entries! The track layout was very fast and a bit tricky. After the dust settled, I was able to finish 4th in the A in both Ebuggy and stadium truck and finished 4th in the B in Modified Buggy. I was using black and gold Octagons on the 1/10 scale side, and a set of Black Dirt Webs on the Ebuggy to take away some twitchiness, but still, provided awesome grip. It was a great weekend! Next race will be Motorama." Good luck at Motorama Erik!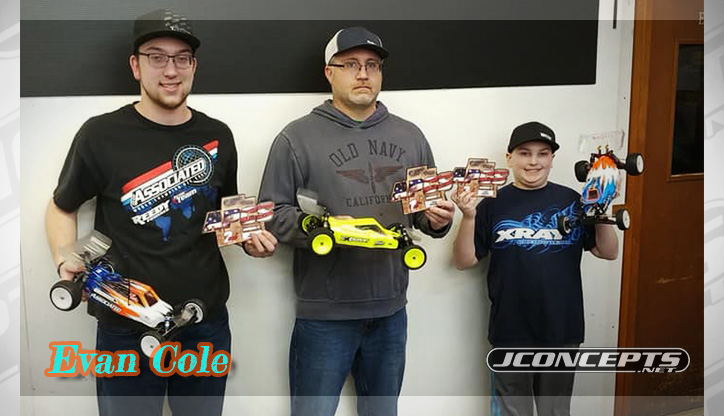 Once again, Evan Cole remarkably found some time to get out there and race the results are always good. Not the win, but Evan found great speed and finished 2nd in both Stock and Pro 2wd Buggy at round 1 of the APCS (American Pro Carpet Series). As you can see from the photo Evan used the F2 body, the High Clearance wing, and Swaggers and Twin Pins to secure 2nd overall. Not a bad weekend of racing… not bad at all!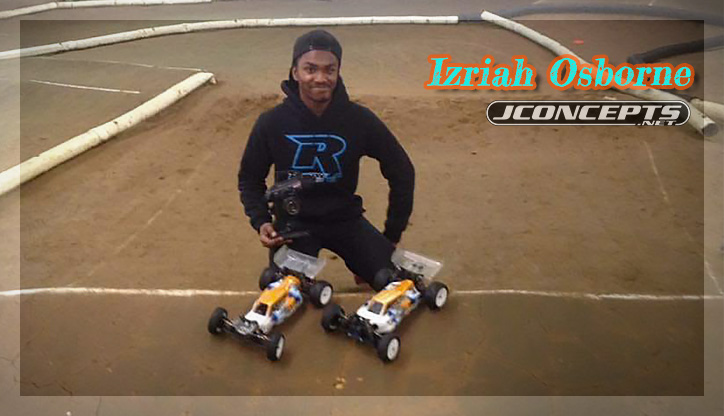 The picture says it all, congrats to Izriah Osborne on his continued efforts and success into the new year. With another TQ and win in 2wd Modified and win in 4wd Modified last week at Radioactive Raceway's club race, Izriah is already making headway into 2019. Izriah's key to success… green Ellipse rears, Dirt Web front tires, and some serious skills!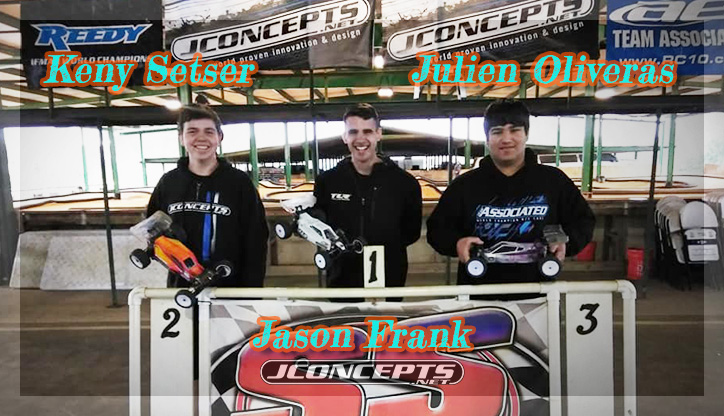 The most positive person you'll find at the track, Jason Frank has been a real asset to the team and now with more track time under his belt, is starting to find his way at the high end of the podium. Getting a little club racing in at SS Raceway in Tampa, FL, Jason, qualified 2nd but was able to finish 1st in the main event. Completing his winning kit, Jason ran gold Ellipse rears with gold Dirt Web front tires for ultimate speed and grip, while using the F2 body for the TLR 22 4.0 on his 5.0! Nice work Jason. Joining him on the podium was Tampa's own Kenny Setser and Julien Oliveras from Orlando.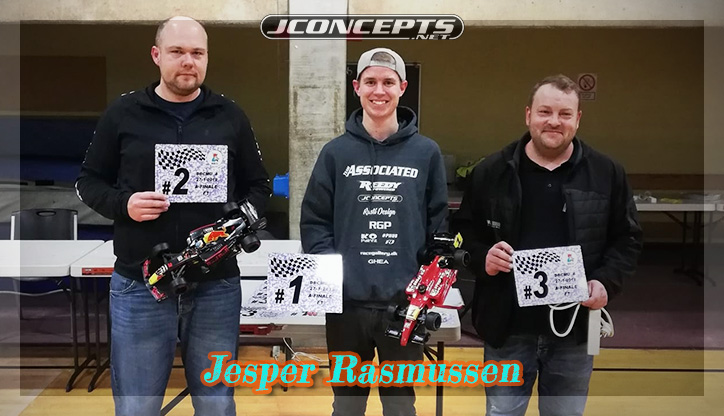 The more we hear from Jesper Rasmussen, the more we find out just how really talented this Danish driver is. From dirt to carpet, to on-road, Jesper can drive it all and last week, Jesper got the TQ and win while piloting an F1 car at round 4 of the Danish Championships. The Danish speedster also ran a bit of Mod TC and was able to finish in the top 5 against some heavy competition.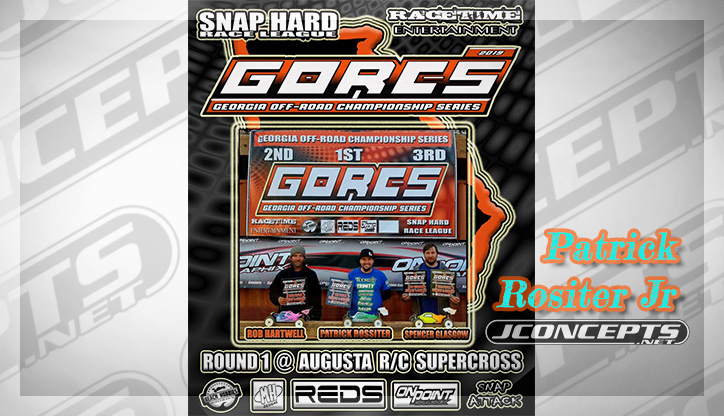 Shining at the Georgia State Championships held at Augusta RC Supercross, Patrick Rossiter Jr. takes home a few class titles as PRJ won the Expert Ebuggy class AND the ETruggy class using green Detox and green Reflexes respectively.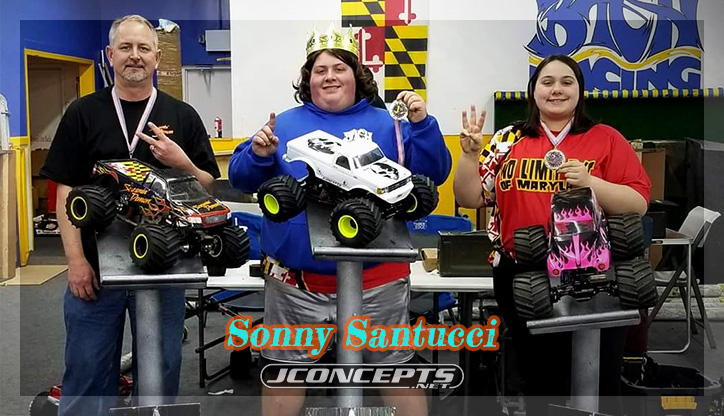 Wearing the crown proudly and rockin' the Monster Truck last weekend was Sonny Santucci. Sonny took 1st in the ClodBuster class, 1st in Shafty, 2nd in 2.2 and won the overall this weekend at the No Limit R/C of MD's Indoor Series. Sonny used a combination of Renegades and Ranger tires on Tribute wheels to get the job done. Awesome job Sonny!