Race Team Update – August 2020 Week #3
It was another wicked weekend of racing for the JConcepts team! From off-road dirt surfaces to asphalt drag strips, the team keeps racking up wins which you can read about in this week's Race Team Update!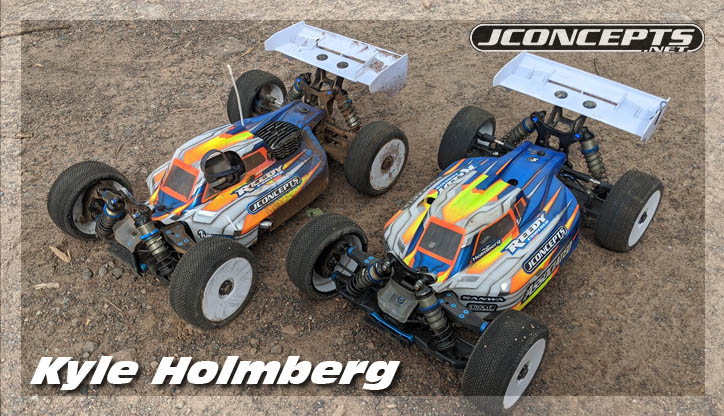 Let's start off this week's race report in Proctor, MN for the 2nd Round of the MNRC (Minnesota Off-road Racing) Series hosted by the Lake Superior R/C Car Club. We had several drivers in attendance so let's dip in to see how they performed. Friday was scheduled to be a practice day but it was rained out. On Saturday morning the track crew got the track ready for practice at 9am with qualifying later that day. Our driver Kyle Holmberg competed in both the 1/8 Nitro and Electric Buggy classes and for the mains he qualified 2nd in Electric and TQed the Nitro class! He would go on to win the Nitro main and finish 1st in both A1 and A2 for the Electric class to take the double win!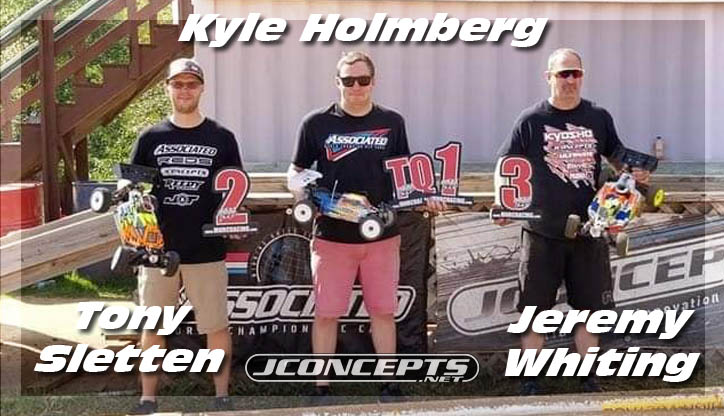 Joining him on the podium in the Nitro class were JConcepts team mates Tony Sletten (2nd) and Jeremy Whiting (3rd) to complete the JConcepts podium sweep! The JConcepts products working for his buggies were R2 compound ReHabs, Mono wheels, Silencer body, the RC8B3 Front Scoop, Fin, 1/8th Serrated Light-weight Wheel Nuts, the RC8B3 | RC8T3 Servo Bracket and RM2 Clover Large Flange Wing Buttons.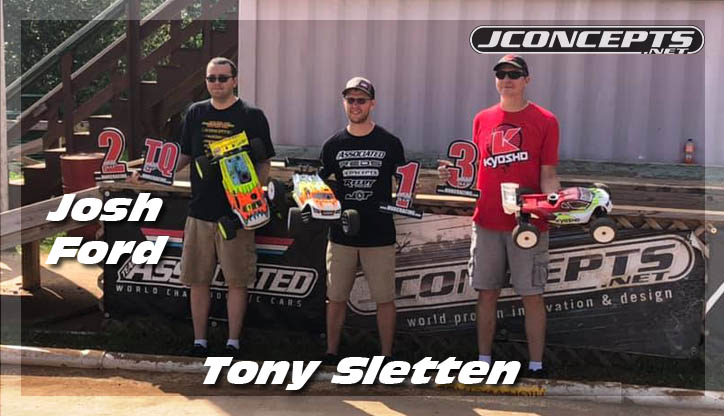 Team mate Josh Ford was also competing at this event. Josh competed in the 1/8 Nitro Truggy class and would set the TQ after 2 rounds! In the 30 minute main he was out in the lead when his 3rd pit stop went a little south and he dropped back to 2nd. He continued to chase the leader but would end up 2nd overall. Taking the win in the main was his JC team mate, Tony Sletten! Josh reported that he was able to set the fastest time in qualifying thanks to his Blue compound Reflexes and switched to the O2 compound for the mains, all on Mono rims. He also competed in the 1/8 Nitro Buggy class and would finish 5th overall! He use the same tire setup and both vehicles were using a S15 body, F2I wing and JConcepts Fin Turnbuckles.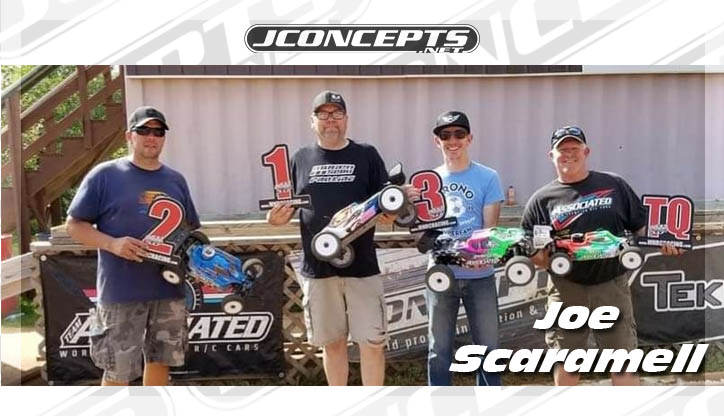 Also racing at this event was JC driver Joe Scaramell. He competed in the 40+ 1/8 Nitro Buggy class and was the top qualifier! In the main he had some unfortunate luck with a steering issue which caused him to drop out for repair thus he was out of contention for the lead. He would settle for 8th place and is still sitting 2nd overall in this class for the series! His buggy was running strong on JConcepts Reflexes in the Green and Blue compounds during qualifying and he switched to R2 compound ReHabs for the main.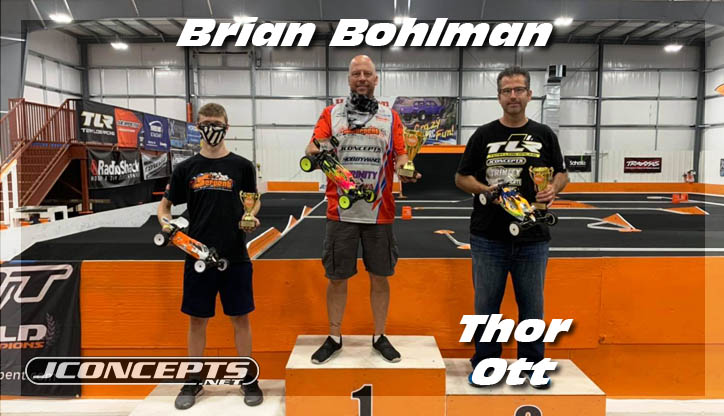 Staying in state let's now check in with team driver Thor Ott who competed last weekend at the monthly trophy race held at Thunder Road Raceway in Waite Park. That day they had 79 entries and he TQed all three rounds of qualifying in Mod 2wd Buggy while running on JConcepts Twin Pins, Swaggers,light-weight F2 body and a Carpet | Astro High-Clearance Rear Wing! In the main he made two mistakes and would finish in 2nd and only 0.40 behind the leader who was team mate Brian Bohlman!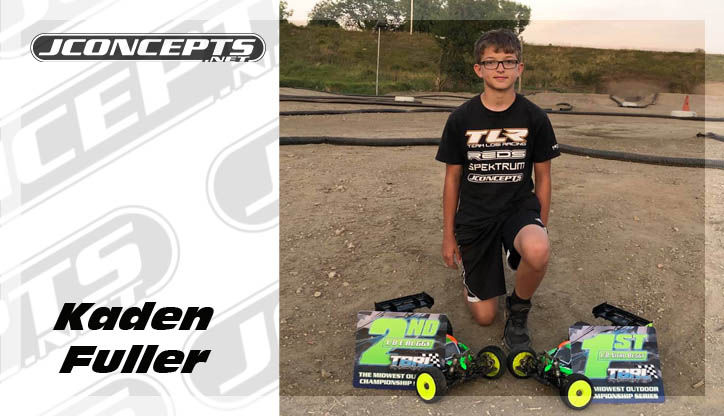 Now let's drive down to Iowa to check out the racing action at Round 2 of the The Midwest Outdoor Championship Series hosted by TBRL (Tony Bacon Racing League). Our driver Kaden Fuller was in attendance to compete with his 1/8 vehicles on a track layout build for 1/5 cars! He ran in both the 1/8 Nitro and Electric Buggy classes and would qualify 2nd in Expert Nitro Buggy with his TLR 8IGHT-X Elite and would TQ the Electric class with his TLR 8IGHT-XE! In the mains he would swap things around as he finished 1st in the Expert Nitro Buggy class and 2nd overall in the Electric class! His buggies were running fast thanks to the JConcepts R2 compound Blockers and Relex tires.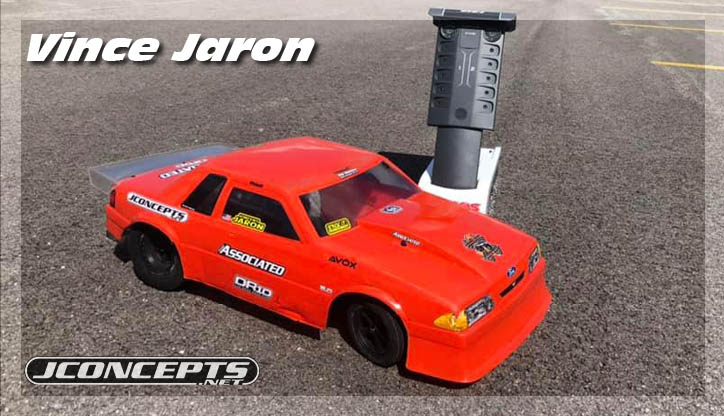 Now let's head east to Illinois to check in with team driver Vince Jaron. He recently got into No Prep RC Drag Racing and competed at a recent event held by Chicagoland NPRC. He is loving this new form of racing and already cracked the top 10 ranking system for this club! He is currently running JConcepts Hotties in the Gold compound, a 1991 Ford Mustang Fox Body, and Fin 12mm V2 Shock Caps.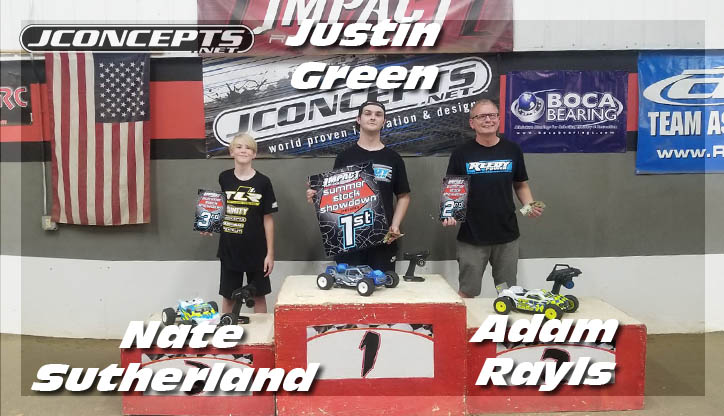 Staying in Illinois let's get an update from JC driver Nate Sutherland who recently traveled to Impact RC Raceway in Morris to compete at their Super Stock Shootout. He competed in three classes that weekend: 13.5 4wd Buggy, 17.5 2wd Buggy and 13.5 Stadium Truck. He was able to finish 9th in 4wd, 6th in 2wd and 3rd in Truck! All of his vehicles ran Ellipse tires except for his wheeler which used Dirt Webs up front. Pictured with him in this photo are team mates Justin Green (1st) and Adam Rayls (2nd) to complete the JC sweep!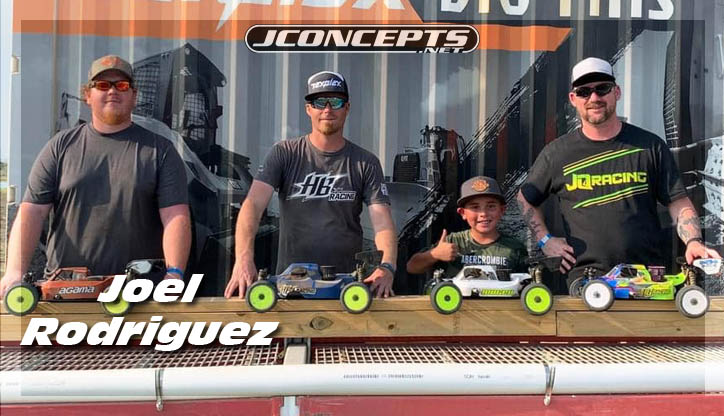 Now let's shoot down to Texas to check on team driver Joel Rodriguez who recently competed in 1/8 Nitro Buggy at Texplex RC in Venus. This was their opening race event and he took 2nd place while running on Blue compound Stalkers!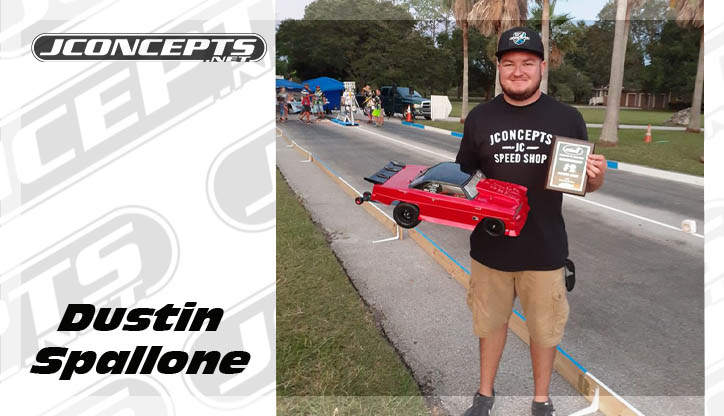 Let's hop over to Florida to check in with JC driver Dustin Spallone. He attended Round 2 of the RCDRL Florida Series and took the W in the Quick 16 Bracket Class! His car was running a 1966 Chevy II Nova (V2) Body, Hotties tires in Gold Compound paired with the Tactic wheels.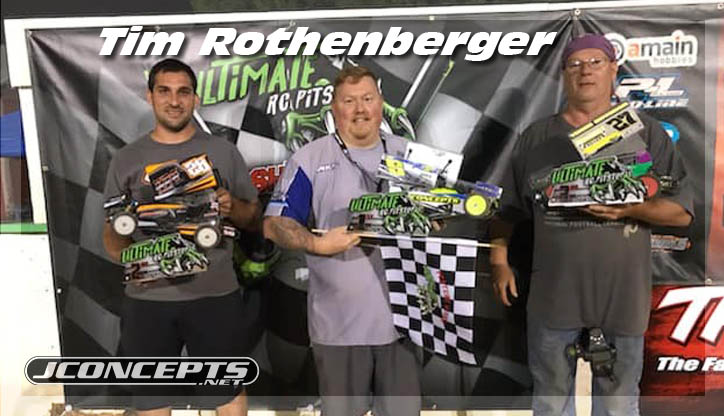 Now let's head up the east cost to Pennsylvania to get an update from team driver Tim Rothenberger. He recently raced at Ultimate RC Pitstop in Sinking Spring for their Fall Shootout dirt oval race. Tim said he was able to take the TQ and win in Wingless Sprint and win in Mod Sprint! He ran Blue compound 3Ds in the rear with Dirt Webs up front.

Now's let head to Connecticut to check out the racing action at RC Madness in Enfield for their Schumacher US Grand Prix. With 124 entries that made for a great day of racing outdoors.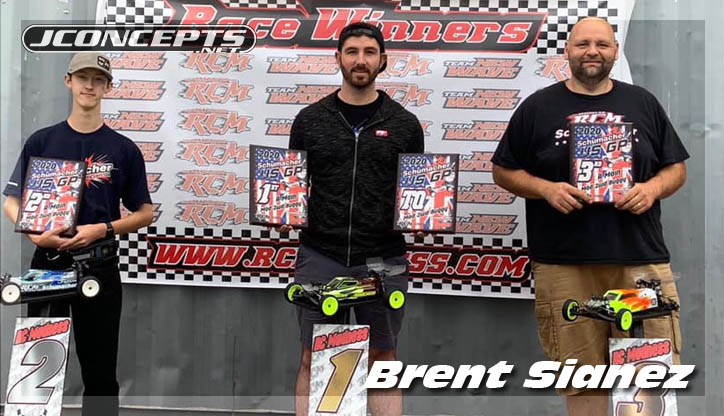 Team driver Brent Sianez competed in both the Mod 2wd and 4wd classes and set the TQ for both! After the mains were ran he would take the win in 2wd and 3rd overall in 4wd.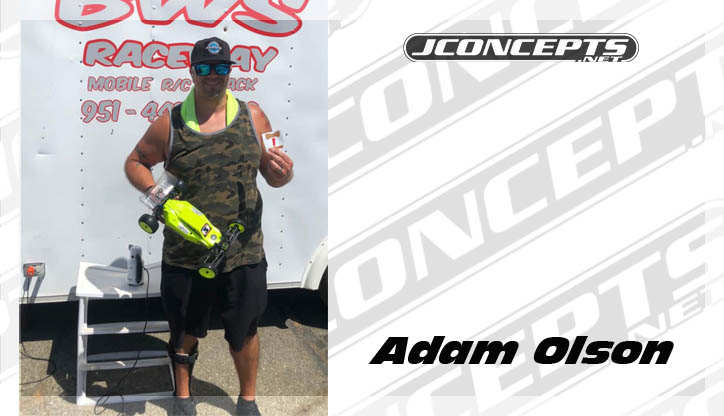 Now let's fly west to California to catch up with the team as they competed at BWS Mobile raceway held at Pegasus Hobbies in Montclair. JC driver Adam Olson competed in Mod 2wd Buggy and qualified 3rd for the main, but at the tone he jumped out to the lead and never looked back! His winning ride was equipped with JConcepts Swaggers and Nessi tires.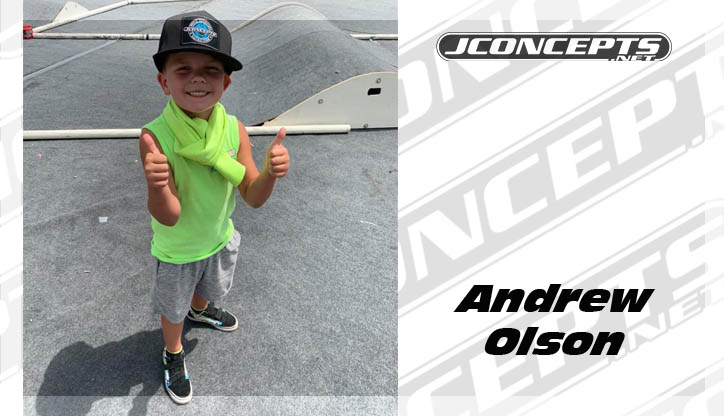 His son Andrew was also competing and took the win in the Rookie class while using JConcepts Swaggers and Pin Downs!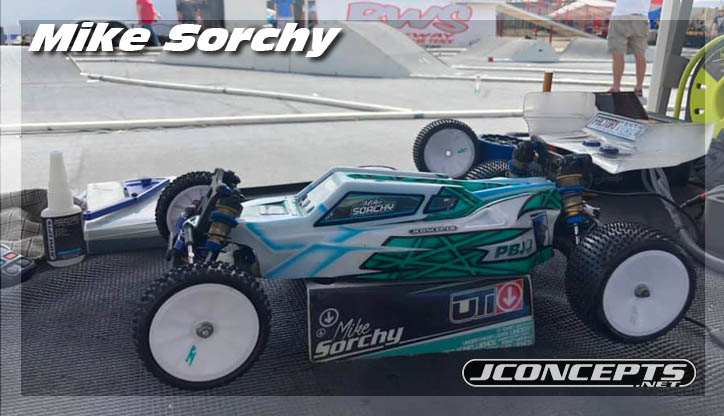 Team mate Mike Sorchy was also competing in the Mod 2wd Buggy class and qualified 2nd for the main! But unfortunately three laps into the main he suffered a mechanical failure and had to drop out. His car was running great prior to that thanks to JConcepts Nessi and Swaggers tires, a S2 body and Carpet | Astro High-Clearance Rear Wing.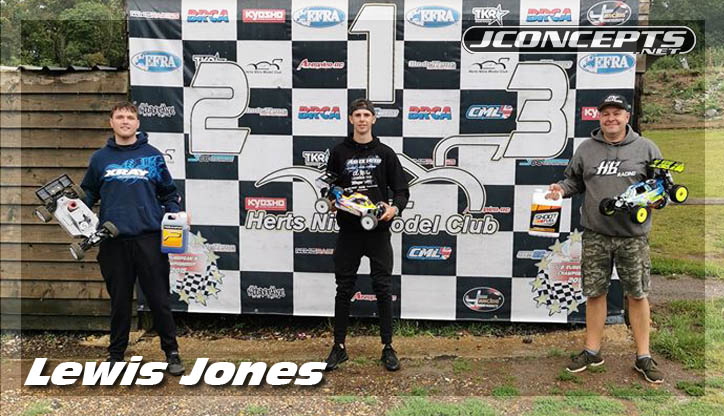 Finally, let's check in with our overseas team to see how they are performing. Team driver Lewis Jones took the TQ and win in 1/8 Nitro Buggy at Summer Round 4 at Herts over in the UK! His buggy was running fast with JConcepts Triple Dees and Teazers in the Green compound.