Race Team Update – April Week 4
On Wednesdays, we often like to celebrate our team drivers and their wins. Let's face it, it's not easy to go out there and compete against some great drivers and bring home the win. Sure, you can get a podium or make the show at a bigger race, but it's the small victories that propel us to keep going forward hunting for more. Thanks to this wonderful group of racers that we get to call our team drivers for all of the hard work.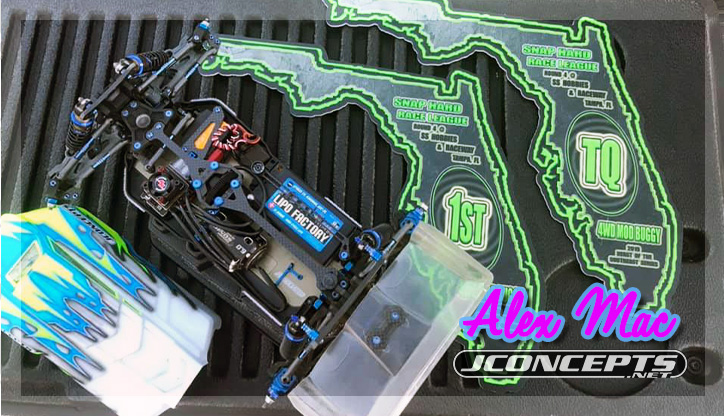 Congratulations to Alex Max on his wonderful win in both the 2wd Stock Buggy class and in 4wd Modified at last week's Snap Hard Racing League's visit to SS Hobbies in Tampa, Florida. Alex made the trip up from South Florida to unchartered waters and showed them how to get around the track in both of these classes and came home with 2 wins for the weekend. Excellent!!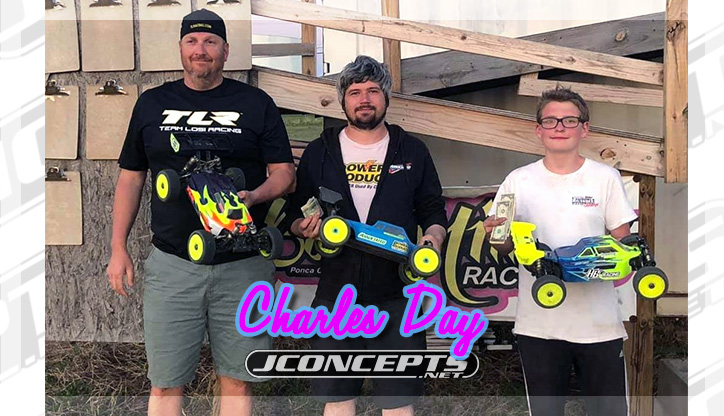 Stealing the show at the Boothill Raceway Cash Race #1 in Ponca, Oklahoma, Charles Day goes home with some cash after winning A1 and A2 to lock up the victory in Ebuggy. Now when people ask you, "What do you get when you win?" You can now answer them without feeling awkward.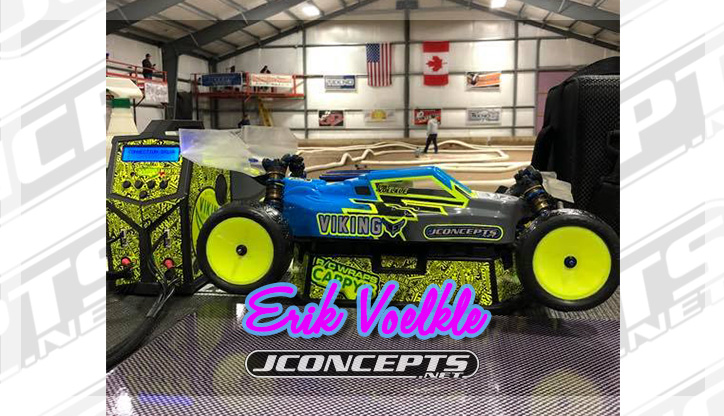 Stepping into his own, Erik Voelkle has been a great team representative with a positive attitude at the track, but this weekend joins the #WinningWednesday report with a nice win at MakinTraxx RC in the 2wd Modified class. Here's Erik's reaction to his weekend, " I was able to take the win in 2WD Mod after some very close qualifying with some of the region's very fast guys in attendance. I felt super good about that W. I also finished 3rd in Mod wheeler. Still in love with Black Octagons here! Headed to Erie, PA Friday for a trophy race at Spirit RC." Good luck at the Trophy Race!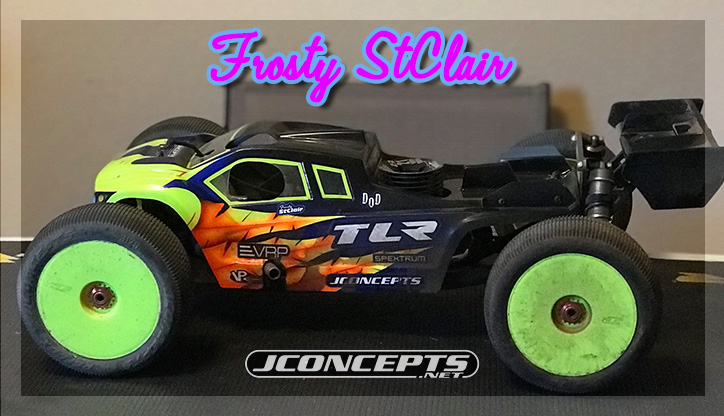 There's not much to say for Frosty StClair last week….. besides the fact he took 1st place in Nitro Truggy at round 4 of the Thornhill Championship Series! Frosty making the JConcepts Bullet wheels, Reflex tires, and that awesome Finnisher Truggy body looking fabulous!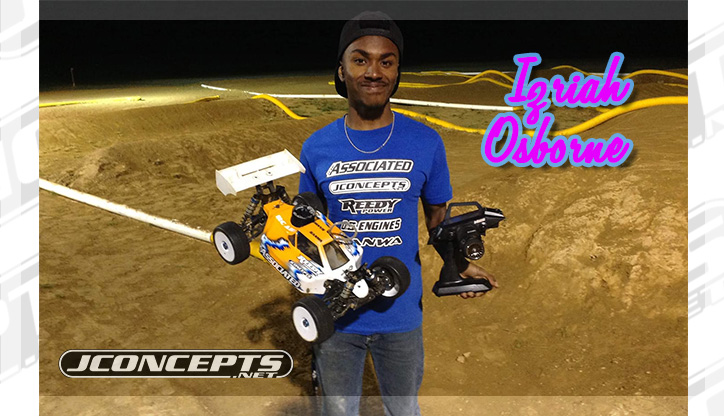 There's no replacement for practice and for Izriah Osborne, the practice is starting to pay off greatly! From 1/10th to 1/8th, Izriah seems to find his way to the sharp end and last week, he took the TQ and win in 1/8th Nitro Buggy at Bullet Town's season opener. Izriah found the magic using blue Triple Dees and Strike 2 body on his AE ride!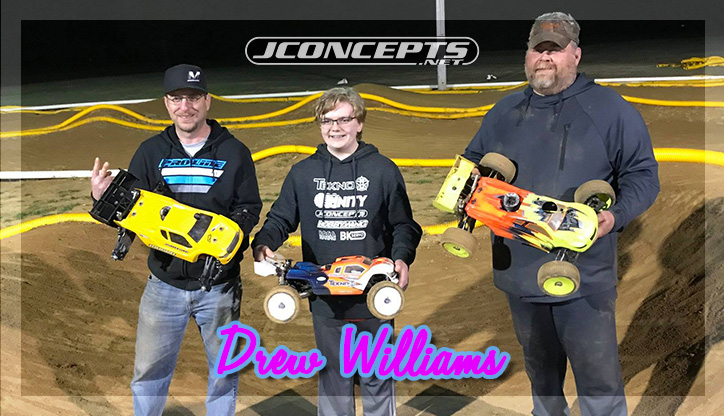 It's a pleasure to have Drew Williams on the team and his hard work and happy spirit is always a pleasure to be around at the track. It was an up and down weekend for Drew as he and his dad traveled to Bullet Town RC in Milan, TN for the season opener race. Drew raced his Ebuggy, Etruggy, Nitro Buggy and Nitro Truggy all on the same weekend getting massive amounts of track time. In the end, despite having a great qualifying effort, the mains were a bit rough but brought home the win in Nitro Truggy! You know what they say, in order to have success, you have to have failures. Nice job Drew!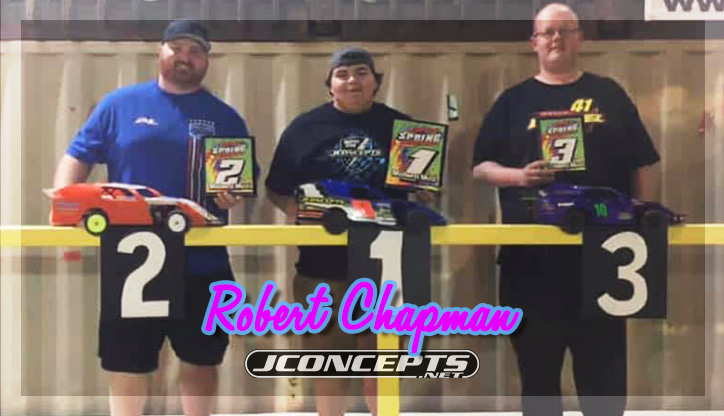 It's hard to judge just exactly how much talent someone has by just watching them drive a car, but when you see a person able to compete at the top no matter what they drive, where they race, or how many laps they have on the track, they got talent. Robert Chapman is one of these guys as he attended the 4th Annual Sprint Nationals at Tayler Park R/C in Oklahoma. Robert qualified 4th in the A-main of Outlaw Sprint, but an unfortunate rough start left him with a broken rear arm. But like we said, Robert has the talent and turned a bad weekend of racing into a good one with a win in the Midwest Modified class! "In Midwest Modified, I would qualify 2nd and take the Win! I chose Green Dirt Webs for front and rear. My JConcepts rubber kept me in contention in both classes all night, thanks again for providing us with the best products on the market. Congrats to teammate Tyler Keel on his Outlaw Sprint main, wish I could've battled with you, sir." There will be a next time Robert!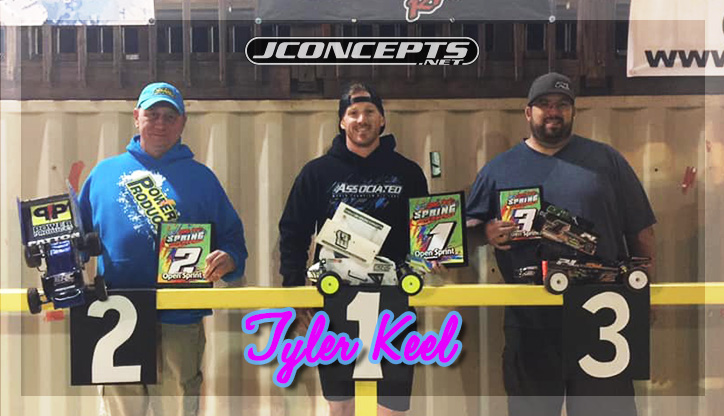 Also attending the 4th Annual Sprint Nationals at Taylor Park R/C in Oklahoma was our very own Tyler Keel. We all knew that Tyler is quick, but didn't know he was this fast! Taking a huge win with a dominant performance scoring the TQ and win, Tyler took 1st place in the highly contested Outlaw Sprint class while rocking green Hybrids and Rips up front for smooth, predictable steering. Wow, what a guy!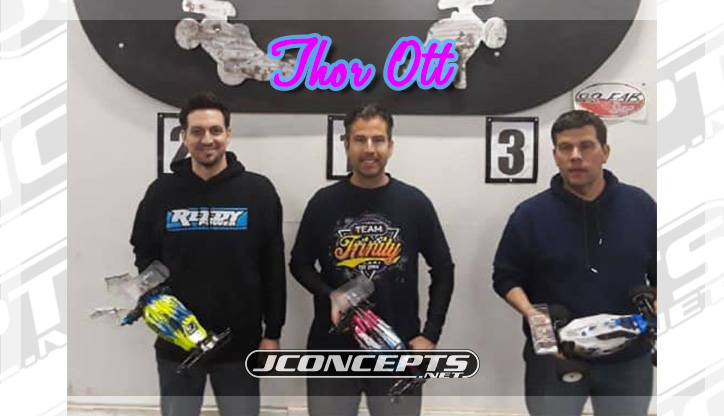 Consistency is a part of being fast. It's not the whole enchilada, but it's very important and something you must have if you want to reach that next level. We're not just talking about a consistent 5 minute run with no mistakes as that kind of consistency is important too, but it also about being able to have a set schedule that keeps you consistently working on your game week after week. Last week, Thor Ott took the win in 17.5 2wd Buggy at The Toy Box on Wednesday, then ran at MMR with his carpet ride and won again on Swaggers and Twin Pins! Two races, two different surfaces, and two wins… Congrats Thor, enjoy the moments!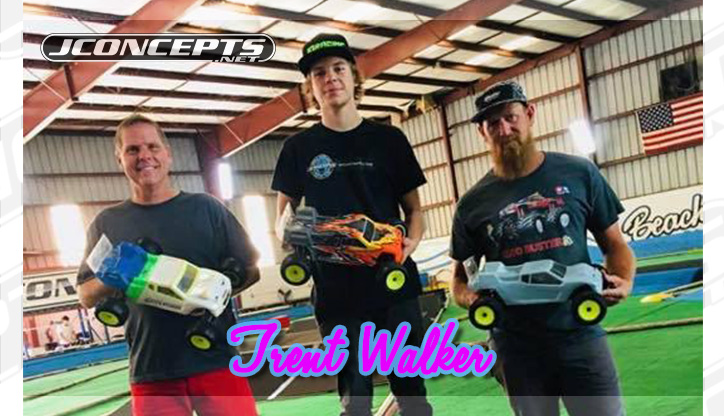 Thanks to Trent Walker for sending in the rad update as Trent raced at his local track in Cocoa Beach, at Beachline R/C. Trent and his father, Mike Walker, have been all over the east coast getting in some serious racing and now standing on the top step of the 13.5 Stadium Truck with a TQ and win effort. Trent also ended the day finishing 2nd in 4wd Modified too!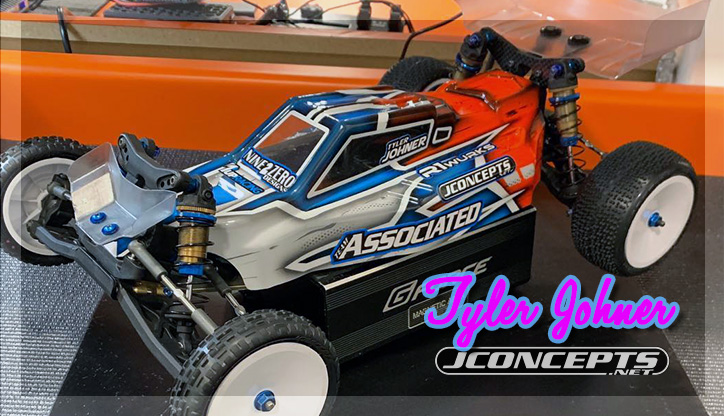 Hailing from Rogers, Minnesota, Tyler Johner was flying last weekend at Thunder Road Raceway where Tyler snagged the TQ and win in the competitive 2wd Stock Buggy class on Twin Pins and Swagger front tires. Completing Tyler's winning package was the F2 body in lightweight, lower front Aero wing, and the High Clearance Wing for stability and downforce. Rockin' and rollin' right there.