Race Memories from the Fall Super Cup Rd 2
For the first time in Super Cup history, the JConcepts Super Cup Championship Series was held outside of the Florida State line and ventured into Savannah, Georgia's Phil Hurd Raceway. 3-time host to the US Offroad Nationals in 91, 92, and 95, Phil Hurd Raceway is a track well known for its rich history and this year is celebrating 30 years of operation.

The track is massive resembling more of a 1/8th track than 1/10th and runs 155ft long and 110ft wide. With room to spare, lap times were in the 31 second plus range making mistake free runs extremely difficult. With heavy rain falling on Friday, Saturday morning saw a slow start to the day as the track crew fought hard to get the track race ready. As the sun came out, the track was quickly drying and racing was underway just around 2pm. The flow of the track was great and the layout extremely fun with a Phil Hurd twist. By the mains, the grip was much higher allowing cars to put the power down and made for a great night of racing under the lights.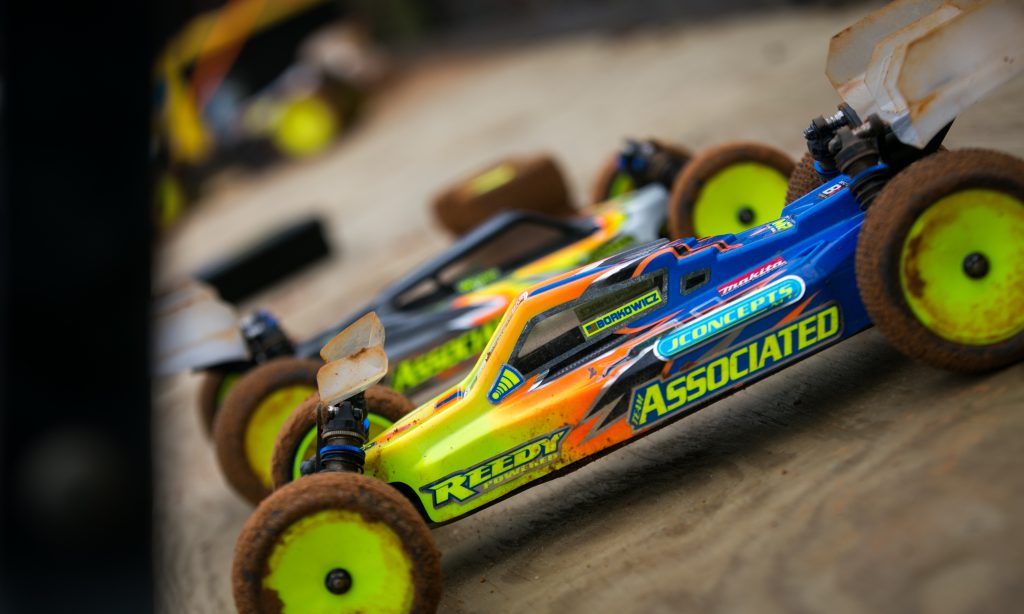 With limited time to hit the track and the outdoor elements playing a huge factor on tire choice and setup, the challenge was on as racers scrambled to get everything dialed in just 2 qualifiers. Thanks to the SCORE club and to everyone that was involved in getting the track ready and dry enough to race on. It's because of their commitment and hard work that we were able to have a wonderful day of racing at Phil Hurd Raceway!
Novice
Thanks to the novice crew for coming out and racing. It means a lot to our hobby to have a delightful new generation of racers. Chris Burton Jr. would take the win with Trent Glider 2nd and Taelylor Laforest 3rd on the podium.
Monster Truck / Stampede
Joining the Novice drivers and sharing the same heats and mains were the MT/Stampede guys. Scott Defino ended up getting the best of them that day taking down Jason Ruona and Dan Borkowicz with some serious driving skills. Always a fun class full of great racing and always delivers a great show for the spectators.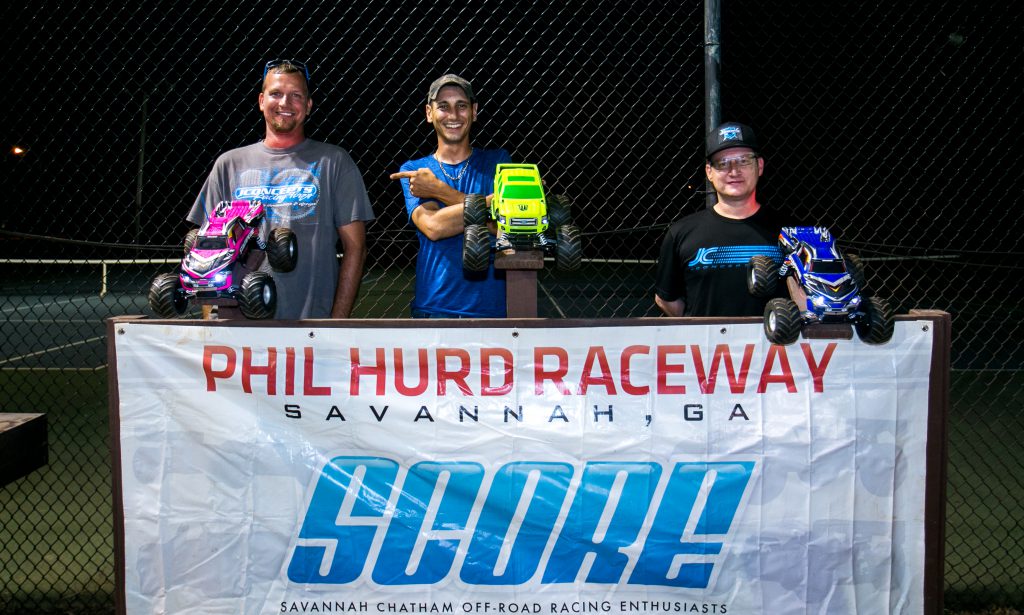 Independent Stock Short Course
Zachary Schmidt takes the gloves off during the 5 minute main in Independent Short Course. Zachary would go on to win by only .5 seconds over his rival, Jason Brown. Scott Setzer would duke it out for the final spot in 3rd.
Independent Stock Truck
With a better showing in Independent Stock Truck, Scott Setzer would go on to take a huge victory coming from 5th on the grid. Andy McNeil would also make huge gains from 7th on the grid to finish 2nd while Clayton Jett took the final spot on the podium in 3rd.
Independent 2wd Stock Buggy
Ryan Harris has been on fire in the Independent 2wd Stock Buggy class and this weekend was no different. Winning by a large margin, Ryan would add another flawless victory to his independent stock efforts. Ryan Castline was runner-up along with Tracey Procter in 3rd.
Open Short Course
A strong A Main showing would give Vince McMahon the edge over his competition as he took home the win. Dan Borkowicz also had a great run to finish 2nd with Joe McDonie 3rd overall.
Open Truck
The Open Stadium Truck class belonged to Vince McMahon, who was also the Open SCT class winner as well. The evening dose of traction heavily favored experienced drivers like McMahon, who was able to move from 4th on the grid into 1st. Rob Cantrell finished where he started in 2nd and Chris Burton 3rd on the podium.
2wd Expert Stock Buggy
The 2wd Expert Stock class was led by hometown hero, Patrick Rossiter Jr, who showed tremendous pace throughout qualifying and turned it up another notch for the A Main. Rossiter was able to take a tone to tone win with AE/JConcepts' AJ Marasco 2nd and Vince McMahon once again making another podium appearance in 3rd.
13.5 4wd Buggy
In 13.5 4wd Buggy, AE/JConcepts' AJ Marasco wouldn't be denied. From setting TQ's in qualifying to the main event, AJ was on point and proved to be too fast for the competition. Ryan Harris made a late race charge to finish 2nd with Patrick Rossiter Jr. 3rd.
40+ Open Buggy
It was anyone's race in the 40+ Open Buggy class, but when it came time to shine, Doug D. made it happen. Taking the win by 4 seconds, Doug drove a solid race to finish ahead of Rob Lupo and Hironobu Yamaguchi.
2wd Modified 
It was an exciting 5 minute A final in the 2wd Modified division with the top 3 drivers breaking off early from the pack. With a comfortable lead, AE/JConcepts' Daimon Borkowicz had a slight run-in with lapped traffic handing the lead over to Serpent/JConcepts' Griffin Hanna. Within a few corners, Jason Ruona block passed Hanna to lead the trio around. However, it was Hanna taking a high-risk approach to get back in front, but the two touched wheels resulting in Runoa getting left on his lid. Sportsmanship runs high with Hanna as he waited to give the spot back to Jason. Meanwhile, Daimon would fly by to retake the lead and the win. Ruona would finish 2nd and Hanna 3rd overall.
4wd Modified 
It was a terrific showdown between long-time Florida champ, JR Mitch vs the young guns in 4wd modified. Able to set the pace in qualifying, JR masterfully controlled the pace making it hard for the youngsters to match his speed and duplicate his run. Despite being able to run the lap times, the young guns would charge hard taking turns to attack JR, but to no avail. After 5 minutes JR cruised to an easy victory with Lee Setser 2nd and Griffin Hanna 3rd.