Race Memories from the 2017 Fall Brawl
Every racer has one those races where you patiently wait all year long to attend. You spend countless hours practicing, long nights rebuilding, and endless setup changes dialing in your ride just for that race because you know it's going to be one of the best races of the year. If you have racing in your blood, you know what I'm talking about.
The 2017 Fall Brawl was simply magic. There was something special in the air this year as the weather was stunningly beautiful for December. Unlike in years past where it was cold, rainy, and even had some snow, this year the weather was exceptional. Adding to the magic of fantastic weather and great atmosphere, the track was dialed and extremely fun to drive on. Every lap provided challenge and an unexplainable thrill that put a smile on your face. The flow was perfect, the jumps required skill, and even the cross-over was money. All in all, the Fall Brawl keeps getting better every year and this year proved to be an unforgettable outdoor 1/8th nitro experience.

The format was modified to make practice go much smoother, with less congestion, and shorter lines. Open practice was held on Thursday and Friday, but drivers could chose to run on either day, but not both. The idea is to split the practice into 2 groups. The Thursday group had a green track, but shorter lines which equal more practice time. The Friday group would have shorter lines than your typical "all out" practice sessions, but the main benefit is that you get to run on a track that's closer to what you're going to be racing on.
From 5pm on Friday, 1 round of seeding was held to sort for 3 qualifying rounds on Saturday. Lower mains all ran Sunday morning with 3 car bumps while 10 go directly into the A-Main. The nitro buggy Amain was 35 minutes long while the nitro truggy A final was 30 minutes. Electric A-mains all ran double 8 minute A's with the tie-breaker going to the fastest run.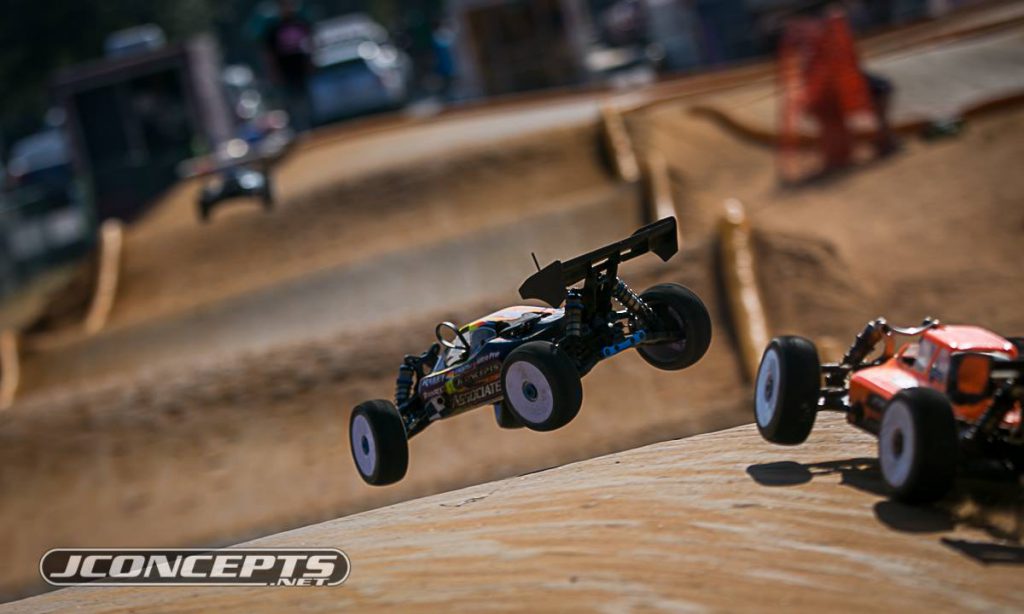 Thanks to Kevin Bullock and his dedicated crew for all of their hard work in creating one of the best track layouts of the year and for keeping up their efforts throughout the weekend with timely pipe repairs and track maintenance. Also, thanks to Lance MacDonald for his RD services that kept everyone on point and ending the long days earlier than scheduled.
Junior Division (Under 15) 
You have to give a round of applause to the Junior class at the Fall Brawl. It's not an easy track to get around and this group did a fantastic job. Congrats to the top 5 driers on making the podium. Ashton Schimmel took the win, Cooper Phillips on 2nd, CJ Stubblefield 3rd, Cameron Schimmel 4th, and Beau High 5th, but they all drove awesome!
Open Ebuggy
Local talent and rising star, Bentley Cribb was on fire all weekend with his JConcepts equipped Mugen buggy. He went on to TQ the class and took 1st in both double A-Mains to finish ahead of the field. Jacob Williams finished 2nd with Thomas Tran 3rd, Matt Starnes 4th, and Brandon Elis jumping up from 24th to 5th!
Open Nitro Buggy
Carrying over his speed from Open Ebuggy, Mugen/JConcepts Bentley Cribb once again stole the show in the Open Nitro Buggy class with a TQ effort in qualifying and dominating performance in the 25-minute AMain. Jacob Williams again finished 2nd on the podium with Jody Smith 3rd, JConcepts' Landon Pickering 4th, and JConcepts' young Jackson Terrell 5th.
40+ Ebuggy
AE's Mark Moon took a convincing win in A1 and A2 and won the overall in the 40+ Ebuggy class at the 2017 Fall Brawl. TQ Duane Karlovsky fought hard and finished in 2nd, Bobby Archer jumped up from 11th on the grid and took 3rd, HB Racing/JConcepts' John McGinty finished 4th, and Tekno's Mark Unrath took 5th to round out the top 5.
40+ Nitro Buggy
Longtime racing veteran, Absolute Hobbyz's own Chad Phillips, won the 40+ Nitro Buggy title with ease over a field of fast 40's. JConcepts' Jimbo Kvidera and Paul Ciccarello finished in the top 3 in 2nd and 3rd, respectively, while former WC Greg Degani and Duane Karlovsky took home 4th and 5th.
Etruggy
The fighting heart of Tekno/JConcepts' Patrick Rossiter cannot be measured. Having won A1, A2 didn't go as planned but Patrick was able to make a remarkable comeback and won A2 as well. Former national champion, Chris Bing finished 2nd, JConcets' Jader Lopez 3rd, Collin Hanna 4th, and Peter Galyean 5th.
Pro Ebuggy
It was an excellent 3-way battle in A1 of Pro Ebuggy between TLR/JConcepts' JR Mitch, Tekno's Joe Bornhorst, and Serpent/JConcepts' Griffin Hanna. It looked as if JR's race was over with a first lap crash that dropped him down to 12th. However, JR climbed his way back in the fight and battled for the lead on the penultimate lap. With a picture perfect pass going over crossover, JR took the lead from Bornhorst and then finished the race in 1st. Griffin Hanna would nearly miss out on 2nd and settled for 3rd in A1.
A2 saw another fierce battle out front with JR Mitch and Bornhorst swapping positions as the two would traded mistakes. Bornhorst took the win in A2 with JR 2nd and Hanna 3rd. Since the two drivers had equal points, the tie-breaker would decide the winner with JR Mitch having the faster run in A1, the win would go to JR Mitch. Bornhorst finished 2nd, Griffin Hanna 3rd, Serpent's Jason Schreffler 4th, and HB Racing/JConcepts' John McGinty III 5th.
Pro Nitro Buggy
The Pro Nitro Buggy race was an action packed 35 minute main event with HB Racing/JConcepts' Cole Ogden led early in the race, but with an unlucky flameout, Cole lost a lap and charged his way through traffic and chased down the new leader, TLR/JConcepts' JR Mitch. With a few mistakes towards the end of the race, JR Mitch settled for 2nd with Cole Ogden taking a hard-earned victory. Tekno's Mason Eppley made his first trip out to the Fall Brawl and walked away with 3rd on the podium just edging out Griffin Hanna by .3 seconds. Hanna took home 4th and a valiant effort by AE/JConcepts' Blake Pickett found himself in the top 5.
Nitro Truggy
It was lights out for HB Racing/JConcepts' Cole Ogden who had a convincing win in the Nitro Truggy class. Cole was on fire throughout the weekend showcasing his speed with his new HB Racing vehicles. Tekno's Mason Eppley and TLR/JConcepts' Spencer Heckert battled throughout the race with Mason finishing 2nd and Spencer 3rd. Rounding out the top 5 was Xray's Noah Dickerson and Mugen's Jake Stikeleather in 5th.
Pro Nitro Buggy A Main

Nitro Truggy A Main

Pro Ebuggy – A1

Pro Ebuggy – A2