Race Memories – Fall Super Cup Round 3 at Newred
The action-packed JConcepts Super Cup Championship Series made its way to Ocala, Florida last weekend to Newred Hobbies for round 3 of the 4 round fall series. This unique track is one of Florida's longest running indoor facilities and will celebrate 15 years of operation next year in 2018. With a history and heritage, Newred has also looked towards the future by evolving with new style wood/carpet jumps making track rebuilds much faster and easier without the need to shape jumps and move large piles of dirt.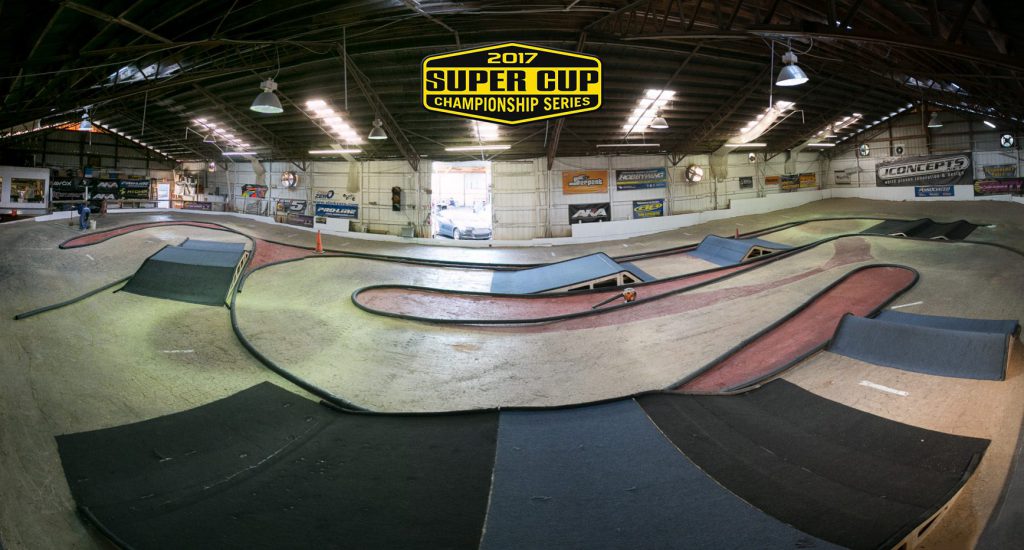 With the growing popularity of the Independent classes at the Super Cup, this ZERO sponsored driver's class has had a lot of interests and is looking to shape the future of racing here in the US. By splitting the 17.5 stock classes into an expert and independent class, we're able to showcase both kinds of drivers giving the non-sponsored drivers a place to mature and grow as a racer. Also, having a spec tire for the Independent class also makes the playing field fair for all participants. The added bonus is that a complete set of spec tires is free with entry making it more affordable and cost-effective for the newer drivers with no team discounts.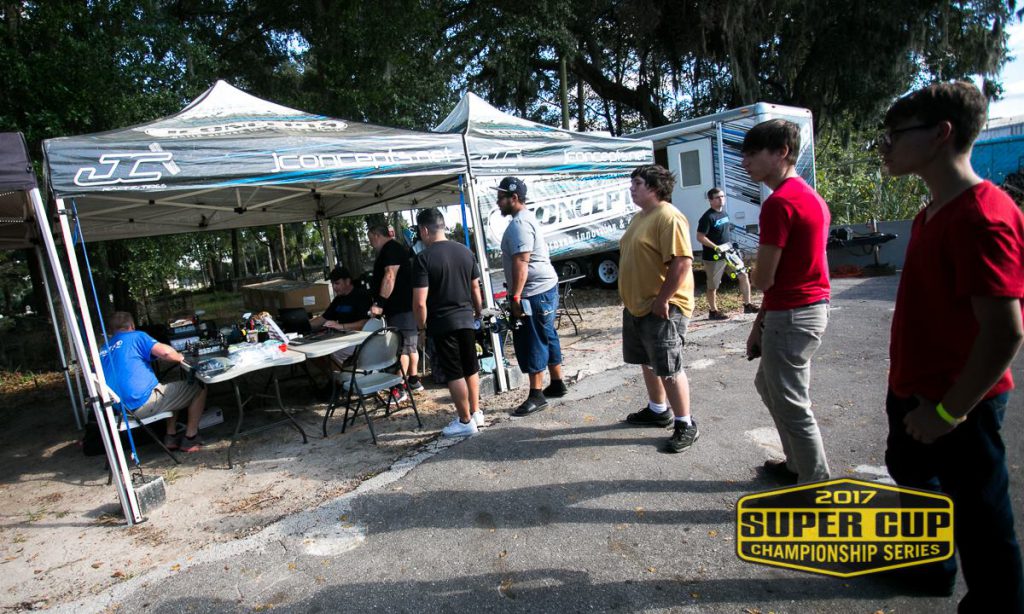 The layout for the Super Cup was simple, yet fast. This promoted close racing albeit the tricky high grip, sealed surface that requires slicks or semi-slicks for the fastest times. A nice feature about the wood jumps is the uniformity across the entire jump faces and landing zones allowing cars to catch air consistently without issues. With only 2 qualifiers and a single 5-minute main, the race day is compressed all into Saturday allowing a free day on Sunday.
Thanks to Tom and the crew for getting things ready and for all the hard work necessary to put on a terrific event. Also thanks to Lance McDonald for doing a great job on the mic and keeping the show flowing smoothly.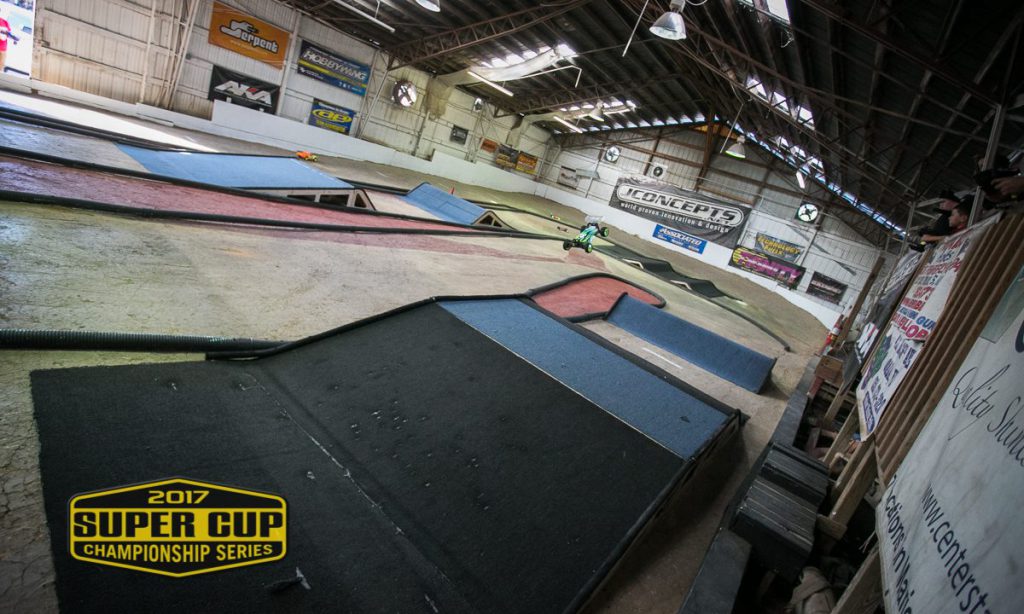 Novice
The Novice class was combined with the 4×4 SC and Monster Truck classes to allow all attendees a class to race in. Taking the win and shining in the Novice class was Taeylor Laforest, who has been improving with every Super Cup race. Matt Paulins finished 1st in the 4×4 SC class with Lucas Chaffin 2nd Bobby Lafrate 3rd.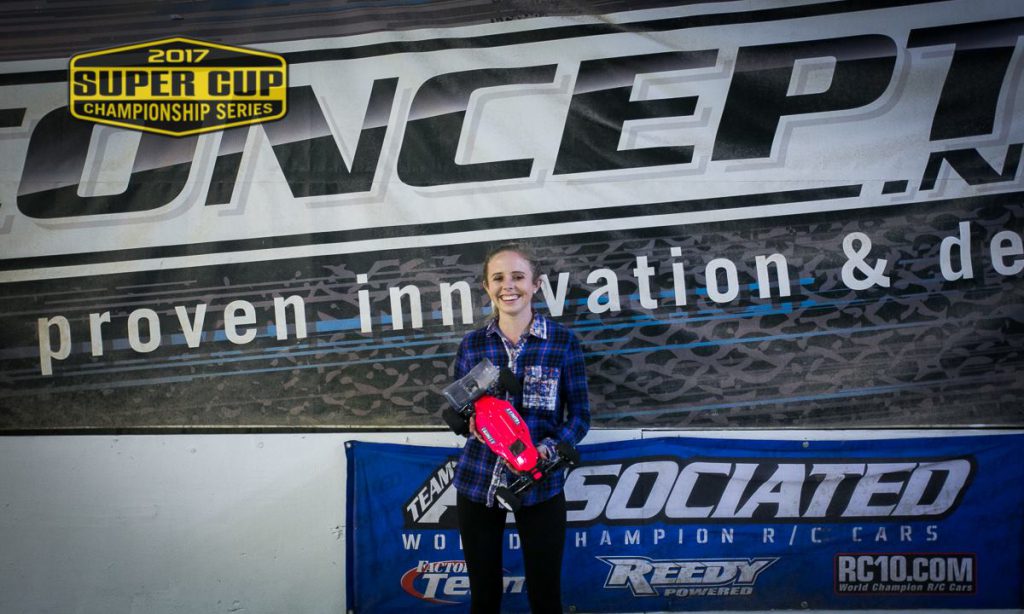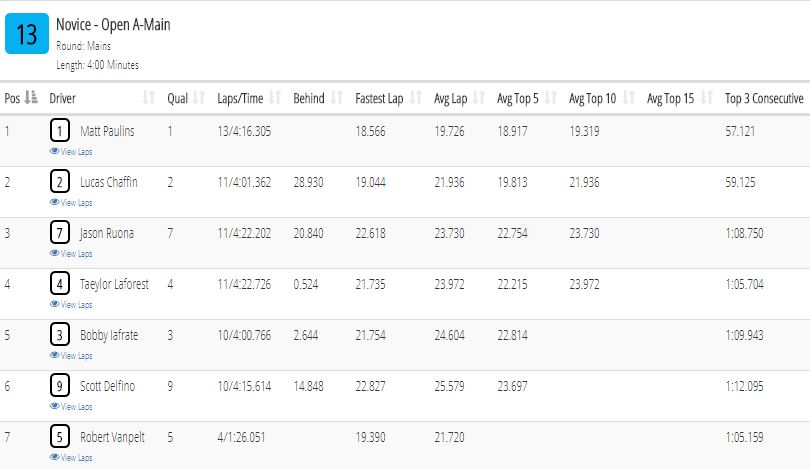 Independent Stock Short Course
The Independent SC class saw Scott Setser take a comfortable win over the competition. Meanwhile, Pat Mac and Cheese and Zachary Schmidt would duke it out for 2nd with Pat taking 2nd just 1 second ahead of Zachary. The Open SC class would also run with the Independent class as Vince McMahon would go on to take the win.
Independent Stadium Truck
It was a great race in the Independent Stadium Truck class with class TQ, Eddie Opel taking the win ahead of Thomas Andre and Jeffery Rhodes. Huge thanks for these guys coming out and taking part in the Super Cup Series.
Independent 17.5 2wd Buggy
Taking another commanding win in the Independent 17.5 2wd Buggy class was Ryan Harris. Ryan was able to set the TQ time and go on to win the 5 minute main with slick, smooth driving. Eddie Opel and Aaron Smith would battle for 2nd with Eddie crossing the line 1.8 seconds ahead of Aaron for 2nd.
13.5 4wd Buggy
With a wild start to the 13.5 4wd Buggy main, class TQ AJ Marasco had a lot of time to make up. This would give JConcepts' Patrick Rossiter Jr. a huge lead, which he converted into a big win. AJ would recover to put himself 2nd with Ryan Harris 3rd on the podium.
17.5 2wd Expert Stock Buggy
From tone to tone, AJ Marasco would lead the way in the 17.5 Expert 2wd class crossing the line 3.7 seconds ahead of 2nd place car, Alan Wight. Shooting up 5 spots from 8th on the grid, Justin Olds would find himself 3rd on the podium with superb driving.
Open Stadium Truck
Taking a big win in the Modified Truck class was Justin Olds, who drove a great race to finish himself ahead of RC America's Leon McIntosh. Leon finished 2nd with Kyle Paquett 3rd overall.
40+ 2wd Buggy
The battle in the 40+ 2wd Open class saw Jim Anderson take command during the main to cross the line 1st. Edwin Mctureous crossed 2nd and 6.3 seconds behind. JConcepts' Aaron Sikes was able to secure 3rd on the podium.
4wd Modified
It was a fabulous performance by AE/JConcepts Brett Kingsbury in the A final of 4wd Modified. Having TQ'd the class, Brett was under pressure for the entire 5 minutes with JR Mitch right on his bumper. The two would put on a great show with Brett taking the checkered flag, JR 2nd and .5 seconds behind, and Leon McIntosh 3rd.
2wd Modified
It was a perfect weekend for TLR/JConcepts' JR Mitch in the 2wd Modified class as he was able to set TQ and carry the momentum into the 5-minute single A-Main event. Having the luxury to start on pole, JR was able to set the pace and when 2nd place qualifier, Serpent's Billy Easton, made a mistake that dropped him back to 4th, JR was able to turn on the cruise control and run a safe pace to cross the line in 1st. With Billy dropping back to 4th, the battle for the podium was on. With a late race charge, Billy would climb his way back to 2nd and AE/JConcepts' Paul Wynn defended his 3rd place position from a hard-charging Leon McIntosh and make the podium.