Product Rewind: Winter 2020 Edition
Hard to believe that we are three months into 2020 already! We have released a ton of new products for many different segments of RC including electric and nitro off-road, dirt oval, drag racing, rock crawling and more! So to get you caught up on what's new from the JC crew, please take a look at the Winter 2020 edition of the Product Rewind!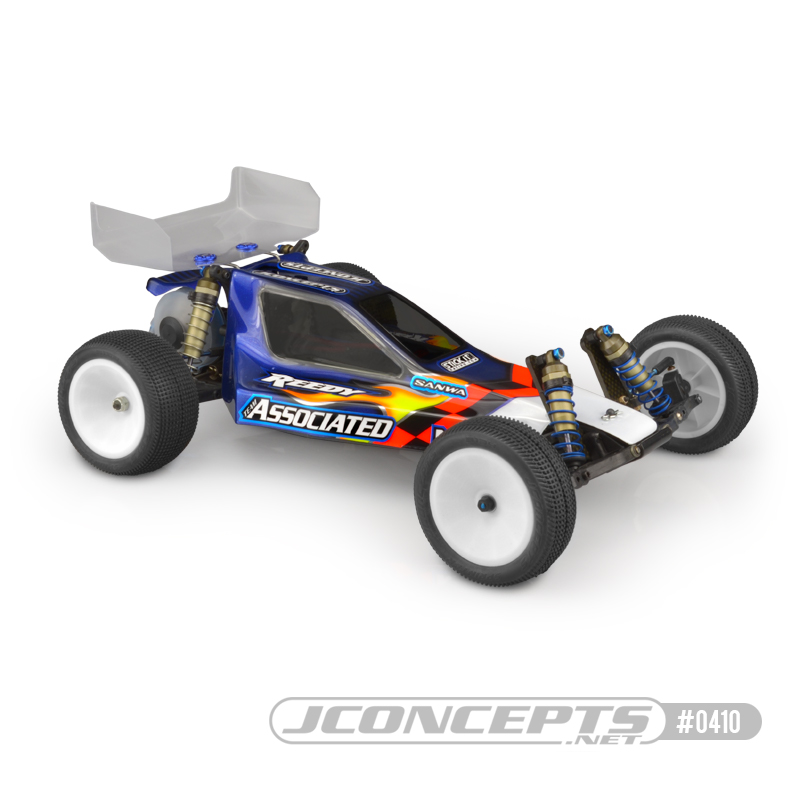 Clear Body For The Team Associated RC10B3
Kicking off 2020 was a body straight out of a 1997 time capsule. With approval from Team Associated, JConcepts is now offering the classic RC10B3 clear body shell to multi-generational drivers. This body uses the same feature designs as the original production body that ended up being used by legendary drivers like Masami Hirosaka and Mark Pavidis to just name a few. This body is a perfect drop fit for the 3rd generation RC10 and will be a hit for any vintage racer or a collector try to restore a shelf queen build.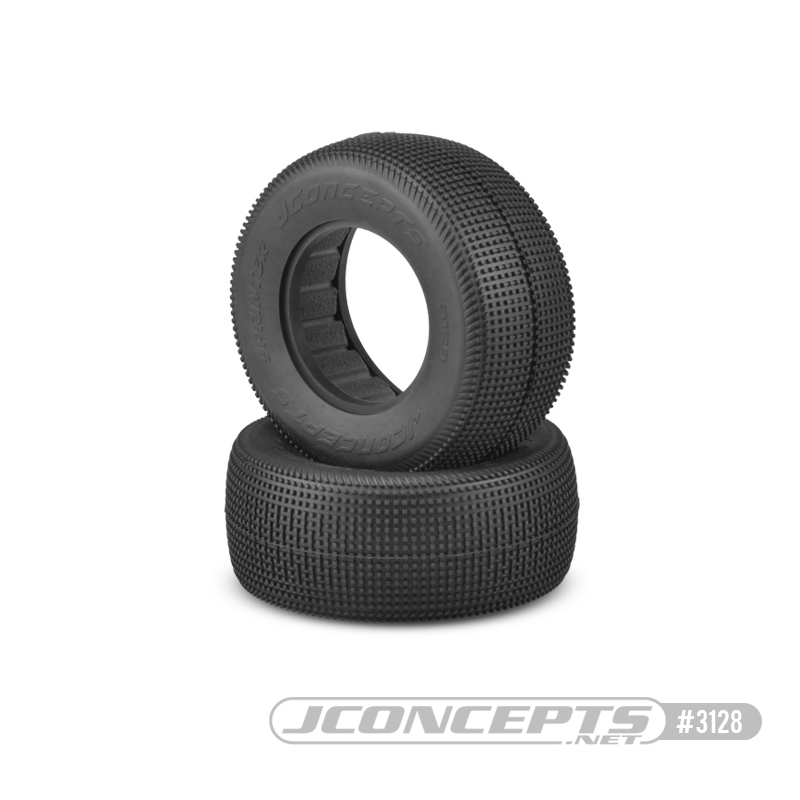 The Sprinter tire was released in 2019 and was an instant hit in the Dirt Oval scene. Now this winning tire design is available in the industry standard 3.0″ x 2.2″ dimensions for short course truck based vehicles. They still features the same winning details like angled outer sidewall pins and square horizontal traction bars.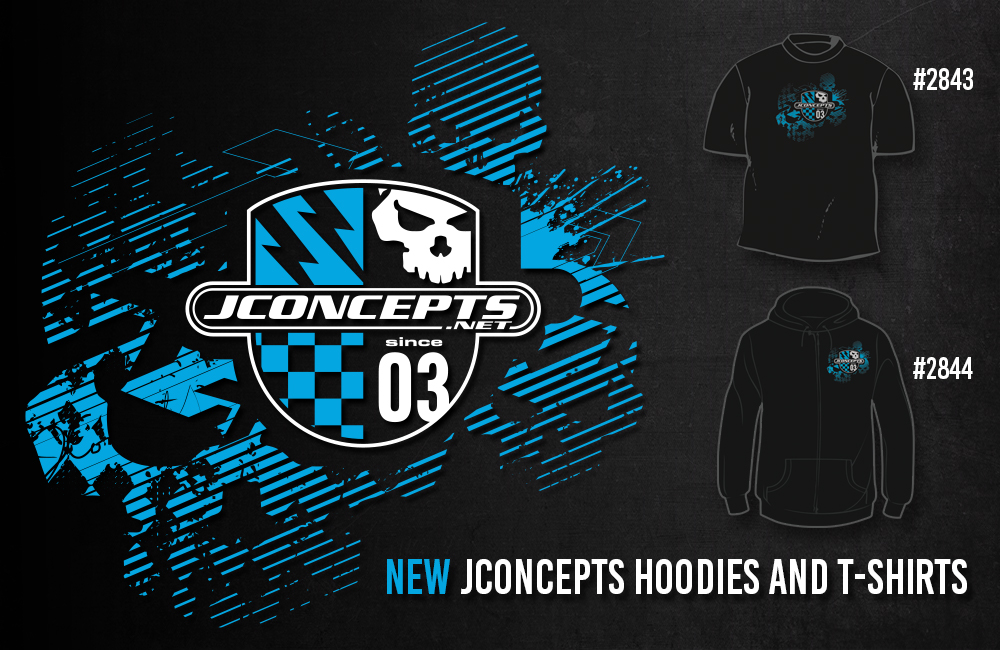 A new year means new threads for JConcepts fans everywhere, so let's take a quick look at each item.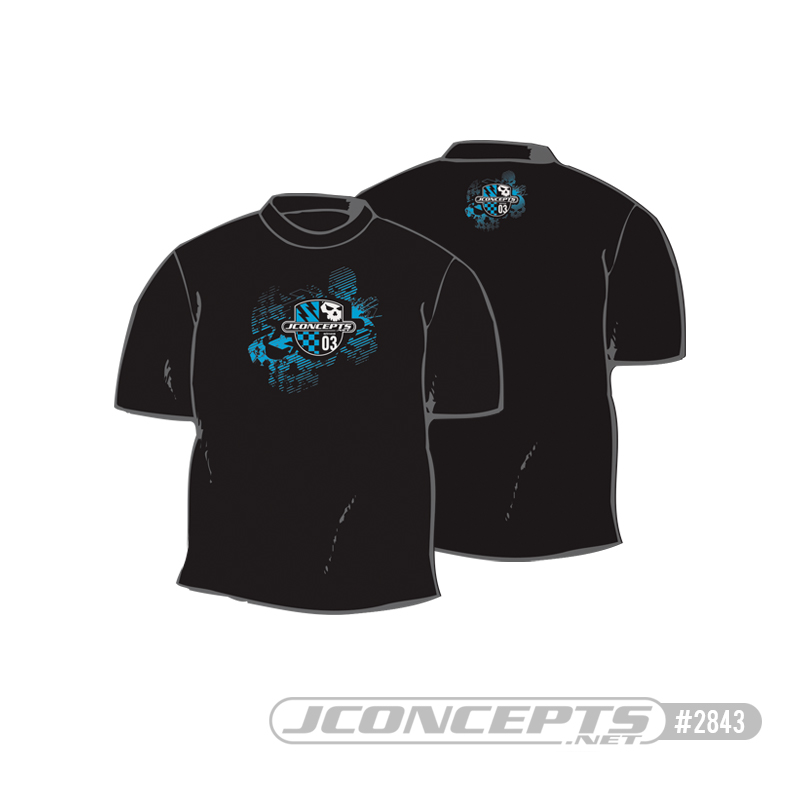 This black, short-sleeve t-shirt features the latest version of the JConcepts lightning bolt shield logo on the front with a smaller rendition of it located on the neck area on the backside.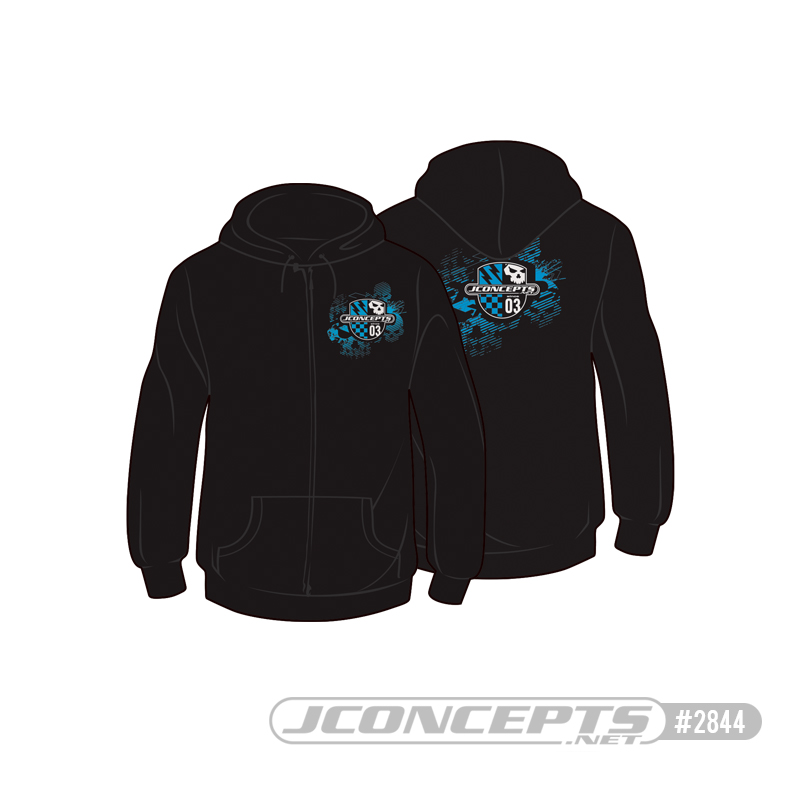 If t-shirts aren't your thing, then check out the latest hoodie from JConcepts. This sweatshirt features the same JConcepts lightning bolt shield logo on the front with a larger squarely planted on the backside. A metal zipper runs the entire length of the front with pockets located on each side for easy access.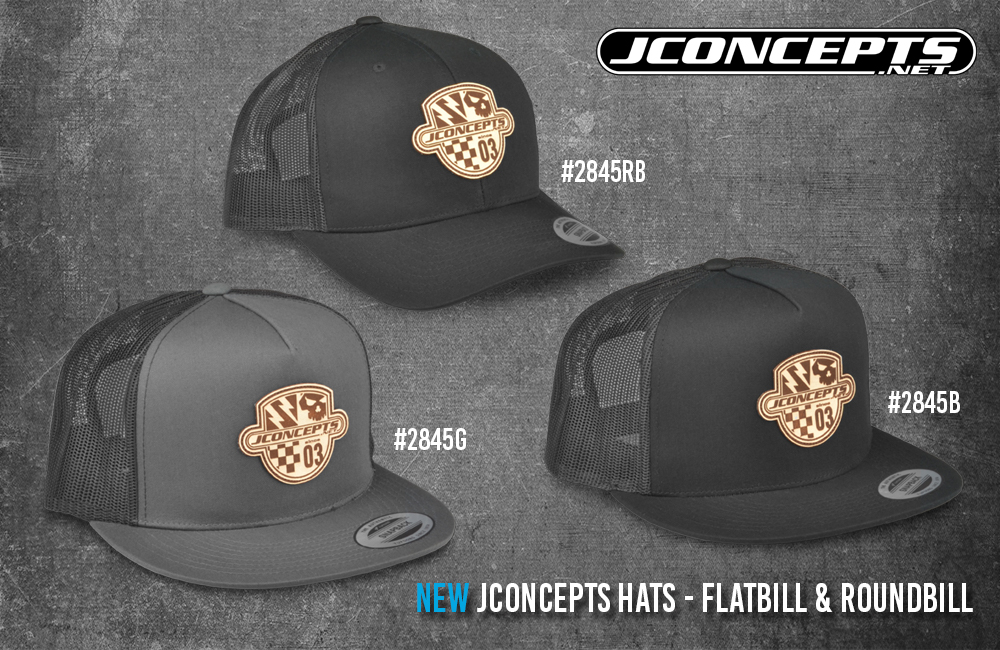 For this year JConcepts is not offering 1, nor 2 hat options, but instead 3 different lids of your choice! Each one features a brown, leather version of the JConcepts lightning bolt shield logo on the front with an adjustable snapback in the rear. All 3 hats use a "trucker hat" design with a black, mesh covering the back half of the hat. The all black hats are available in either a rounded or flat-bill configuration while the gray version is currently only available as a flat-bill.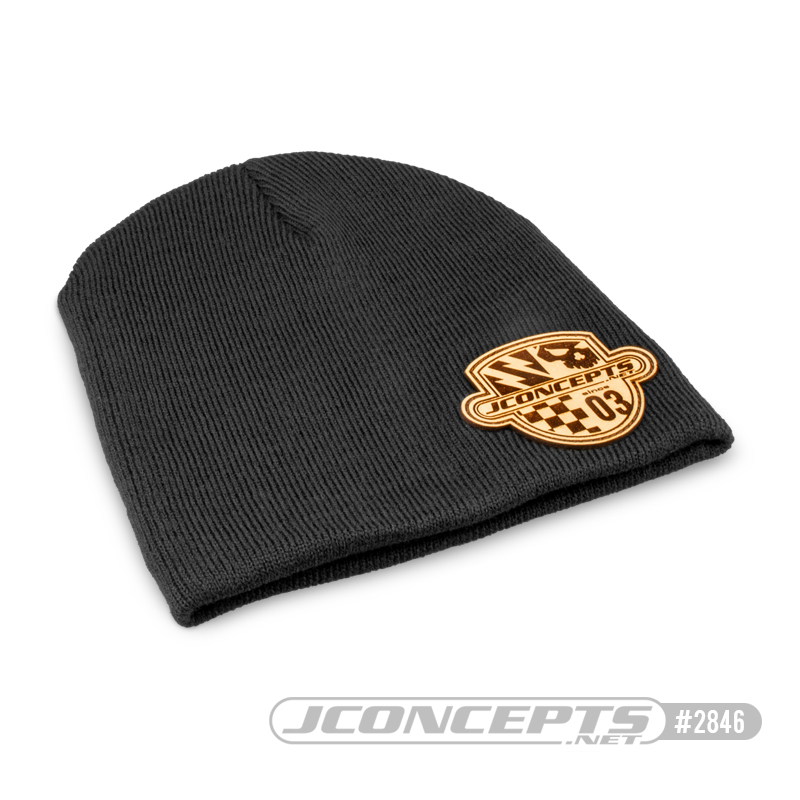 Finishing off the Destination line for early 2020 is the Destination Knit Beanie Cap. This one size, fit most cap will keep your dome warm when traveling to and from the track, or when are you marshaling those long 45 minute nitro mains in cold conditions. It features an official leather etched version of the JConcepts lightning bolt shield logo and is manufactured from durable material.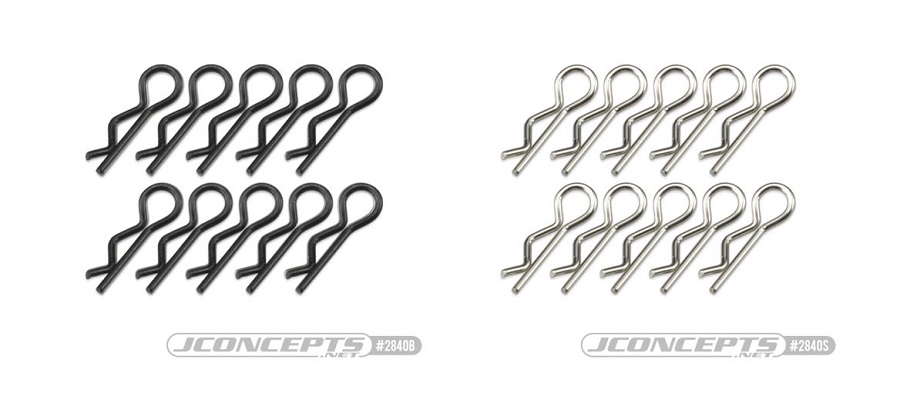 What good is a body if you don't have a way to secure it right? As usual JConcepts has you covered with the new compact, angled body clips. Available in either silver or black color options, these clips are sold in packs of 10 and feature a small bend on the "ring" side to aid you with the removal from the body. They fit a variety of popular vehicles out on the market today from such companies as Team Associated, TLR, Axial, and Traxxas.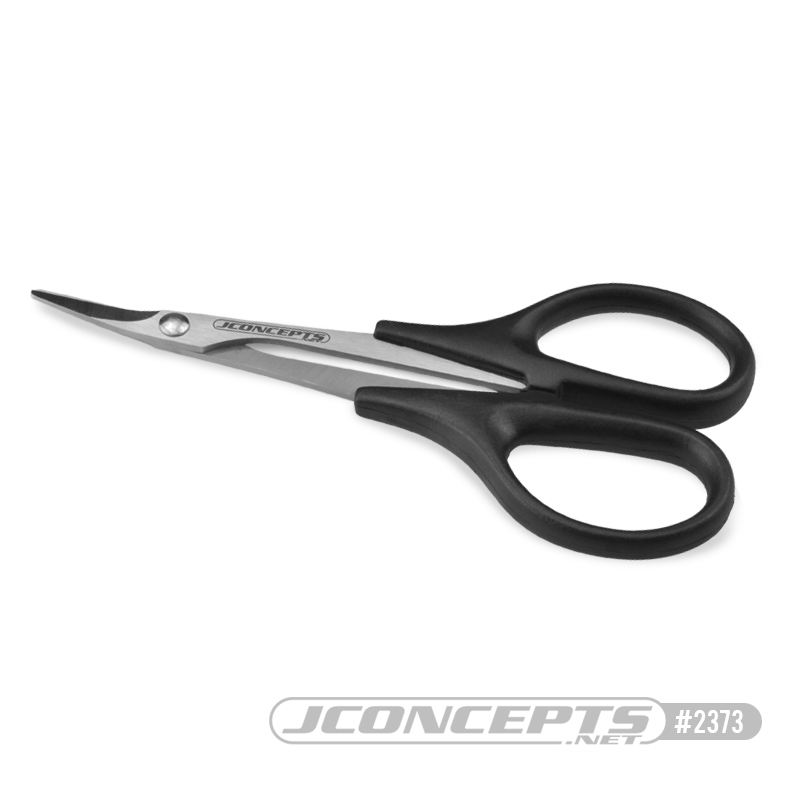 These scissors are comprised of two stainless steel blades with a slight curve to them. Etched into one of the blades is an authenticate JConcepts logo and the blades are wrapped in black ergonomic handles. The curved blades will come in handy when trimming out lexan bodies especially in the wheel wells, but they can also be used to cut soft plastic, soft rubber, fabric & thin paper products. You can cut into harder materials but this will shorten the life of the blades.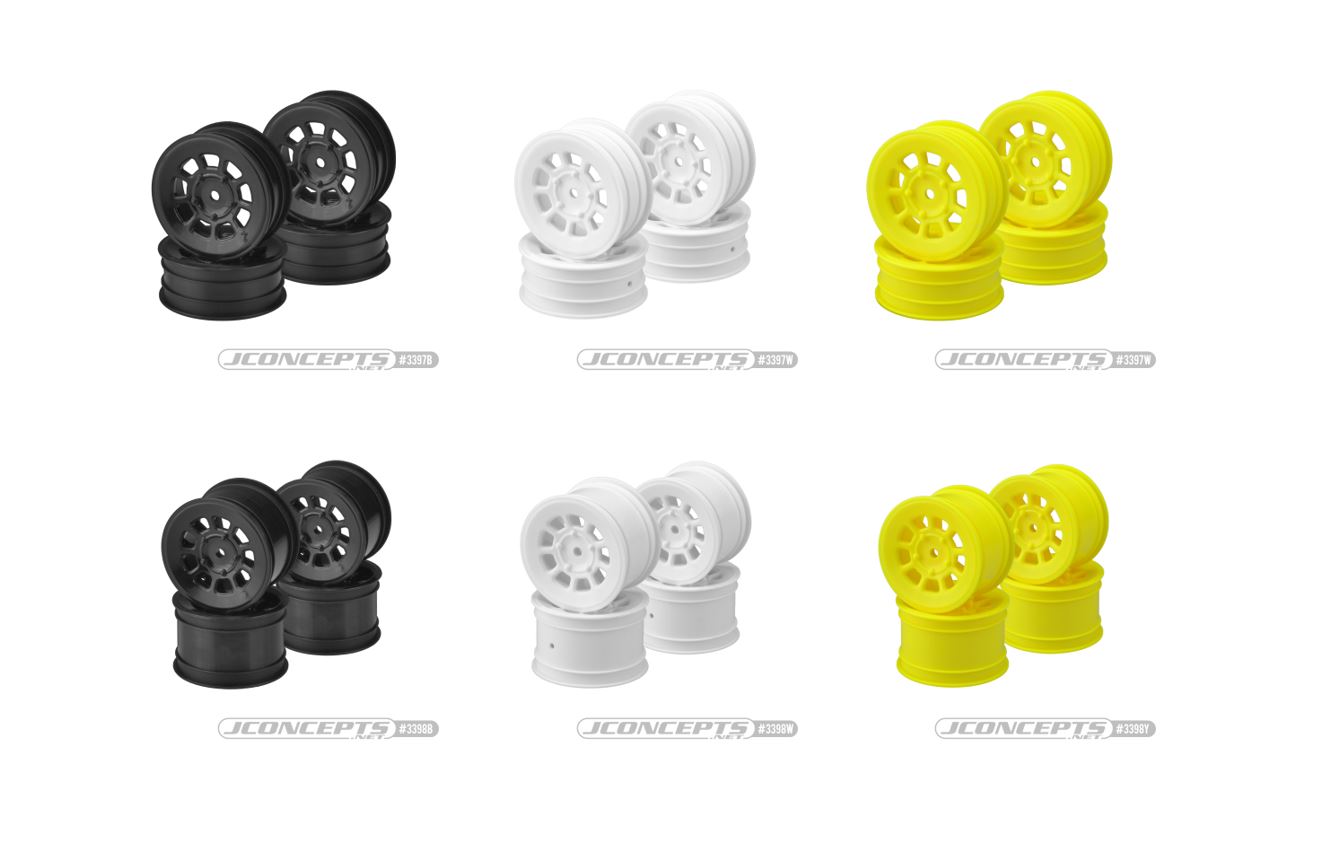 9 Shot 2WD Buggy Front & Rear Wheels
The new 9 shot wheels are available in black, white or yellow color options and include 4 front or rear wheels per package. This new 9 spoke design is inspired from full size vehicles and use a 2.2″ mounting diameter. On the front there is a mock 5 lug nut bolt pattern for added scale realism and on the backside is an industry standard 12mm hex which means they are compatible with numerous 1/10 2wd vehicles. They are the perfect addition for any 1/10 off-road or dirt oval racer so pick your up today!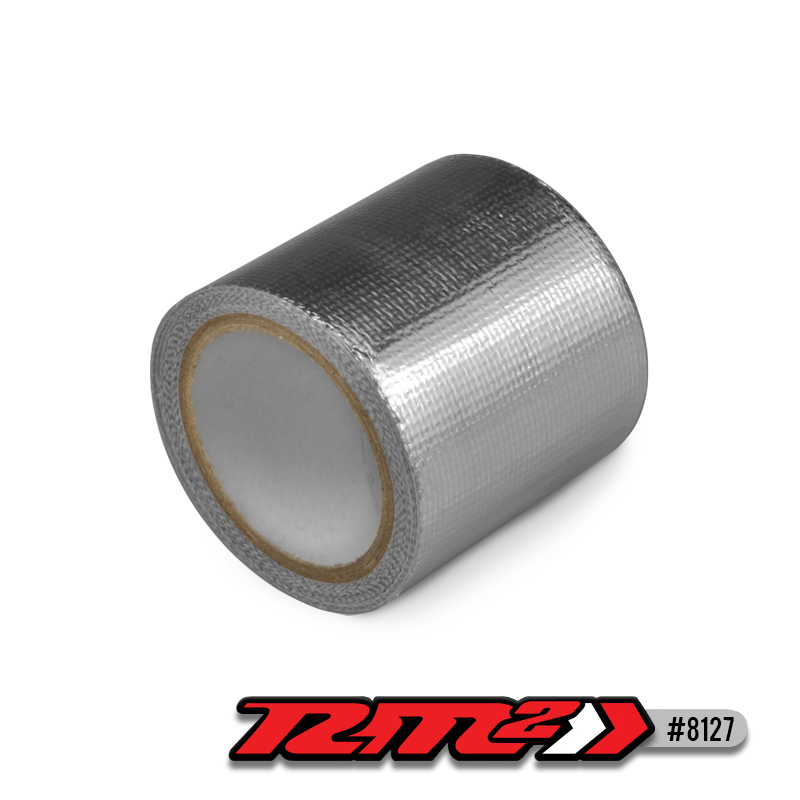 This adhesive tape is comprised of aluminum with a fibrous mesh which helps to make it friction and heat resistant. It can be used to protect the underside of your RC body to protect that expensive paint job from scratches, rub marks, nitro fuel, or anything else that needs some reinforcement and protection.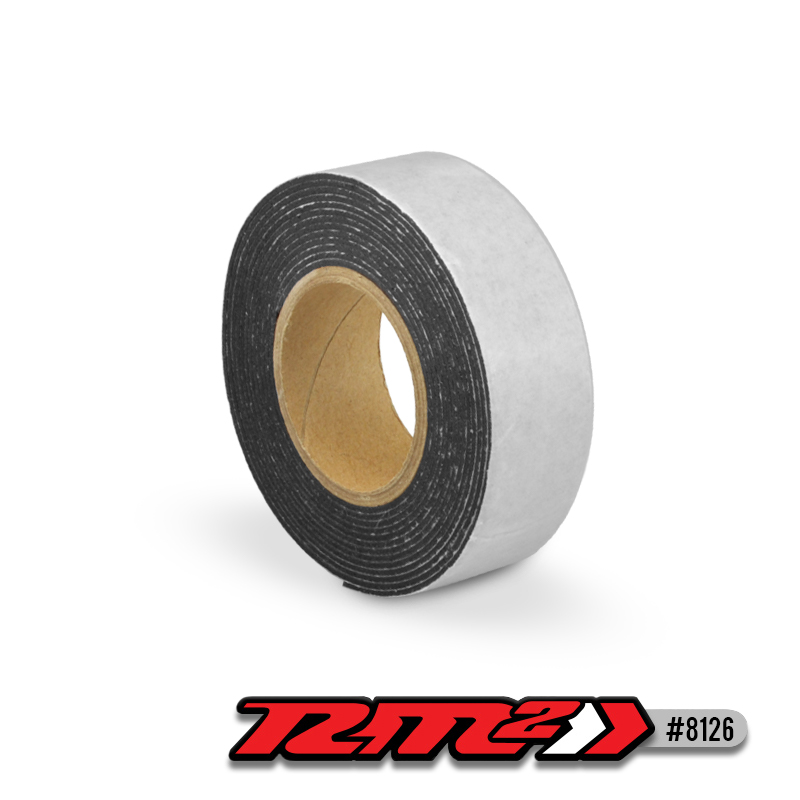 RM2 Double Sided Heat Resistant Tape
This doubled side tape is perfect for securing your electronics or anything else that you want to lock into place on your RC ride. This tape is also heat resistant and comes in a generous roll that is 20mm wide and 2m in length.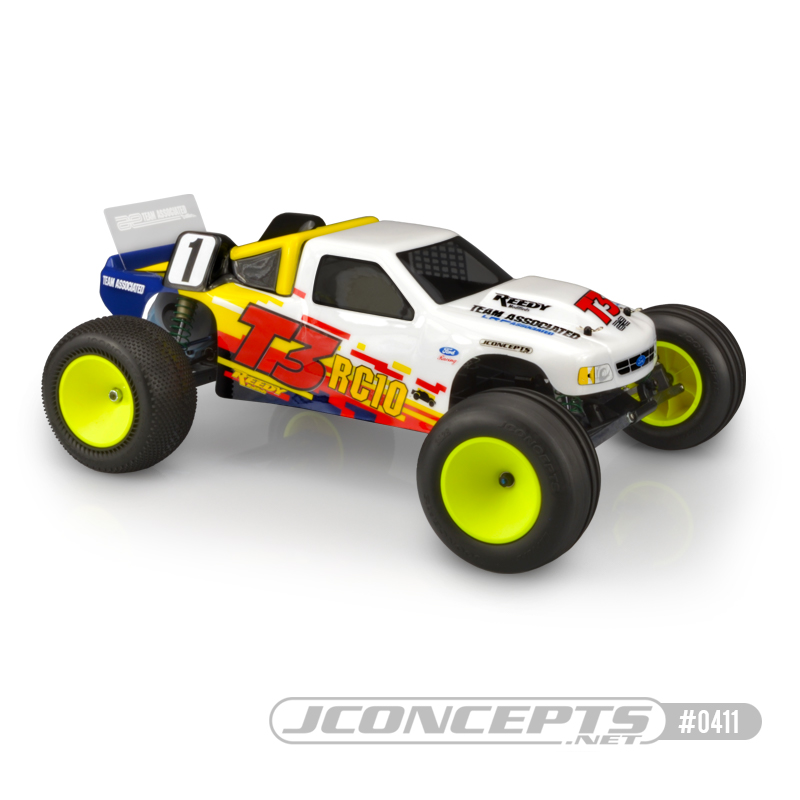 Authentic Body For The Team Associated RC10T3
Also available now for vintage truck fans is this clear body for the RC10T3. Using the original Team Associated mold, JConcepts has reintroduced this classic body to the RC scene while keeping faithful to the original styling and features. A rear spoiler and window masks are included, but do note that is does not come with a vintage decal sheet.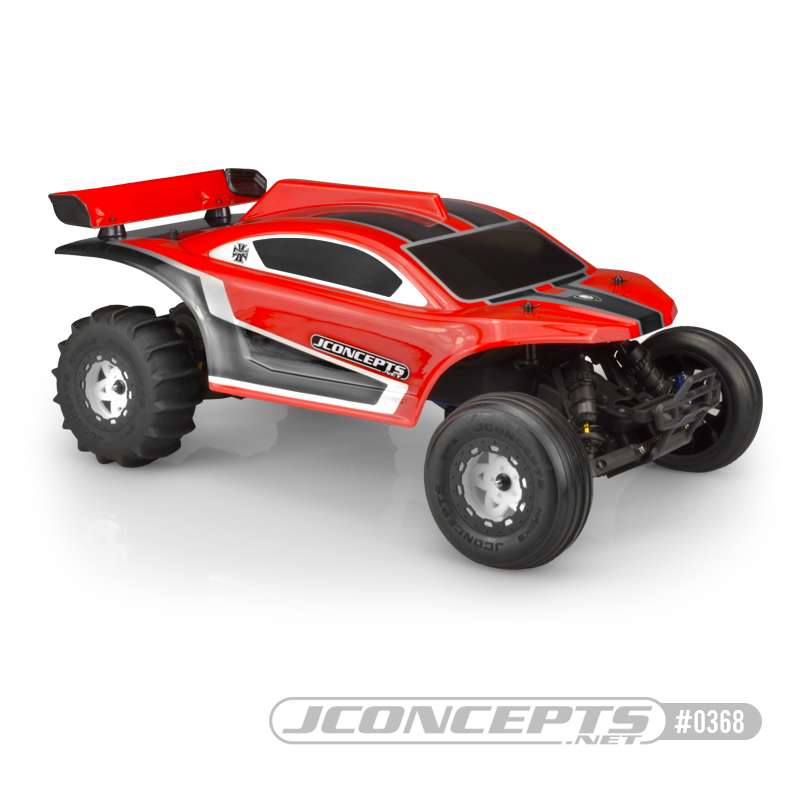 BAJR V2 Sand Rail Clear Body For The Traxxas 2WD/4WD Slash
Building on the success of the previous release, the new BAJR (pronounced Badger) V2 clear body is the perfect edition to any Traxxas Slash 2wd or 4wd owner. From the distinctive rounded cab look to the pronounced roof stabilizing fin, this body will be a hit on dirt, desert terrain, or anything in between. A rear wing with mounting hardware is included along with window masks and a decal sheet.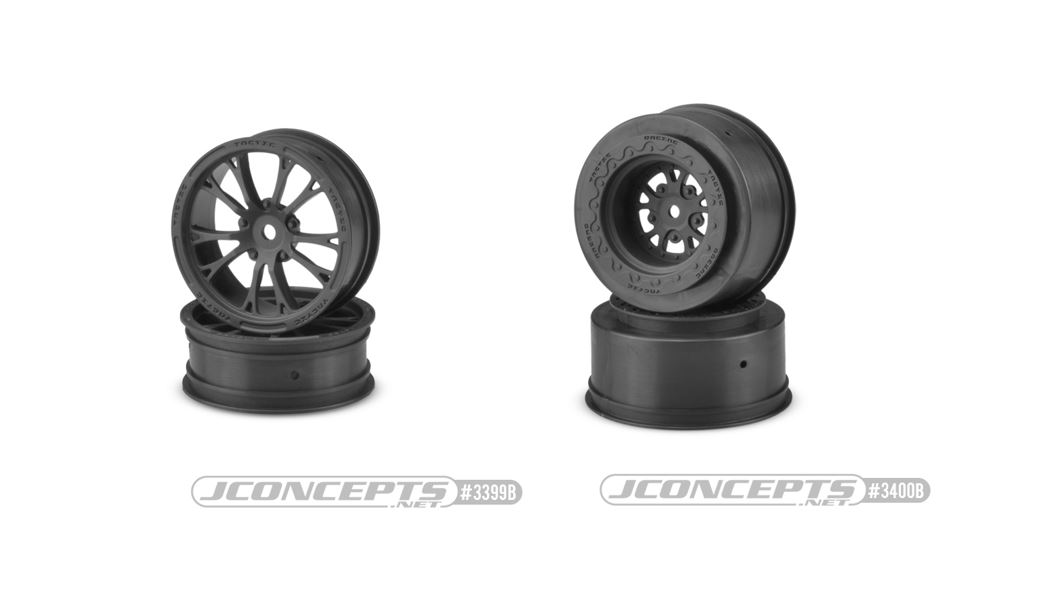 Tactic Street Eliminator Wheels
The RC Street Eliminator drag class is moving fast and once again JConcepts hit the finish first with another great offering for this growing segment of the RC community.
The Tactic rear wheels are available in a black color option and sold in pairs. Inspired by 1:1 designs, the rear Tactic wheels feature a mock bead lock and lugnut design and use an industry standard 12mm hex design. They are also compatible with your common short course tire design (2.2″ x 3.0″) and use a one piece design to simplify the mounting process.
The Tactic front wheels are also available in black and sold in pairs too. They will mount up with nearly every front 1/10 2wd buggy tire on the market thanks to their 2.2′ mounting size. They also feature full scale inspired spoke design and also incorporate a mock lugnut design.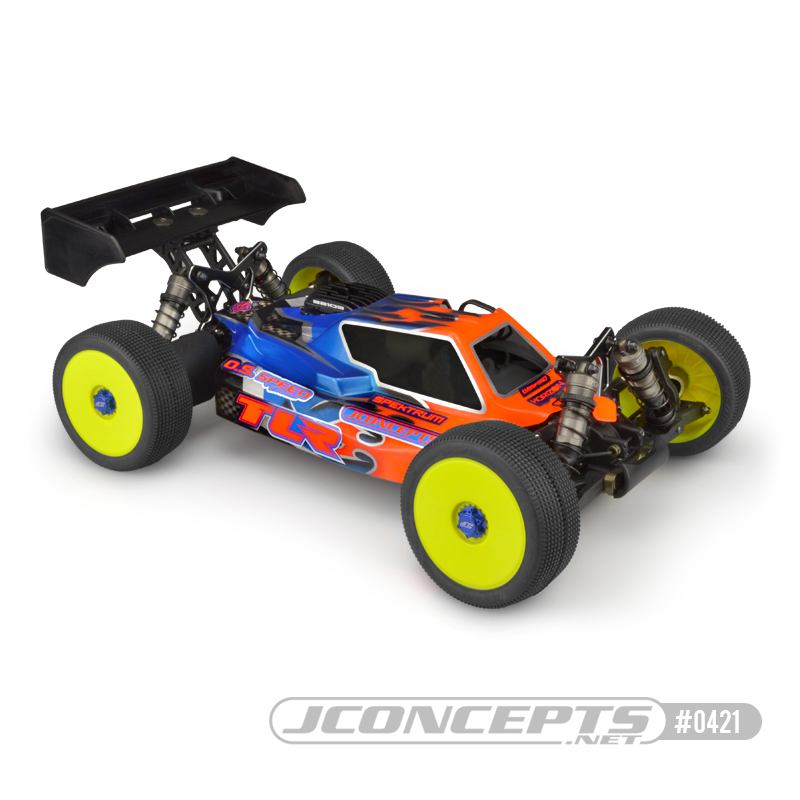 This new clear Punisher body for the TLR 8ight-X Elite features a broad cab that is placed forward right behind the body mount and front shock tower. A "shark fin" is centered on the roof line which will aid in tracking stability and adds style to the overall look. It also uses a low side-pod layout and rear winglets right behind the engine's heat-sink to aid in downforce. It also comes with window masks and a decal sheet.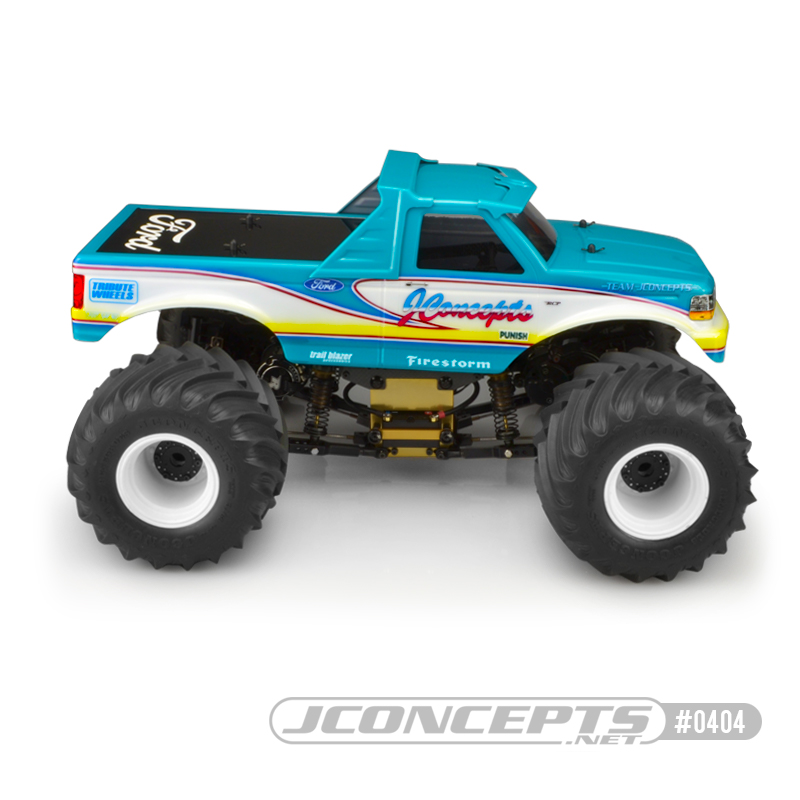 1993 Ford F-250 Clear Monster Truck Body
For monster truck fans, JConcepts now offers this official licensed 1993 Ford F-250 clear body. This body will fit a variety of RC monster trucks like the popular Tamiya Clod Buster or any vehicle with a 13″ wheelbase. A detailed Ford decal sheet and window masks are included along with a attachable Fastback and visor accessory.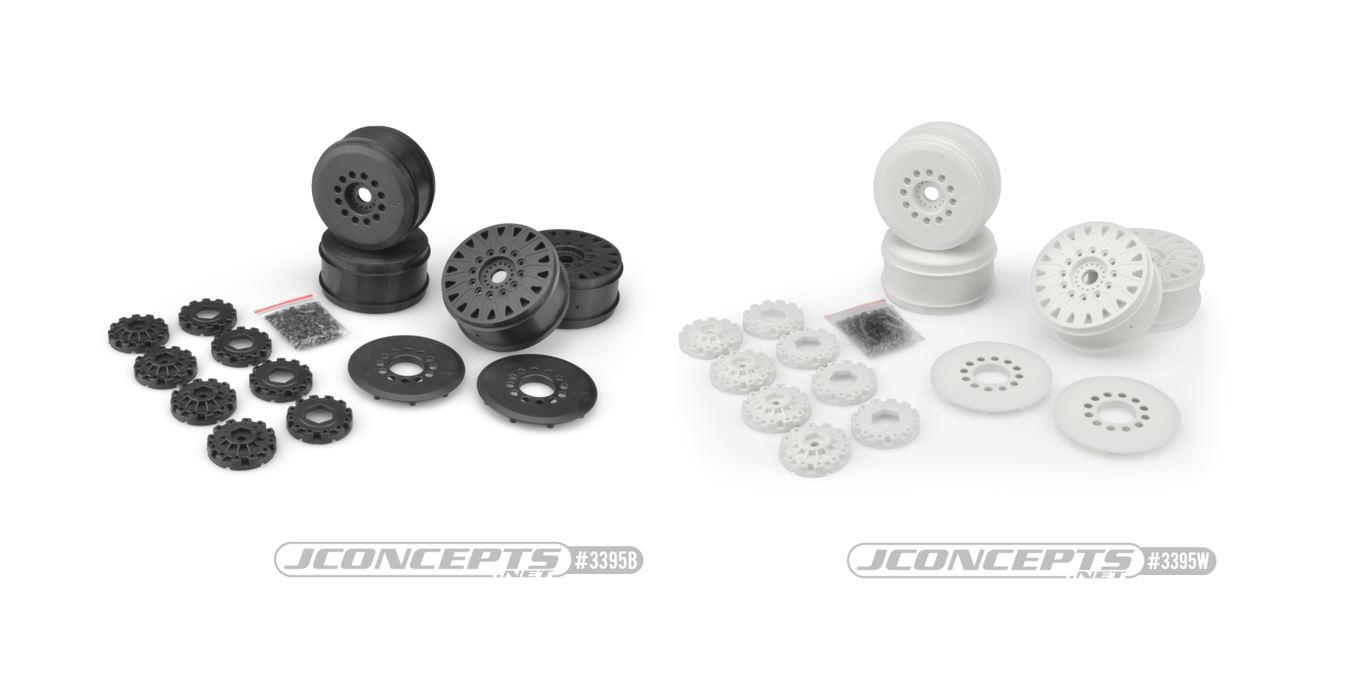 For drivers looking to break speed records this summer they will want to pick up the new Cheetah 83mm Speed-Run Wheels from JConcepts. These newly designed wheels offer an adjustable 83mm outer diameter and include both 12 and 17mm hex adapters that are interchangeable. These wheels were designed around the upcoming JConcepts Speed Fang belted tires but can also be used with many popular speed-run or 83mm bead mounting diameter tires on the market currently. These wheels also offer you a few different appearance options since you can switch from the standard spoke look or use the included dish covers, and they are available in either black or white.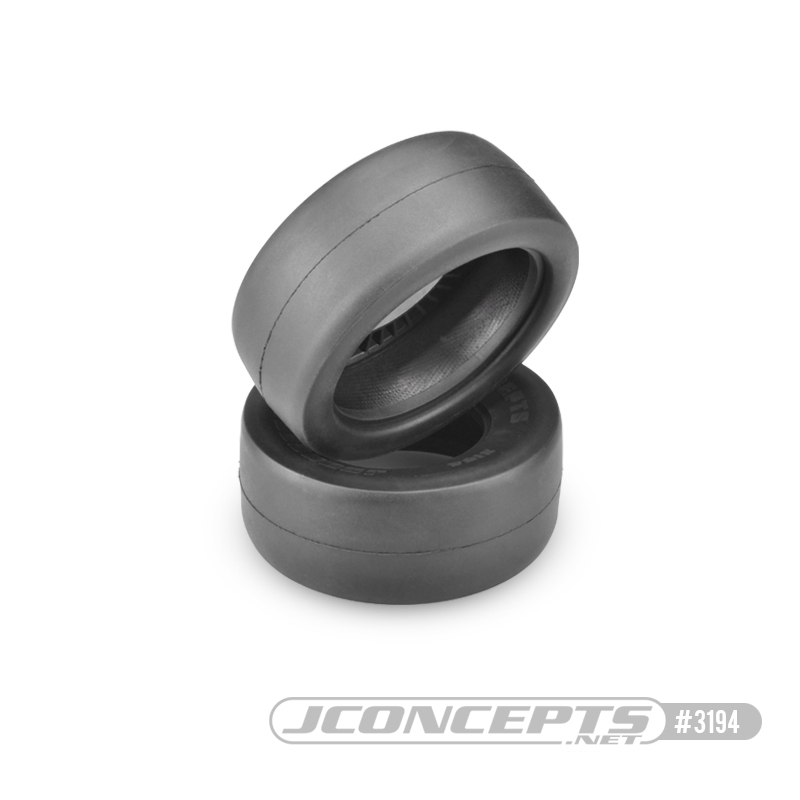 Hotties Tires Now Available In Belted Version
The popular Hotties drag racing tires are now available in a belted version. These updated tires now feature a integrated fibrous and woven belted material that is submerged into the rubber compound. They also still use a wide-body footprint to aid you in tracking stability and still appeal to racers and spectators alike with their scale looks.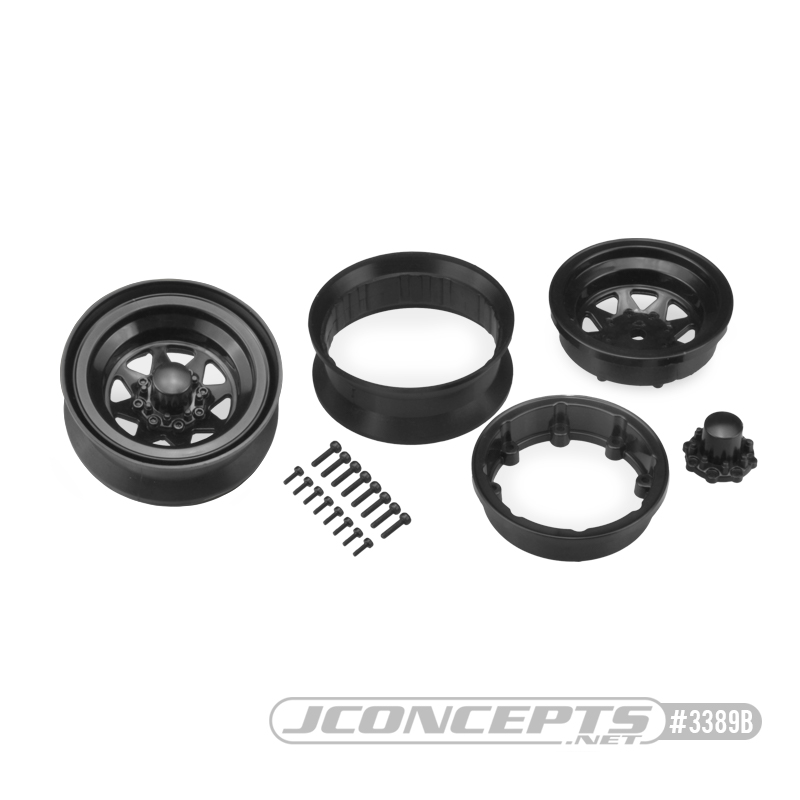 These new beadlock wheels are the perfect addition to any scale build that is eager for that raw muscle look of the 70's and 80's. The new Colt wheels use a 8 spoke "wagon' design and are compatible with 1.9" tires. These also use an industry standard 12mm hex design and are assembled from the inside out. Place the inner pinch in the center and then using the provided screws attach the outer and inner pieces of the wheels to lock your rubber in place. Then finish off the look by attaching the included center cap which will cover the mounting screws and add to the realism.
Finnisher Mini-T 2.0 Clear Body
The Losi Mini-T is back and this time around drivers can pick up a JConcepts Finnisher inspired body for it. This clear body is a direct replacement for the stock body and comes with pre-dimpled location to help you mount it. Don't let the size fool you as it is packed full of features like a front hood scoop, optional air-escape passages that can be removed, and heavy bracing between the back of the cab and rear shock tower humps to increase its durability. It also comes with a rear spoiler (make sure to trim it out from the main body before painting), window masks, and a Finnisher decal sheet.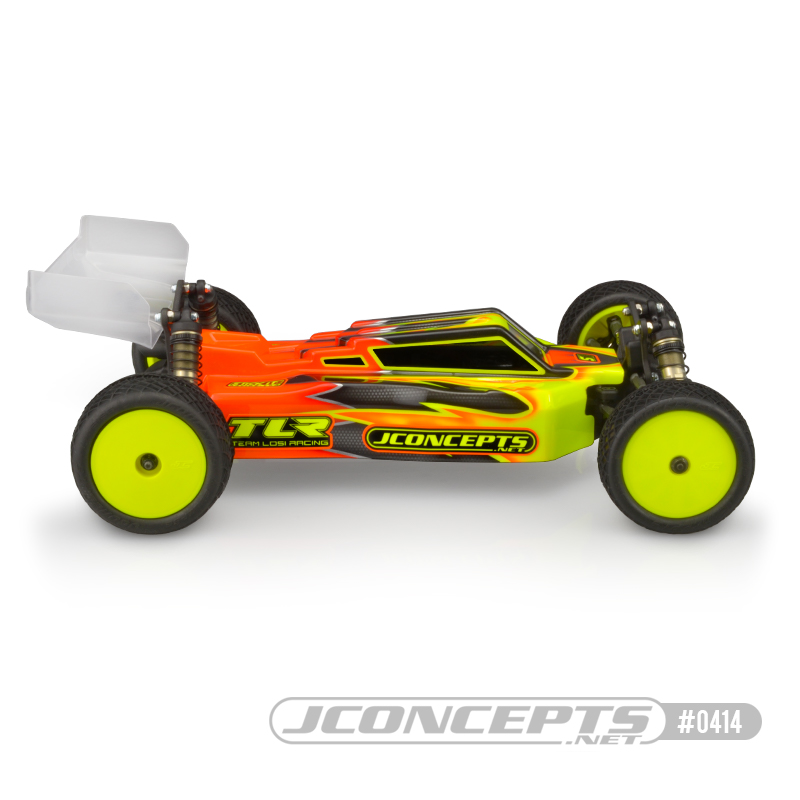 F2 Clear Body For The TLR 22X-4
The popular F2 body is now available for the new TLR 22X-4. This drop fit clear body is already a proven winner on the track in the hands of Dakotah Phend who took wins at the 2020 CRCRC Winter Midwest Championships, JConcepts Winter Indoor Nationals and Desert Classic. The front of the F2 incorporates the Finnisher body styling with a step down treatment for that unique look while the rear of the cab features the Finnisher V-step which makes room for an additional secondary side window. The body also includes two Aero, S-Type rear wings which are also sold separately (0193) too.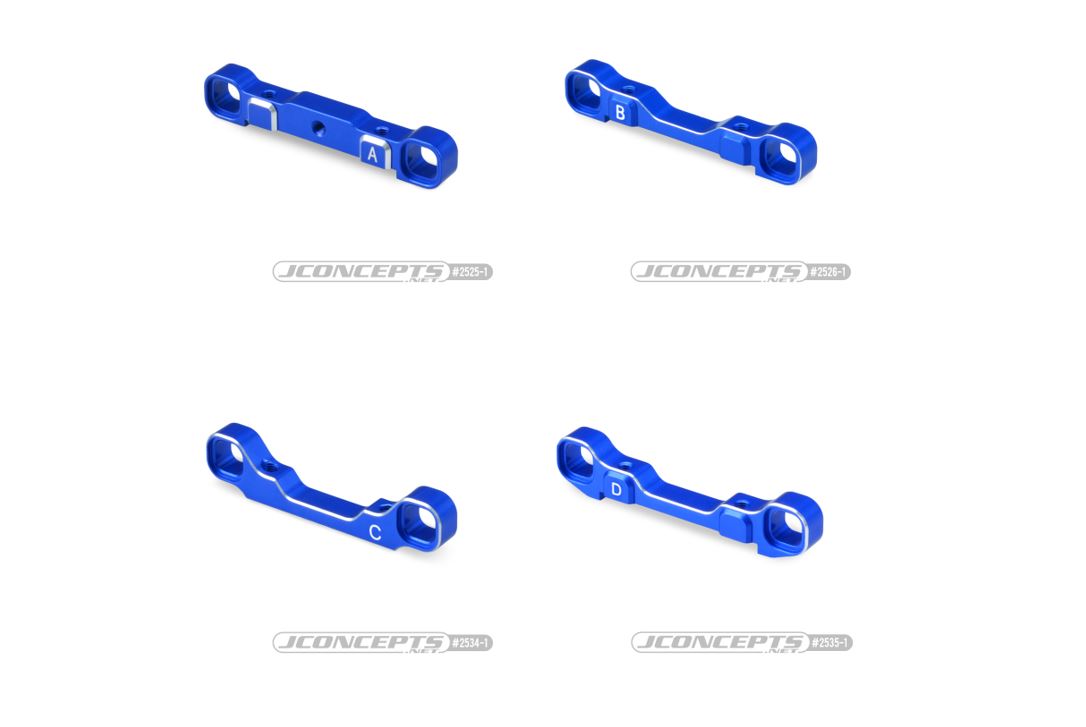 B74 Aluminum A/B/C/D Arm-Mounts
JConcepts continues to build on the winning B74 platform by now offering these aluminum arm-mounts. Each one is crafted in precision machined aluminum and anodized in blue. Chamfer highlight edging is featured on each mount along with an identifying letter so you can quickly recognize each block. Each one will accept the standard Team Associated pill inserts so you can still adjust your wheeler's toe-in, anti-squat and wheelbase.
1967 Chevy Camaro Street Eliminator Clear Body
For all you muscle car fans that have a need for speed, JConcepts has released the 1967 Chevrolet Camaro clear body for the Street Eliminator racing scene. This body will fit a 13″ wheelbase which is common for 2wd SCT custom builds with a narrowed front end that uses 2wd buggy arms. It is also a drop fit for the new Team Associated DR10 vehicle too. This is an officially license body that provides different grill options thanks to the included decal sheet, a two-piece rear wing, and the rear end design will allow for many wheelie bars and aftermarket speed option parts.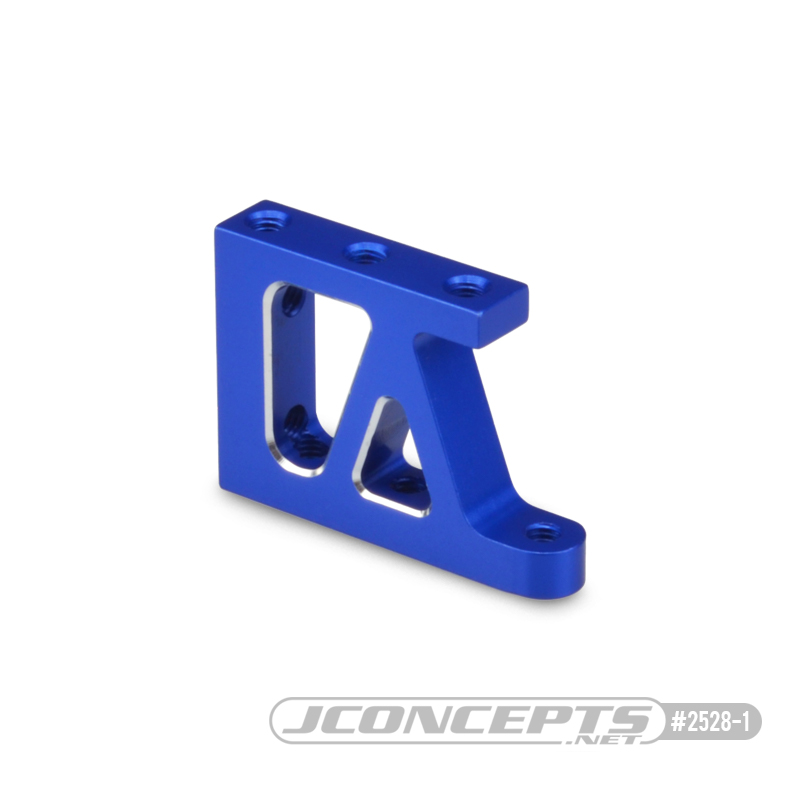 B74 Aluminum Floating Servo Mount
Following up on the aluminum arm-mounts, JConcepts released an Aluminum Floating Servo Mount. This is constructed from precision machined aluminum and is anodized in blue. Sparkling silver chamfering highlights the edges and despite its lightweight design this offers a driver durable design. Mount this up with the stock servo plate or the optional JConcepts hanging servo mount plate (not included #2519) for that factory fit and finish.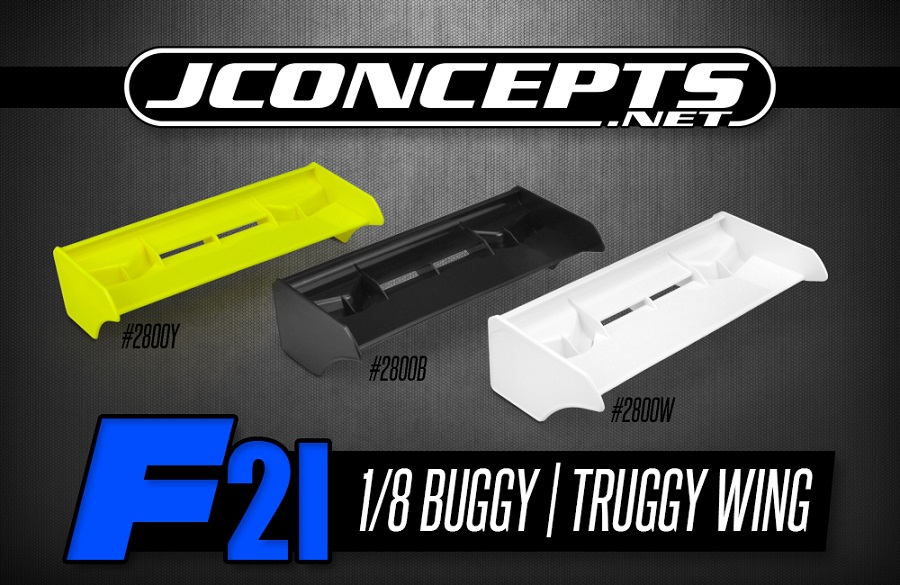 JConcepts F2I 1/8 Buggy/Truggy Wing
For 1/8 drivers looking for that extra edge with some flair than look not father than the JConcepts F2I rear wing. This 2nd generation Finnisher wing is is IFMAR legal and 5 individual dividers have been designed to run along the length of the wing. These will aid a driver by adding more straight-line stability and they also connect the lower and upper decks of the wing. It debuted which much success earlier this year at the Dirt Nitro Challenge with team drivers Dakotah Phend and Seth VanDalen TQing the Electric and Nitro Buggy classes and was also used by Ryan Maifield in his win in the Nitro Truggy class.
JConcepts F2I 1/8 Buggy Wing Polycarbonate Center Divider
Another tuning option designed for the new F2I wing is this Polycarbonate Center Divider. This clear divider can be trimmed to a driver's desired height to suit the current track conditions. Just follow the cut lines molded into it, align it to your F2I wing that is already installed, and then ream out mounting holes so it is a perfect fit. This has already been tested and proven on the race track by team drivers Spencer Rivikin at the Dirt Nitro Challenge and Jackson Brunson and Julien Oliveras at the inaugural BuggyMania.
JConcepts 1955 Chevy Bel Air Drag Eliminator Clear Body
Later in March the JConcepts drag team released this 'bad to the bone' 1955 Chevy Bel Air clear body. This officially licensed body is must have for the street eliminator class and will be a crowd pleaser for sure. It will fit an assortment of short course truck based drag builds and includes a two piece rear wing and decal sheet.
JConcepts B74 Blue Aluminum Rear Hub Carriers
JConcepts continued to release new option parts for the B74, but this time for the rear hubs. This critical component of every RC car not only houses the rear drive axles but it also can be used to adjust a car's setup. The JConcepts aluminum hubs are precision machined to sync up with the Team Associated hub inserts and aluminum camber mount links. These aluminum hubs will help to maintain the correct geometry and each package also includes two .1 and .25mm axle shims. These shims will help to shrink down the spacing between the drive axle and bearing once they are assembled together. Currently these are offer in blue anodizing with chamfer highlight edging.