Product Rewind: Spring 2020 Edition
We are over halfway through 2020 and even though the race scene was pretty quiet for a few months due to the pandemic, other segments of RC have been in full swing. We have continued to put out products for RC enthusiasts across many genres and here is a quick recap of some of the latest gear in case you missed it!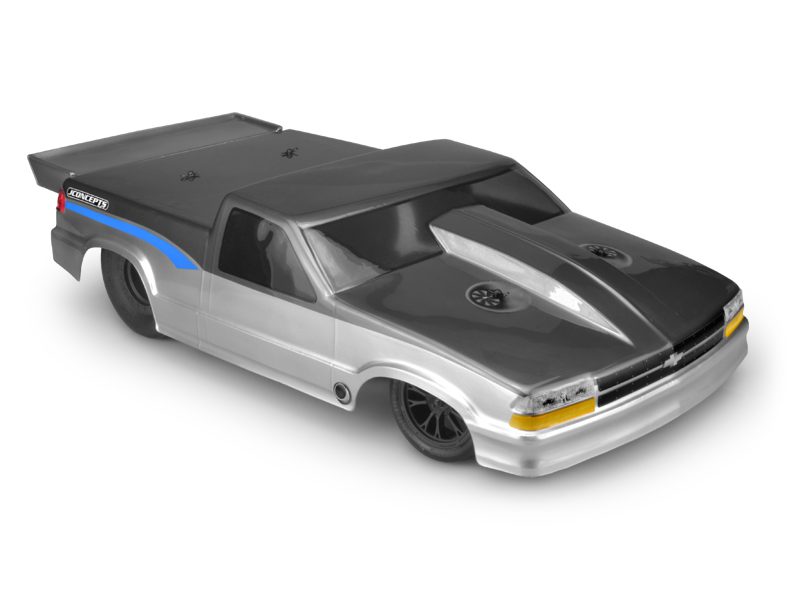 2002 Chevy S-10 Drag Truck Clear Body
Kicking things off is the one of the latest truck bodies for Steet Eliminator enthusiasts. This officially license body includes a detailed S-10 decal sheet and window masks for custom paint jobs. The body itself is packed with features like a hood and cab that were lowered to provide the smallest amount of drag to the truck body. In the rear the bed area was flattened and slightly elevated to provide more clearance for trucks that are used with it.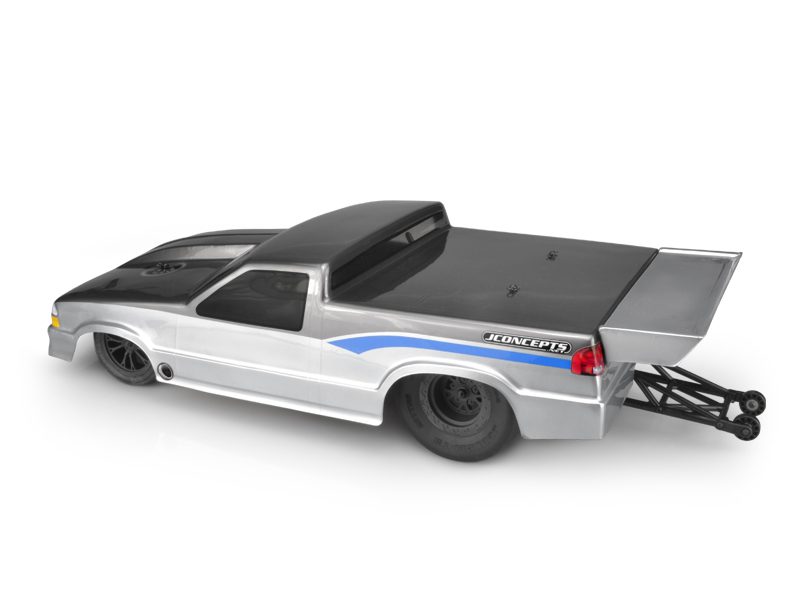 This body has a 13.00″ wheelbase overall and the front of the body is 11.75″ wide while in the rear it is slightly wider at 12.00″. So it is designed around your typical 2wd SCT build and is a drop fit to the Team Associated DR10. But it is also compatible with a variety of SCT length builds so make sure to measure your rig's dimensions and then order one today.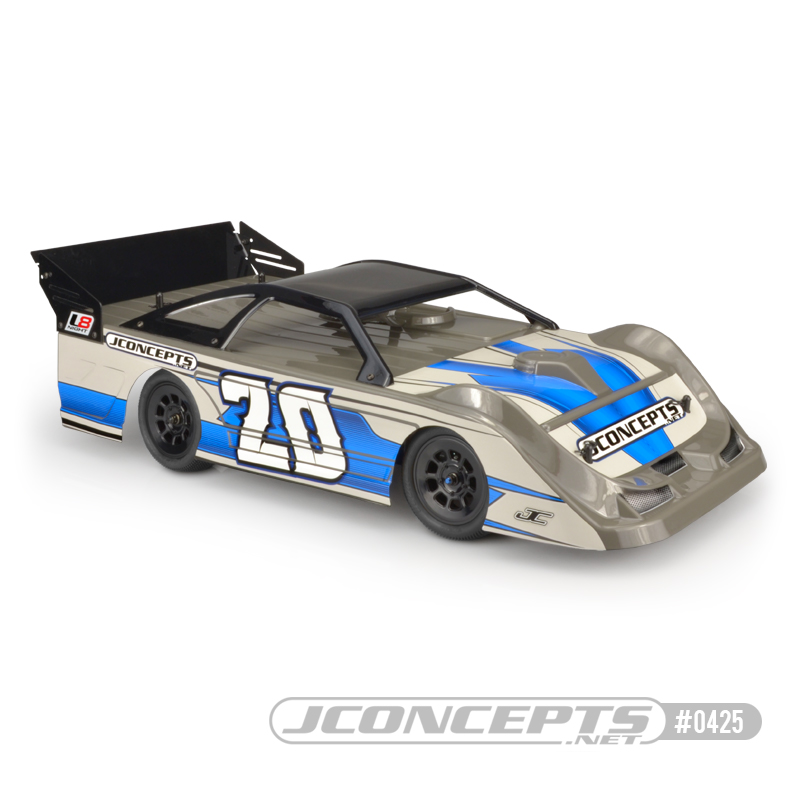 L8D "Decked" Late Model Clear Body
The JC team dropped an updated body shell for all you buggy based Late Model drivers. This new body is an updated version of the JConcepts L8 Night body that is slightly wider at 10.25″. It also comes in two pieces with the mock driver cockpit as a separate piece now. The cockpit roofline is slightly taller now and includes hardware to bolt it into position on the main flat deck.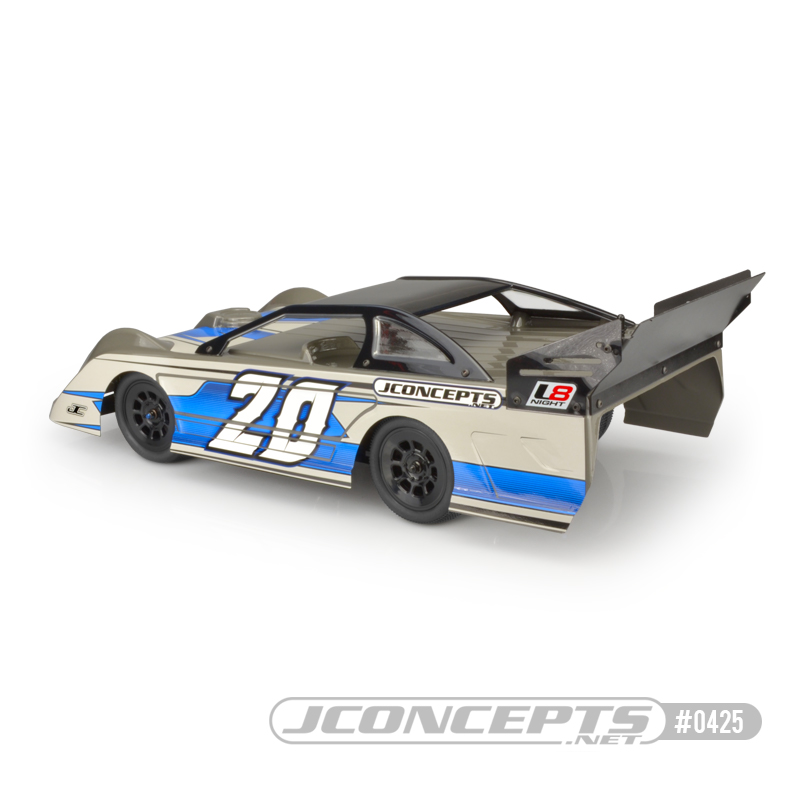 A mock air cleaner rest squarely in the front on the hood while in the rear a pre-trimmed spoiler is included that incorporates three different angle positions. These spoilers are also available separately and each body also includes window masks, a decal sheet, and installation instructions.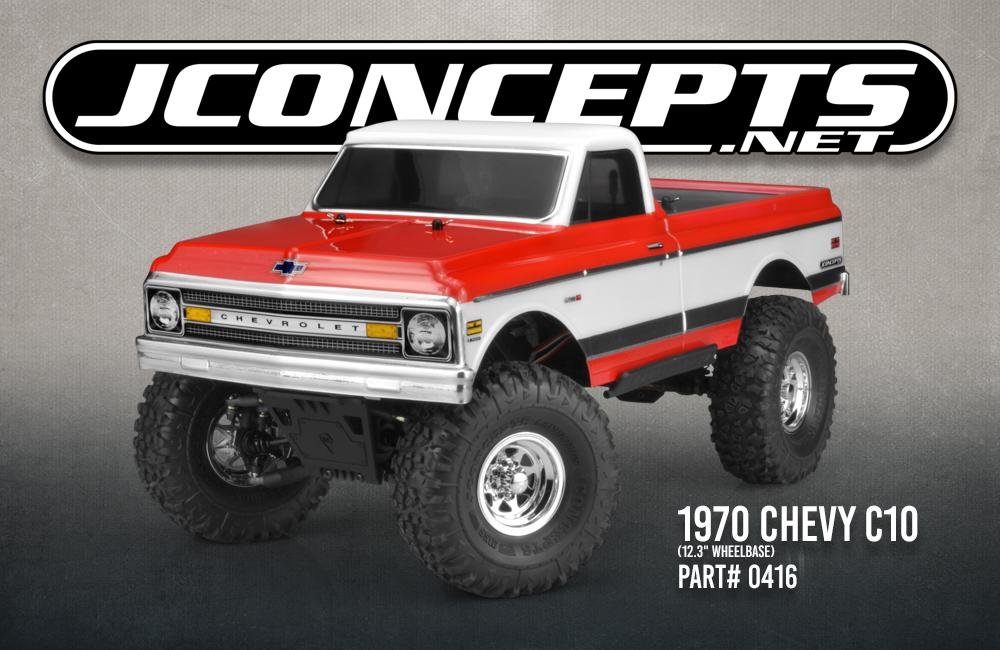 JConcepts dropped the 1970 C10 body for all you Chevrolet fans. This body is designed around a 12.3′ wheelbase and is a direct fit for popular models like the Traxxas TRX-4 Sport, Element Enduro and many Axial vehicles.
Front and rear bumpers are molded into the body shell which eliminates the need to attach extra components to achieve that scale look. The included highly detailed decal sheet offers you four different grill options to help you custom your C10 even more. The decal sheet also features an array of body emblems like Cheyenne, Custom, C/10, C/20, and CST/10.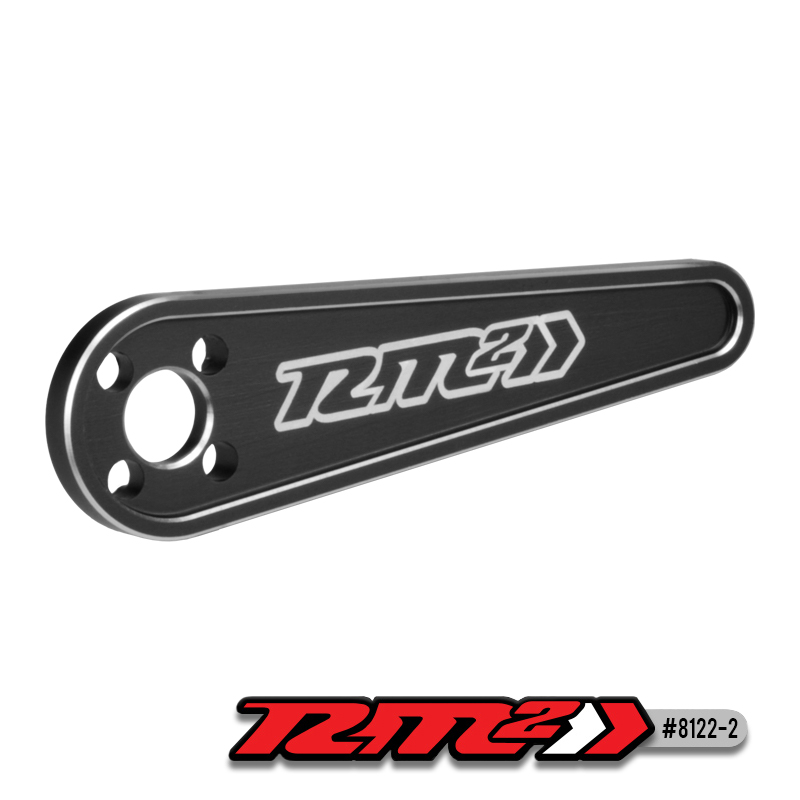 Spring means flowers are blooming and nitro engines need tuning. A 4-shoe clutch is popular with today's nitro engines so Ryan Maifield and JConcepts engineers worked together to craft a tool to make maintenance easier in this area. The RM2 Flywheel Wrench is offered in black and crafted from precision machine aluminum. Its design features chamfer highlight edging and will provide a clean and tight fit on many 4-show clutches out on the market today.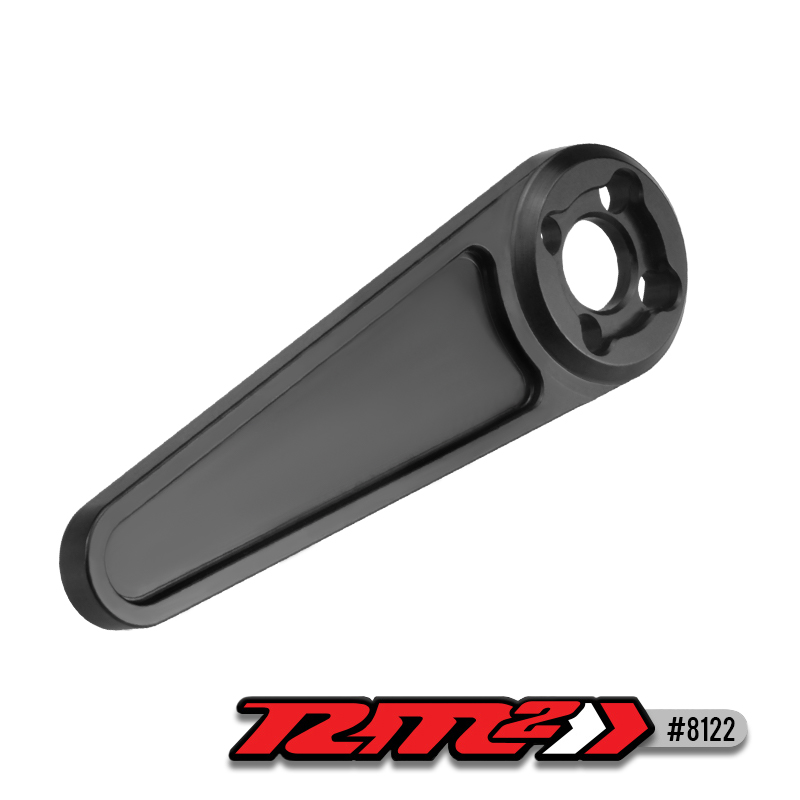 For all you Tekno nitro buggy fans, JConcepts has released a new clear body that is a drop fit for the NB48 2.0! The S15 body is a blend of popular features from the Silencer body line plus newer features like a rear stabilizer kick-up and mid-body winglets.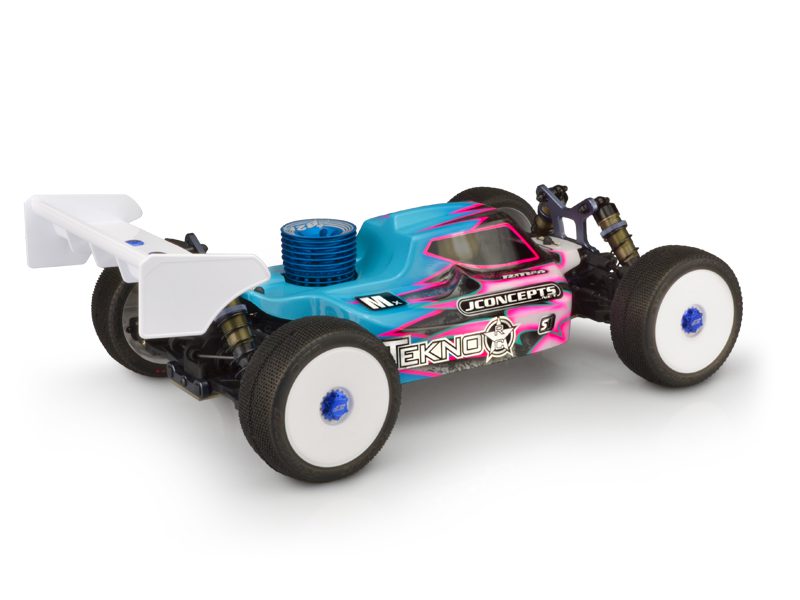 The cab forward roof line features a "shark fin" for added stability and windows masks and a decal sheet are included.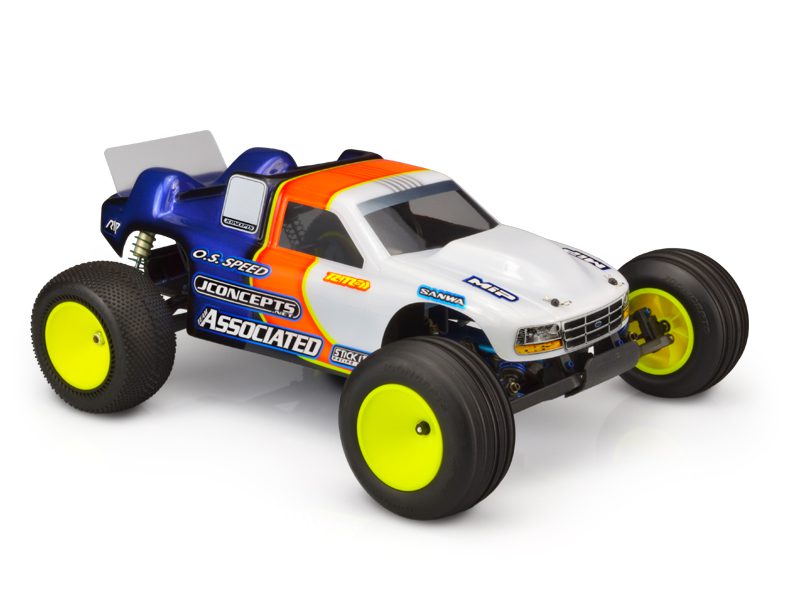 Clear Team Associated RC10GT, Gas Truck II 96 Clear Body
With approval from Team Associated, JConcepts has released a vintage and authentic body shell for the RC10GT nitro stadium truck! This "GTB2" body will allow collectors and RC enthusiasts to complete their restoration project or bust out their gas truck from the shelf to revisit the glory days of gas truck racing.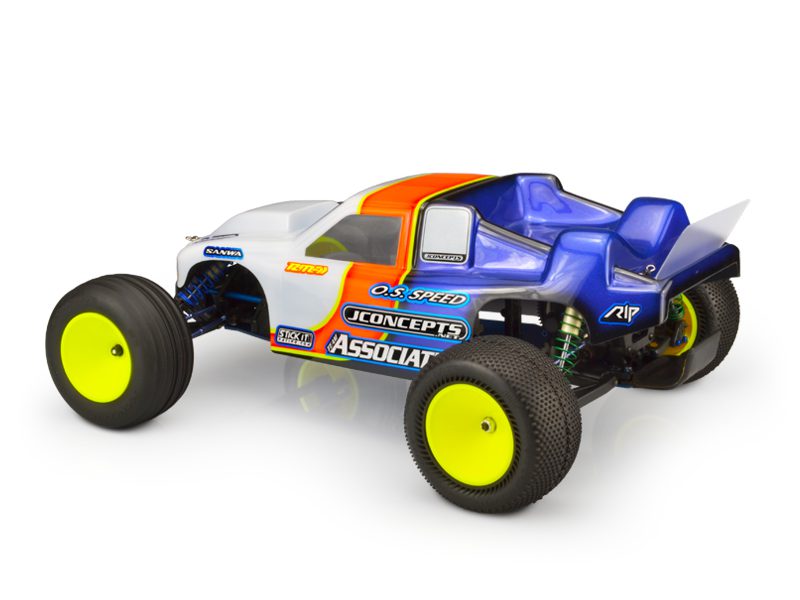 Features include built in number plates positioned right behind the cab and sandwiched around a mock roll bar, and a rear spoiler with mounting hardware and window masks. This body will fit both variations of the RC10GT (tub and flat chassis) and do note that no decal sheet is included with this body.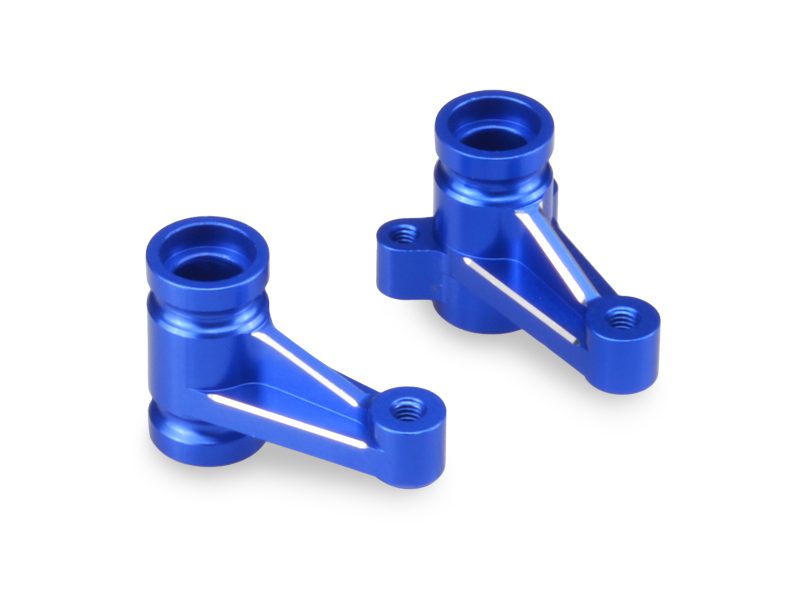 B74 Aluminum Steering Bell-Crank Set
JConcepts continued to drop new option parts for the Team Associated B74. This bell-crank set is anodized in blue and includes chamfered silver edging. This CNC-machined system offers you a more rigid steering system for an increased steering feel and response than the stock plastic components.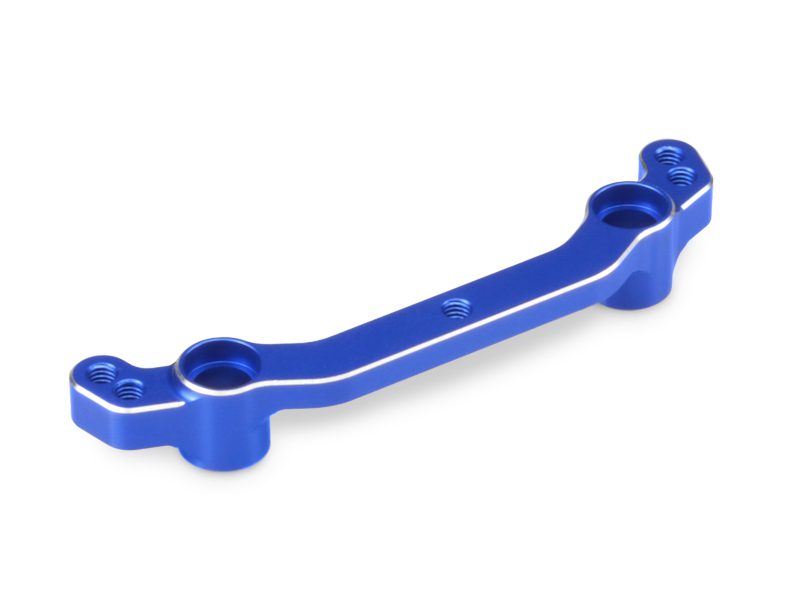 B74 Aluminum +3mm Steering Rack
Next out was this new lightweight steering rack for the B74. Again, it is anodized in blue and with chamfered silver edging, and just like the bell-crank set the CNC-machined aluminum will give a driver a more rigid steering system for an increased steering feel and response than the stock plastic components.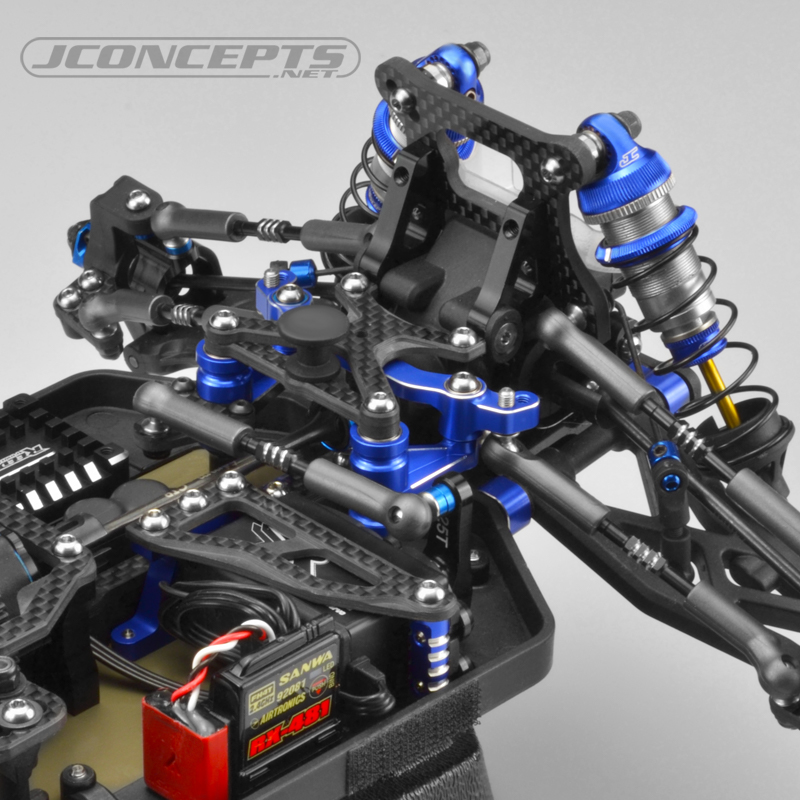 But, JConcepts didn't stop there as they also included some extra tuning options with this component as requested by team driver Spencer Rivikin. The +3mm Steering Rack allows you to place the steering link in a higher position which in turn allows for the camber link to be moved higher along with the steering block so you can maintain the proper geometry. When this is paired up with the JConcepts 2527 top-deck, you can line up the part's holes to either lock or center the steering rack in the middle of the vehicle. This will help you when building your kit so you can achieve parallel positioning of the bell-cranks, front toe-in and the servo horn position.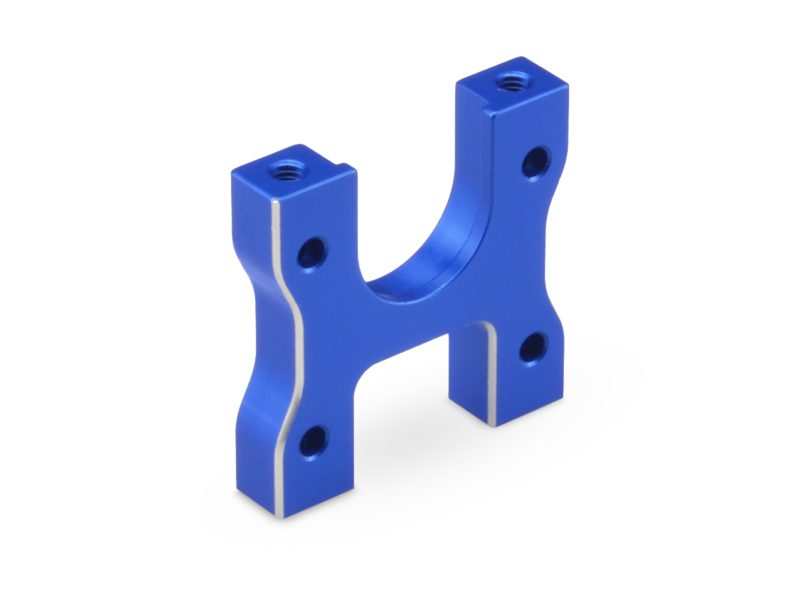 B74 Aluminum Center Diff Mount
The next option part for your B74 ride was the JConcepts Aluminum Center Diff Mount. Anodized in blue, this high-grade aluminum mount is lightweight yet durable at the same time. It has chamfer highlight edging around it and fits perfectly under your center diff or slipper assembly.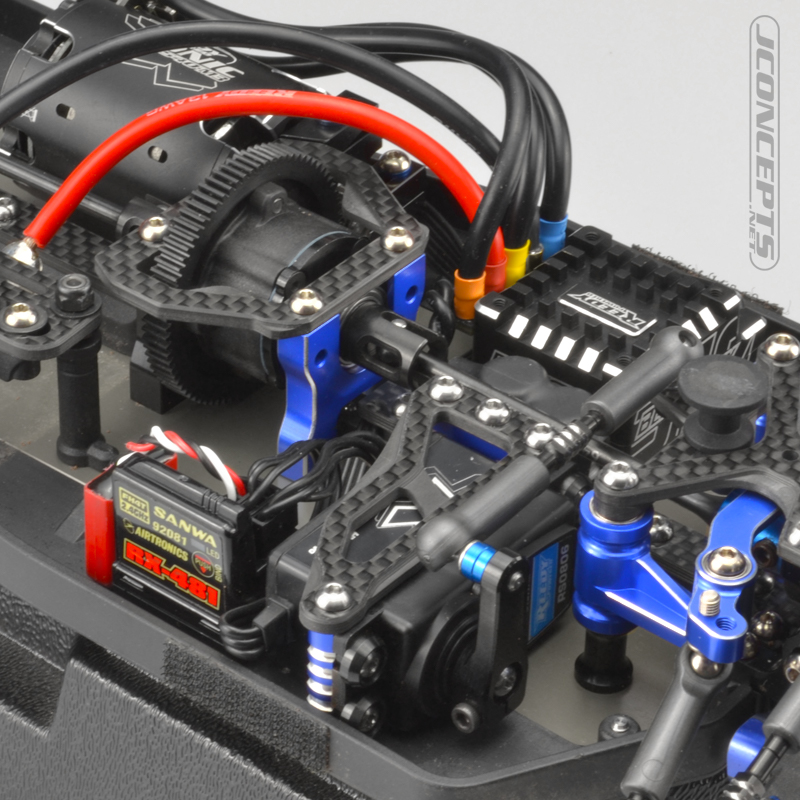 It will mount to the chassis with the stock hardware and provide a driver more durability for those failed sick whips out on the track.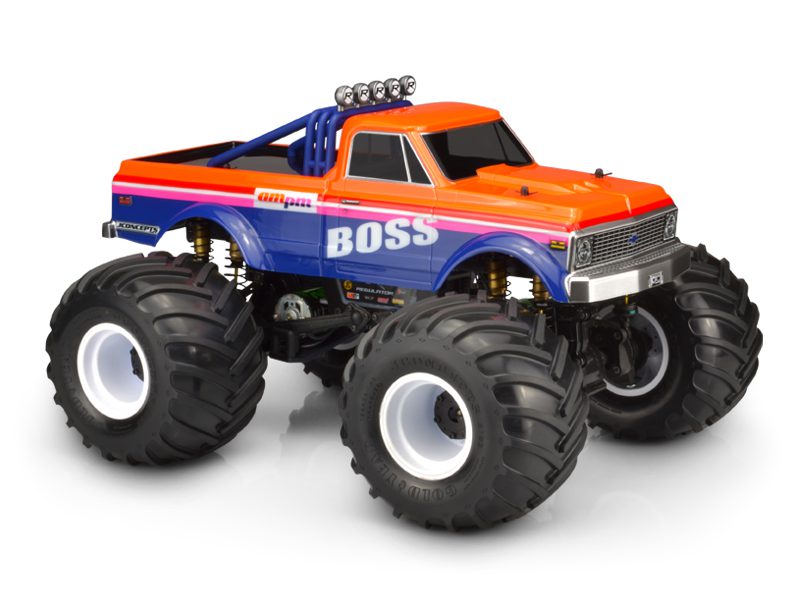 1970 Chevy K10 Monster Truck Clear Body
JConcepts continues to deliver great looking bodies for monster truck fans young and old like this new 1970 Chevy K10 body. This officially licensed body has many details that give it an outstanding scale look. The front and rears bumper are molded into the body so there is no need to attach them separately with additional hardware. The hood has a built in scoop and side front windows have been added to give it that great period look. The truck bed is slightly recessed in the rear and will allow an enthusiast to add aftermarket accessories like the light bar you see in these pictures.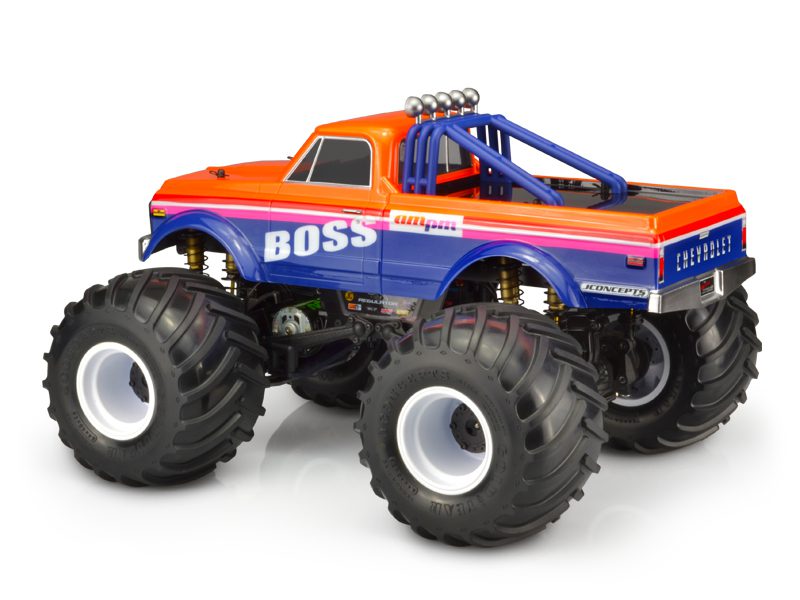 The included decal sheet gives you different 4 grille options and this body is a direct fit for the Clod Buster, Stampede 2wd, or any other truck with a 10.5″-11″ wheelbase. Speaking of aftermarket accessories, the Triple Double roll-bar and light bar shown in these pictures are not included, but they are available for purchase separately over on the JConcepts Shapeways store.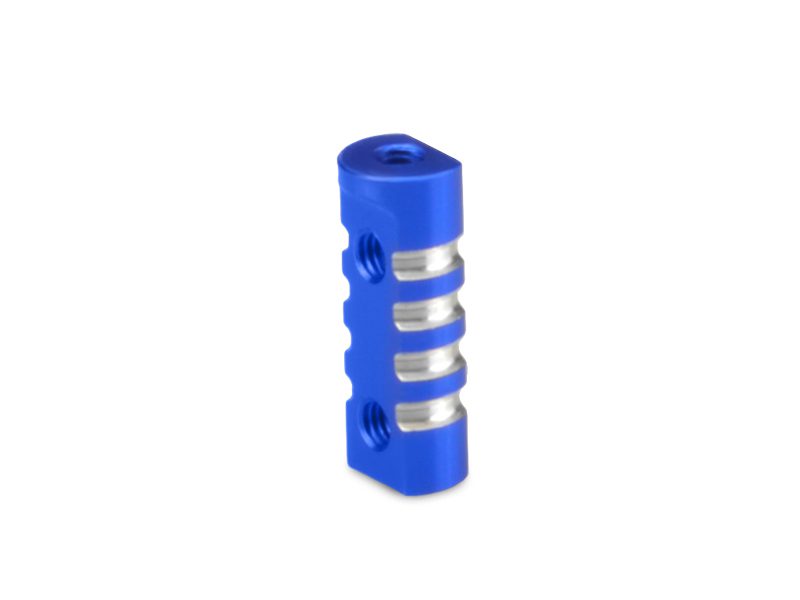 B74 Aluminum Floating Servo Mount Post
Next the JConcepts engineers dropped another option part for the B74. The JConcepts B74 Aluminum Floating Servo Mount Post is crafted from precision machine aluminum and anodized in blue. The most noticeable feature of this post are the cuts in it. Material has been removed to highlight its looks while also making this option piece slightly lighter than the stock part.
This post is also compatible with the stock servo plate or the JConcepts B74 Carbon Fiber Hanging Servo Mount Plate (#2519) which is also available separately.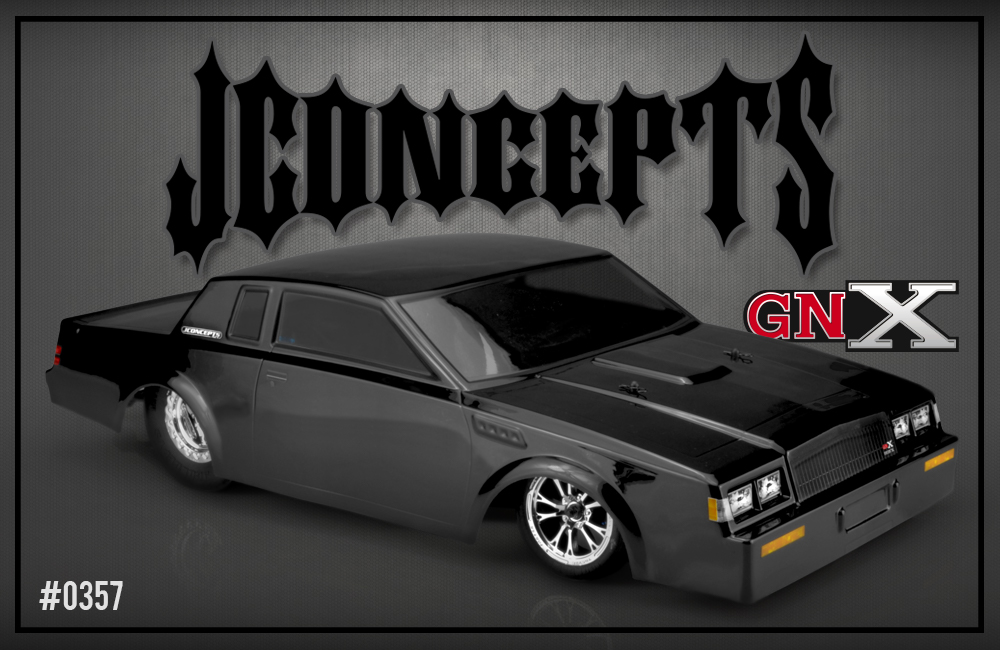 1987 Buick Grand National Street Eliminator Clear Body
JConcepts released another new body for the emerging Street Eliminator racing scene in RC. The 1987 Buick Grand National clear body is a replica of the classic 80's muscle machine. It is officially licensed by Chevrolet and is a drop fit for the Team Associated DR10.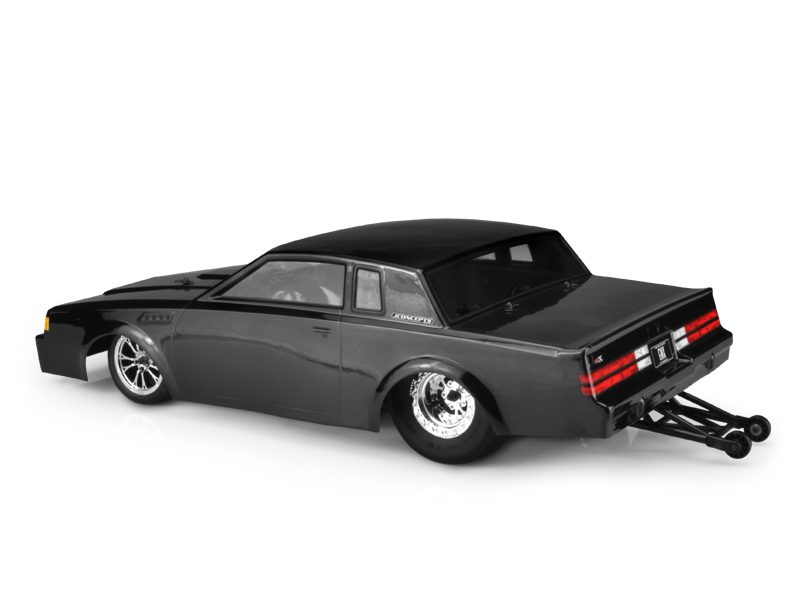 It uses a 13″ wheelbase so with some minor adjustments it will work with other short course truck based dragsters too. This body captures all of the classic styling of that period and the molded rear bumper even includes a spot to apply a personalized license plate.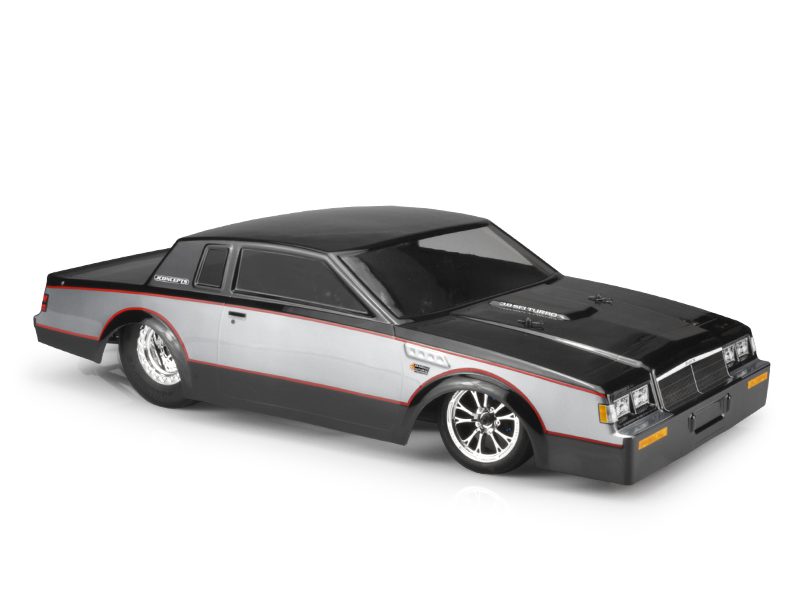 The included decal sheet offers you 6 different plates to choose from along with 2 different grille looks, plus Buick, Chevrolet, GNX and JConcepts badges.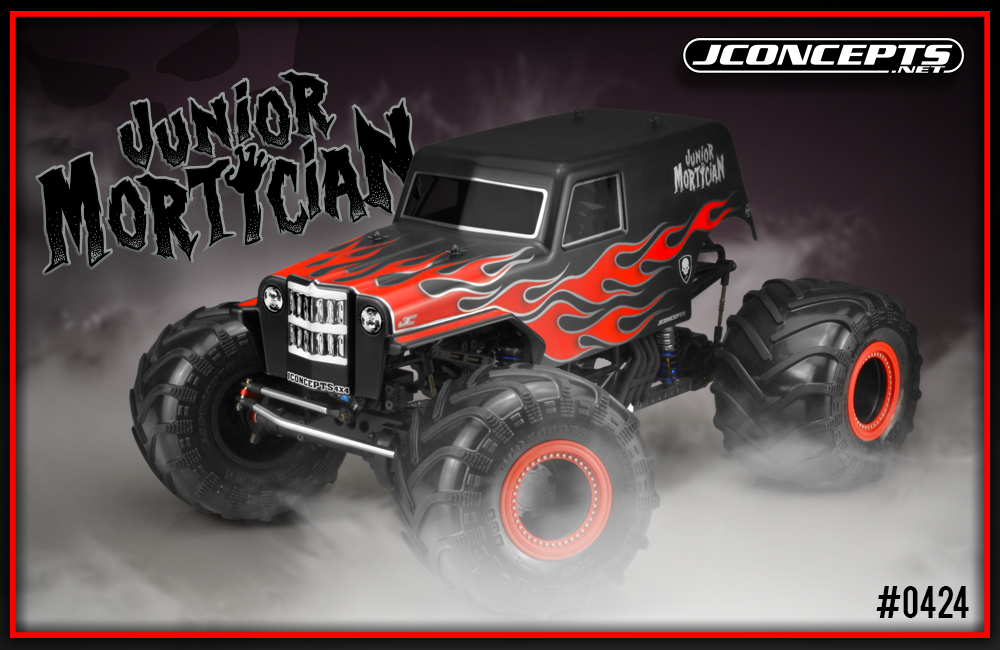 JCI Junior Mortician Clear Monster Truck Body
This new monster truck body is perfect for Axial SMT10 owners or anyone running a 12.5-13″ custom rig. The large panel areas in the rear of the body will allow drivers to customize their look even more since it acts like a large canvas.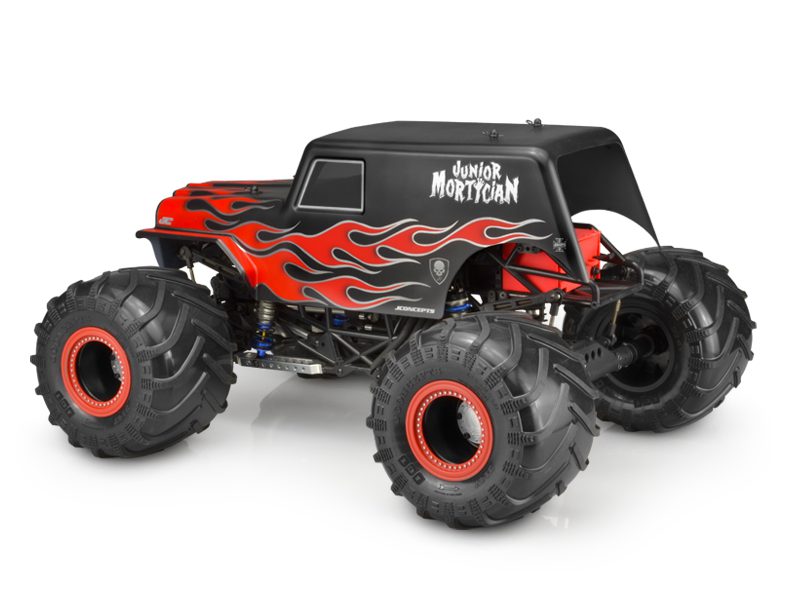 The front end features flared fenders for catching both your eye's attention and flunge dirt. The windshield incorporates a slight V-treatment for added realism, and a detailed decal sheet with different headlight options are also included.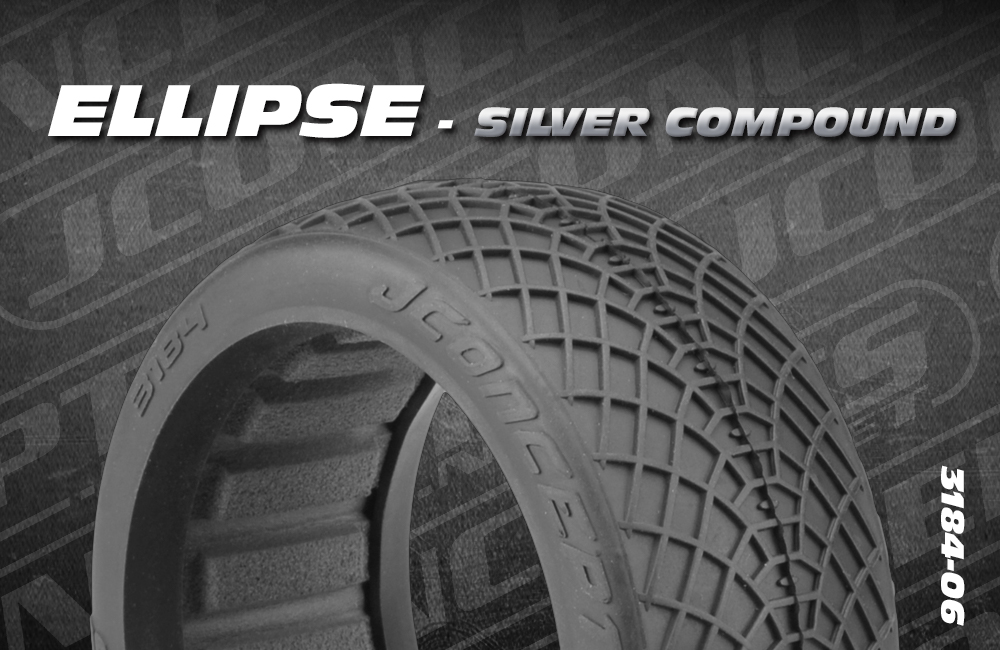 Ellipse 1/8 Buggy Tires Now Available In Silver Compound
The Ellipse tire for 1/8 buggy first debuted in the Gold compound and flash forward to today we are now offering it in our popular Silver compound too. This tire uses a special "web" style tread pattern that excels on smooth high-grip track conditions both on inside and outside surfaces. The Ellipse name actually comes from the center bar built in the middle of the tread design, and the center section uses a diamond "home plate" footprint to increase forward bite.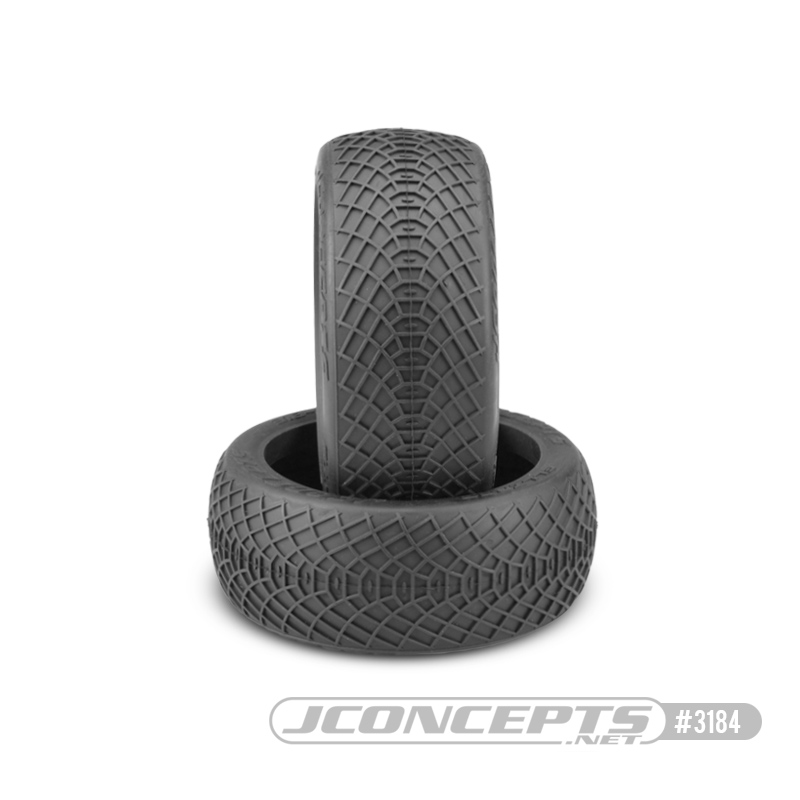 Each set comes with gray Dirt-Tech closed cell foam and the tire is now available in our Silver, A2 (Aqua), Gold, Blue and Green compounds. These tires are direction mounted so please see our online guide for proper installation and tuning options.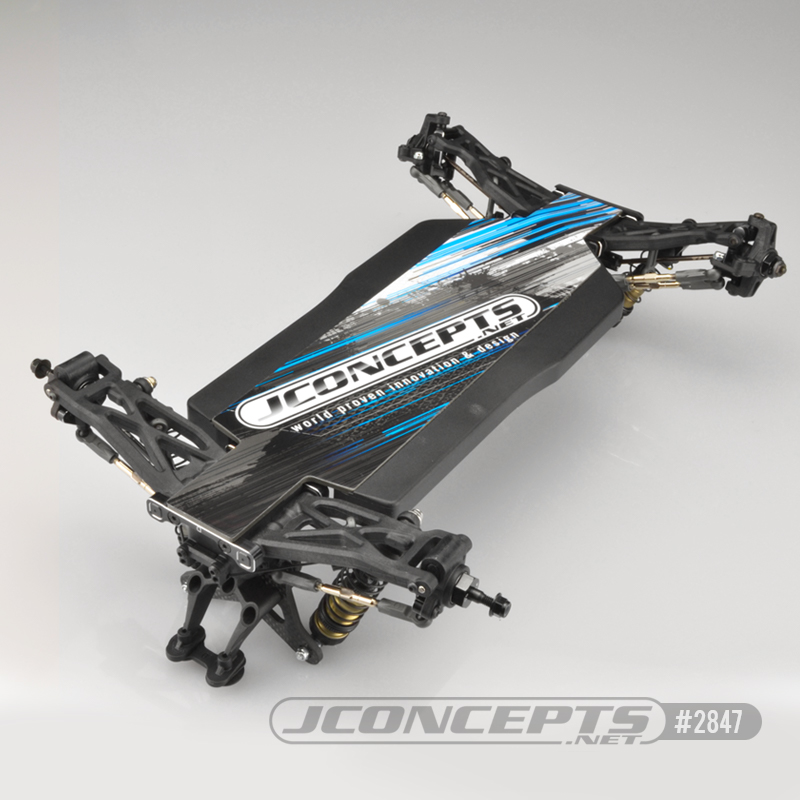 TLR 22X-4 Precut Chassis Protective Sheet
One of the biggest wear components of your race vehicle is the chassis itself. So to protect your investment, and also provide some styling, JConcepts is now offering a precut chassis protective sheet for the popular TLR 22X-4 4WD buggy. The sheets are already cut to fit the chassis for you so simply peel off a fresh sheet to apply to your ride.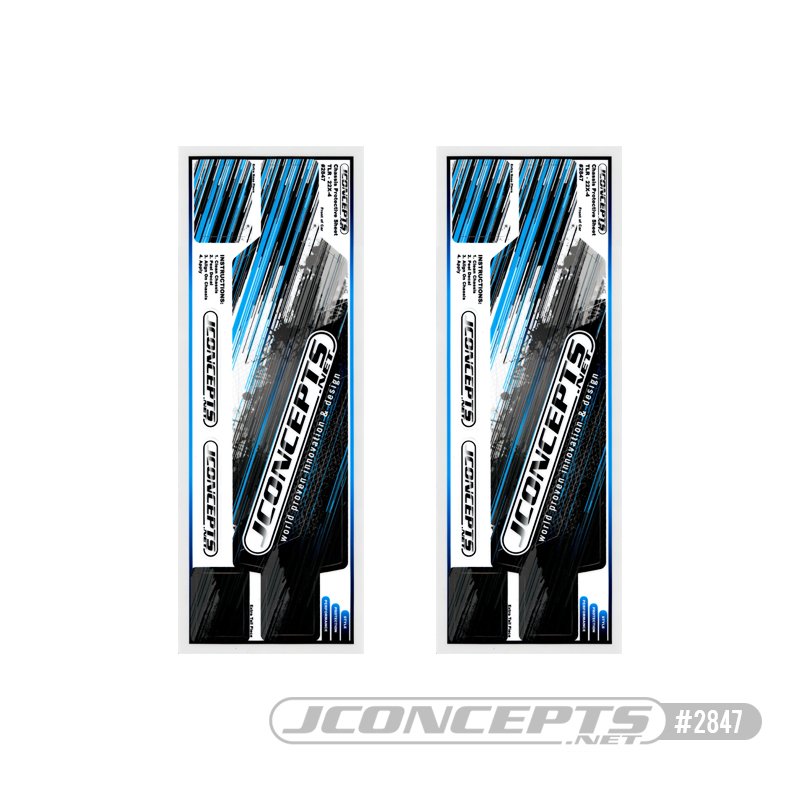 Two sheets are included in each package along with two additional tail sections that fit under the rear area of the car.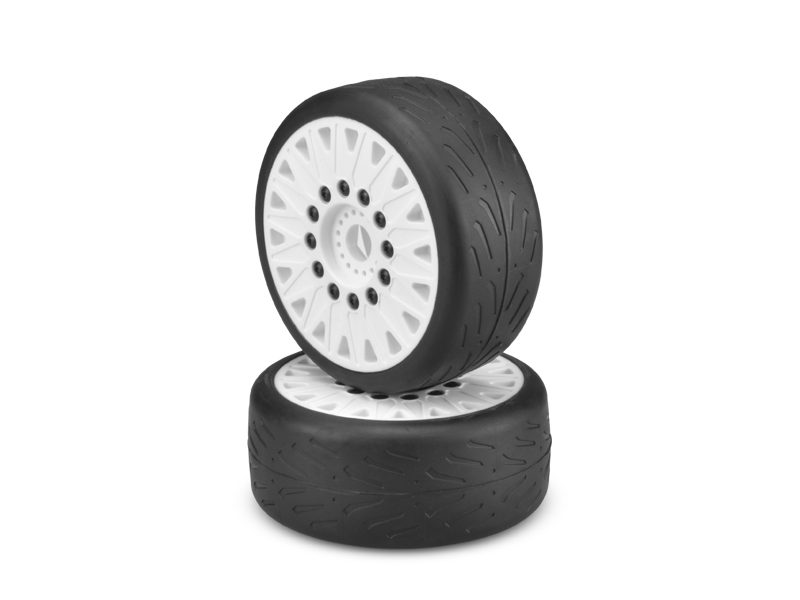 Speed Fangs Pre-Mounted Belted Tires On Cheetah 83mm Speed-Run Wheels
For drivers that have a need for speed and want to hit the pavement as quick as they can, JConcepts has you covered with the new Speed Fangs Pre-Mounted Belted Tires. Earlier, we released the Cheetah 83mm Speed-Run Wheels, and now these two great products are available together in a pre-mounted option.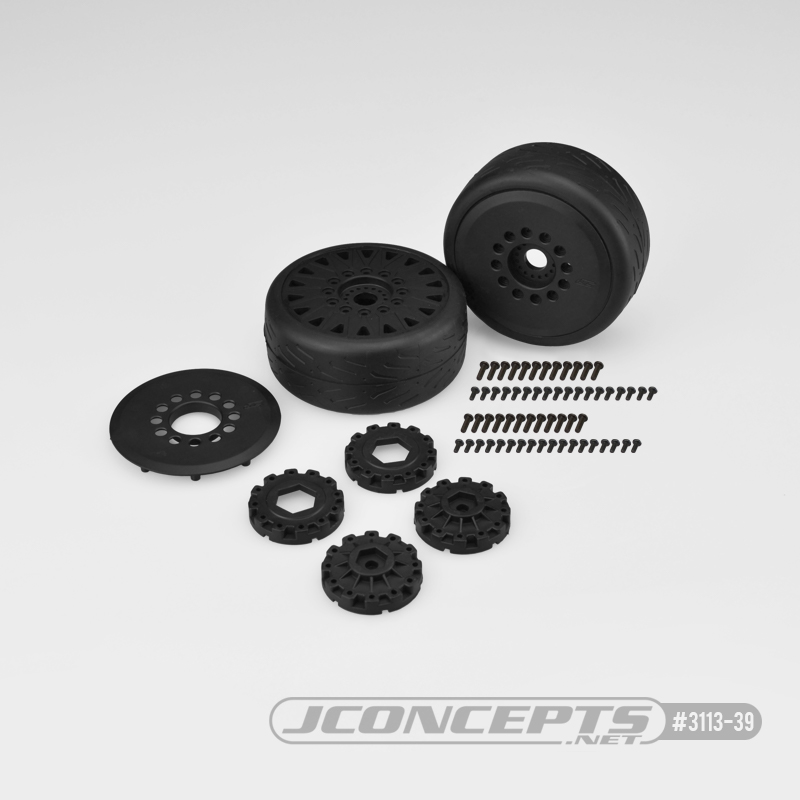 The Cheetah wheels are available in black or white color options, and they also include both 12mm and 17mm adapters to suit your vehicle's needs. They also allow you to run two different style appearances since you can use a spoke look or install the included dish covers.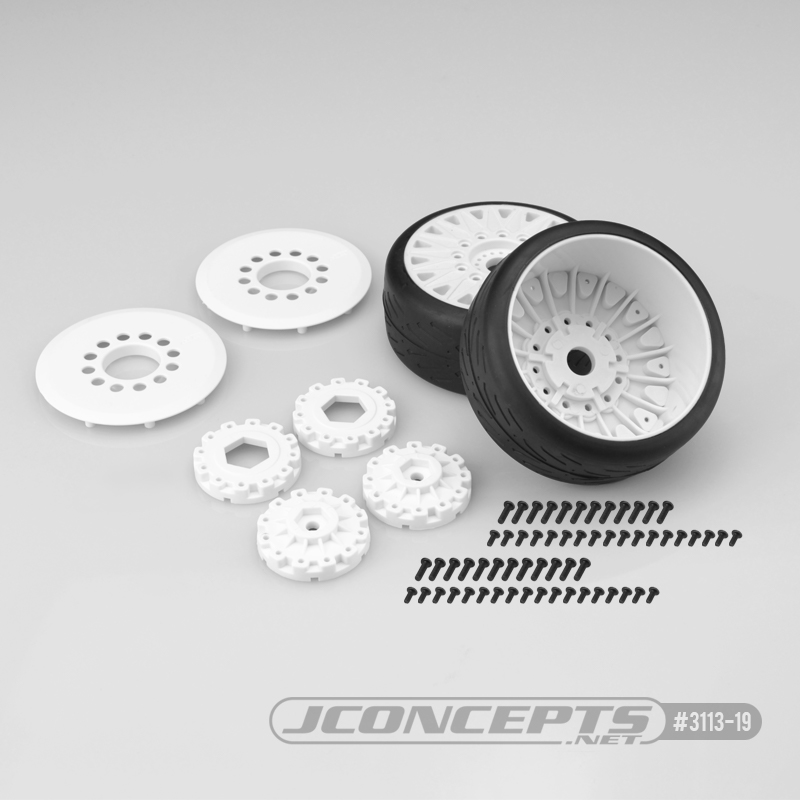 The new Speed Fangs tires are rated up to 6s power and 100mph. This is achievable thanks to the low carcass and belted technology used in the tire itself. The embossed "fang" tread pattern helps your vehicle to stay glued to ground as it reaches maximum velocity.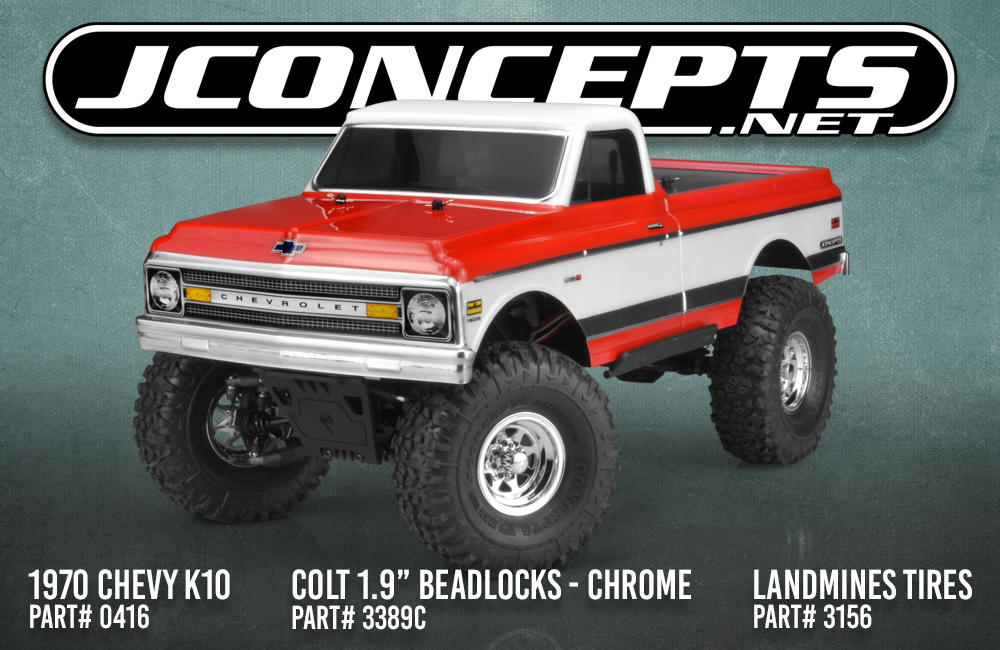 Chrome Colt 1.9″ Beadlock Wheels
Earlier we released our Colt 1.9″ Beadlock Wheels, and after hearing many requests from drivers we now offer these in a Chrome version. The Colt wheels use a 8 spoke "wagon' design and are compatible with 1.9" tires. These also use an industry standard 12mm hex design and are assembled from the inside out. Place the inner pinch in the center and then using the provided screws attach the outer and inner pieces of the wheels to lock your rubber in place.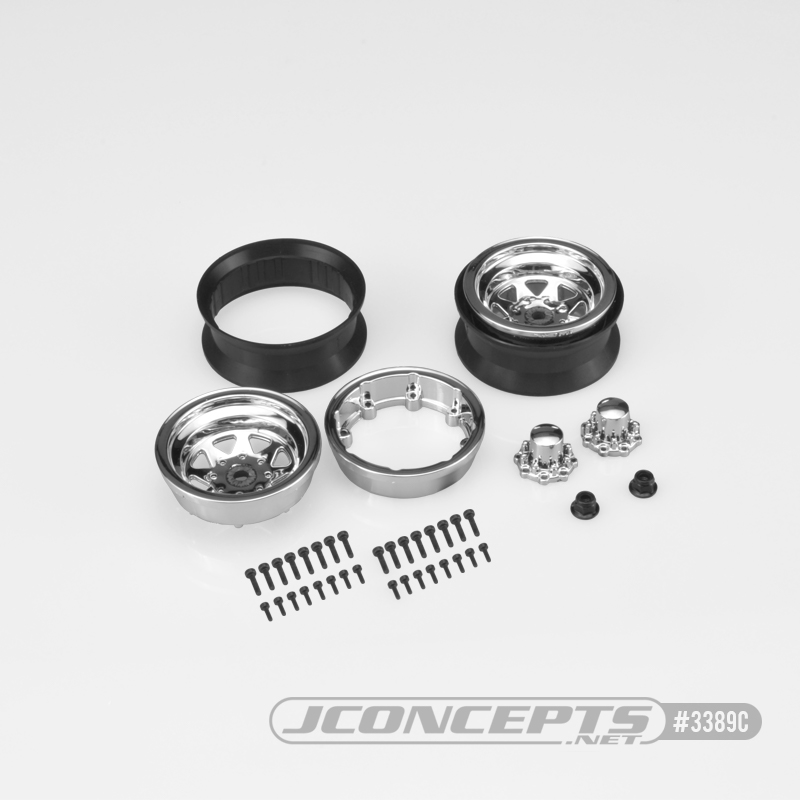 Then finish off the look by attaching the included center cap which will cover the mounting screws and add to the realism. So no matter if you use these wheels outside, or on a shelf queen inside, the new Chrome Colt 1.9″ Beadlock Wheels are the perfect addition to any scale build.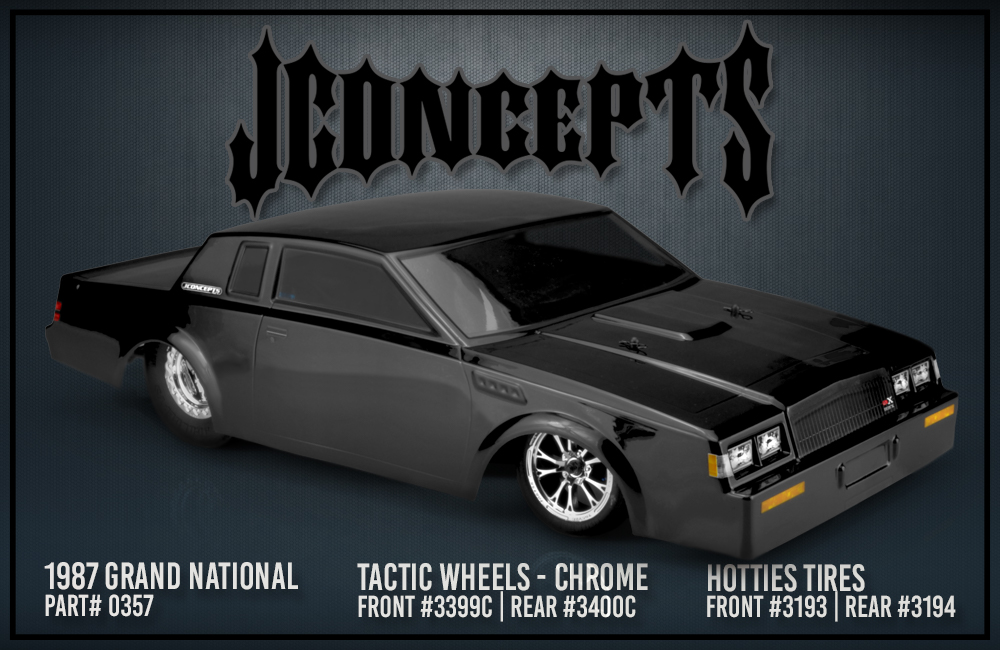 Tactic Chrome Street Eliminator Wheels
We followed up the Colt wheels with a chrome version of our popular Tactic wheels for the RC Street Eliminator drag class too. Previously the Tactic Street Eliminator Wheels were only available in all black, and these new chrome front and rear wheels sold individually in pairs.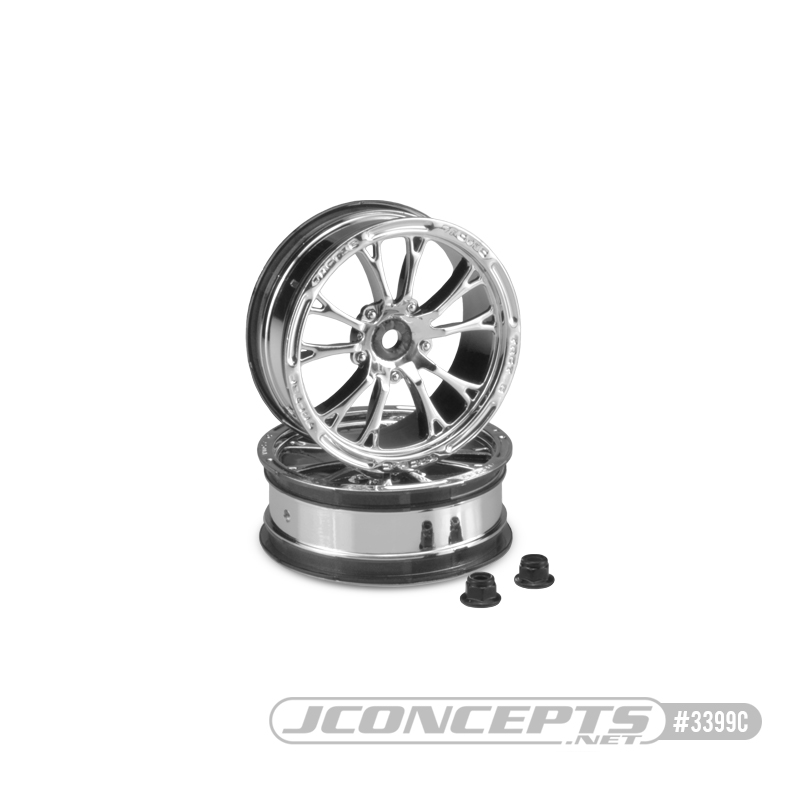 The Tactic chrome front wheels will mount up with nearly every front 1/10 2wd buggy tire on the market thanks to their 2.2′ mounting size and sync up perfectly with our Hotties tires (#3193) designed for no prep drag racing. They also feature full scale inspired spoke design and also incorporate a mock lugnut design.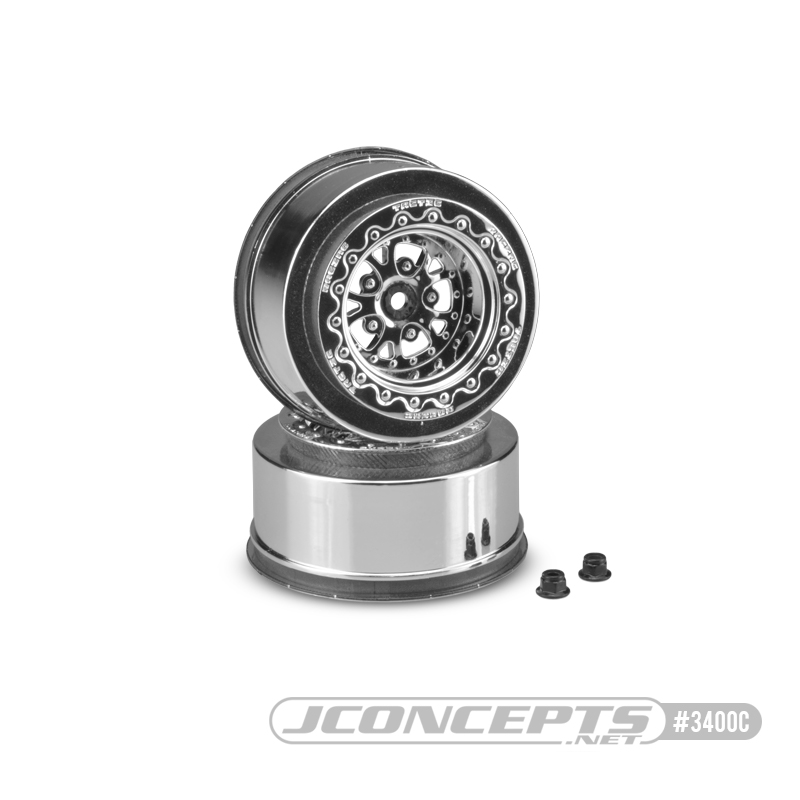 The Tactic chrome rear wheels are inspired by 1:1 designs and feature a mock bead lock and lugnut design, plus use an industry standard 12mm hex design. They are also compatible with your common short course tire design (2.2″ x 3.0″) and match up perfectly with our Hotties tires (#3194) designed for no prep drag racing.
These wheels are plated in chrome and and include non-marring 4mm wheel locknuts. These locknuts will give you a cleaner and less damaging installation, and serrated locknuts are not recommended due to the plating process.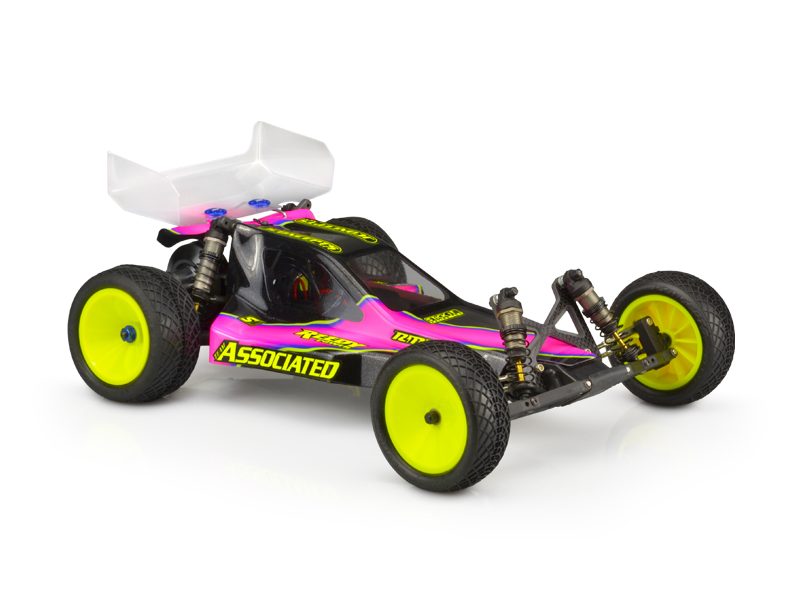 Clear Body For The Team Associated RC10B2
The JC crew drops another retro body shell for vintage RC collectors and enthusiasts. With approval from Team Associated, the RC10B2 clear body shell is once again available to drivers both young and old. JConcepts was able to take the original body mold from 1995 and introduce modern materials to make this iconic body available once again.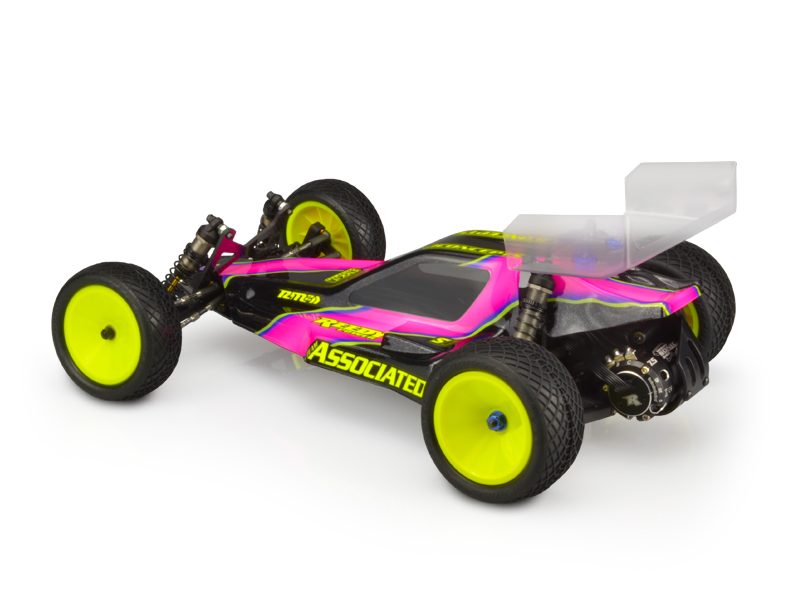 This body preserves all the original body designs of the era with such features as a rear bias cab and large window treatment. Each body includes window masks, a 5.5″ rear wing, but decals are not included.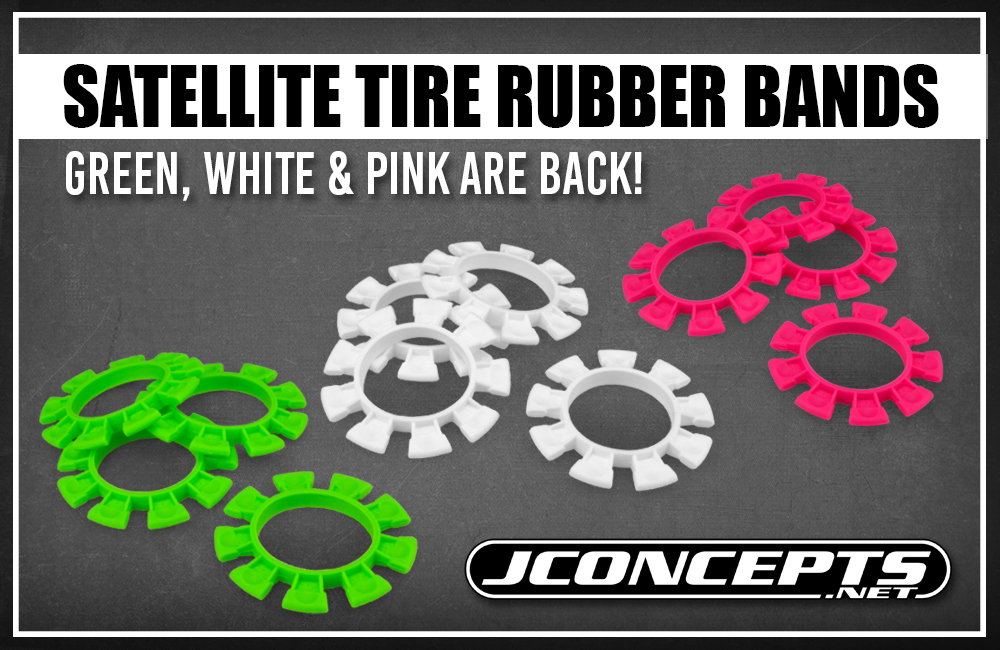 Satellite Tire Rubber Bands Now Available In White, Pink & Green Color Options
Due to multiple customer requests, we are now offering our popular Satellite Tire Rubber Bands in White, Pink and Green Color options! Originally, these various colors were only available for drivers competing at special events, but due to several requests we are now making them available for everyone.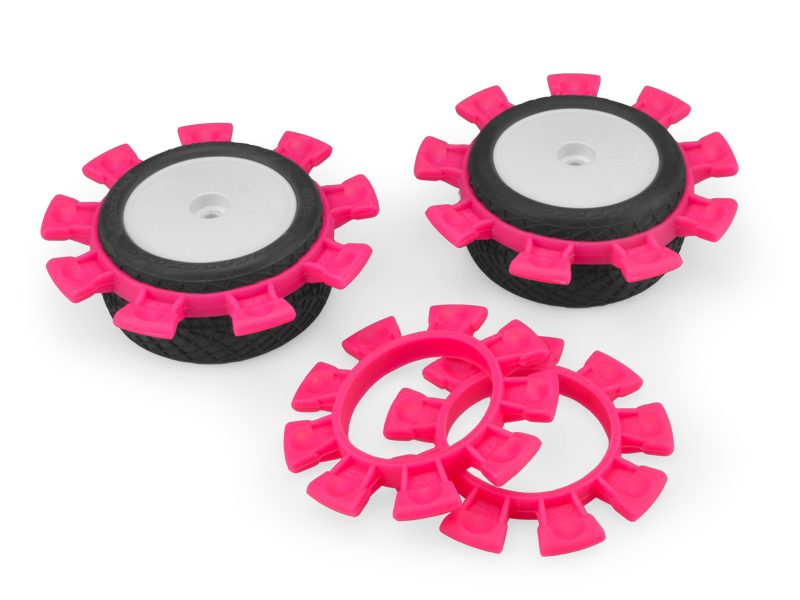 Released in 2013, the versatility of these bands are unmatched since they can be used with 1/10 tires for 2wd/4wd buggies, stadium trucks, and short course trucks plus 1/8 tires for buggies and truggies too. And Crawler drivers will love them too since they will work with 1.9″ and 2.2″ tires as well! They are also compatible with the popular JConcepts Fling King and Rangers Monster Truck tires. The pull back handles with a molded JC logo of authenticity will help you to apply the right amount of pressure when gluing your tires and they are currently available in 8 different color options. They are also available in a yellow color option under the Dirt Racing Products line too.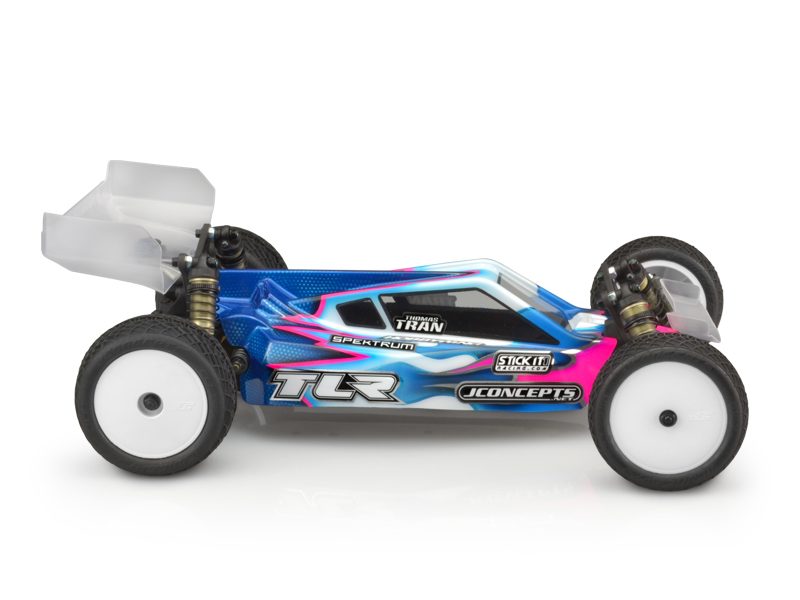 P2 Clear Body & S-Type Wing For The TLR 22 5.0 Elite
Next the JConcepts design team dropped a new lid for the TLR 22 5.0 Elite 2wd buggy. Built on a winning legacy, the P2 (Punisher 2) body offers drivers a unique look for their TLR vehicle. The P2 uses a distinctive rear fin stabilizer that helps to reinforce the body and stabilize your buggy. The side-pods are chamfered and a secondary window has been added to the raised cab which all work together to give the P2 its unique styling.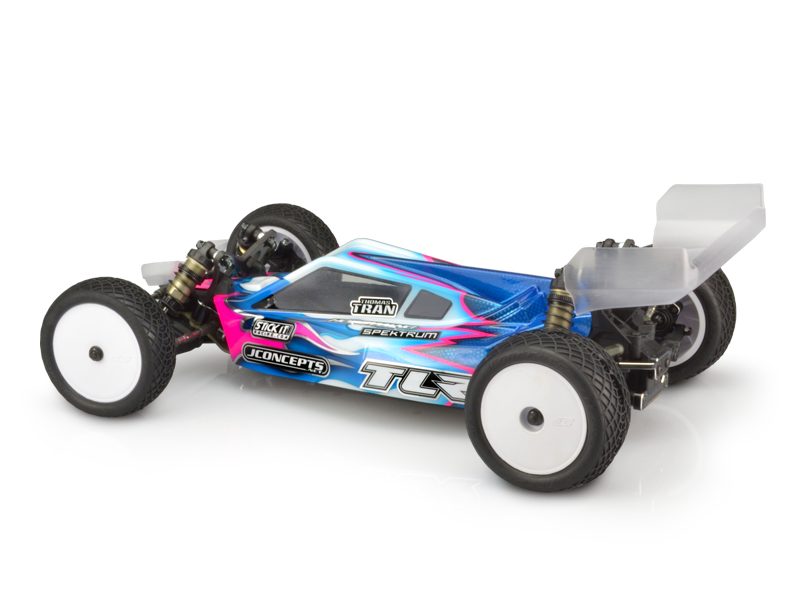 Each body is sold clear and comes with two Aero S-type rear wings, window masks, and a detailed decal sheet. This body is also offered in a lightweight option or the standard body weight.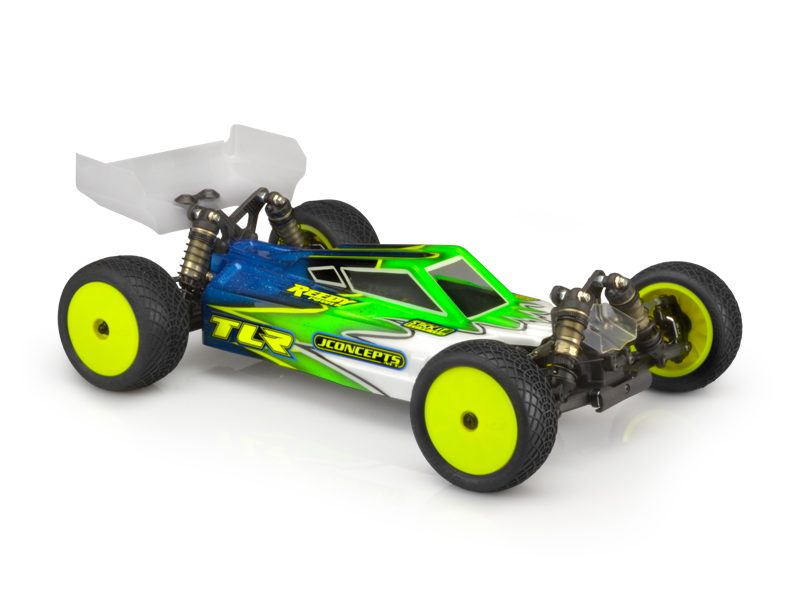 S2 Clear Body & S-Type Wing For The TLR 22X-4
The JC design then released another body shell for the popular TLR 22X-4 wheeler. The S2 body is offered in either a standard weight or lightweight option. Both shells include a protective film, window masks, a detailed decal sheet and two Aero S-type rear wings. Design wise this new body uses a progressive cab design which helps to provide more front-end force for better steering and balance.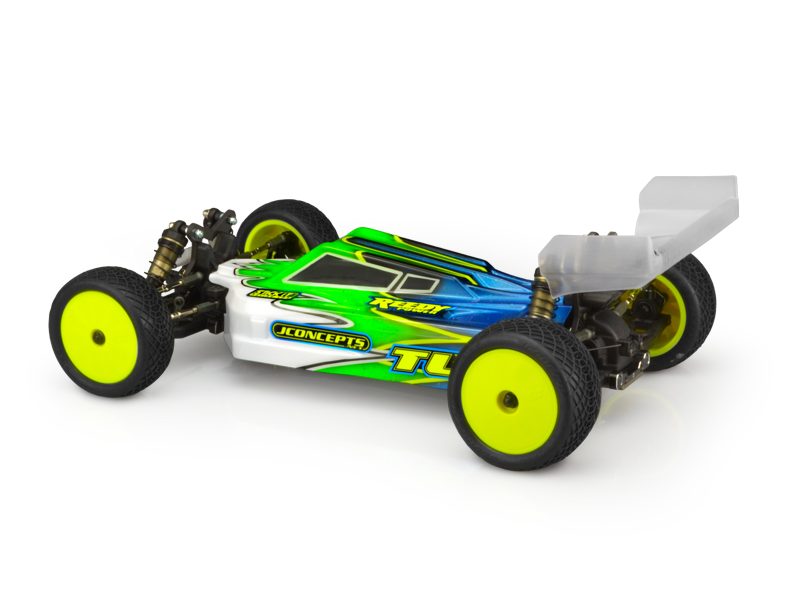 The roof line is channeled to direct the air flow through the center of the body and also increase the rigidity of the cab too. The upper side-pods use distinct vents to relieve heat build up on your electronics underneath.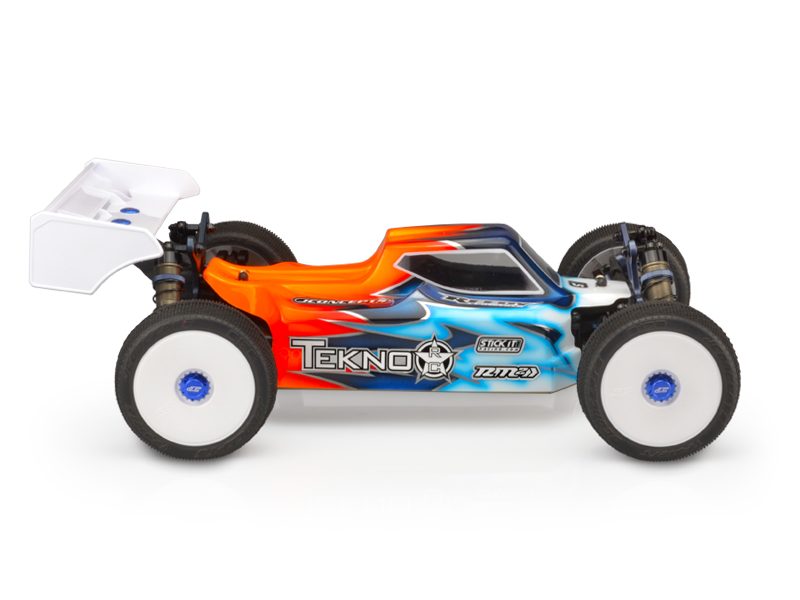 S15 Lightweight Clear Body For The Tekno EB48 2.0
The popular S15 (Silencer 1.5) body design makes it way to another 1/8 off-road vehicle. Tekno EB48 2.0 drivers can now equip their vehicle with this JConcepts body that has a rich history of performing out on the track. The S15 body uses a forward cab design with a trailing fin that adds to the looks and performance on your vehicle.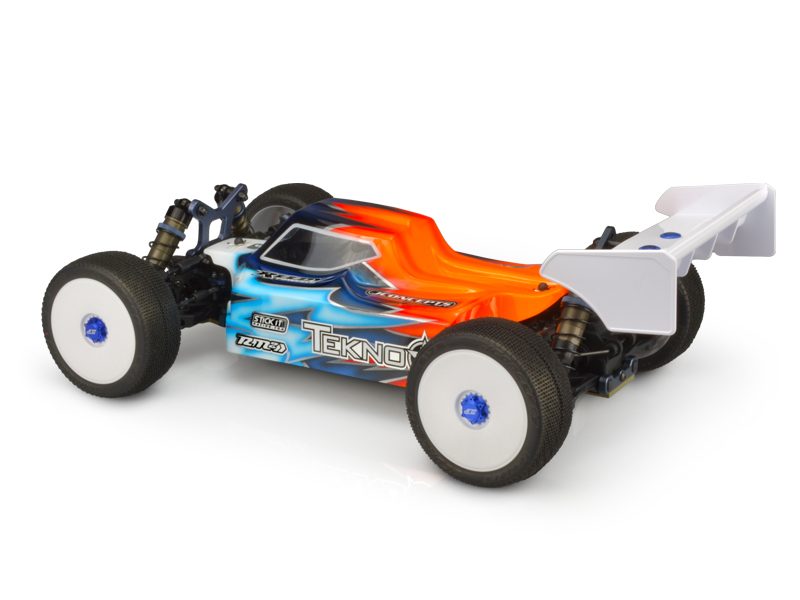 The body located directly behind the cab is recessed to allow more air to escape and mid-body winglets are molded into the sides of the body too. Currently this body is only offered in our lightweight clear polycarbonate and each body includes a overspray protective film, window masks, and a decal sheet.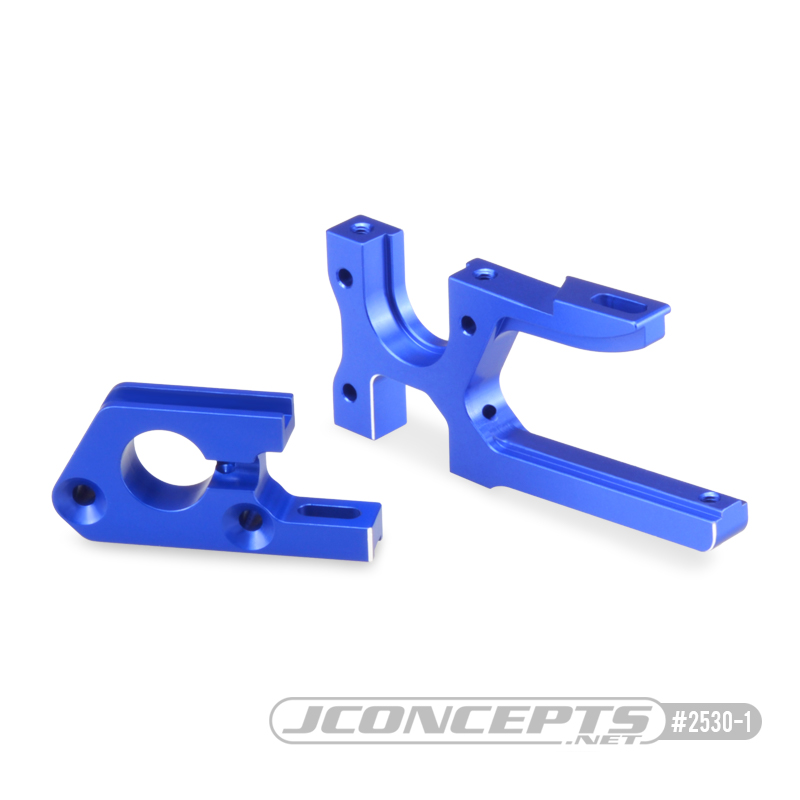 B74 Aluminum Motor & Diff Mount Set
Next up is the latest offering from the JC design team for the Team Associated B74. This Aluminum Motor and Diff Mount Set is anodized blue with chamfer highlight edging to enhance its looks. The parts are machined from high-grade aluminum and are both lightweight and durable.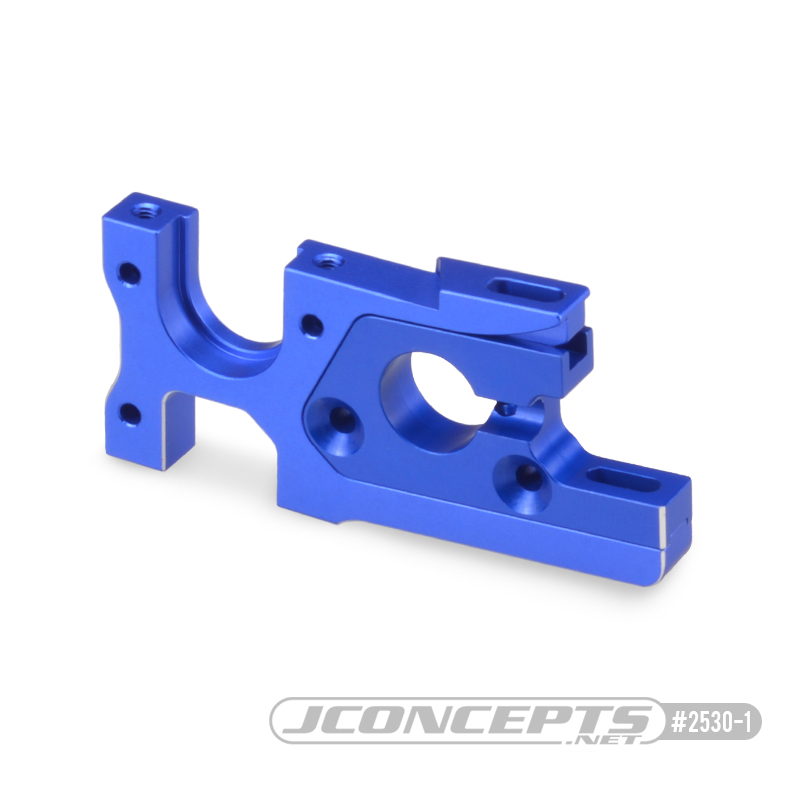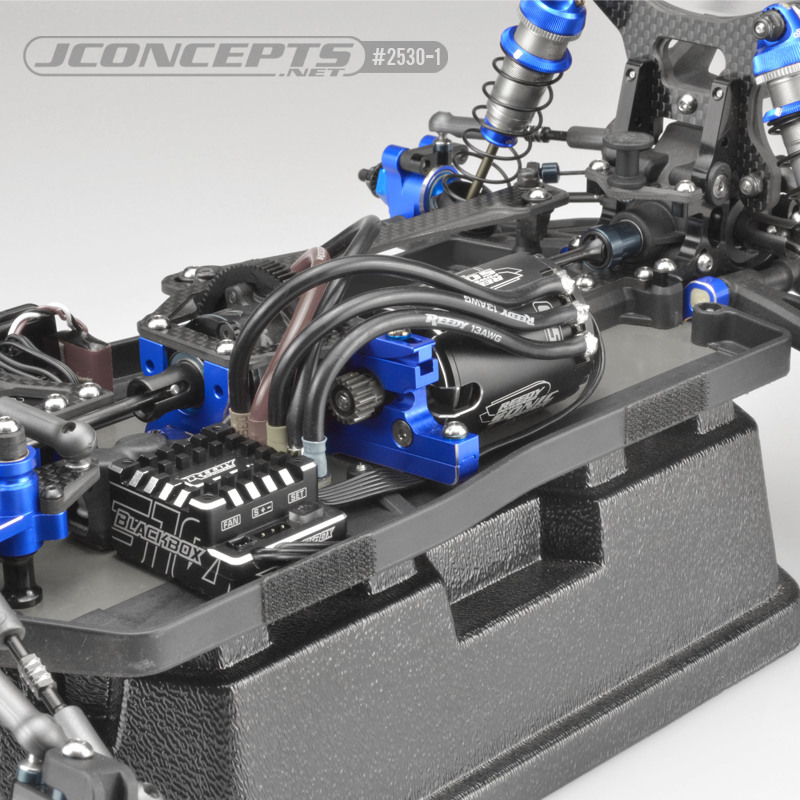 These two parts line up perfectly under your center diff/slipper and can be attached to the chassis with the stock hardware. Attach the motor to the mount with the stock hardware to secure it in place. Finish off the installation with our center bulkhead top-plate (#2531, not included) for a full factory look.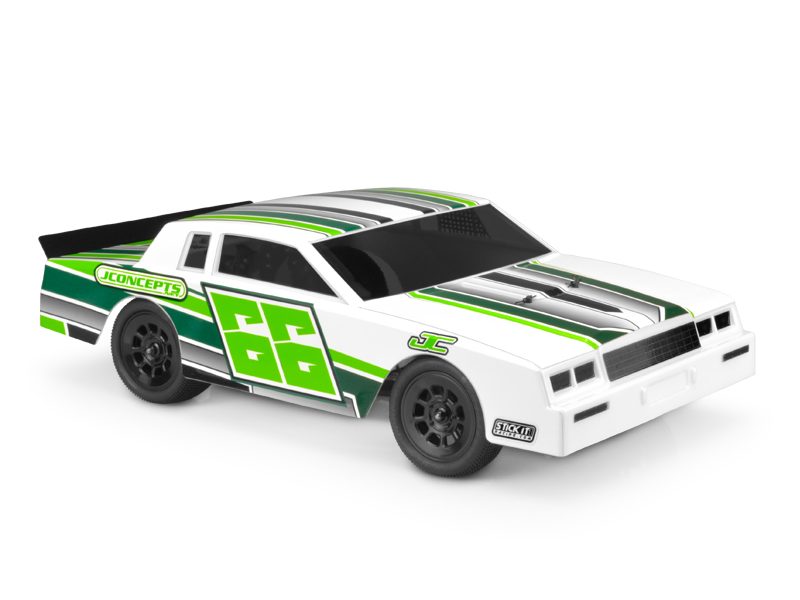 1987 Chevy Monte Carlo Street Stock Clear Body
Street Stock fans have another body option for turning laps left outside this summer. The 1987 Chevy Monte Carlo Street Stock Clear Body captures the classic look of this iconic 1980's vehicle. This officially licensed body uses a 10.75″ wheelbase and the inside dimensions of the body are 10.00″ from front to rear. The body was designed for 2wd buggy based street stock builds and it comes with a small rear spoiler that can be used for tuning.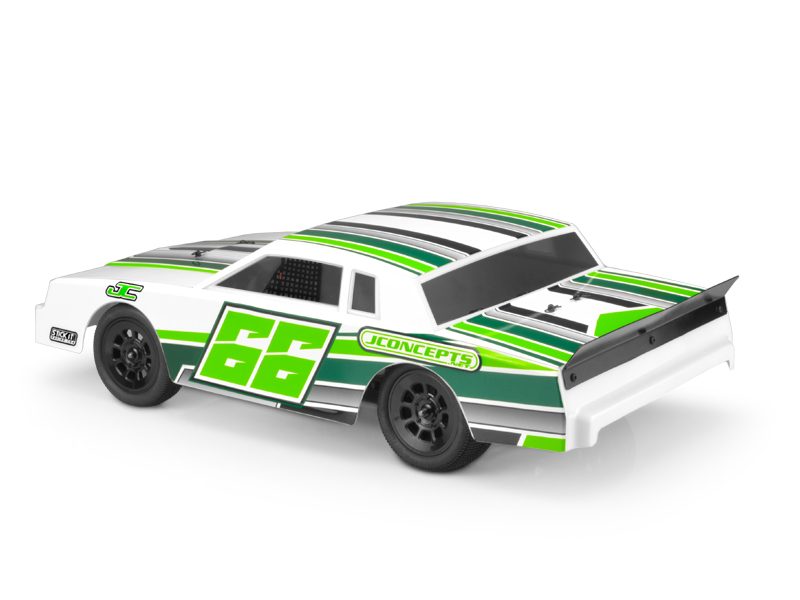 The spoiler can trimmed or added in situations where more rear grip is needed. The clear body is currently only available in a lightweight option and includes window masks, overpsray film and a decal sheet with Chevrolet, Monte Carlo and JConcepts badges.