Pettit Wins at Southern Nationals with JConcepts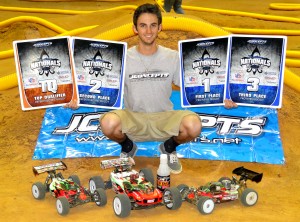 Barry Pettit wins Pro 1/8th truck and TQ's 1/8th E-buggy at Southern Nationals with JConcepts.
Event: 2011 JConcepts Southern Nationals
Date: October 21-23 , 2011
Location: IKE Hamilton Expo Center – West Monroe, Louisiana
For the 2nd year in a row the JConcepts Southern Nationals was a sell-out. 325 total entries turned out to West Monroe, Louisiana for a battle in the Mid South. A completely fresh track built inside the IKE Hamilton Expo Center amazed racers upon arrival. Friday started an open practice session and drivers packed the drivers stand in hopes of finding that perfect setup and magical tire combination for Saturdays qualifying.

It was clear at the start of qualifying that the track was beginning to get bumpy which forced drivers to adjust racing lines and vehicle setups to match the conditions. Barry Pettit, Ryan Lutz and Josh Wheeler were among the drivers recording TQ runs battling for overall TQ. Barry Pettit and Jason Ruona secured the TQ in the 1/8th E-buggy and E-truck classes running the green compound Hybrids and Punisher body combination.
The A-finals were scheduled as the last races of the day and track conditions were changing sending drivers scrambling for traction and consistency. The JConcepts Hybrids were the hot tire heading into the finals with 8 of the 15 trucks on the Hybrids and Elevated wheel combination in the Pro 1/8th truck A-main.
At the start of the Pro 1/8th truck A-main Josh Wheeler took the early lead with Barry Pettit in 2nd and Ryan Lopez in 3rd. The top 3 drivers were somewhat even all running on JConcepts Hybrids and began to stretch the gap to 4th place. Pit strategy was a factor between Josh and Barry while Josh was running a 7:30 strategy Barry was on a 9:00 pace.
During the mid-point of the race it was clear Barry was gaining some momentum and had pulled within only a few seconds of Josh. A few mistakes by Josh allowed Barry to take the lead and another pit stop by Josh allowed Barry to have a clean track out front and with a pit stop advantage. Barry continued to push the pace with his Mugen MBX6-T truggy and opened up a large gap. Disaster struck Wheeler's truck when a universal axle popped out due to a collision with lap traffic and pit lane. With Wheeler out of the race Pettit cruised the last 2 minutes and took the largest win of his short R/C racing career. Ryan Lopez finished 2nd and Josh Glancy 3rd.
Barry's winning Mugen MBX6-T was decked out with JConcepts all weekend. Punisher body, Hybrids tires in green compound mounted on Elevated wheels provided the accessory lift on the winning ride.
A huge thank you must go to the management crew behind the Southern Nationals. Jason Correro and Jeff Gray put on an event to remember at an amazing facility. Thanks for the racers and event sponsors for making everything possible.
Products used
· 3045-02 – Hybrids green compound
· 3334 – Elevated wheel
· 3048-02 – Hybrids green compound
· 3302 – Mono 1/8th buggy wheel
· 0096 – Punisher body for MBX6-T
· 2075 – 17mm serrated wheel nuts
· 0120B – Punisher wing
Photos courtesy – Bobby Pettit