Outback Raceway Electric Shootout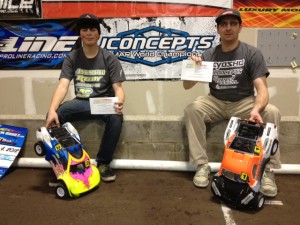 Event: Outback Raceway Electric Shootout
Place: Chico, California
Date: March 3-4, 2012
Racer Report: Aaron Biner
Over the weekend of March 3-4 A-Main Hobbies Outback Raceway (Chico, CA) hosted the Outback Electric Shootout. The event attracted 247 entries from all over Northern California. Practice was all day Friday with 3 qualifiers on Saturday, single mains on Sunday. JConcepts was in full support with Eric Albano (Team Associated) and Aaron Biner (Kyosho) in attendance.

In the 2wd Open Class, Eric Albano TQ'ed the 78 total entry class with the close battle over Bryan Eady. In the main, Albano would fight his way back from a rough start to take the victory with Phillip Atondo (2nd) and Jimmy Jacobson (3rd). Fellow JConcepts teammate Aaron Biner would finish in 4th. A Main Hobbies Curtis Door would round out the top 5.
In the 4wd Open Buggy, Eric Albano would TQ the class with 2 blistering fast runs. Aaron Biner would qualify in the 2nd position. Early in the main, Albano would break out. This left Aaron Biner in the lead. A battle ensued with Biner and Brian Strange. Eventually Biner would take the victory with Strange in 2nd and Cody Hughie in 3rd.
In the Open Stadium Truck Class, Aaron Biner would qualify and finish in 2nd. Phillip Atondo of TRL took the TQ and Win
In Open 2wd Short Course Class, Aaron Biner and Eric Albano battled it out in qualifying. Eric and Aaron would both win two rounds and two 2nd place finishes each. It came down to tie breakers for TQ. Biner took the TQ by 2 secs in the fast run tiebreaker. In the main, Albano and Biner battled it out for nearly 6 1/2 mins. A couple of rough driving incidents led to Albano waiting up for Biner. This would allow Eddie Bernal to catch up. This continued as a 2 way battle until a 3 way collision at the beginning of the straight led to a flip flop in positions. Albano would get a nice bounce along with Bernal. Biner would get the worst of it and drop back to 3rd. Eventually, Eddie Bernal's car would suffer from failure. This moved Biner into 2nd. The final finishing order was Eric Albano (1st), Aaron Biner (2nd) and Brett Bowen (3rd).
Aaron Biner (4wd) and Eric Albano (2wd and SCT 2wd) both used gold Bar Codes on all vehicles to win in 3 of the 5 open classes. It was a great weekend for JConcepts.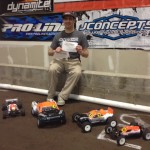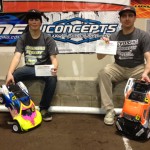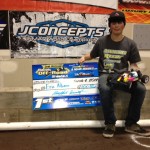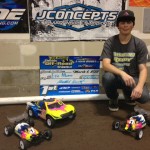 Products used:
Eric Albano:
· 0212 – B4.1 Finnisher body
· 0213 – B44.1 Finnisher body
· 0122 – 6.5″ Hi-clearance wing
· 0205 – Ford Raptor SCT body
· 3017-05 – Gold 2wd front Barcodes
· 3020-05 – Gold 4wd front Barcodes
· 3016-05 – Gold rear buggy Barcodes
· 3033-05 – Gold rear buggy v2 Barcodes
· 3044-05 – Gold SC Barcodes
· 3347 – Mono front 12mm hex B4.1 wheels
· 3348 – Mono rear 12mm hex B4.1 wheels
· 3344 – Hazard SC10 wheels (white)
· 2091 – 12mm rear hex adaptor B4.1
· 2135 – 12mm front hex adaptor B4.1
· 2074 – 8/32″ locking wheel nuts
Aaron Biner:
· 0232 – RB5 Finnisher body
· 0213 – B44.1 Finnisher body (used on Lazer ZX-5)
· 0125 – RB5 hi-clearance wing
· 0205 – Ford Raptor SVT body
· 0099 – Illuzion RT5 body
· 3017-05 – Gold 2wd front Barcodes
· 3020-05 – Gold 4wd front Barcodes
· 3021-05 – Gold Stadium Truck Barcodes
· 3016-05 – Gold Rear Buggy Barcodes
· 3044-05 – Gold SC Barcodes
· 3347 – Mono front 12mm hex RB5 wheels
· 3348 – Mono rear 12mm hex RB5 wheels
· 3322B – Rulux Slash Rear Wheels (on Kyosho SC-R)
· 2090 – 4mm locking wheel nuts
· 1155 – JConcepts Chassis Tape
· 2043M – JConcepts CA Glue
· 3206-2 – JConcepts molded 1/10 rear buggy inserts (2wd and 4wd rear)
· 3201 – And 1 foam (Stadium truck front)