OHKY Series – Round 2
Round 2 of the OHKY Off-road series took place this past weekend. JConcepts Team Driver, Tyler Jones was in attendance and sent us this report…
I attended the second round of the OHKY Series which attends two tracks. The RC Factory in Ohio and SRI Raceway in Kentucky. This round was at SRI and drew in 179 entries for the one day race with some of best regional racers and a TLR factory driver JP Richards. I chose to run the two biggest 2wd mod classes which included 2wd Mod Buggy and Mod Stadium Truck. I just got the chance to be able to run the yet to be released TLR 22 3.0 2wd buggy. This was my second weekend with the car and I was looking forward to running it again. The 2wd buggy class was the biggest for the day. Going down to a D main. Mod ST would go down to a C main with full mains also.
In 2wd mod buggy practice my first pack out I chose my always hooked up JConcepts Dirt Webs in gold compound. This has been my best tire choice and compound with my old TLR 22 2.0 that I ran last year in my first full season of 1/10 racing. Few laps in and I could tell my trusty gold wasn't the choice for my new car. Dad and I went back and bolted on a used set of green Dirt Webs on the rear and had to stay with gold fronts because we have never had the need for any other compound but gold for the front. We put the car back in the track and It was instantly hooked up and I was all smiles! It was a little pushy because of the wrong front compound but was still very good. Dad made a front end change to get the front end to bite a little more on power and car was really good rest of the day.
Qualifying came and my TLR 22 3.0 was flying with my LRP electronics on JConcepts Dirt Webs. My Spektrum radio equipment kept my lines tight and on point. Had rough first two rounds which had me sitting 3rd going into last round with the resort. I was happy with this only being second race on a new car. Third qualifier tone went off and I led the whole qualifier on the only 17 lap run going. I back off towards end of qualifier to make sure I didn't make a mistake and still took the tq spot for the main over TLR's JP Richard.
Main time came and was really confident in car and my driving. Tone went off and it was over. I led wire to wire putting the entire field at least one or more laps down!! This felt like a big race win for not running the new car but 2 races and this only being my second year of racing 1/10 scale cars. Second place was Nick Richards and Dylan Gerard in third.
Mod ST qualifying went off perfect! My TLR 22T 2.0 was flat point on all day on my JConcepts green Dirt Webs. My LRP electronics and Spektrum radio equipment were amazing with blistering lap times. I went onto tq all three rounds of qualifying with the only 16 lap run.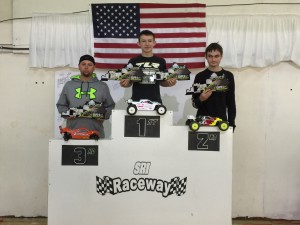 Main time came and was really pleased with how the truck and I performed all day. The tone went off and I checked out just like the 2wd buggy main. I did have an issue towards the end. The rear camber block cracked around the ball stud and the left rear was rolling over bad through the corners. I dialed it back and still brought home the win!! All three trucks on the podium were the TLR 22T 2.0!! Second place was Josh McDonald and third was Jeff Sumner.