Off The Table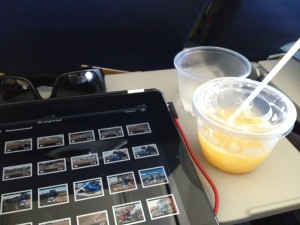 Day 1 – Travel
By: Jason Ruona
Here we go again. I'm off to the 2012 Cactus Classic in Scottsdale, AZ. It was really nice of the flight attendant to offer me some juice in addition to the peanuts, plain crackers and Wheat Thins. The juice with straw is really setting this trip apart from the last several I've been on. Kudos to the attendant.
Wasn't I just in Arizona? It was just in February that I was out here for the Dirt Nitro Challenge which was quite impressive but we left some results on the table and I'm looking to empty the table or leave less items on the table this time around. On the wagon or off the wagon? On the table or off the table? I believe in this situation I'm looking to take the most items off the table as possible.

Anyways, as usual I'm really looking forward to this trip. The weather, good friends, great times can always be had at the Cactus Classic so I'm interested to see how it works out this year. I've seen some clips of the track layout and it looks impressive, fun and difficult all at the same time. I'm not racing this year which has been my usual decision when I come to these large scale events. People ask me all the time if I wish I had brought a car to race one class. I usually say no and they are surprised. It's a lot of fun at these events just as a team guy, mechanic or spectator. Honestly, you really can have fun without being in the race itself. There is a lot to take in which is my focus. I'm looking forward to it.
John will be heading out to support the JConcepts team in Shreveport, LA for the Dialed Inc. race. Its a great opportunity to be in multiple places at one time and it being a worlds year for 1/8th buggy it's nice for John to get as much experience as possible running with the 1/8th guys this year. We should have many JConcepts guys in Shreveport as well.
I think the MVP of my flight trips has to be my blue Brookstone neck pillow. This thing is amazing and durable all at the same time, it has quite a few airline miles on it, too. I highly recommend picking up a neck pillow.
I'm sitting aisle on this flight and everyone knows the pluses and minus of the isle seat. Being in boarding group B24 (southwest) I had little choice where I was going to sit and I quickly scoped out the situation like a trained assassin out on a hit. First and foremost you have to weigh the small children factor. Who appears to be a crier or which parents looked the most uptight about their traveling infant. This is tough to decide and sometimes its a no win situation. With my heavy back-pack full of gadgets and electronics and heavy Dell laptop bag, I made it about halfway down the aisle and found a separated family with kids that looked a little older. I checked arm-rest space and or heavy clothes and made a split second decision that even given the aisle that this was my best option. I'm happy to report no crying and a relatively happy group. High Five!
The aisle is the most versatile seat on the plane; it's the Hybrids of plane seats. However, I have to lean towards the isle to get my elbow away from the center passenger and then I constantly get bumped into on the isle. It's easy to get in and out but it's the location on the plane that requires the most change. So far so good.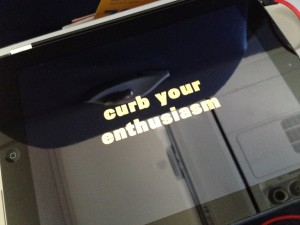 I mentioned earlier that I have an amazing amount of gadgets with me. 2 still cameras, 2 video cameras, Jaw Bone mini boom-box, IPad 2, Beats by Dr. Dre, IPhone and extra charging station or life support battery system for the IPhone. I hope to bring some coverage while I experiment with all my gadgets this weekend. Just call me Inspector Gadget.
Be on the lookout for some new product releases and constant updates direct from SRS Raceway. The Cactus is here and it's happening here on the JConcepts blog.