Nortwest Short Course Nationals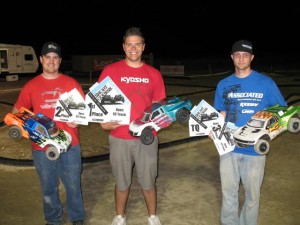 Event: Northwest Short Course Nationals
Date: June 4th, 2011
Track: Northwest RC Speedway Pasco, WA
The Northwest Short Course Nationals was held last weekend, hosted by Tri-Cities Radio Controlled Racing at the Northwest RC Speedway in Pasco, Washington. With over 150 entries the racing was going to be action packed all day for this stellar one day event. JConcepts Team Drivers Jesse Munn and Justin Wilde competed in the Mod 2wd class which had 45 entries itself. The Northwest Short Course Nationals is an annual event that started in 2010.

Jesse qualified 2nd overall in the 3 round qualifying format, narrowly missing TQ by 7 tenths of a second. Jesse TQ'd the second round however, and also posted the fastest qualifying run of the day. Justin Wilde ended up with the overall TQ in the Mod 2wd Class.
In the triple A-Main format Jesse had finishes of 2nd, 3rd and 1st respectively to claim the second spot on the Podium. Justin Wilde finished 3rd, 2nd and 2nd in the triple A-main landing him 3rd on the podium.
Jesse ran JConcepts Bar Codes in Green Compound all the way around on his Venom Gambler SCT truck. Justin also ran the JConcepts Bar Codes in Green. Justin was also running a JConcepts Ford SVT Raptor body, the new JConcepts 12mm Hex Conversion on the rear of his Factory Team SC10, holding it all together with the JConcepts 8/32″ Wheel Nuts.
Mod 2wd Top 10
1. Brian Munn
2. Jesse Munn
3. Justin Wilde TQ
4. Todd Powell
5. Joe Scales
6. Dan Lopez
7. Jon Devine
8. Jack Leighan
9. Justin Gilkison
10. Sean Maybell