North East Super Series – Round 2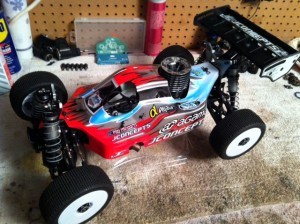 Round two report of the NESS (North East Super Series) from JConcepts Team Driver Jamie Grayek…
Round 2 of 4 was at Barnstormers RC in Chester NY. There were roughly 100 entries with HOT weather and clear skies. The track was in great shape, smooth with a little fluff on the outside of the groove.

Qualifying went well and I took TQ in the 1/8 Buggy and Truggy Class. As the mains came around the track was starting to hold moisture and the temps were dropping. I ran JConcepts Hybrids in the Green Compound on buggy and the new JConcepts Subcultures in Blue Compound on my truggy.
Both cars were hooked in the mains giving me the win in both classes. This leaves me leading the series. Round 3 will be at Wolcott Hobbies in Connecticut on August 14th.
Next week, July 15th is the Futaba challenge in St Louis. I'm driving 14 hrs out there Thursday morning hoping to have some strong results.