New Product Release – Tense Slash 2wd Front Wheel
Tense – Slash 2wd front wheel – 2.2″ x 3.0″
Part # – 3323B
UPC Code – 845937004505
Retail price – $11.00
(Fits Slash 2wd front)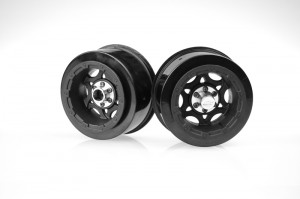 It has been said that the devil is in the details, and while that is a debatable statement there is no denying that the Tense wheels for the Slash 2wd from JConcepts are as detailed as they come. Tense wheels are a glue-on, all-out competition inspired wheel from the ground up to withstand heavy abuse and perform under even the most demanding situations. The Tense wheel design begins with a scale appeal and functionality that separates itself from the rest. Heavy duty black nylon material and 12mm beefy hex design combine to form the ultimate in scale and performance.
Topping off the appearance of the wheel are 2 optional open and closed center caps, one with JC logo for authenticity and brand loyalty. With 2 solid and 2 open center caps included, the driver now has the option for complete show with a closed cap or performance and function with the open cap. The center caps are secured to the wheel with included 6 – 2.5x8mm button head screws.
Although it is not certain that the devil is in the details, the Tense wheels from JConcepts are undeniably evil at best.
Features:
JConcepts – scale looking design completes
Matches #3324 – Tense Slash 2wd rear and Slash 4×4 F&R wheel
Durable black nylon material with 12mm heavy duty hex design
2 types of center caps for show and performance
JConcepts – World Proven Innovation and Design