New Product Release – Stampede 4×4 Lowered Body Mount Kit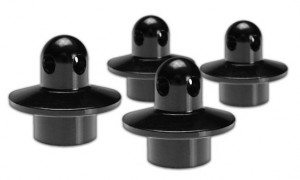 JConcepts – Stampede 4×4 lowered body mount kit – 4pc.
Part # – 2083
UPC Code – 845937005595
Retail price – $20.00
(Fits Stampede 4×4)
Maintaining a low-profile with the Stampede 4×4 is easy with the JConcepts lowered body mount kit. Designed and developed by JConcepts, the new body mounts provide the footing for a lower, sleek look while maintaining that monster truck flare the Stampede is known for. The body mounts are precision machined from aluminum and black anodized to give a stock "stealth-like" appearance. Using the lowered body mounts in conjunction with a JConcepts Ford Raptor or F-250 body is the latest rage in looks and performance for the Stampede 4×4.
Features:
· JConcepts simple design and function
· Durable, aluminum material with black anodizing
· Body clip holes located opposite each-other for maximum functionality
Click the photo below to see a before and after comparison between the stock posts and the new JConcepts lowered body mount kit.