New Product Release – SCT 12MM Hex Wheel
For Immediate release –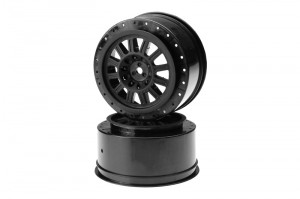 Rulux – SC10 12mm hex wheel – 2.2″ x 3.0″ (black) – 2pc
Part # – 3332B
UPC Code – 845937004505
Retail price – $9.00
(Requires JC part # 2081 for SC10 and XXX-SCT rear and conversion inboard hub for front)
By popular demand JConcepts is bringing the Rulux 12mm hex design to the SC10, SC10 4×4, XXX-SCT and similar wheel offset applications. Rulux wheels are 1:1 inspired and offer a look that is unmistakably JConcepts. No detail has been missed with these beauties as the Rulux wheel incorporates a lug nut and spoke affect that emulates the real thing. Wheel profile, interior and exterior ribbing and spoke design were all areas of focus while creating the combination of durability, clearance, functionality and appearance.

With the black color and a matte face appearance, being unique is worry free as practically any paint scheme can be matched to these exciting new wheels. The hassle-free and lightweight 1-piece design creates the ultimate race and show wheel for any competition.
To use the 12mm hex wheel on the SC10 or XXX-SCT it requires JConcepts part # 2081 for the rear and an inboard hub conversion for front.
Features:
· Original 1:1 inspired JConcepts Rulux 12mm hex design
· Durable design, finish and material
· Black in color with matte face appearance
· Hassle free and lightweight 1-piece design
Fits:
· SC10 with conversion adaptors
· SC10 4×4 front and rear
· Losi XXX-SCT rear with conversion adaptors
· Traxxas Slash 2wd with wide-track suspension kits