New Product Release – Scalpel Body and Front Bumper Conversion Kit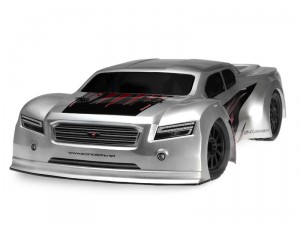 Illuzion – Slash 4×4 – Scalpel Speed Run body
Speed is everything; it's the greatest gift of R/C and particularly with the Traxxas Slash 4×4. An extremely popular off-road truck, the Slash 4×4, has all the components of an absolute beast of an on-road vehicle. JConcepts introduces the Scalpel speed-run body and front bumper conversion to convert the Slash 4×4 into an insane speed-run machine. Take on your personal salt-flats, drag strip or closed circuit course with power, speed, agility and style with JConcepts.
Product Video


Looking straight into the headlights you can tell right away something is different about the Scalpel. A menacing look from the front-end highlighted by a dramatic chin-spoiler, the front-end is built for speed and direction. Large fenders allow plenty of clearance for the 2.8" G-Locs tires and the extremely low roof-line cuts like a knife. A shallow bed area gives the Scalpel a truck-like appearance while maintaining that all inclusive speed-line structure. Finishing off the body is clean and smooth with the inclusion of grill, headlight, taillight and miscellaneous logos that make the Scalpel look the part.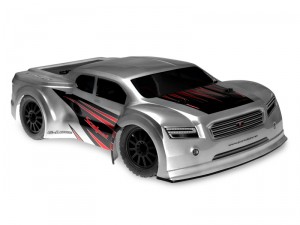 Features:
· Original JConcepts Scalpel design and concept
· Chiseled front-end with chin-spoiler
· Extremely low-profile roof-line
· Large fenders to allow tire clearance
· Shallow bed area, truck-line appearance
· Includes detailed Scalpel decal sheet
Slash 4×4 – front bumper conversion kit (converts front end to accept #0240 Scalpel body)
Building the unique Scalpel speed-run vehicle centers around a new bumper design and layout. The front bumper conversion kit comes complete with an assortment of high-end parts to ready the Slash 4×4 for function and durability. Fiberglass upper and lower plates with hinge pin retainer build a stout structure. Low-profile, aluminum body mounts for all 4 corners are included to slam the body to speed-run standards. Bulky aluminum stand-offs and cushy / protective "touring car" style bumper assembled with high-end 3 and 4mm hardware throughout tighten the complete assembly.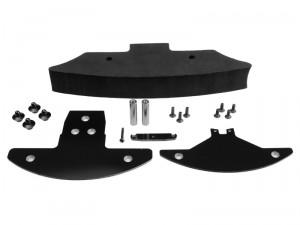 Making the conversion:
Converting the Slash 4×4 to the Scalpel speed-run vehicle requires body, bumper conversion and tires and wheels are highly recommended. The assembly is simple and takes only minutes to complete. First, remove stock bumper assembly and replace with the newly acquired speed-run accessories and foam bumper. Make small changes to suspension set-up to limit down and up travel per instructions. Detail, paint and trim Scalpel body. Prep, mount and glue JConcepts 2.8" G-Locs tires onto 2.8" Rulux wheels and secure to the vehicle. Locate, mark and ream the body mount locations and drop Scalpel body into place. Hit your favorite closed circuit for the wildest speed-runs imaginable.
· 0240 – Illuzion – Slash 4×4 – Scalpel Speed Run body
· 2173 – Slash 4×4 – front bumper conversion kit
· 3056-00 – G-Locs – yellow compound – (fits 2.8″ wheel)
· 3340B – Rulux – 2.8″ E-Stampede – Rustler 2wd front and 4×4 F&R wheel
Illuzion – Slash 4×4 – Scalpel Speed Run body
Part # – 0240
UPC Code – 845937007919
Retail price – $42.00
(fits Slash 4×4 with #2173 JC bumper conversion kit)
Slash 4×4 – front bumper conversion kit (converts front end to accept #0240 Scalpel body)
Part # – 2173
UPC Code – 845937008107
Retail price – $40.00
(fits Slash 4×4, converts front end to accept #0240 Scalpel body)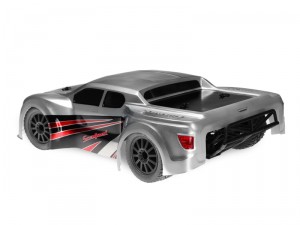 All bodies are sold clear and are shown painted for advertising purposes only. Tires, wheels and bodies are sold separately, unless otherwise specified. JConcepts reserves the right to update or make changes to product, packaging or contents.
Revo®, JATO

, T-MAXX

, SLASH®, SLASH 4X4® etc. are trademarks and registered trademarks of Traxxas L.P.