New Product Release Raptor X-Flow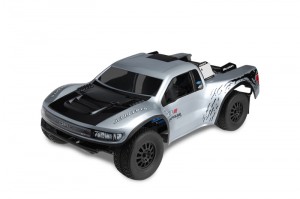 Illuzion – Ford Raptor SVT – X-Flow body
Part # – 0205
Retail price – $42.00
(Fits – Slash, Slash 4×4, SC10, SC10 4×4, Losi XXX-SCT, SCT-E)
Popular JConcepts Raptor SVT X-Flow body fits more trucks than ever, 6 direct fits, including SC10 4×4 and Losi SCT-E.
One size fits all, or in some cases one size fits most, is more appropriate. JConcepts introduces the One Size Fits Most ROAR National Champion winning, Ford Raptor SVT – X-Flow body. With an ever increasing number of 2wd and 4wd SCT trucks on the market, a need for a body that is extremely versatile is in demand. With confirmed placement on the Slash, Slash 4×4, SC10, SC10 4×4, Losi XXX-SCT and SCT-E, when it comes to the X-Flow body, being versatile is an understatement. Officially licensed by Ford, the JConcepts Ford Raptor SVT body is inspired from the ground up as an all-out SCT race body.

The X-Flow is the best handling Raptor body to date and offers even more escape paths than the original to minimize the parachute affect. The Raptor SVT body by JConcepts begins with the latest in 1:1 truck detail by incorporating the latest treatment in grill and headlight design, adding street appeal. Front and rear fender flares provide the clearance necessary to run an assortment of tires and wheels while maintaining that exclusive design and look.
Extended cab design with recessed side windows, louvers along the front hood highlight a number of the front-end styling cues. Deep recessed trim-out locations along the hood and bed area provide ample space for air relief cut-outs which reduce the parachute / blow-over affect that is so common in Short Course racing. Short course inspired bed area with incredible detail finish off this extraordinary, tough design.
Maintaining that exclusive performance and feel is critical to a vehicles performance, JConcepts is world proven innovation and design.
Features:
Fits most all 1/10th SCT's – 6 are a direct fit and over 9 different trucks overall
Officially licensed by Ford to JConcepts
Instruction sheet showing direct mounting on 6 different vehicles
X-Flow design offers escape paths to minimize the parachute affect
Scale inspired body, cab and window design
1:1 headlight and grill treatment
Front and rear fender flares for maximum clearance
Extended cab with recessed windows
Stylish, performance based number and name plates with mounting hardware
Clear polycarbonate with protective film
Window masks and detailed Ford Raptor SVT decal sheet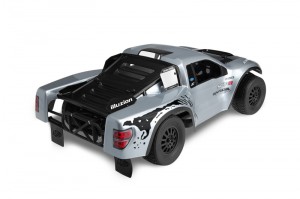 Ford Oval and nameplates are registered trademarks owned and licensed by Ford Motor Company. Manufactured by JConcepts, Inc. www.ford.com
Revo®, JATO

, T-MAXX

, SLASH®, SLASH 4X4® etc. are trademarks and registered trademarks of Traxxas L.P.
All bodies are sold clear and are shown painted for advertising purposes only. Tires, wheels and bodies are sold separately, unless otherwise specified. JConcepts reserves the right to update or make changes to product, packaging or contents.