New Product Release – Hit Men Pre-Mounts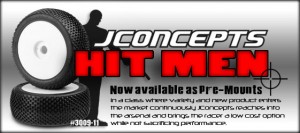 Hit Men – blue compound (fits 1/8th buggy wheel) – (pre-mounted)
Part # – 3009-11
UPC Code –
Retail price – $29.00
(Fits all 1/8th buggies)
An original favorite enters the fray once again; the JConcepts Hit Men are back. Pre-mounted for convenience and at a new low cost for the budget minded racer, the Hit Men are an exceptional multi-purpose tire for 1/8th buggy racing. In a class where variety and new product enters the market continuously, JConcepts reaches into the arsenal and brings the racer a low cost option while not sacrificing performance.
The JConcepts Hit Men tire is a hired gun and is out on the prowl. The unique pyramid lug design combined with sticky racing compound like the blue allow the flexibility necessary to compete on a multitude of the most demanding surfaces for an extended period of time. The Hit Men are a special breed, designed for maximum performance when new or used as the design allows even wear all the way down to the tire body.
The Hit Men incorporate a compact tire body with a crisp tread pattern with precise separation for intense racing competition. Hit Men in new condition excel on soft surfaces with either dry or wet conditions. Worn Hit Men excel on indoor or outdoor clay tracks where a slight groove has formed.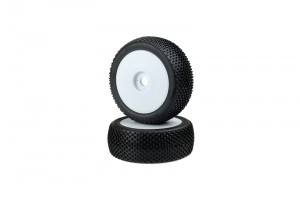 Features:
Soft, racing blue compound
Mounted on JConcepts white Mono wheels
Compact tire body with crisp tread and precise separation
Aggressive Pyramid lug technology
Includes inserts