New Product Release – 12mm Hex for SC10 Front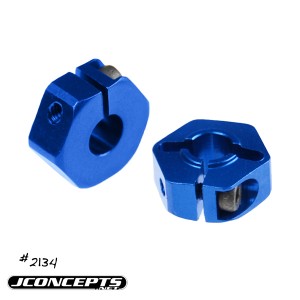 Converting the front of the SC10 to a clamping 12mm hex adaptor is simple with the latest release from JConcepts. The hex adaptors are precision machined, blue anodized aluminum and feature a clamping style design that combine durability and functionality. Installation is simple, and tire changes are hassle free.

Clamping adaptors require:
· Team Associated 12mm hex conversion steering blocks and axles.
· JConcepts Rulux (3332B) or Hazard +3mm wheels (3344B) for proper mounting, offset and handling characteristics.
Features:
· Simple, clamping 12mm design and function
· Durable, aluminum material with blue anodizing
· Compatible with JConcepts 12mm hex wheels
JConcepts – 12mm front clamping hex adaptor for SC10 – blue anodized aluminum
Part # – 2134
UPC Code – 845937006493
Retail price – $9.00
(Fits SC10 front with the addition of AE 12mm conversion parts or SC10RS direct)