Neumann Sweeps German 2wd Nationals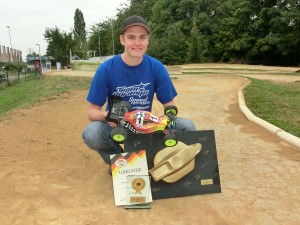 The German 2WD Nationals were held over the last weekend in July at the Team Turtle Racetrack. The track was 30% AstroTurf and 70% dirt. There were three practice rounds on Saturday and 5 Qualifiers with the best 2 counting.
JConcepts Team Driver Jörn Neumann managed to TQ and Alex Hardt was 3rd overall. Both drivers used JConcepts Groovy and Goosebumps tires in green compound. In the final it was Jörn with a clean sweep to win all three legs. Alex finished 4th overall after some nice battles.
Jörn Neumann used following JC products:
Front Tires: 3004-02 Groovy – Green Compound
Rear Tires: 3018-02 Goose Bumps – Green Compound
Body: 0206 B4.1 Punisher Body w/6.5″ Rear Wing