Neumann and Evans Dominate the EOS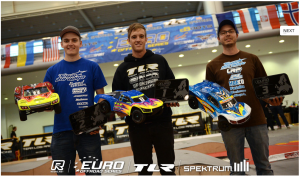 Jörn Neumann TQ's and wins 2WD and 4WD Buggy and Dustin Evans wins 4wd Short Course at the 2012/13 Euro Offroad Series season opener in Poznan, Poland.
Team Losi Racing's Dustin Evans brought Durango's domination of the 4WD Short Course class in the Euro Offroad Series to an exciting end as he claimed the overall win in the third and final A-Main at the 2012/13 season opener in Poznan, Poland, ahead of defending champion Jörn Neumann. Having won the class at the EOS pilot race in Sweden and all three rounds of the inaugural season of the series, the first sign that Team Durango's reign was under treat came in qualifying when Evans used his Losi Ten-SCTE to TQ qualifying. Predicted to be the best racing of the day the small grid of trucks didn't disappoint with an epic battle in the first A-Main which saw Evans Orion powered truck take the win in a drag race to the finish line with Neumann, the American doing just enough to snatch the win from the German who had led the previous 9 laps.

Leg 2 saw another close race between the Reedy Race Champions with Neumann's Speed Passion powered DESC410 coming out on top by a slightly bigger 3/10ths of a second this time round setting the stage for an exciting head to head in the leg 3. Despite the best efforts of Neumann to keep Durango's run of overall wins intact he couldn't get the job done with Evans taking the win by a massive, by today's standard, 9/10th of a second. With their truck been no match for Durango last season Evans was clearly delighted to take Losi's first win and prove that they are now competitive on the unique European style carpet track. Helping Evans to fine tune his truck all weekend TLR team-mate Darren Bloomfield said afterwards that he must get himself a Ten-SCTE now and along with 2WD Buggy contest Short Course for the rest of the Euro Offroad Series. Third in each of the legs Hupo Hönigl completed the podium with his LRP powered Durango.
In the third leg of the 4WD Buggy A-Main, which would determine who would join Neumann on the podium, Evans pulled off the win with his aging XXX-4 ahead of Benni Gröschel and 2WD Overall podium finisher Michal Orlowski with Hupo Hönigl fourth. Having had two bad earlier legs the win would only be good enough to give Evans 5th overall behind Schumacher's Tom Cockerill. Finishing 2nd in Legs 1 & 2, Hönigl would get second overall with Gröschel taking the final step to make it an all Durango podium.